Forecast: Heavy Rains Through Morning Before Slowing To Showers
Our nor'easter brought strong winds, some minor coastal flooding and periods of torrential rain overnight Wednesday into Thursday. Some areas received between 4-6 inches of rain.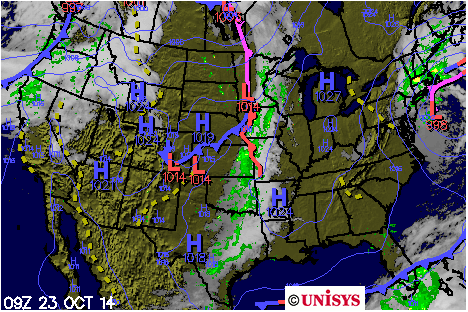 The rain is heaviest this morning north of the Massachusetts Turnpike with high wind warnings along the Essex County coastline until 10 a.m. and wind advisories further south and west through much of the morning. The trend Thursday will be for the rain to become more showery in nature and not as steady. The threat of thunderstorms, while not zero, is very low compared to last night's activity.
Driving will be somewhat slow everywhere Thursday, but slowest Thursday morning if you are coming into southern New England from New Hampshire or from towns north of Boston. The evening commute looks showery, but there won't be any torrential downpours like Thursday morning.
The storm continues to move north and spin itself to death overnight Thursday into Friday. The slow movement of the system will keep clouds and the risk of showers in the forecast through Friday, but the trend will be for less and less rain. By sunset Friday, we might even see some breaks in the overcast.
The weekend is looking terrific with abundant sunshine, mild air and light winds. Highs will be near 60 on Saturday and in the upper 50s on Sunday. A warming trend takes place thereafter, and we might hit 70 again sometime next week.
Our nor'easter continues to spin south of the area this morning and will move further away from the region Thursday and Friday. High pressure builds in for the weekend bringing a return to sunshine and pleasant temperatures.
---
Thursday: Showers and possibly a thunderstorm. Gusty winds with highs between 55-60 degrees.
Thursday night: Showers likely, mostly during the first part of the night. Lows in the mid 40s.
Friday: Lots of clouds, still a risk of showers. Highs in the 50s.
Saturday: Mostly sunny, with a high near 60.
Sunday: Mostly sunny, with a high between 56-61 degrees.
Monday: Sunny, with a high near 60.
You can follow David's weather updates on Twitter at @growingwisdom.
This article was originally published on October 23, 2014.