Illuminus Arts Festival To Light Up Boston's South End Tomorrow Night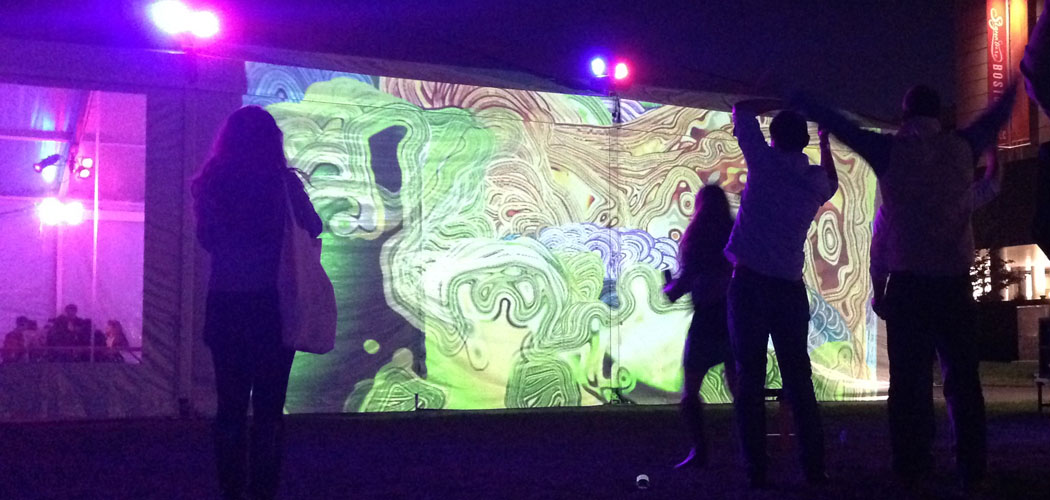 This article is more than 7 years old.
"There's something wondrous about shining light on a building," Jeff Grantz says.
Grantz is the director and driving force behind Illuminus, "a free nighttime festival of creative innovation," including large-scale projections, light installations, immersive environments, sound and performances by some 40 artists from 6 p.m. to midnight tomorrow, Oct. 25. The event will take place along Harrison Avenue, centered on the old power station between Randolph and Waltham streets in Boston's South End, which will serve as both a screen for many of the projects and "a museum without walls," Grantz says. (Update: Look at photos from the event.)
Cindy Sherman Bishop "allows you to dance or move in front of an interactive camera … capturing video … that allows you to sort of paint on the façade," Grantz explains. (Bishop's "The Way You Move" is pictured at top.) Wenting Guo is making floor-projected "animations that respond to people's movement through a space."
Folks from New American Public Art are building a 25-foot-tall plastic face onto which they plan to project people's actual faces. Chris Jordan is bringing projection carts that will take poet John Sands' words as he says them and projection map them "in real time onto buildings."
Sam Okerstrom-Lang is working with BLKBX to create a "projection cube" covered with what Grantz describes as an "abstract matrix of shapes and ascending colors. They almost look as if they're responding in real-time to this audio matrix around them. They'll grow and disappear."
The schedule calls for live music performances every hour on the hour, including Latin percussion by Maria Finkelmeier. Composer and pianist Elizabeth Schumann is working with a video group, including Dan Pecci, Matthew Shanley and Karen Stein, that plans to shoot her hands as she plays and project them up to 170 feet wide.
Illuminus Boston is an offspring of Nuit Blanche nighttime festivals of the arts that began in France, perhaps as far back as the 1980s. They morphed into nighttime projection and performance festivals that have been hosted in cities around the world. Grantz helped put on versions in New York in 2010 and '11, he says.
"It's both a daunting task and something that's so necessary for Boston," Grantz says. Permitting requirements have limited venues in the city, he says, leaving artists "starving for opportunities." This festival is "trying to highlight the groups who already work so hard to make cool things happen … and to try to elevate the art spectrum here in general."
Greg Cook is co-founder of WBUR's ARTery. Be his friend on Twitter @AestheticResear and on the Facebook.
This article was originally published on October 24, 2014.