You Don't Have To Listen To Rock Albums Backwards To Find A Little Black Magic
06:32
Play
This article is more than 6 years old.
For some, Halloween is the season of the witch. And that's also the name of the classic 1966 psychedelic song by the Scottish musician Donovan. Now, it leads the title of a new book: "Season of the Witch: How the Occult Saved Rock and Roll." In it, Cambridge author Peter Bebergal makes some deeply researched connections between rock musicians, the supernatural and spiritual rebellion.
Sitting in his living room with a shiny, black cat slinking around the perimeter, the 47-year-old music fan said he feels like he's been writing this book his whole life — or at least since he was 11 or 12.
"My brother used to torment me by playing his Alice Cooper records -- and playing 'Revolution 9' — and spinning it backwards so that I would hear the secret messages. Or what we thought were secret messages," he recalled with a smile.
"Revolution 9" is the notorious, possessed-sounding track on the Beatles' "White Album." Like many children of the '70s, Bebergal recalls being obsessed with monster movies, comic books and hobbits.
"But there was something about when I would go into my brother's room, and I would sit on the floor and listen to Led Zeppelin -- and pore over those album covers — that it seemed like maybe there was a secret knowledge that these musicians had access to," Bebergal mused. "It was very seductive."
The album cover art work and hypnotic power musicians like Robert Plant seemed to wield drove Bebergal to seek answers. "Season of the Witch" is the result.
"My argument is that the spirit of rock and roll — the essential rebellious instinct of rock and roll — is certainly social and sexual and political, but it's also a spiritual rebellion," Bebergal explained. "And the way in which it expressed that spiritual rebellion was through the occult imagination."
That "occult imagination" conjures everything from Ouiji boards to Christian and Jewish symbolism to LSD trips to "alternative spiritual practices." Bebergal says it ultimately helped rock bands like Led Zeppelin, Pink Floyd and Black Sabbath save rock from sounding too poppy, sappy and mainstream.
"Maybe it was actual practices by some musicians, maybe it was inspiration ... or maybe it was just pure marketing coolness by throwing a pentagram on your album cover," the writer mused. "But it was also a way in which a band could quickly alert the culture that they are different, that they are going to be worrisome to your parents."
Think Rolling Stones lead man Mick Jagger singing, "Sympathy for the Devil."
"He wasn't out to steal your soul," Bebergal offered, "but maybe to seduce your daughters."
Bebergal also argues that if we removed the occult influences from the history of rock it would sound and look very different.
He pointed to the original vinyl pressing of the album "Led Zeppelin III" and said, "In the inner groove was etched 'do what thou wilt' — which is, of course, the infamous quote from Aleister Crowley, which goes, 'do what thou wilt shall be the whole of the law.'"
Aleister Crowley, an infamous Victorian-era English occultist, appears throughout Bebergal's book. Musicians including David Bowie embraced the dark magician's intellect, mystery and insatiable hedonistic tendencies. Led Zeppelin guitarist Jimmy Page even bought Crowley's estate in the '70s. The band shot a few scenes on the grounds for their concert/fantasy bio-pic documentary, "The Song Remains The Same."
Jungian psychology, tarot cards and Eastern philosophical texts like the "I Ching" fueled the collective unconscious in the '60s and '70s — but Bebergal reaches further back -- to the Greek myth of Dionysus, to slave music, even to classical violinist Niccolò Paganini. His audiences swore they saw the devil's fingers dance across his strings.
The violin and the guitar have long been called "Lucifer's instruments," Bebergal explained. "In the mythology of rock and roll, Robert Johnson is the origin myth of meeting the devil at the crossroads and selling your soul to learn how to play the guitar."
Actor and rocker Jack Black lovingly poked fun at the Johnson myth in his silly 2006 film, "The Pick of Destiny." Bebergal says this spirit of the occult is so deeply ingrained in the rock and roll stage persona, that sometimes it comes off as a little corny. The 1984 mockumentary "This is Spinal Tap" parodies mystical bands in an over-the-top theatrical concert scene with a tiny Stonehenge and druids.
"You see there in many ways the absurdity of all of this — that you can't capture whatever it was that these ancient druids were trying to do in the context of a rock concert," Bebergal told me. "And yet we can look at footage of Robert Plant in the early '70s and there is something Dionysian going on there. There was something happening in the '60s and '70s where American culture was super charged by ideas of the occult, of mysticism, even of the devil, that we looked to rock and roll to be the amplifier."
And the occult-rock legacy lives on and continues to inspire countless rockers today. One local band, The Ghost Box Orchestra, played at Bebergal's reading for "Season of the Witch."
"Yes, we do like 'The Hobbit,'" 32 year-old bassist Zach McGowan said with a laugh when I pointed to a J.R.R. Tolkien poster on the wall of the band's practice space. "I heard Robert Plant enjoyed 'The Hobbit' too," he said.
McGowan said he buys Bebergal's thesis — even if pentagrams and crosses are pretty mainstream in this day and age (pop artist Ke$ha's video for the song "Die Young" comes to mind). Ghost Box guitarist Chris Johnson agrees.
"I think the occult may have saved rock and roll … but it needs saving every now and again," he chimed in, smiling.
But Bebergal also delves into the horrifying downside to the occult imagination, including Charles Manson's brutal murder of Hollywood actress Sharon Tate in 1969. The cult leader said he took cues from lyrics on the Beatles' "White Album."
Bebergal hopes people read "Season of the Witch" with the mix of seriousness and fun with which he wrote it.
"You don't have to believe in the occult, you don't have to believe in magic, you just have to believe in rock and roll."
Related Coverage: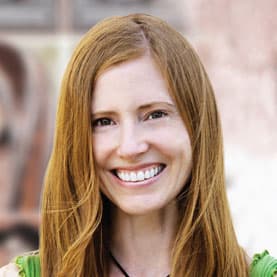 Andrea Shea Senior Arts Reporter
Andrea Shea is WBUR's arts reporter.