Dorchester, Mattapan Residents Pay Tribute To Menino At Church He Advocated For
03:24
Play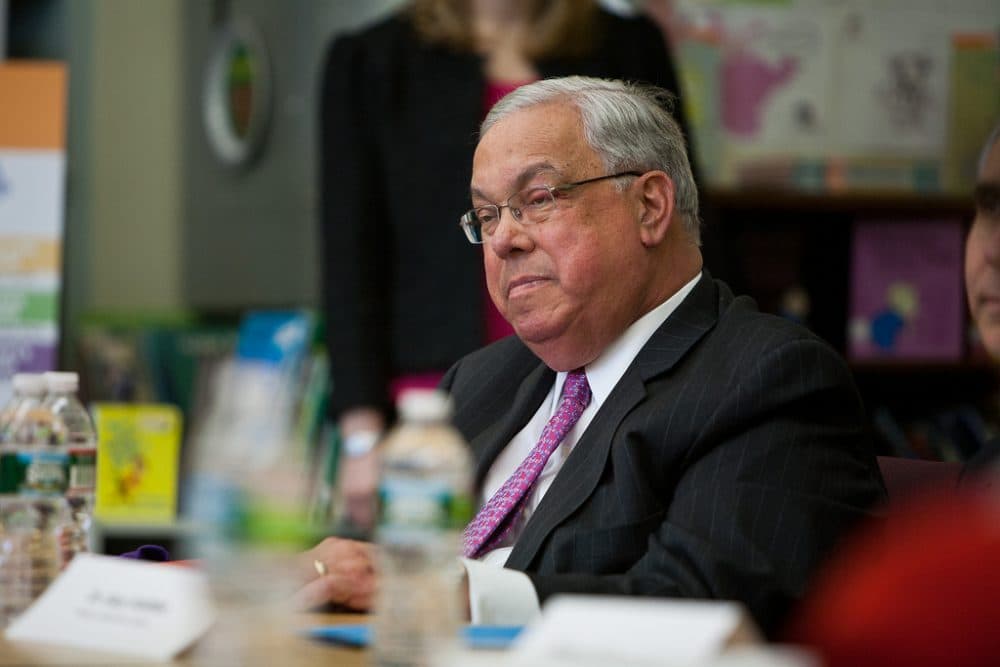 This article is more than 6 years old.
Among those remembering Mayor Thomas Menino are residents of Mattapan and Dorchester, neighborhoods with which Menino connected. On Thursday night, the people of those neighborhoods paid their tribute to the late former mayor at the Morningstar Baptist Church on Blue Hill Avenue.
It was supposed to be a meeting about empowerment, a get-out-the-vote gathering for the black community. It turned into an impromptu memorial service for Menino attended by citizens who felt empowered with him in City Hall.
Among the 60 or so people who turned out was Glenda Poe. She has lived in Dorchester for 35 years, through the administrations of Kevin White, Ray Flynn, Menino and Marty Walsh.
"I think he was the most personable mayor that we've had in the city for a long time, and I think he is the most liked of all the mayors," Poe said.
The Reverend Willie Broderick of the Twelfth Baptist Church in Roxbury said Menino touched many lives.
"He used his might to benefit the people," Broderick said.
Pastor William E. Dickerson of Dorchester's Greater Love Tabernacle Church called Menino a consummate politician.
"He was very arduous in terms of his support for those who are less fortunate in the city of Boston," Dickerson said.
Also addressing the gathering was one of the candidates for governor. Attorney General Martha Coakley said she wanted to reflect on what Menino did for everyone in Boston.
"It's not so much how you look or how smart you sound, but it's what you do. It's what's in your heart. It's what's in your head and what you do for the people that you serve," she said. "And I came to know Tom as he was first city councilor when I lived in Boston, and then the mayor, and he let you know where he stood. There were no real surprises with him, but the thing that sticks out for me is that he worked so hard every single day. He got up every day and said, 'What can I do for Boston?'"
The big modern church with its state-of-the-art sound system is there on Blue Hill Avenue because of Menino. The pastor of the Morningstar Baptist Church, Bishop John Borders, said the church took 15 years and $10 million, and remembered how Menino made it happen.
"We raised 70 percent of the funding that was speculated to build this sanctuary, and no bank would give us serious consideration," he said. "Thomas Menino made a few phone calls. And what he said... He didn't force anyone to respond to us. He said, 'Look at their finances again, and then after you've looked at their finances, look at the people who attend that church.' "
Borders said Menino made sure the banks took the humble people in a Mattapan congregation seriously.
This segment aired on October 31, 2014.