In Dudley Square, Menino Was 'Very Loved'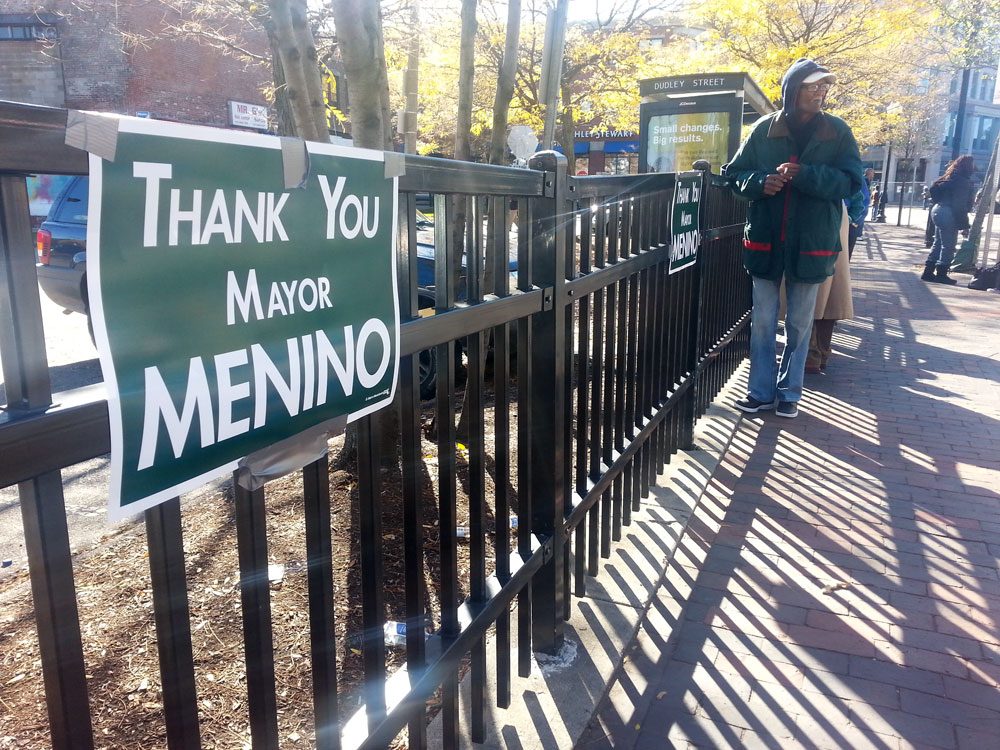 This article is more than 5 years old.
In Roxbury's Dudley Square, people lined the streets Monday to pay their respects to former Mayor Thomas Menino, as his funeral procession winded through the neighborhood he worked to revitalize.
"He's helped bring up the neighborhood," said Dudley Square resident Shania Morales, who brought her 9-year-old son to the procession. "He was very loved by everyone and he will be very missed."
That was the sentiment for many out in the neighborhood where Menino's lasting legacy as the "Urban Mechanic" is ever present. Signs that read "Thank you Mayor Menino" were posted all around Dudley Square, on the windows of businesses and around bus stops. And Monday's cold winds did not stop people from leaving work or school to say goodbye to Boston's longest-serving mayor.
"I think the support that's out here today speaks for [Menino's legacy]," said Maxine Clark, 40, of Mattapan. "People like that only come around once in a lifetime."
Clark, who works for the Boston Water and Sewer Commission (BWSC) located just up the street from where the procession passed on Melnea Cass Boulevard, also said Menino's legacy cannot be matched.
She was one of several BWSC workers who came out to watch the procession.
Clifford Llewellyn, 41, of Dorchester, who also works at BWSC, recalled a couple of memories he had of Menino. He knew the mayor for several years, since they met in 2002.
"He was a good role model to me," Llewellyn said. "I was fortunate enough to play with him in a golf tournament ... in Franklin Park. We had a lot of laughs."
He brought awareness to the fact that this community in fact exist and is a critical part of Boston as a whole.

Sarah Smith, school counselor at Orchard Gardens in Roxbury
"He said to me, 'Clifford, they're going to shut the street down and didn't give people no warning,' " Llewellyn said. "I said, 'Mayor, if I could go around and tell your neighbors the water is going to be off for a couple of hours, would that be OK?' He said, 'Yeah, that'll be fine.' That was the greatest memory of all."
It was this attention to the nuts and bolts of the city, be it a pothole or street that needed plowing, that earned Menino the "Urban Mechanic" name. The name also highlighted his push to redevelop neighborhoods in Boston.
On Warren Street, where the funeral procession went through, is the old Ferdinand building, which is the centerpiece of redevelopment plans in the neighborhood. It is still being remodeled and will be a commercial and retail space. It will also be the new headquarters for the Boston Public Schools administration when it opens this winter.
Matthew Reedy, the labor foreman working on construction on the Ferdinand building, said Menino brought the strength of the city back and invested in the community.
"He did a great job for the city of Boston," Reedy, a Dorchester resident, said.
Zoleka Taylor, a lifelong Roxbury resident, agrees. She works just a block away from the Ferdinand building at A Nubian Notion, a gift shop on the corner of Dudley and Warren streets.
"He's done a lot for each and every community, I don't know that he's done any more or less for this community than he has for any other," Taylor said.
But it was Menino's work in this particular community that was on the minds of many people who came out to watch the procession.
"Our school wouldn't exist without the support of Mayor Menino, so we decided to bring our entire eighth grade class out to pay their respects this morning," said Sarah Smith, a counselor at Orchard Gardens school in Roxbury. "Most of them have been with us since kindergarten, so they understand what a legacy he left on our school, and also schools in general in Boston."
Smith said she hopes Menino's legacy will be that be brought some life back to Dudley Square.
"I think he brought awareness to the fact that this community in fact exist and is a critical part of Boston as a whole," Smith said.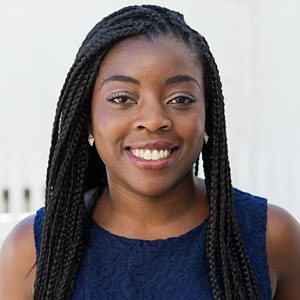 Zeninjor Enwemeka Reporter
Zeninjor Enwemeka is a reporter who covers business, tech and culture as part of WBUR's Bostonomix team, which focuses on the innovation economy.