At Menino's Funeral, A 'People-Loving Urban Mechanic' Remembered
04:11
Play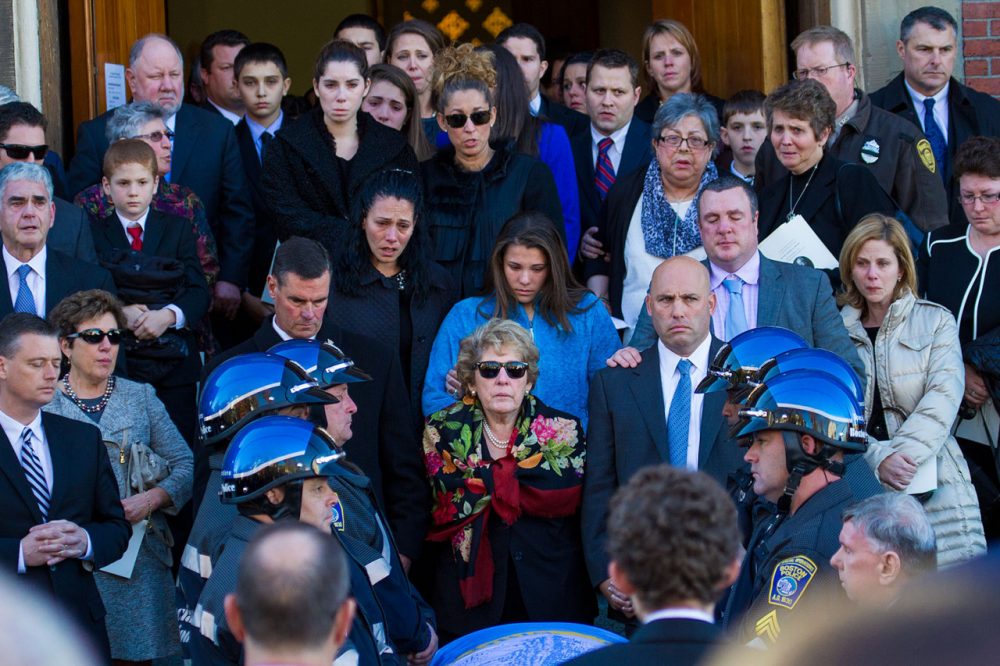 This article is more than 5 years old.
The longest-serving mayor of Boston has now been laid to rest.
On Monday at Hyde Park's Church of the Most Precious Blood, where former Boston Mayor Thomas Menino was baptized, educated and married, Father John Connolly recalled the prophetic words of the parochial school senior.
"One of the sisters had said to him, 'Mr. Menino, what are you going to do with your life?' " Connolly said. "And the mayor replied as a high school senior, 'I'm going to build bridges.' "
Bridges to the homeless, the hungry, the sick and the disadvantaged — this the recurring theme of the praise of a humble servant. The priest said that Menino had a worn, dogeared devotional of prayers to St. Joseph, who is the patron saint to carpenters and bridge-builders and all workers, as well as patron saint to the dying.
"The people-loving urban mechanic has gone to fix potholes in heaven," the current mayor, Marty Walsh, said.
The words of remembrance from Walsh and others were simple, plain-spoken, like the mayor himself. It was the spirit that soared.
"From a mile away he could spot someone who needed a boost," Walsh said. "He sought them out with simple words of encouragement. He backed them. And when Tom Menino had your back, that's all you needed. The proof is all around us. Tom Menino had Boston's back."
His granddaughter, Samantha Menino, spoke not of the mayor but of Papa.
"Every time it snowed out I called Papa to make sure he knew school needed to be cancelled," she said, receiving a roar of laughter from the crowd.
Yet the private Papa who was always there for his grandchildren was the reflection of the public mayor praised for always thinking of the needs of others.
"He reminded me that children in Boston relied on school lunch, and if they didn't go to school they wouldn't have a warm place to say," Samantha Menino continued.
"His life was about building community," said Boston Cardinal Sean O'Malley in his final remarks and in yet another reference to the man who wanted to build bridges. Even in his death Menino brought the community together, the cardinal added.
As the Mass itself ended, in a funeral in which everything had been scripted by the mayor himself, there would be one final and peculiar note. Outside on the steps of the church and before the casket was carried to the hearse, the mourners paused for a secular hymn.
And here, before the vice president, senators, governors and a whole political class assembled before him, along with the faithful, Tom Menino made his last political statement: Frank Sinatra's "My Way" played.
This segment aired on November 4, 2014.