Thoreau's Experiment In Simplicity And Solitude Inspires DeCordova Artists
Resume
Henry David Thoreau's reflections from that tiny cabin in Concord have inspired droves of writers, naturalists and survivalists. He lived on Walden Pond for two years, two months and two days, then published the now iconic book "Walden" about his experiences in 1854.
Now, 160 years later, 16 contemporary artists are taking cues from the famous transcendentalist in a new exhibition at the deCordova Sculpture Park and Museum in Lincoln.
Curator Dina Deitsch says "Walden, revisited" was definitely inspired by the deCordova's location — just two miles from the famous cabin in the woods.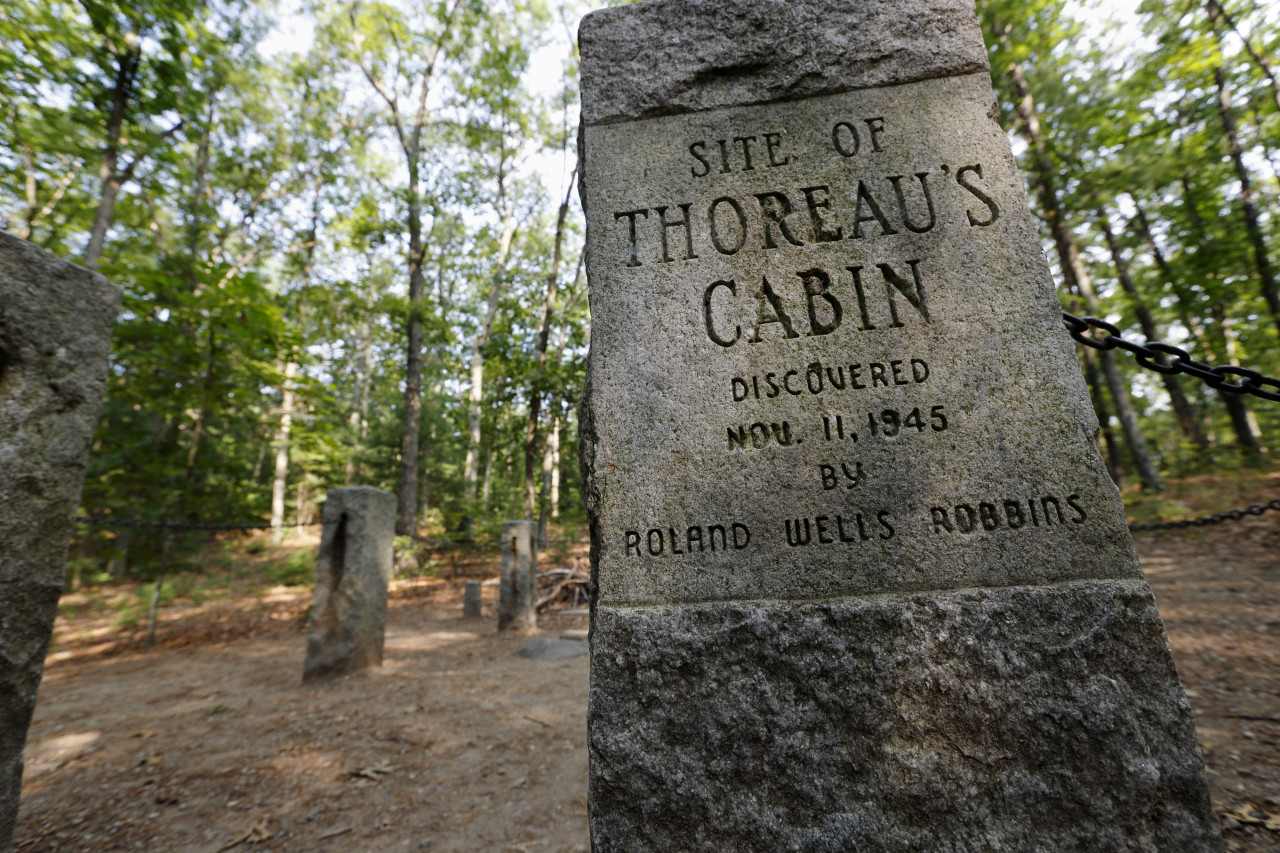 "People would come and visit and say, 'Oh, you're near Walden,' and they'd always go on and on about how important the book is, the pond is and the reaction to it," she explained.
So three years ago Deitsch started seeking out artists who had something to say about Thoreau's 1854 experiment in simplicity and solitude. She was surprised to find many were already making work connected to his writings in "Walden," and they happily signed on.
"True believers, skeptics, but everybody is taking this legacy seriously," Deitsch said.
In the gallery, Deitsch brought me over to a video installation. We peered into a small portal to see white, blobby forms floating, almost dancing to a gurgling soundtrack.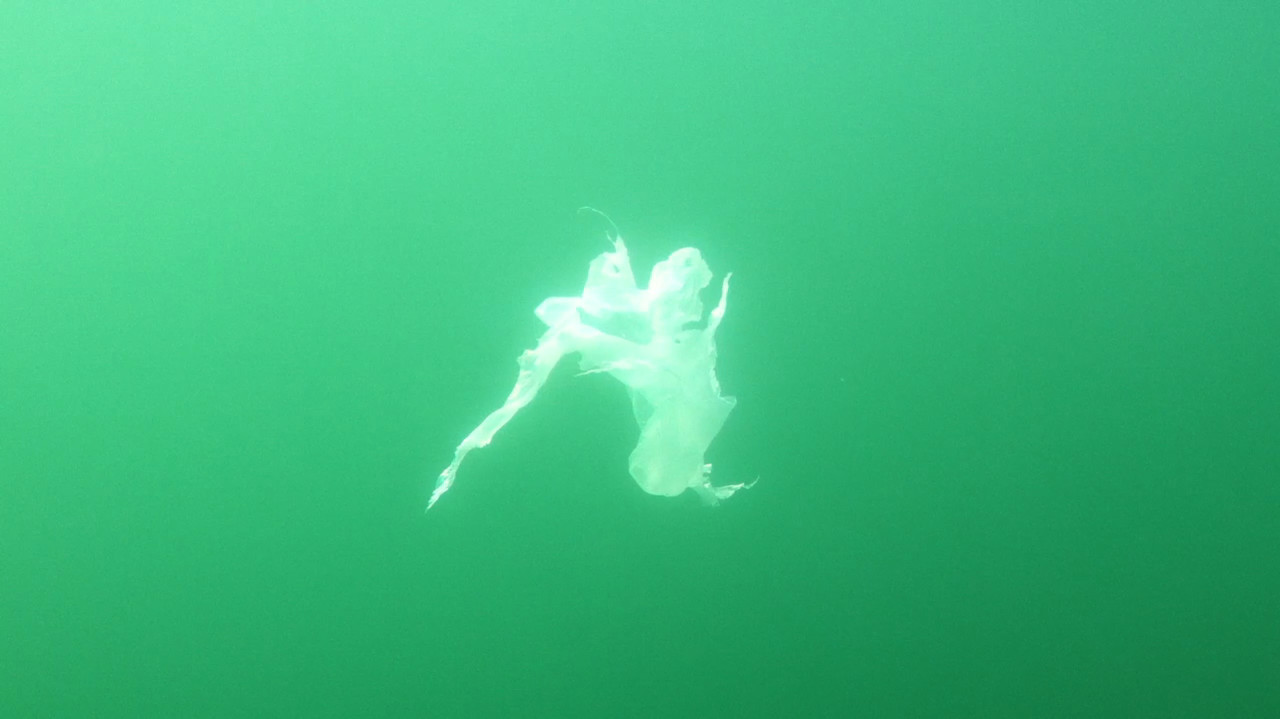 "There was a jelly fish bloom in Walden Pond in 2010. It made the papers, and it was very mysterious," Deitsch explained, "and so Deb floated her wonderful plastic bags to recreate this jelly fish bloom phenomenon."
Boston area artist Deb Todd Wheeler was there installing the piece. "I filmed this with an iPhone camera underwater, trying to find tranquility in the pond," she recalled.
Wheeler submerged herself in Walden Pond's waters during a heat wave and watched people policing its banks for trash to maintain its famously pristine landscape. But in the water she found remnants of plastic bags. Their quiet invasion evokes the jelly fish bloom.
Wheeler says she's drawn to Thoreau's ability to slow down, his focus on small things, and his descriptions.
Ohio artist Michael Mercil first read Thoreau's "Walden" as a sophomore in high school.
"A light bulb went on and I thought, 'A person can live a life according to an idea,'" he recounted.
For his piece, titled "Thoreau's Desk," Mercil used a quote from Thoreau as a starting point: "Every sound is music now."
In "Walden," the writer described what he heard. "Locomotive whistles, rattling rail cars, cars full of sheep and cattle, the creak of wagon wheels, church bells, steaming kettles whistling," Mercil recounted. "There are nature sounds, but clearly what he is listening for is anything available around him."
Avant-garde composer John Cage was also intrigued by Thoreau's ideas about sound, and Mercil's performance piece is an homage to Cage's connection to the nature writer. In it, percussionists follow instructions to disassemble two wooden crates, then they use power tools to build an object out of them.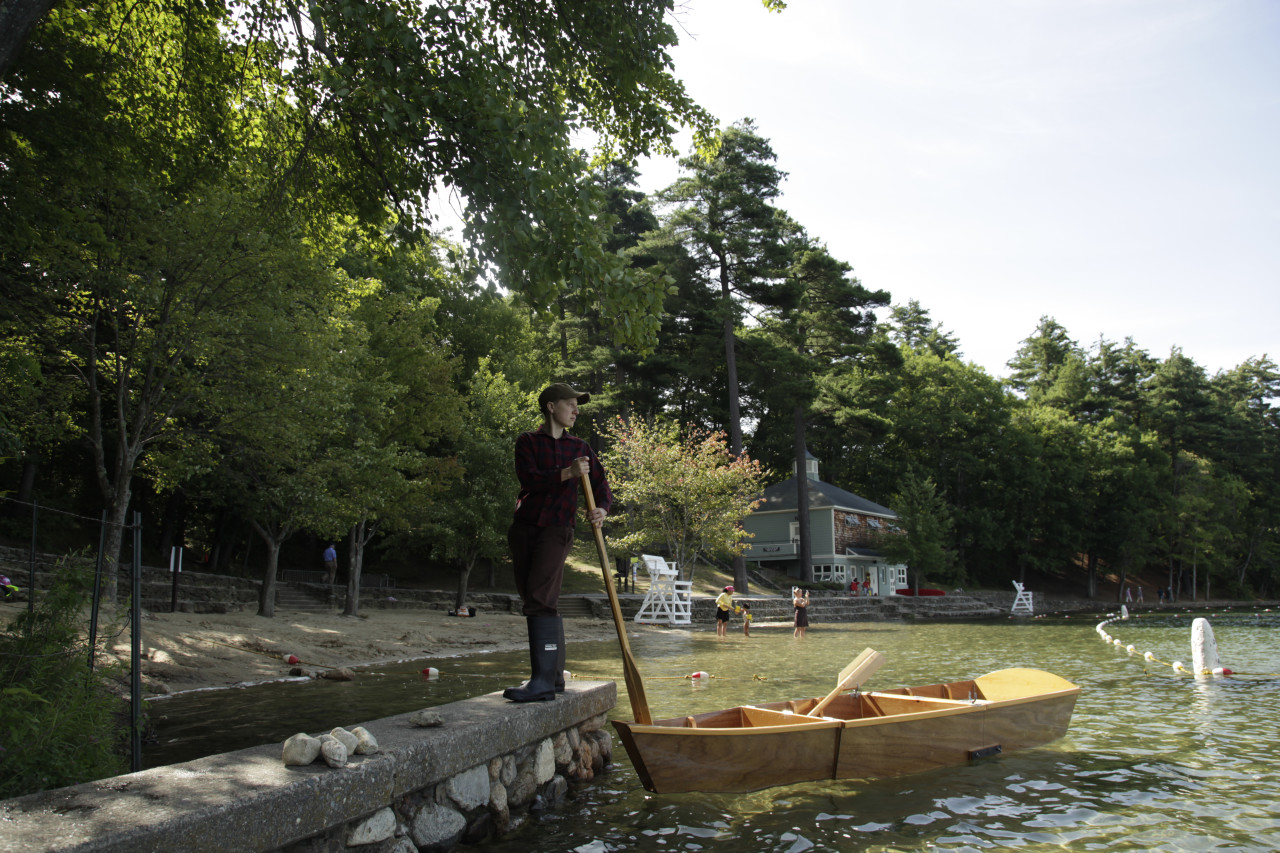 Artist Gina Siepel has long been fascinated by Thoreau's day job as a surveyor around Concord and his friendship with his mentor Ralph Waldo Emerson.
"Thoreau's legacy is often thought about as individuality and solitude," she explained, "and so I was really interested in the fact that much of this came out of his intense friendship and dialogue."
For the "Walden, revisted" show, Siepel invited six friends to be her mentors — two choreographers, two other artists, a scholar, a designer and a natural history curator.
"So each of them read 'Walden' and we had discussions about the book," Siepel explained. "And each of them designed a process for me to use in a sort of poetic, metaphoric resurveying of the pond."
Siepel executed these assignments out on the pond in a boat she built herself. Sometimes with her mentors, sometimes alone.
Thoreau also built boats, and Siepel emulated him by taking detailed notes of her observations while floating on the water. Then she turned them into reflective pieces of writing.
"Glitter of sunlight on water. Rustle of trees in the wind. A couple on the rocks I hadn't noticed. Two women on paddle boards. Two men in a canoe with a silent trawling motor. The churning arms of two swimmers…"
But some artists in the show critique the romanticized view of Thoreau's experience at Walden Pond. Curator Dina Deitsch notes L.A. filmmaker James Benning built two cabins — one a replica of Thoreau's and the other a replica of unabomber Ted Kaczynski's cabin
"Ted Kaczynski's famously quotes Walden and Thoreau — and it's the darker side of the legacy of a man going out into the woods," Deitsch said.
Other participants play up the funny side — and the creepy side, too — including Jennifer Sullivan's video blog of her week living "off the grid" in a camper behind her dad's house in upstate New York. (She wears a fake animal skin bikini much of the time, and tries to cut down a tree with a small hatchet.)
Then there's Oscar Palacio's photographs of the tree tops around Walden. He took a picture of every step he took while walking the pond's loop, then animated them together in such a frenetic way that it looks like a horror film.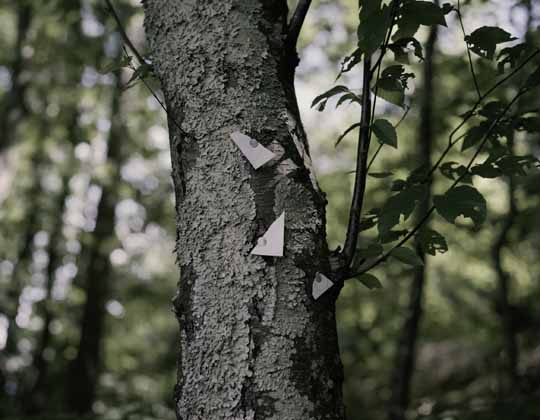 "For a lot of us nature is scary, myself included," curator Dina Deitsch admitted, laughing.
Regardless of how visitors feel about the transcendentalist, the curator and the artists here hope their "Walden, revisited" show makes people think a little differently about Thoreau's legacy — and how it's playing out in 2014.