Silent Wars: Helping Vets Fight Mental Health Battles At Home
The movies have it wrong. Combat, at least in my experience, was not non-stop or action-packed. Those who have experienced it know that modern warfare usually involves a lot of starting and stopping. Long stretches of quiet, even boredom, can be broken in an instant.
I was deployed to Iraq as an infantry platoon leader in 2008-2009. During that time, there may not have been constant action but there was tension — my fellow soldiers and I were on edge most of time, soldiers among civilians, going on patrols in the northwest corner of Baghdad.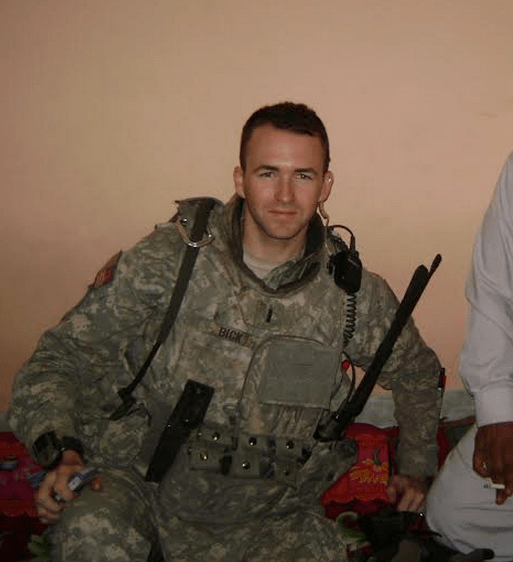 On our first day in the city, the leaders from the unit we were replacing took us on a walk through their area of responsibility. We saw the sidelong glances from civilians as Americans walked through their streets, hidden behind rifles and sunglasses, and weighed down by cumbersome body armor. We also saw an area filled with stark contrasts — stucco houses with gated courtyards in one neighborhood, and refugee camps for Iraqis displaced by ethnic violence in the next.
Deployment is a challenging experience even when it's boring. Whether you are patrolling 'outside the wire' or working behind the scenes, the sense of danger is real and omnipresent. While deployed, soldiers typically work far longer hours, and with less opportunity for relaxation than they experience at their home station. Isolation from loved ones, of course, is an important challenge both for the deployed soldier and family members back home.
Even with all those challenges, the bigger battle for many veterans begins when they return home. Without a unit that shared in your experience of war, you can feel lost — more lost than you would ever feel on patrol. It's easy to get trapped inside your own head, and to dwell on what did not go well, and what you should have done differently. The quick reflexes and adrenaline that may have helped keep you alive overseas are probably no longer helpful.
Strategies that kept you and your fellow soldiers safe, like driving fast and straight down the middle of a road, become dangerous, and loud noises or crowds may make some part of you feel like you're back in the desert.
I can't say that I experienced all of these feelings firsthand. I was lucky to have a relatively smooth transition back home, both on a large Army post in Kansas and then with supportive friends and family when I returned to Massachusetts. But I kept thinking about the veterans who were not so lucky — who experienced more trauma on the front and came home having nobody to talk to about their troubles.
Among the veterans returning from Iraq and Afghanistan, between 11 and 20 percent are diagnosed with post-traumatic stress disorder (PTSD) each year, according to the U.S. Department of Veterans Affairs. However, about 50 percent of them do not seek treatment, according to the RAND Corporation. Each day, 22 veterans go on to die by suicide, according to the U.S. Department of Veterans Affairs.
I decided that I would make it a career to help these veterans.
I enrolled at the Massachusetts School of Professional Psychology Doctor of Psychology program and became involved in their Train Vets to Treat Vets program, a collaboration between the school and the Massachusetts Department of Veterans Services that trains veterans to help fellow veterans work through their mental health struggles. I saw that I was part of a unique group with our own values, and our own collective experience of war. The culture of the military may promote self-reliance, but we all need people to rely upon, as well as people who can listen to and help solve our problems.
Asking for help was not easy for Jean, who spent three summers as an Air Force intelligence officer in Afghanistan from 2002 to 2004. She was accustomed to 18-hour days, and no days off. It was a treat to get four hours off for her birthday. She would work all night and sleep during the day, and still be required to keep a pager next to her for emergencies when she was sleeping.
When 38-year-old Jean (who asked to not be identified) returned home, she lived on a base, but she was in a house by herself, not in a tent with 14 other women going through the same experience she was. She no longer had to carry a weapon everywhere she went, and she struggled to return to a normal sleeping pattern. Her cheeks felt constantly flushed, and she found herself flaring up and snapping at people, something she had not done before deploying. She sought mental health treatment to help manage her anxiety, but worried about the implications of seeking help as an active-duty officer.
"I think it's scary to get help when you're still in the military because there may be retribution," Jean said. "The military has access to your mental health record while you're still in there. Nothing is confidential, and you run the risk of losing your security clearance."
Jean decided to seek help from a civilian provider who she had developed a trusting relationship with in the past. This provider happened to be a non-veteran, although Jean would have preferred to work with a veteran in the civilian sector if one had been available. While she understands that the shared experience of war often makes it natural for veterans to want to seek help from fellow veterans, she found that the personality of her provider was also important. Jean liked that her provider did not minimize the intensity of her experience in Afghanistan, or force Jean to talk about anything that she did not want to talk about.
It was over a year before they discussed Jean's time in Afghanistan. Instead, they focused initially on managing her transition to life back home, and learning to cope with anxiety.
Veterans like Jean who summon the strength to ask for help have to be met by providers who can speak their language — by taking our military experience into the mental health field, veterans can provide this important service for our brothers and sisters in need.
As the VA works to recover from recent controversies related to the quality of healthcare available to veterans, veterans must make sure that we are taking care of each other, and learning that it is okay to ask for help.
To do that, our society needs more veterans to step up to the plate and become mental health care providers. We also need more civilian providers who understand how to listen to veterans and help them work through any problems they face.
The battle continues, for Jean and all veterans. The return home will always be difficult. It is a transition period when veterans and their families learn what it is like to live and work together again, while recognizing the change and growth that has happened in each person during the veteran's absence.
But, this Veterans Day, we as a society should think about making this transition a little bit easier. Veterans should not have to struggle through silent battles with their mental health. We need to help them raise their voices and emerge from these wars victorious.
Evan Bick is a doctoral student in the Clinical Psychology PsyD program at the Massachusetts School of Professional Psychology and student coordinator for the school's Train Vets to Treat Vets.