Assimilation And Ethnicity: From Clifford Odets To 'Bad Jews' — And Larry David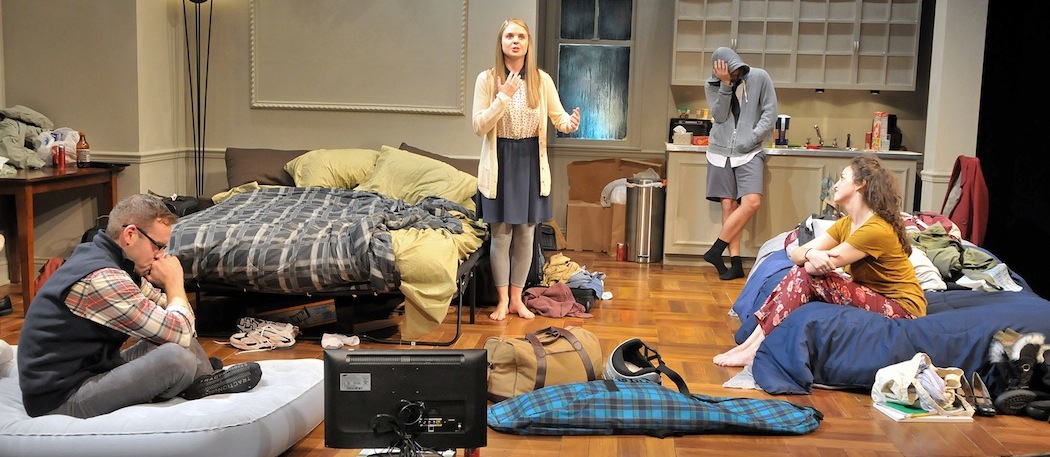 This article is more than 7 years old.
This past Wednesday I took part in a talkback at SpeakEasy Stage Company on "Bad Jews," the contemporary comedy by Joshua Harmon about three cousins reuniting after the death of their grandfather. Daphna rails against Liam's assimilationist ways (the names tell all) while Liam attacks her self-righteousness and her lack of tolerance for anyone who doesn't see the world in her ethnocentric terms.
Coincidentally, "Bad Jews" (through Nov. 29 at the Boston Center for the Arts) is playing concurrently with another play that deals in part with Jewish assimilation vs. family and ethnicity, Clifford Odets' "Awake and Sing!," first performed in 1935, at the Huntington Theatre Company (through Dec. 7).
Following is a piece built out from some of the themes the audience and I touched on at SpeakEasy.
It's fascinating to see "Bad Jews" and "Awake and Sing!" so close together. It's reminiscent of how the two theaters did "A Raisin in the Sun" and "Clybourne Park" simultaneously a couple of years ago. In many ways, "Bad Jews" could be seen as an update to some of the issues in the Clifford Odets play just as Bruce Norris's "Clybourne Park" was literally a contemporary response to Lorraine Hansberry's play.
The American theater, from Eugene O'Neill onward, has been concerned with ethnicity and family, often as is the case here, both. You can almost see the through line from O'Neill, Odets and Arthur Miller to Tony Kushner, August Wilson, Suzan-Lori Parks, Lin-Manuel Miranda and Joshua Harmon.
That's hardly the case in England. You wouldn't even know that Harold Pinter and Tom Stoppard are Jewish from their plays, which are only peripherally interested in family. Would you even know that Samuel Beckett was Irish if you saw the excellent production of "Happy Days" with Brooke Adams and Tony Shalhoub?
But in America ethnicity and family are enormously important issues. David "Daphna" Mamet even chided Arthur Miller for not making the Loman family Jewish. So the more-Jewish-than-thou debate is something that's been with us from "Awake and Sing!" to "Bad Jews." Liam could be the great-grandson of the couple who turn their back on their Jewish roots in "Awake and Sing."
But here's what fascinates me about the difference between Odets' time and ours.
Some 20 years ago I was watching a movie called "Thunderheart," in which Val Kilmer played a Native-American FBI agent dealing with a murder on the reservation. In the film the conservatives were the assimilationists and the progressives were the ones who were tied to the reservation and wanted to honor their Native-American roots.
A friend of mine noted after the movie that it was entirely the opposite in Odets' time. The liberals wanted to go out into the wider world and forget about family and ethnicity, and not just in America. James Joyce, Tennessee Williams — the vast majority of artists in the first half of the 20th century thought the way to awake and sing was to break a new path. They're called the universalists by Alan Wolfe in "At Home in Exile," as opposed to the particularists like Daphna.
Move ahead to contemporary times and the opposite is true of August Wilson's views of ethnicity and the world outside the African-American community. Or of Usnavi, the main character in "In the Heights," who decides to stay in Washington Heights and fight for the neighborhood and the culture.
I think Jews and Asians are much more ambivalent staying or going and I think Harmon's "Bad Jews" is a result of that ambivalence. There may be an urge to join the culture at large, but even the most assimilated of us are grateful, albeit grudgingly, to the Daphnas of the world, for at least keeping the debate alive about what happens if we all just become the United Colors of Benetton.
And theater is the place to keep the debate going. We walk on eggshells so much of the time in public discourse. People's careers can nosedive by saying the wrong thing in public. Frank Rich wrote a very perceptive column comparing HBO's "The Sopranos" to Mel Brooks' "The Producers" in 2001, saying in part that they gave their audiences license to forget about political correctness. Larry David took that license even further with "Curb Your Enthusiasm." Larry, the ultimate assimilationist, but Jewish from head to toe.
But I think there is a difference between theater and popular culture. I was interviewing the late Spalding Gray once and he said that he gave voice to what people wanted to say but couldn't. I mentioned that Howard Stern could say the same thing about his radio show and Gray said, "But there's nothing transcendent in what Howard Stern does."
There are, of course, transcendent moments in TV and movies, but it's really theater and live arts that we turn to on a regular basis for that sense of transcendence. I don't know that the final "reveal" in "Bad Jews" is that powerful a moment, but it is an attempt to square the circle with the debate that Odets started three-quarters of a century earlier.