Boston Reacts To Ferguson Grand Jury Decision To Not Indict Officer In Shooting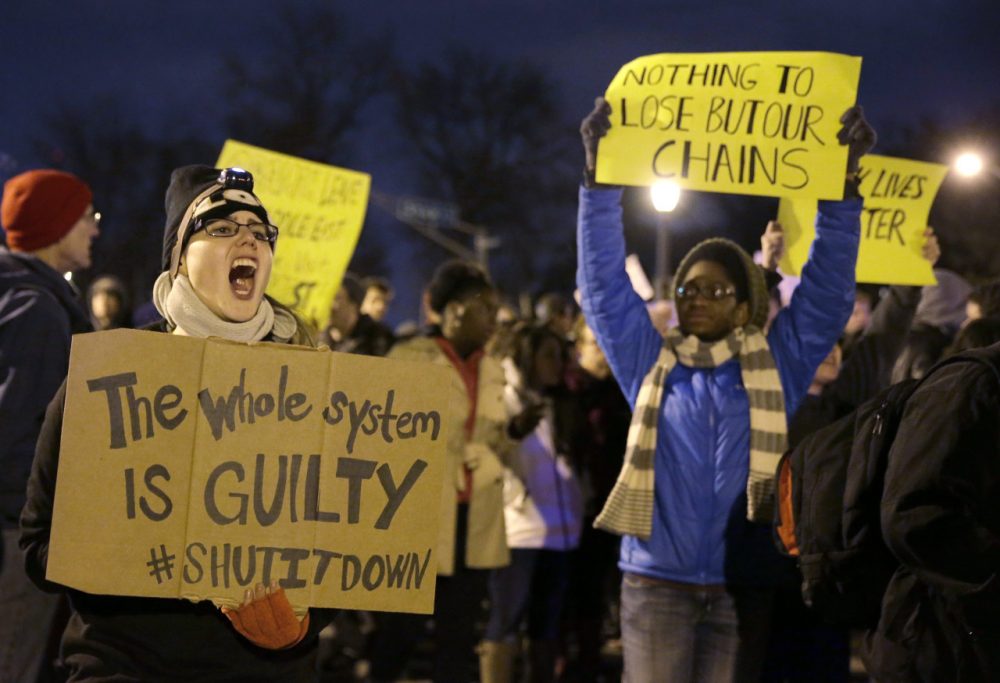 This article is more than 6 years old.
Peaceful protest of ~150 has shut down Beacon St in front of Massachusetts Statehouse. Singing heard. @universalhub pic.twitter.com/6GYWJIUfUW

— Plunkett Prime Props (@PlunkettPrime) November 25, 2014
BOSTON — A grand jury in Ferguson, Missouri, has decided to not indict Officer Darren Wilson in the fatal shooting of unarmed 18-year-old Michael Brown, St. Louis County prosecutor Robert McCulloch announced Monday.

McCulloch said the grand jury found "no probable cause exists to file any charge against Officer Wilson."

The decision comes more than 100 days after the Aug. 9 shooting, which sparked ongoing protests in the St. Louis area and calls for a trial. Tensions in the city have been high and law enforcement has been criticized over their military-like response to the demonstrations.

Monday evening's highly-anticipated decision has prompted reaction in Boston and across the country. Here is a look at the local reaction:

Mayor Marty Walsh issued a statement shortly after the announcement:

This has been an incredibly emotional and difficult process for all involved. We do anticipate public demonstrations following this decision, and we welcome these expressions, done respectfully, responsibly, and peacefully. The Boston Police Department has been working closely with a wide range of community members to ensure the highest level of collaboration and unity tonight and in the coming days. All are welcome to join me, Reverend Jeffrey Brown, and other clergy and community leaders tomorrow evening at 6:00 p.m. for a public forum at 12th Baptist Church.

The Rev. Jeffrey Brown of the Twelfth Baptist Church in Roxbury said there is a lot of anger.

"It was clear that there was something very wrong that happened here and I really mourn for the Brown family who has to endure this injustice in my opinion on top of the death of their son," Brown told WBUR's Fred Thys.

Brown also said the case provides an opportunity for the community to come together to discuss difficult issues.

"I think the issue of police-community relations is at the center of the table now and the issues around race and disadvantage and disparities, issues around economics and high unemployment rate that's traditionally in communities of color — all the conditions that foment violence in our community," Brown said. "All of that's on the table right now and it's front stage in the nation and I believe we're at a point now where we need to either begin to talk about it or we're going to start enduring the chaos."

Michael Curry, the president of the Boston NAACP, said he was not surprised by the decision:

"We were hopeful but we're not shocked," Curry told WBUR's Fred Thys. "It's another example of the system not working when a young African-American boy or man is murdered. The reality is there was a low standard for probable cause and a grand jury hearing, and there was enough here to have brought him on to a trial under one of the charges, at least involuntary manslaughter and that didn't happen in this case. So, we're disappointed we didn't get to that in this case."

In a statement, the Boston NAACP said 20 of its members would be out in the city monitoring the protests and police engagement with citizens.

Gov. Deval Patrick issued a statement on Twitter:


My condolences go out tonight to the family of Michael Brown, who are having to experience their loss afresh. (1/3)

— Deval Patrick (@MassGovernor) November 25, 2014




I am thinking tonight of the people of Ferguson, of their police officers, and... (2/3)

— Deval Patrick (@MassGovernor) November 25, 2014




of the apparent lack of understanding between the two — and I pray for peace. (3/3)

— Deval Patrick (@MassGovernor) November 25, 2014


Boston police said they would have additional officers on alert.

"We don't anticipate any issues," a BPD spokeswoman told WBUR's Fred Thys. "We will deal with them as they arise."

Dr. Pamela Lightsey, the associate dean at Boston University's School of Theology, said she was "saddened" by the decision.

"My message is support for the hard work that's been done by the protesters to state over and over and over again that justice needs to be had," Lightsey said in a phone interview. "In light of the fact that the grand jury didn't bring an indictment, that does not end the protests, the protest is for the end of excessive police force against black bodies and we're a long way from that being resolved."

Lightsey has made multiple trips to Ferguson and arrived in the city Monday evening to join protests there.

Daunasia Yancey of Black Lives Matter Boston said protests would continue.

"It seems yet again that the U.S. justice system is not bringing justice to black communities," Yancey said in a phone interview.

She said calls for justice would continue despite the grand jury decision. Yancey's group plans to hold a rally Tuesday at 7 p.m. in front of the Boston Police Department building in Roxbury.

"Any of us could be Mike Brown," Yancey said. "This decision, this case is being felt throughout black communities across the country and throughout the world. This moment has really become a movement. I think that people feel that this case resonates in various cities and also here in Boston ... We are prepared to continue this fight. This is not the end, but actually the beginning of a revamping of protests and pushing for justice."

---

Demonstrators also gathered in the streets of Boston to protest. Here are some scenes from social media:


March of 100+ blocking traffic in front of the Massachusetts State House in #Boston for #Ferguson pic.twitter.com/CbcsfbSQnp

— Paul Weiskel (@PWeiskel08) November 25, 2014




Peaceful protest in wake of #Ferguson decision continues as state police troopers look on #wcvb https://t.co/cjvZTf0FaN via @vine #Boston

— BostonAttitude (@BostonAttitude) November 25, 2014




Boston College students continue their protest, moving through campus #Ferguson pic.twitter.com/7SrVHwiYBz

— Gavel News (@BCGavelNews) November 25, 2014




Protestors block Beacon St in front of state house in wake of #Ferguson decision. #WCVB pic.twitter.com/AryBvyOhKj

— John Atwater (@AtwaterWCVB) November 25, 2014




Protestors speak out in front of state house in Boston #Ferguson @WEBNBoston pic.twitter.com/yxiWg8CLE8

— Amelia Fabiano (@amelia_fabiano) November 25, 2014




Protests in Boston following the #Ferguson #NoIndictment pic.twitter.com/XokLBzQ9Up

— Lloyd Mallison (@lloyd_mallison) November 25, 2014




Protests outside Mass. State House in Boston via @susantran #Ferguson #Mapoli pic.twitter.com/OvaWs6S9PE

— Garrett Quinn (@GarrettQuinn) November 25, 2014




Boston — "@AtwaterWCVB: Protestors arrive at Massachusetts state house in wake of Ferguson decision #wcvb https://t.co/lTFgXe1vrp"

— Marc Ambinder (@marcambinder) November 25, 2014


Earlier:
This article was originally published on November 24, 2014.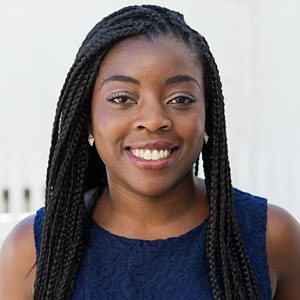 Zeninjor Enwemeka Reporter
Zeninjor Enwemeka is a reporter who covers business, tech and culture as part of WBUR's Bostonomix team, which focuses on the innovation economy.