At Harvard, Technology Resurrects Long-Silent Voices Of Poets
Play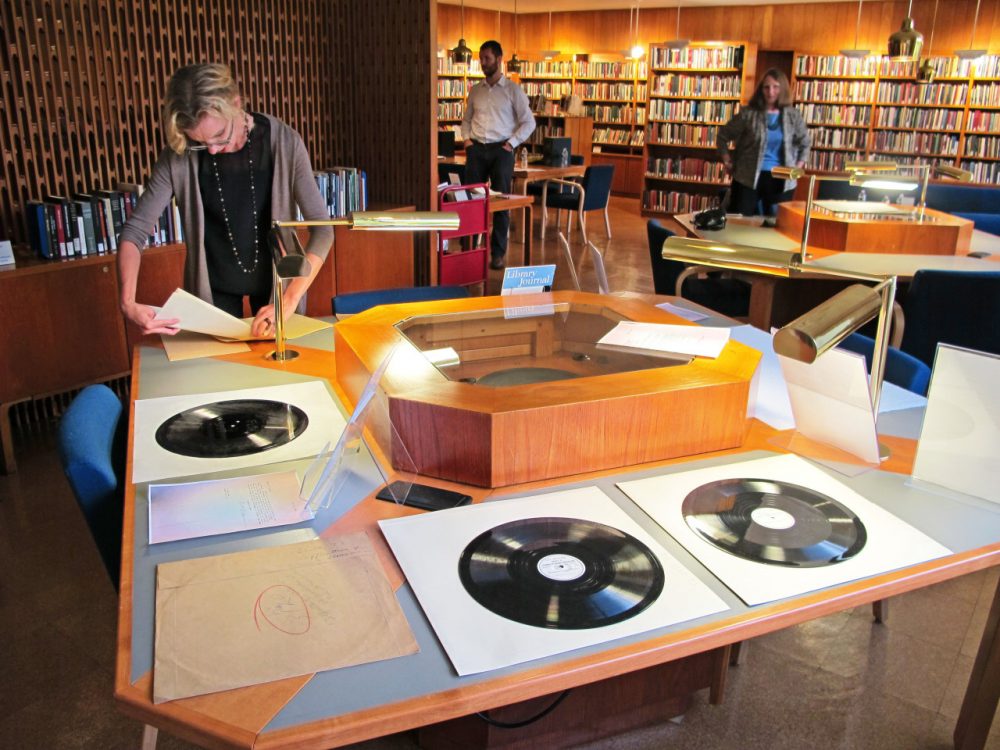 This article is more than 8 years old.
Imagine being around the Thanksgiving table on Thursday and having someone pull out a sound recording of a family member you barely knew, or a relative you'd only heard stories about.
That rare, personal discovery is something that poetry researchers at Harvard University are now experiencing. In the warmly lit Woodberry Poetry Room, walled with well-worn books, researcher Mary Walker Graham is unwrapping a sealed wooden box like a gift.
Inside it is a sort of gift, a gift to the English language. A black record, a disc, the only one of its kind in the world. In wax crayon in the center is written: "Canto 56, Part 2."
It's a master recording of Ezra Pound in 1939, reading part of his modern epic poem, "The Cantos." But the disc is falling apart.

"You can see that the lacquer is beginning to come completely separated from the metal base," Walker Graham says, holding the record. "It's far past beginning, actually, this is what you would call advanced delamination. Once it gets to this phase obviously it can't get anywhere near a needle. This is completely unplayable."
It's just one of thousands of archived recordings of some of the most important poets of the recording age: T.S. Eliot, Sylvia Plath, Robert Frost.
"It's a very humanizing thing," says archive curator Christina Davis. "I mean I think audio archives, because it's so connected to the body and breath — in a way that text is somewhat divorced from — you know, kind of reunite us with the total body."
But the voices on many of these brittle, early records have been dead — silenced for nearly a century. They're too damaged to play. That is, until today. Walker Graham has always wanted to listen to a fragile T.S. Eliot recording with a written note saying: extra word at end.
She says she's been dreaming about that extra word. "Where instead of, in the end of his famous poem, 'The Hollow Men,' which everyone knows the line: The world ends 'Not with a bang but a whimper.' I had a dream that it was: 'Not with a bang but a chicken cluck,'" she says, laughing. "Just last night. So, we'll see!"

They are going to see, thanks to a new service from the nonprofit Northeast Document Conservation Center in Andover. In November, NEDCC began offering a preservation technology called IRENE to museums, archives and private collectors.
"IRENE can do something that no other technology can do, which is to put Humpty Dumpty back together again," says NEDCC director Bill Veillette.
Veillette says his laboratory traditionally preserves paper documents. Walking through the conversation laboratory is like walking through the centuries, as conservators carefully preserve books, maps and vintage photographs. In a separate area of the center, digital archivists take high-resolution images of rare and delicate documents for posterity.
Now the center has begun taking pictures of voices.
In the next room, audio technician Mason Vander Lugt is operating the IRENE machine. It's a high-tech turntable that looks more like an industrial work bench. As the fragile record slowly spins, a 3D camera takes high-resolution pictures of the microscopic scratches etched into the record's grooves.
Then Vander Lugt uses computer software to convert the images of the microscopic squiggles to sound — sound that had been lost to the ages, like the single gouged side of a Robert Frost recording from around 1940.

"That's the second side of this recording, where the engineer scraped out the recording so nobody would play it," Vander Lugt says surveying rows of shaky black lines against a white background on his computer monitor. "And we get to go against his wishes, and find out what's on it anyways."
What is on the side not taken? "The Road Not Taken," announces Frost amid the scratchy clicks and pops of the rescued recording:
Two roads diverged in a yellow wood,
And sorry I could not travel both
And be one traveler, long I stood
As Frost continues on the record, Vander Lugt says: "Each time the software comes across the gouge that you can see, in the image, there's a pop. But that's an accurate representation of the disc that we have."
IRENE was inspired by a story on public radio.
"At that time I was driving back and forth to Silicon Valley," says Carl Haber of 2000, when he was stuck in a traffic jam listening to his local public radio station, KQED. On came a story about the endangered state of archived sound recordings. Haber's a physicist at the Lawrence Berkeley National Laboratory. He was studying the surface of silicon, trying to understand its shape and how particles reacted on it.
"And then I heard thing the thing about sound recordings," he remembers. "And that idea about looking at images of particles turned into looking at images of sound. It's just one of those accidental things."
Now Haber's accidental eureka is creating euphoria at Harvard's Woodberry Poetry Room. Researchers Davis and Walker Graham have been devouring all the sonic treasures that IRENE has saved from decrepit records.

They were delighted to hear poet Marianne Moore's normal speaking voice, something you never hear in commercial recordings. They marveled at the young voice of Muriel Rukeyser in her first known recording, at the age of 27. And they recovered the only Wallace Stevens reading of "It Must Change," from 1954 – part of his poem "Notes Toward a Supreme Fiction."
A single text, granite monotony
One sole face, like a photograph of fate
So the poem goes, in pulses of pentameter. Stevens scholar and literary critic Helen Vendler says this newly-recovered recording adds to her understanding of him.
"It's important to hear the way he hears his own lines," Vendler says. "Because that isn't always conveyed on the page."
Among the sound recordings that have been saved is that T.S. Eliot record from 1947, the one with the mysterious note about the extra word at the end. Turns out, that extra word is just an accidental cut-off word, barely a syllable, at the end of the recording.
It wasn't a chicken cluck, but it was close.
Whether mundane or poetic, that's the power of this technology, the unbreaking of broken records.
So that the fading voices of the 20th century don't go out with a whimper, but come back with a bang.

This segment aired on November 28, 2014.