The Monsieurs: '60s Girl Group Sweetness Meets Snarling Garage Rock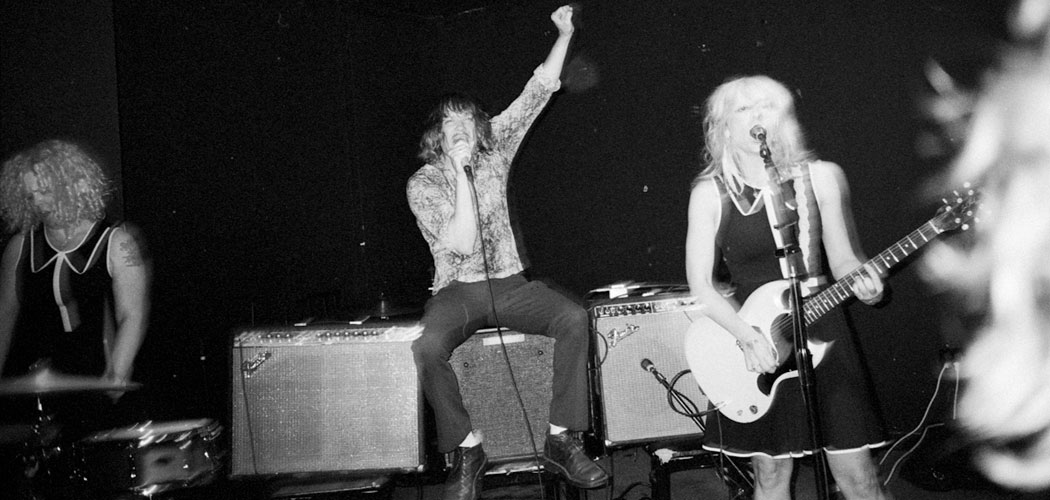 This article is more than 7 years old.
The practice room where The Monsieurs rehearse, in the basement of a ramshackle community arts house in Jamaica Plain, is lime green. The fluorescent lights accentuate this. Amplifiers, stacked on boxes, sit sentinel against the walls. In the corner, behind a small drum kit rendered sprawling by the room's compact proportions, is a bucket full of earplugs. This is necessary because The Monsieurs are loud enough to make the walls look positively tame.
The band, which celebrates the release of its self-titled debut album on Dec. 5 at The Cantab Lounge in Cambridge, does not require all that much equipment. There can be counted two—or three, depending on how you look at it—instruments: Hilken Mancini's guitar, Erin King's minimalist drum set and Andy Macbain's voice. No bass, or even a bass drum. Though there is, admittedly, plenty of distortion.
"I like things to be just really simple and raw. I don't like flashy stuff," says Macbain. It's a Tuesday night in November, and he sits slouched behind the drum kit (which the band does not actually use), trucker hat pulled low. Macbain, who grew up in Brookline and lives there still, is not given to over-explanation. When asked about the emotional impetus behind his playfully aggressive songs, he replies simply, "Anger."
His bandmates are a little more forthcoming. The conversation pings around the room, a comfortable rapport among friends. Mancini and King alternate between teasing and praise, goading Macbain into memories of his locally-worshipped, now-defunct band, Tunnel of Love, a similarly distortion-driven trio with a raunchy bent. Mancini, the former lead singer of '90s indie band Fuzzy and current member of Boston psych-pop group Shepherdess, remembers being a massive fan of Tunnel of Love, and describes their magnetic appeal:
"All of a sudden you'd hear this noise in the corner and you'd turn around, and there were these three skinny guys—one of 'em wearing a cape, tights and underwear— with Christmas lights, in the dark. And you'd be like, 'What is going on?' And it was just—I don't know, it was totally punk rock, and it was pandemonium, and I just was a fan, because it was just different. You were used to seeing people play by the rules. And they definitely were not."
After Tunnel of Love disbanded in 2008, Mancini convinced Macbain to embark on a new project. The name "The Monsieurs" is a holdover from their original concept, which involved singing entirely in French, even though neither of them speaks the language. "I always like foreign songs better than American songs because the lyrics don't get in the way," says Macbain, who, paradoxically, pens all of The Monsieurs' lyrics. Somewhere along the way, he switched to singing in English, and he and Mancini, who were now a couple, began toying with '60s girl-group-inspired tropes, complete with choruses of "ba ba ba."
When Macbain suggested King as a drummer, Mancini balked, worried he would be too critical of her friend. King laughs, recalling her first show with The Monsieurs:
"I was terrified. I felt like I was white-knuckling it all the way through that point in time. Played the show, and the next day Macbain was like," she lowers her voice to a dopey growl, "'I just have 20 or 30 small parts to change.'" It is still up to debate as to whether he was entirely joking or not.
Macbain is a prolific songwriter with an exacting vision and a wild stage presence. But though he may determine the direction, it's Mancini and King who drive the thundering, souped-up vehicle—whilst wearing matching dresses. King picked up the drums just three years ago after attending Ladies Rock Camp Boston (which Mancini co-runs), and plays with athletic gusto on a spartan drum set comprised of just a floor tom, snare drum, cymbal and tambourine. Mancini provides snarling counterpoint with the rhythmic force of waves falling onto rocks, spilling salt-soaked detritus onshore.
"There's still a lot of melody there, and there's really excellent guitar riffs. I feel like that cuts through a lot of the distortion," says King. "There's so much '60s kind of rhythm in it. And that, I think, grounds it a lot, and makes it way more listenable, for me, than if it was just noise rock. ... So it's cool 'cause you can have this angry song, but it's sort of couched in this catchy run."
This deliriously unsettling mixture of pretty and ugly is perhaps best exemplified in "Kari Ann," the first track on "The Monsieurs." The song is built around a sludgy, syncopated beat, each hit sounding like it might blow out the speakers. Macbain—singing from the perspective of either a jilted lover or a rebuffed stalker—enters with a sly, exaggerated sneer, then rockets upwards among spasms of feedback. Though he is singing words that would be at home on an early Beatles LP—he literally employs the line "I wanna hold your hand"—the effect is slimy, sinister. There is pain in his delivery, but also menace. He concludes with a wounded, drawn-out howl. Is it love? Or obsession? The Monsieurs aren't telling.
(Photo at top by Kealan Shilling.)