Meet Boston's New Chief Diversity Officer, Shaun Blugh
Boston now has its first-ever chief diversity officer in Shaun Blugh, a New Yorker (don't hold that against him) who previously worked with companies to recruit minority job candidates.
Mayor Marty Walsh announced the new position Tuesday along with the creation of the city's first Office of Diversity. Blugh will work with Freda Brasfield, a Walsh administration official who will serve as the deputy chief diversity officer.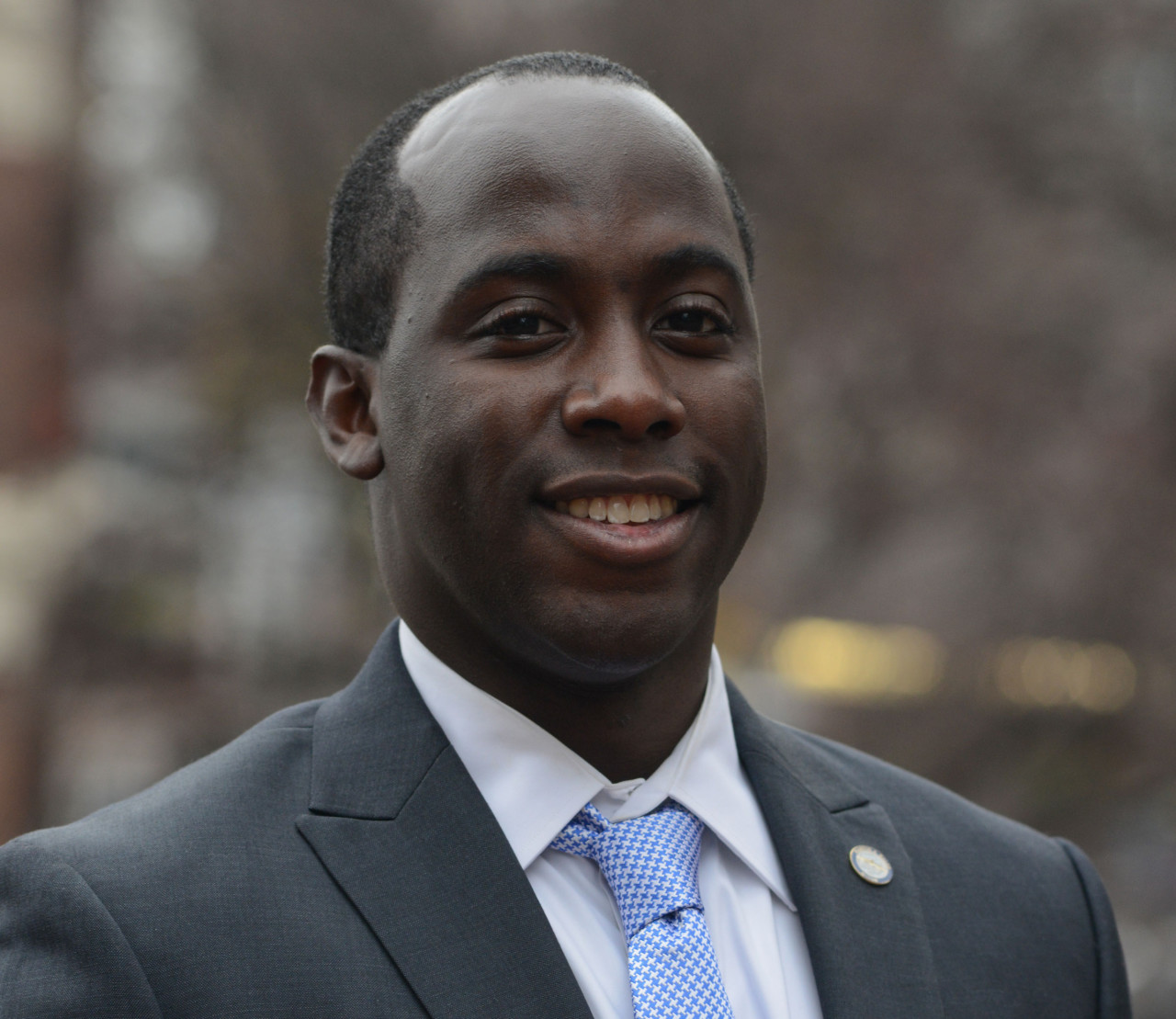 Blugh's background is as diverse as the issues he will be tackling in his new post. He was born in Trinidad and Tobago and moved to the U.S. with his family when he was 5. Though he hails from New York, he does have Massachusetts ties. He attended Phillips Academy in Andover before going to Georgetown University.
In his last job as the director of due diligence for IMB Development Corporation, Blugh worked with minority-, women- and veteran-owned businesses to gain city contracts and consulted with Fortune 500 companies to increase the representation of women and minorities among employees.
We caught up with Blugh, who was in town for series of meetings, by phone to talk about his new role. He will officially start his position on Jan. 5. Here's what he had to say:
What exactly is a chief diversity officer?
It means that, especially in a major city, it's an understanding that the city's personnel needs to reflect the makeup of its constituents and the chief diversity officer, myself, is empowered to help move the needle towards that and make sure that the administration and the rest of the city understands what we're doing with that.
What exactly will the Office of Diversity do?
This will be a sounding board for a lot of the different communities within Boston, so that they now have a person to bring any sort of issues regarding diversity to so that the message is focused.
What are your goals for the position?
Several. Initially it's not for the sake of boosting diversity from a numbers game, but to help the environment reflect the city as well as possible and make sure that in hiring practices and everything else everyone feels comfortable in the workplace and comfortable with the progression of the city and the progression of city positions.
And then also procurement within city contracts. I know that the state has a 10 percent goal for diverse spending. I'd love to see the city reach that and go beyond that across all departments as well.
How will you measure your success?
I think it comes with numbers, but I think it also comes with the overall community discussion. And when people feel comfortable in talking about diversity across the community, the private sector starts reflecting these changes that we're accomplishing here with the Walsh administration and then when we see — within economic development — the Roxburys, the Dorchesters, these neighborhoods also thriving because of what the city is doing procurement-wise as well as the private sector adopting the same message, can really move the needle that way.
What is the importance of leading this new office?
It's something that I'm definitely passionate about. I was born in the Caribbean, I grew up in New York in Brooklyn and because of certain things like Prep for Prep [a program that helps inner city public school students get into private schools in New York] where Gary Simons, a white man who believed in the message, believed in diversity, believed a lot of talented diverse students were being left out in the wood works and that was a chance to truly thrive in environments where they didn't have economic access to. That sort of message really spoke to me and I saw this as a tremendous opportunity to be a catalyst and be a voice of change as well.
In your understanding, what is the extent of Boston's diversity problem?
We all know Boston's history and that's something that we can't change. It's something that will always be a stigma to the community, but it's something that, especially with the events going on in Ferguson as well, it's something we can learn from. I think the key to having this discussion is that we all have our understandings and our own emotions based on this history, but the key is to be inclusive going forward.
There has been a lot of talk about diversity and community relations around that case. What is your take on Ferguson?
Personally, I am disappointed in the fact that Michael Brown lost his life. I'm disappointed in the fact that the people of Ferguson are as distraught as they are. I think that the key that we learn from this is that the importance of having authority figures and authority positions be very reflective of the communities they're working for are paramount to city government.
With Ferguson's disparity, I think that's really the reason why there's such a reaction. The more the people, especially people of color, can feel trust in the makeup of the people that govern their neighborhoods, the more ... they can believe more in the rulings of a grand jury, the ruling of a judge, the decisions of police officials when they believe that their voice is truly being represented as well. I think the Ferguson stuff sort of just outlines the true need of the position and the office.
What about here in Boston? There are some that say there are issues of diversity within the Boston Police Department and some of the underlying issues exposed in Ferguson also exist here. How would you address those concerns?
You can find these issues in any major city and in the changing demographics of American cities. For Boston, it's something where we have to be cognitive of it. Nothing like that has happened in Boston recently, so we can see it and be prepared and make sure something like it doesn't happen. If there's anything we can do, is just learn from it as a city and make sure we are in no way falling into that pitfall.
Education is another area where we've seen diversity issues come up with regard to racial disparities in Boston schools. In the last few weeks, there have been two different reports that showed minority students were put on separate education tracks and that minority students were disproportionately suspended and punished in school. How would you address these issues?
I think especially in regards to the education system it's about accountability. I think the more these studies and this information comes out, the more it's not just about people clamoring about what they believe they're seeing. The more that it's factual and evident, the more people in power and the more that people affected by it can then figure out ways progress and move forward and change that dynamic for a more positive Boston.
There was a report released Tuesday about the lack of Latinos in leadership positions in city government. How do you plan to address that?
With this study, I plan to truly use the strength of the Greater Boston Latino Network and other organizations of that sort. They more than anyone would know the levels of diverse talent they have within their own networks and the more we can have someone like me there to bring their recruiting pool to bear, the better we can be going forward with this administrations.
Moving on to something a little lighter. I was checking out your Twitter profile and you seem to tweet a lot about sports. What sports teams do you follow? What are your allegiances?
Uh, oh. This isn't an easier question, I don't think [laughs]. [I was] raised in New York, it's probably evident from my Twitter feed anyway, but grew up a Yankees fan, Giants fan and a New York Rangers fan primarily. I hope you don't skewer me for that one.
What are your impressions of Boston so far?
[I'm] just getting my feet wet. As you know, I went to high school in Andover, Mass. So [I] come to Boston quite a bit and I also have some really close friends from university and from childhood who work in Boston now. I love the neighborhood-y feel of it. I love that you can sort of walk from neighborhood to neighborhood and see the sites. Especially coming from New York, it feels more community-based than, say, New York City. I truly like that feel about it.
Given your background, what do you think you bring to the table for this position and the goals of this newly-created Office of Diversity?
I think I can provide a great example of when diversity initiatives have succeeded. Given my upbringing, [having] immigrant parents, attending a not-for-profit program that helped me into private school, [I] took that as an opportunity to excel academically and attend Phillips Academy in Andover, attend Georgetown University and then come back and now see what I can help do for the younger generations.
I think that's my overall goal — helping to show that when it's done correctly the difference it can make because who knows where I'd be if it wasn't for Prep for Prep program and the other people who helped me along the way to get to this position.
Diversity is something a lot of companies and organizations are trying to improve on. What advice do you have for companies looking to increase their diversity?
From what I've seen the talent is already there, it's just the opportunity. Mayor Walsh is giving me a tremendous opportunity here. I think the more and more the opportunity is given, the more and more people of all backgrounds can show what they're capable of and what they can do for large corporations, for cities, and anything. It's just opening the door and letting that chance happen and then you can really see what we're all capable of in society.