Thousands Peacefully Protest Eric Garner Case In Boston
Several thousand people rallied peacefully in Boston on Thursday night to protest a grand jury's decision not to charge a white police officer in the videotaped chokehold death of an unarmed black man in New York City.
Protesters blocked some streets while marching to Boston Common, where the city's annual tree lighting ceremony was being held. Others made it onto the Massachusetts Turnpike near exit 24 for a short time. After marching for hours, many gathered back near Boston Common outside the State House.
Demonstrators held signs saying "Justice for All" and "Black Lives Matter" and joined in chants including "Hey, hey, ho, ho. These racist cops have got to go."
On its official Twitter account Friday, the Boston Police Department thanked the thousands of people who demonstrated peacefully, saying: "You too should be proud."
Police Commissioner William Evans said in a statement that he was proud of the "restraint and professionalism" shown by his officers.
Boston police reported two arrests and no serious injuries. State police reported seven arrests.
Three women were arrested by State Police on charges of disorderly conduct for trying to "storm the closed front gate on Beacon Street" in front of the State House, State Police spokesman David Procopio said in a statement. According to Jake Wark, a spokesman for the Suffolk County district attorney's office, the three women — a 29-year-old Roxbury woman, a 22-year-old South End woman, and a 32-year-old Dorchester woman — were each fined $200. They were among 8 protesters who had their cases amended to civil infractions in Boston Municipal Court Friday.
Four others were arrested by State Police troopers for accessing the Mass Pike near Exit 24 and blocking traffic. They were charged with disorderly conduct and trespassing. They were also fined $200, with their cases being amended to civil infractions.
Two of the participants arrested for blocking the Mass Pike — Edward Summerhill, 31, and Addis Summerhill, 29, both of Dorchester — would have been the 9th and 10th protesters to have their criminal cases amended to civil infractions, but after the court amended their cases, they requested they be put back on track for trial, Wark said.
Wark also said in the statement:
A 23-year-old Back Bay woman arrested by Transit Police was charged with disorderly conduct and trespassing for blocking the stairs at Park Street station, screaming at officers, and refusing to leave the station. Her case was amended to a civil infraction with no fine.

A 19-year-old Watertown woman and a 26-year-old Newton woman, both arrested by Boston Police, were charged with disturbing the peace and trespassing for blocking traffic at a Route 93 on-ramp. Their cases were amended to civil infractions with no fine.
The controversial New York grand jury decision came days after a Missouri grand jury decided not to indict a white police officer in the shooting death of Michael Brown, an unarmed black man.
Ahead of the demonstrations, Gov. Deval Patrick had urged protesters to be peaceful, saying he sympathized with their concerns.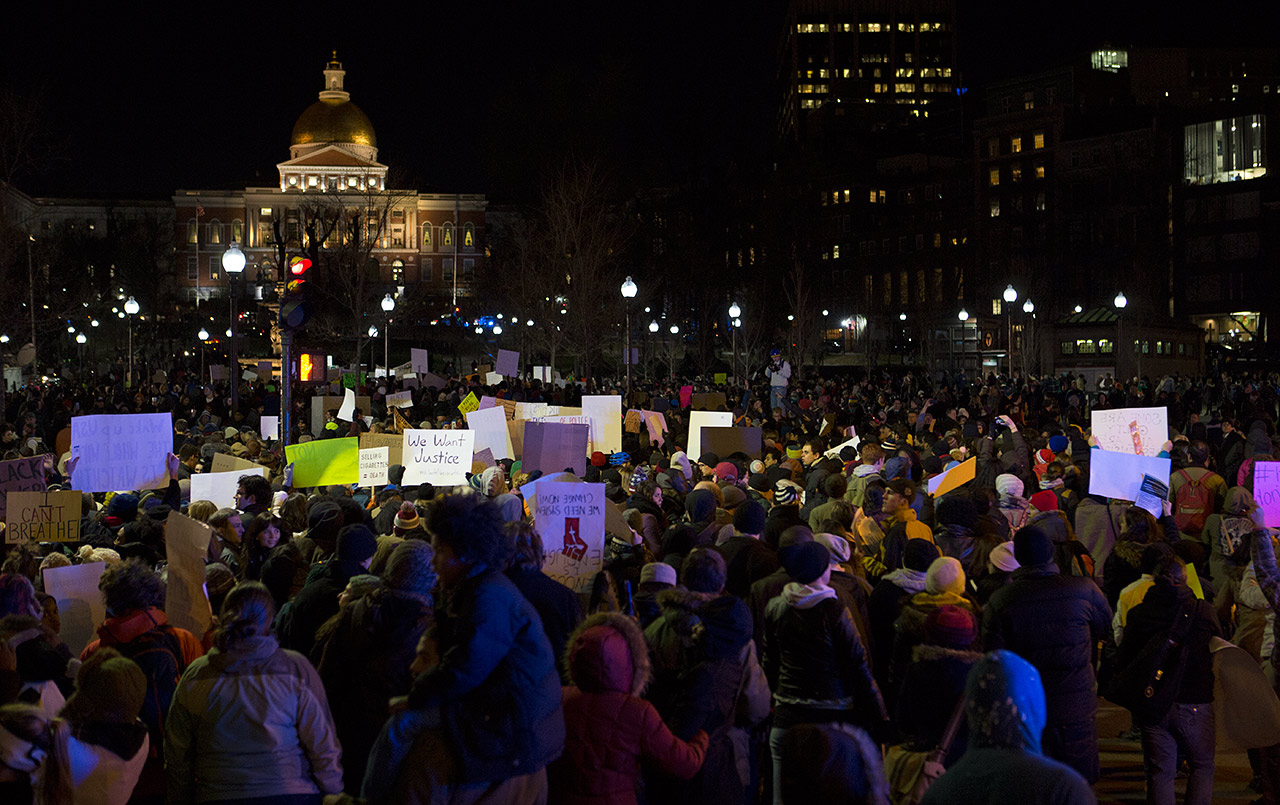 "My heart is with them," Patrick told reporters earlier in the day.
Patrick said he's frustrated and discouraged by the grand jury's decision. He says it's even more upsetting since there is a videotape showing police Officer Daniel Pantaleo holding Eric Garner in a chokehold as Garner repeatedly gasped, "I can't breathe."
Patrick, who served as the top civil rights official at the U.S. Justice Department during President Bill Clinton's administration, called the tape "chilling" and said it shows police "violated policy and best practice, and even humane practice."
"I'm struggling to make sense of it personally," Patrick said. "I want to stand with those -- the many, many others who are struggling to understand it -- but I urge that we express ourselves peacefully and that we continue the long march to greater understanding."
With reporting from the WBUR Newsroom and the Associated Press.
See updates from our reporters and others who were at the protest below:
This article was originally published on December 04, 2014.