Hundreds Protest Ferguson Decision In March Through Boston Streets
Resume
As demonstrations expressing outrage over race relations with law enforcement erupted across the country, police in Boston tried to contain and protect protesters as they moved across the city Tuesday night and into Wednesday morning.
The protesters decried a Missouri grand jury's decision not to indict Darren Wilson, a white Ferguson police officer who fatally shot Michael Brown, an unarmed 18-year-old black man.
A Boston police department spokesman said Wednesday that 45 people were arrested. State Police reported 51 arrests.
The protests began in Roxbury's Dudley Square. Shouting "Hands up! Don't shoot!" more than 600 people gathered for a rally in front of the modern District 2 Boston police station.
And then someone gave the crowd marching orders.
"We are going to South Bay Corrections," one of the protest leaders said. "We are going to visit our people. We are going to let them know that their lives matter as well."
The crowd made its way peacefully to South Bay House of Corrections.
"No justice, no peace. No racist police," the marchers chanted.
As they went, the crowd of protesters gathered more supporters.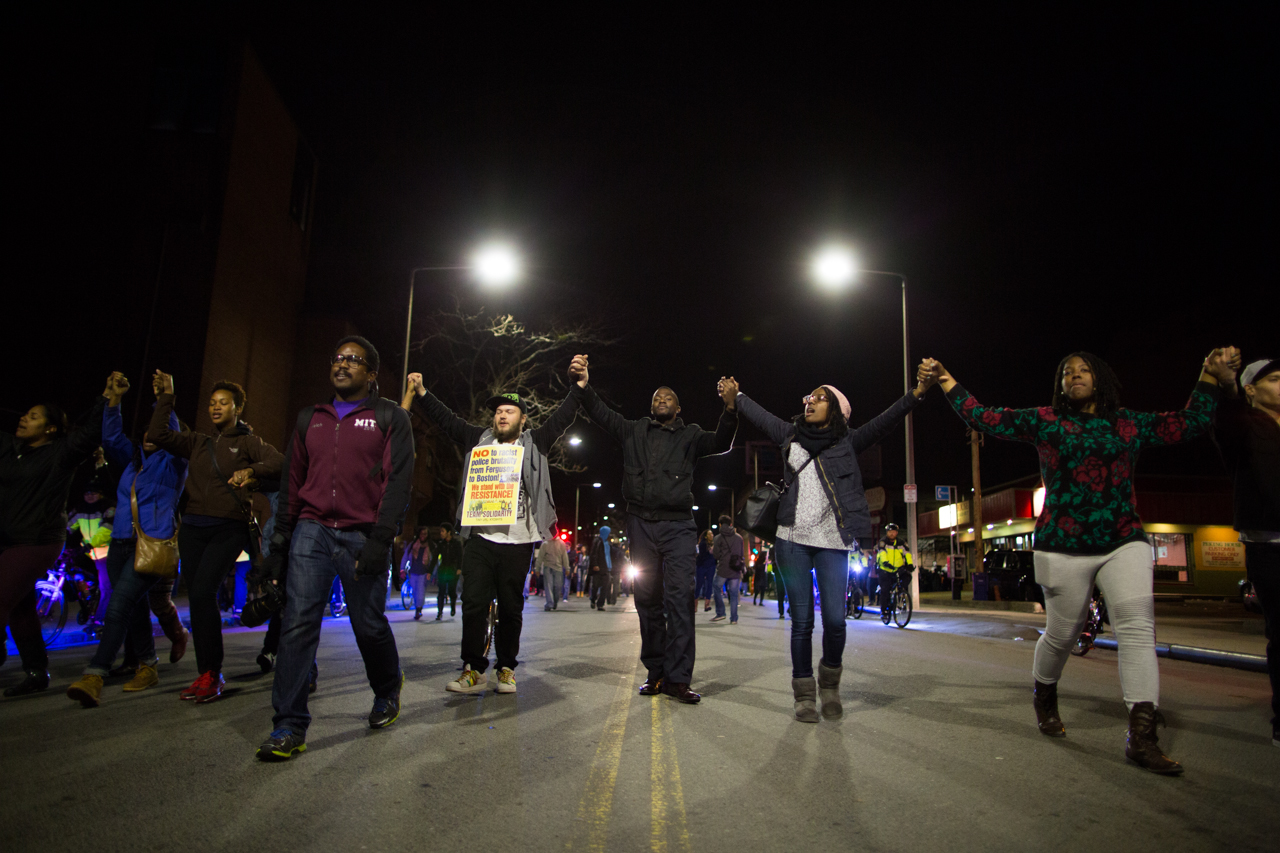 At South Bay, state police estimated the crowd had grown to approximately 1,400 people. Prisoners looked through the bars at the crowd. One had written something on two sheets of paper, but the sign was too small to be read from the street.
Some protesters tried to get onto Interstate 93, but police prevented them. Some headed off back toward Dudley Square, only to disperse.
Several hundred others marched up Massachusetts Avenue, through the South End, picking up more supporters along the way, like Jessica Smith, who had just left a gala.
"And I honestly am not this upper-class in my attire," she said, laughing as she marched alongside the throng of protesters.
Several people shouted: "Boylston!" And the crowd turned right onto Boylston Street, through the Back Bay.
"One thing I do admire for Boston: there is more reason," said Obino Ojimba, who had been marching for two hours from Dudley Square. "There is more restraint in the Boston police. They actually try to be more hands-on and be more interactive to defuse the situation. It's not how it was 20, 30 years ago."
The marchers crossed Copley Square and turned down Clarendon Street. The crowd stopped again as police prevented it from getting onto the Massachusetts Turnpike ramp. The band of marchers, gathering yet more supporters along the way, then headed back to Boylston Street.
"And we are going to march until we cannot march any more," said Marumbe Asamoah, who had been walking for five hours. "And we want everybody to know black lives matter, and that's why we are here, and we will not stop until our voices are heard and until we are equal among all Americans."
They marched along the Common, into Chinatown, and onto Dewey Square, where they would remain much of the night.
Boston police spent a large portion of the night blocking traffic to allow protesters to march forward safely.
One state trooper was injured when he was bitten on the wrist by a protester, State Police said in a statement. He was treated by Boston EMS on scene.
"We will maintain an increased presence around potential demonstration sites in Boston throughout the next few days," State Police said in a statement.
With reporting from the WBUR newsroom and the Associated Press.
More Photos: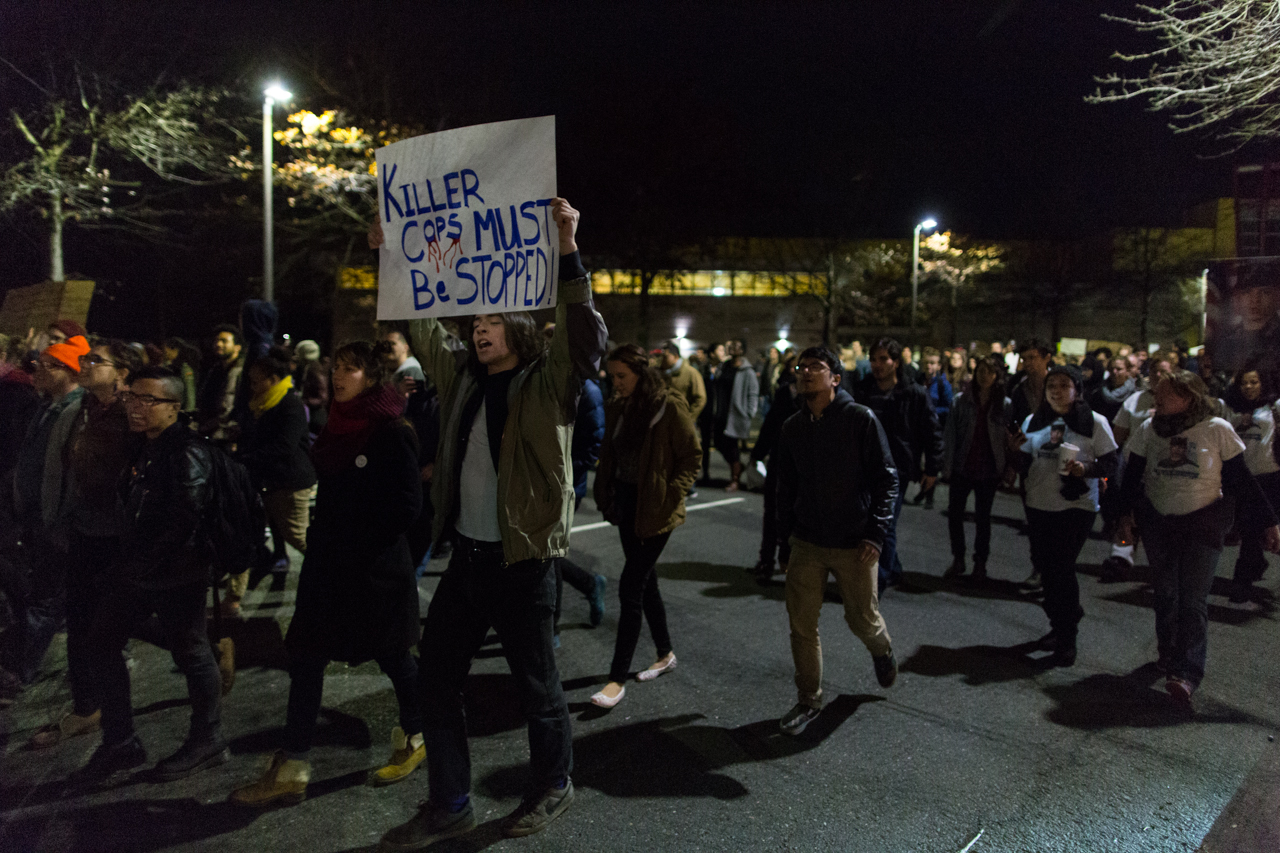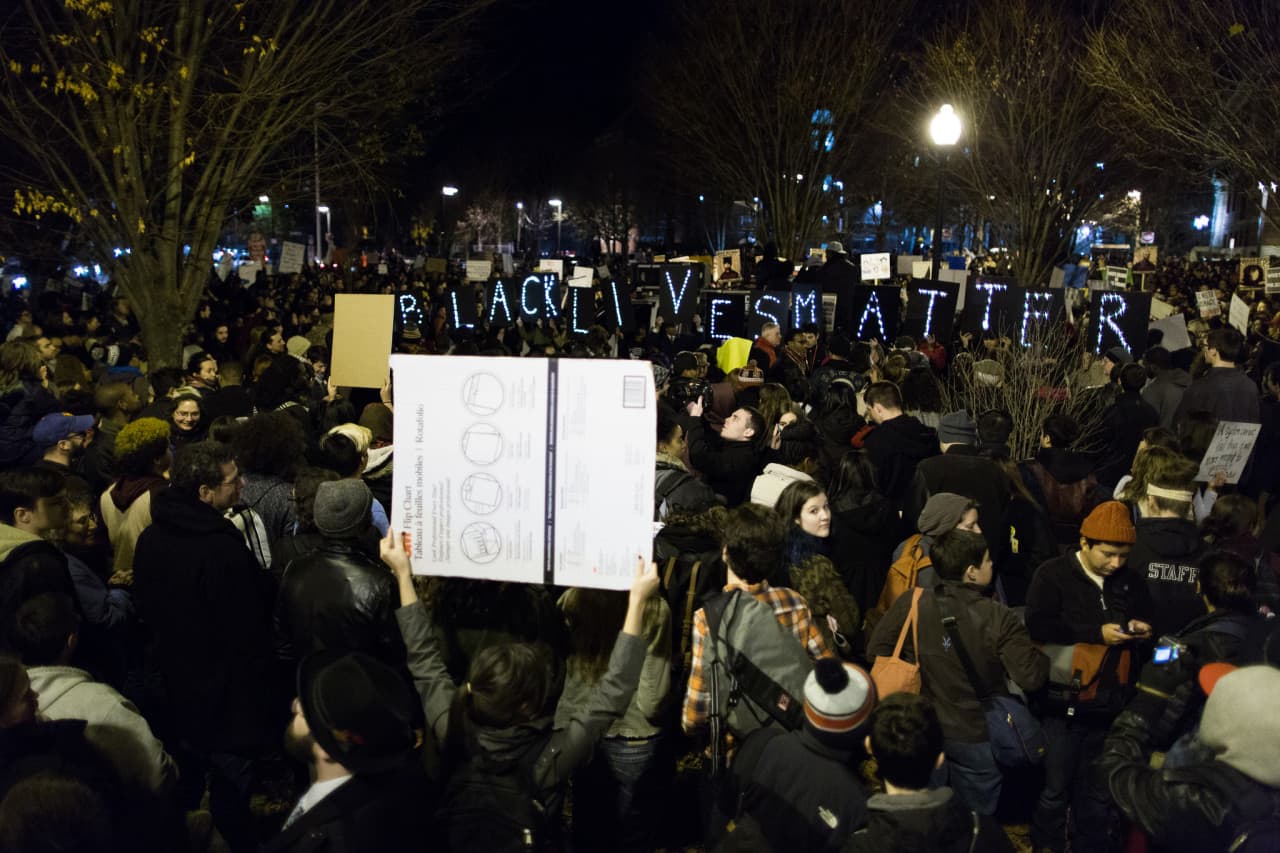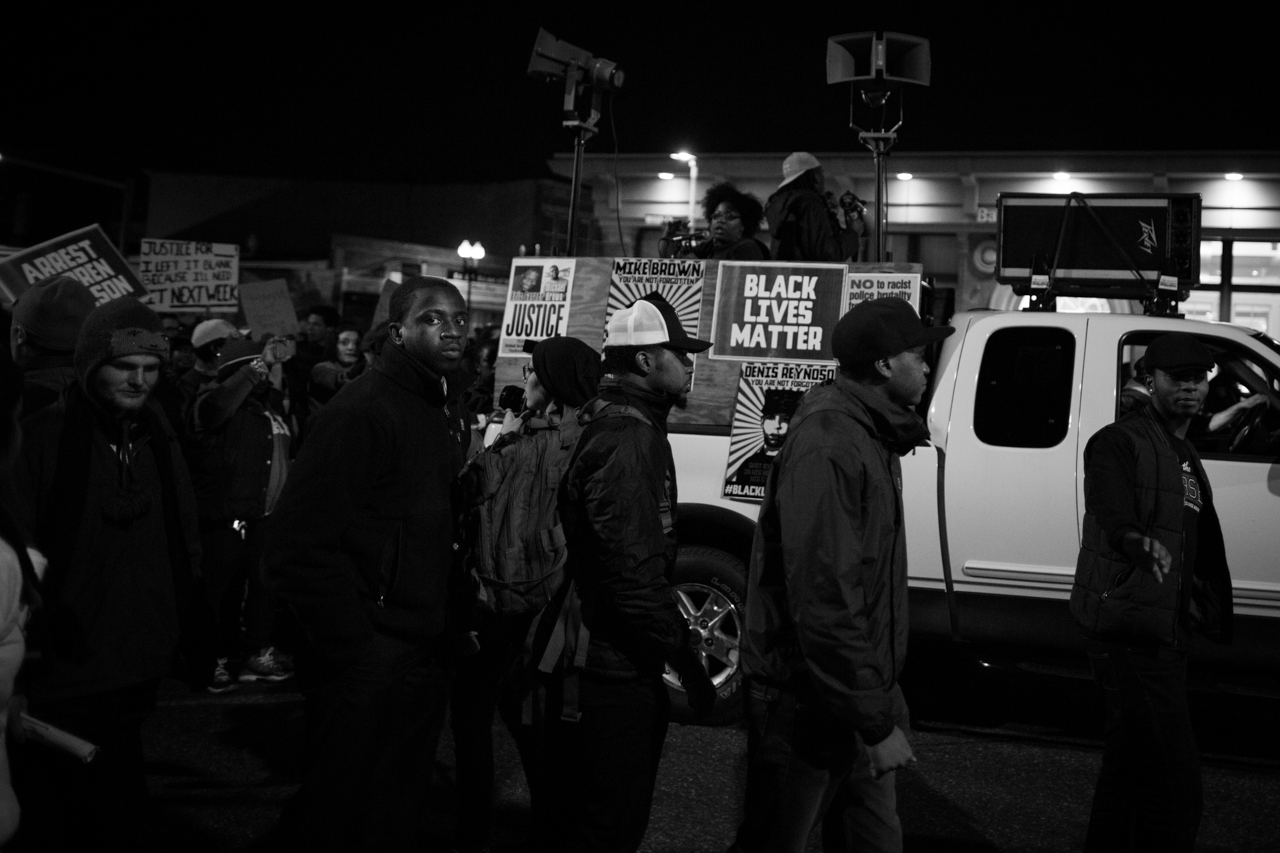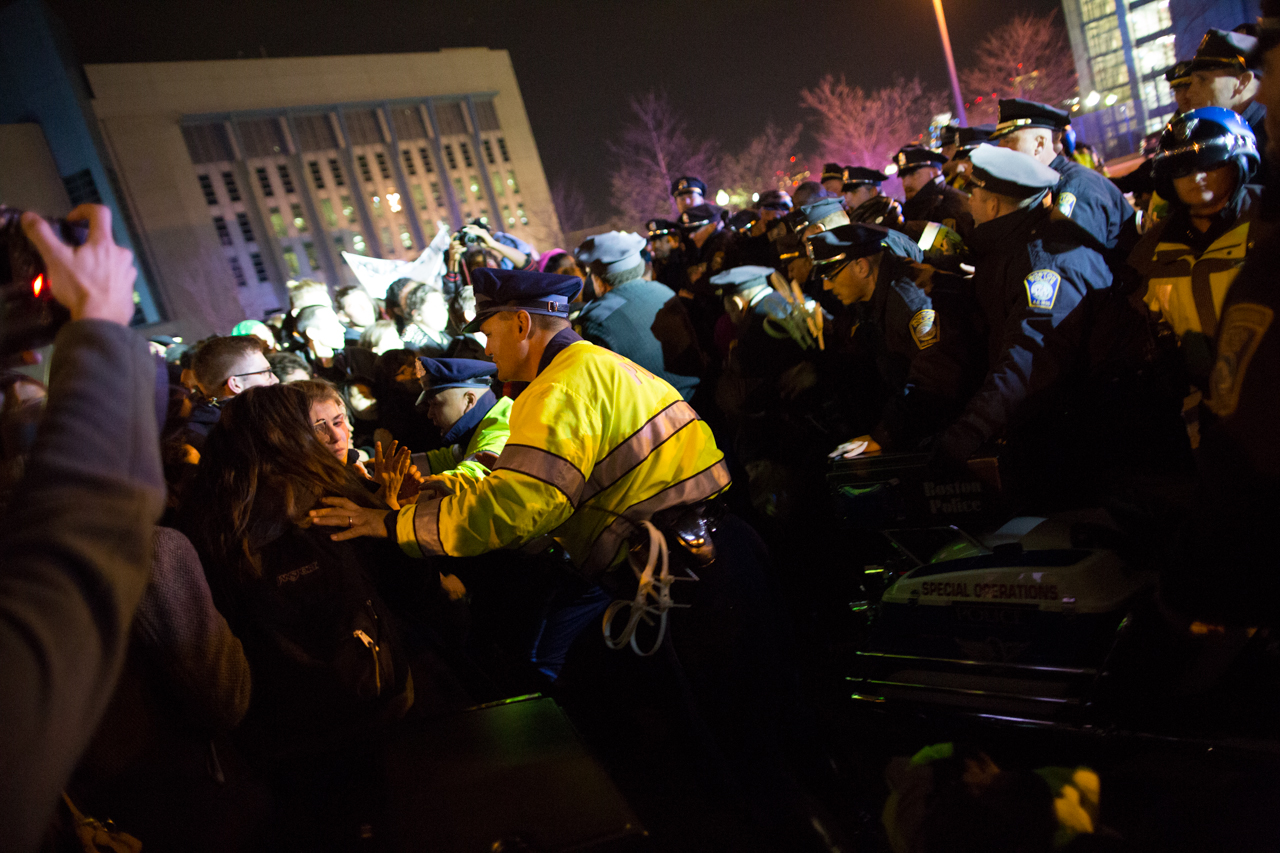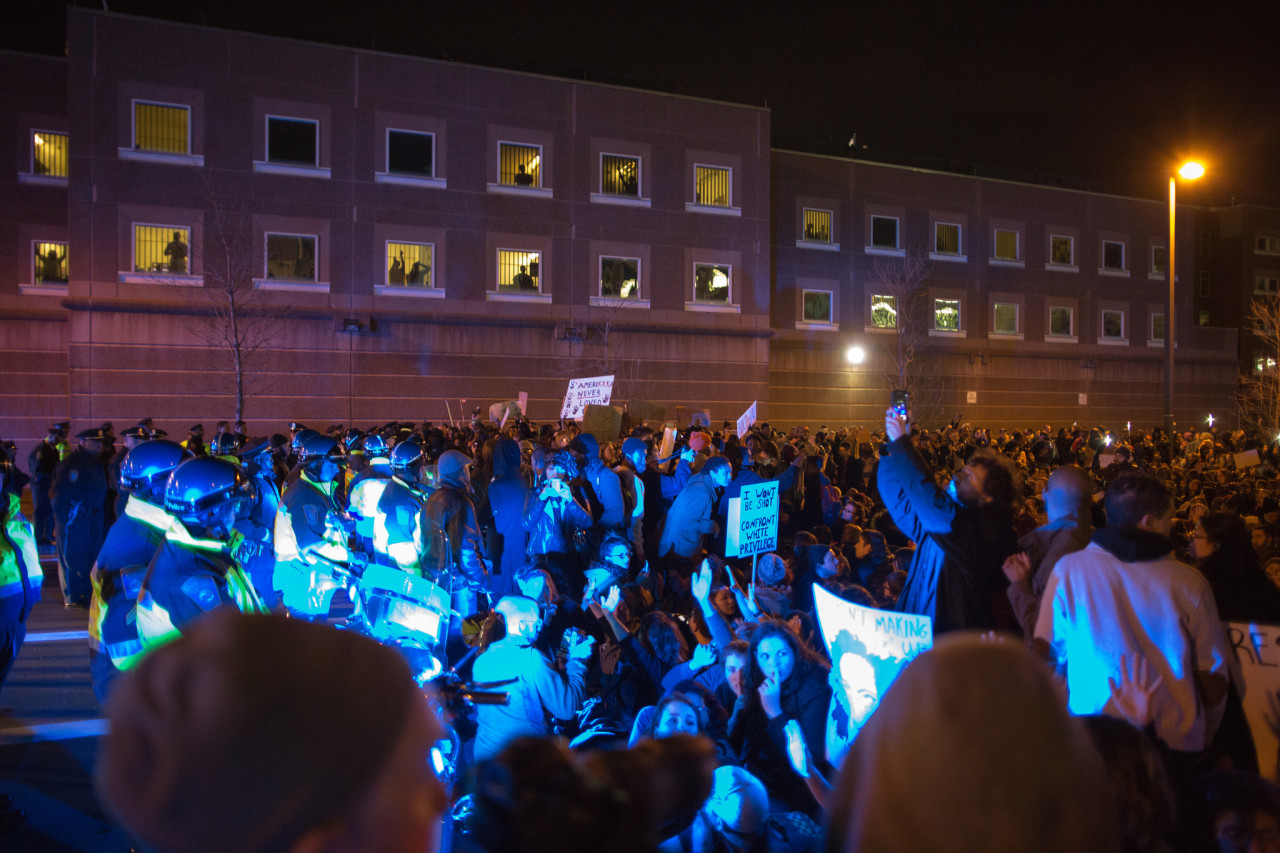 This article was originally published on November 26, 2014.
This segment aired on November 26, 2014.