When The 400-Pound Cheese Arrives From Italy, Of Course You Throw A Parade
"Because it's great. It's cheese," Peter Lovis, proprietor of The Concord Cheese Shop, says as he bustles through the crowd of hundreds of people gathering in front of his Walden Street shop in the Boston suburb yesterday afternoon. "It's 400 pounds. It's humungous."
He's raving about the giant wheel of crucolo cheese—professed to be the largest cheese in the Western Hemisphere—that he's imported from Scurelle in the mountains of Trentino, Italy, to sell in his shop. Everyone has gathered for the fifth annual Crucolo Parade to celebrate the final leg of the cheese's journey.
Lovis, wearing a Tyrolean hat, red sweater vest, white apron and green pants, hurries among the crucolo faithful, handing out little Italian flags, shaking hands, hugging, a big smile on his face. Then a horse-drawn wagon turns off of Main Street for the block-long parade to the shop. Lovis leads, waving an Italian flag, followed by Miss Crucolo Universe and Miss Crucolo USA (Lovis's daughter Sophia and her best friend Mazie Schuttler, two 14-year-olds who have appointed themselves for the honor), a group of (mostly) choreographed crucolo dancers, and finally the wagon carrying the exalted cheese.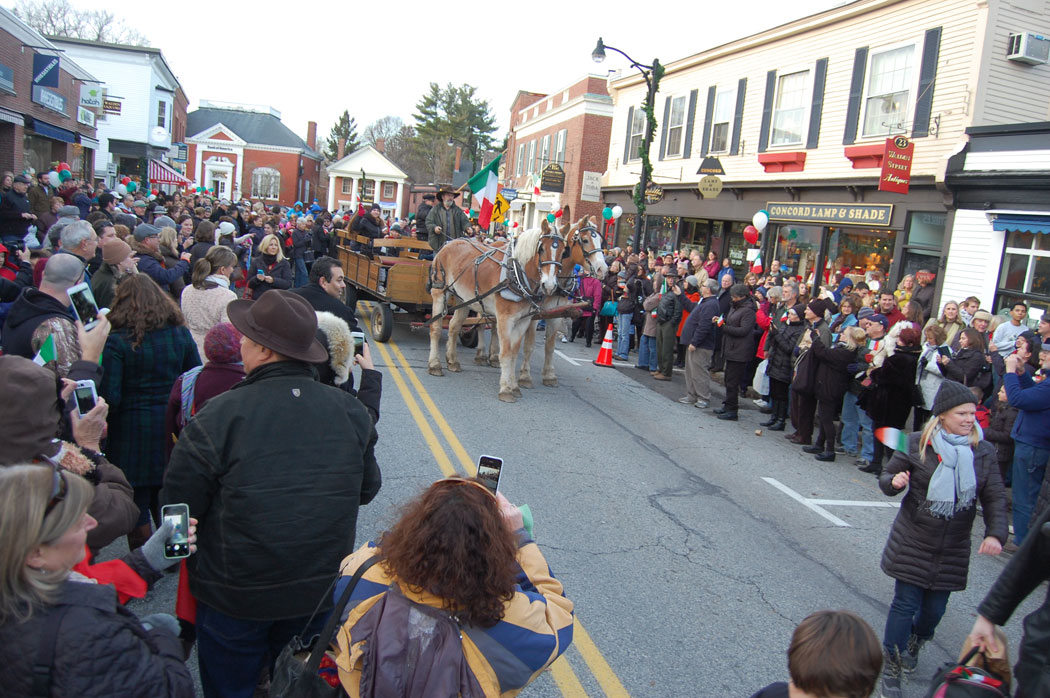 The wagon comes to a stop in front of the shop. Lovis; a representative of the cheese maker, Rifugio Crucolo; and Steven Ng of the Concord Board of Selectmen shout proclamations in English and Italian praising the cheese and the people of Concord. There is much cheering.
"Our crucolo cheese," Lovis says, "serves as a bridge joining the Old World with the new."
They set up a ramp from the cart and they carefully roll the cheese down to a stage as it's showered with rose petals. The 4-foot-wide cheese is lifted atop a rickety table (one of the most dramatic moments of the whole ritual) and cut into wedges to share.
"It's mellow and sweet," Lovis tells me. "And then it has this really nice sharp bite at the finish."
Greg Cook is co-founder of WBUR's ARTery. Be his friend on Twitter @AestheticResear and on the Facebook.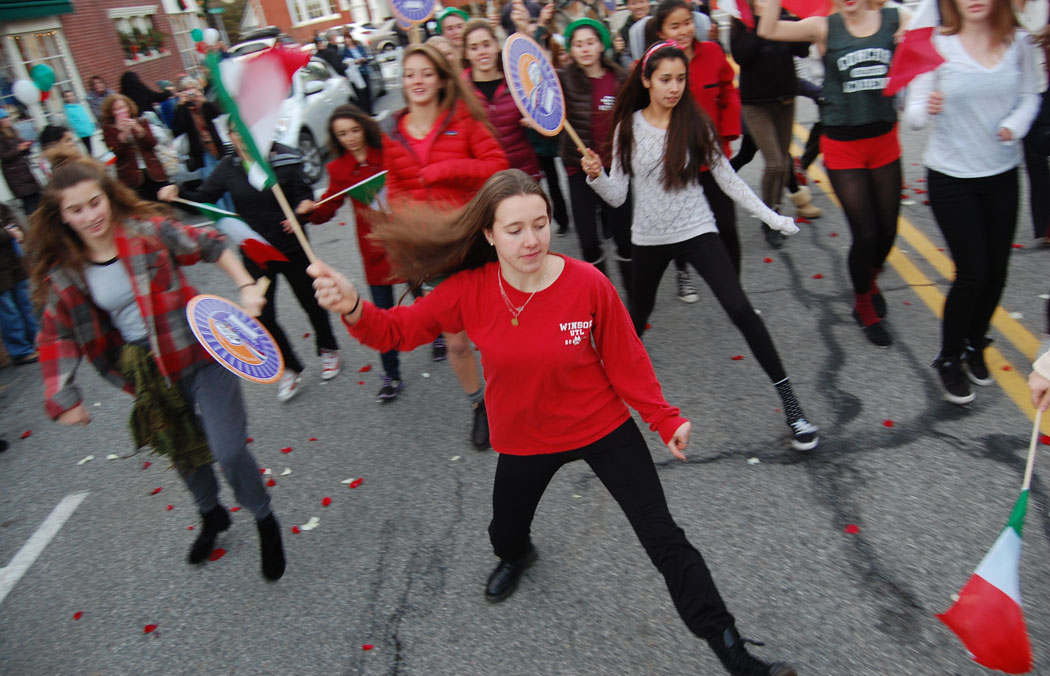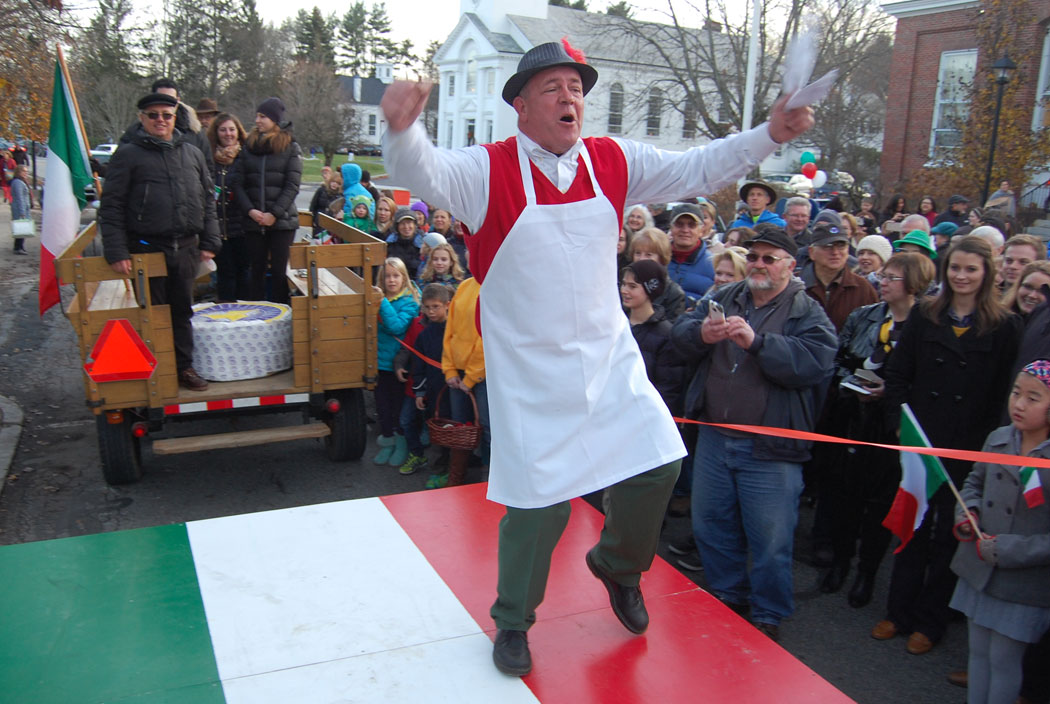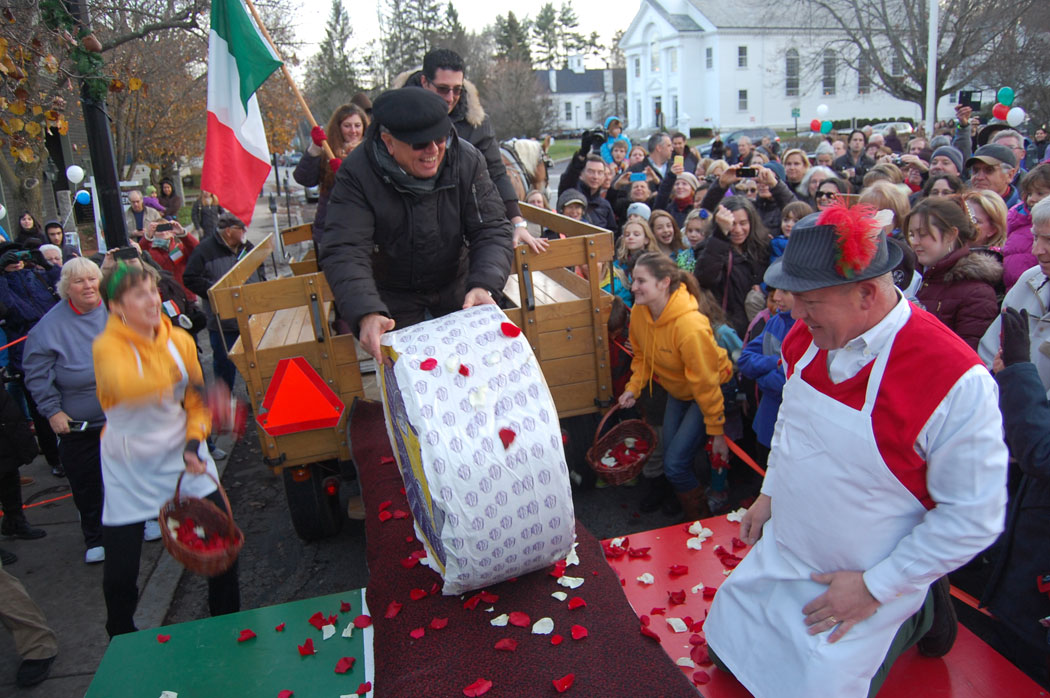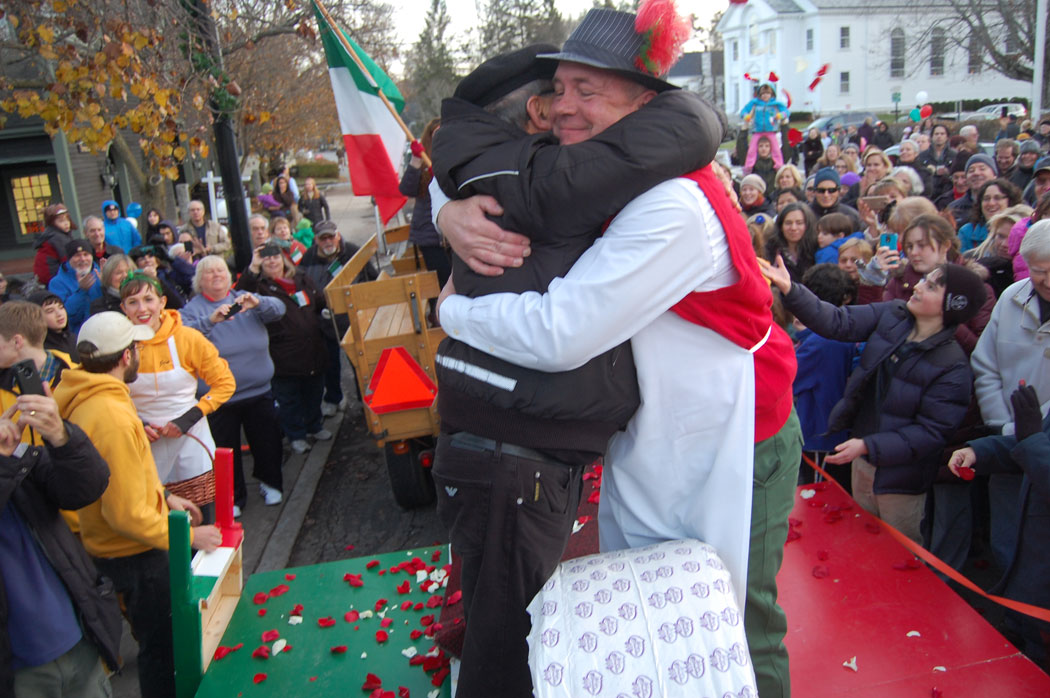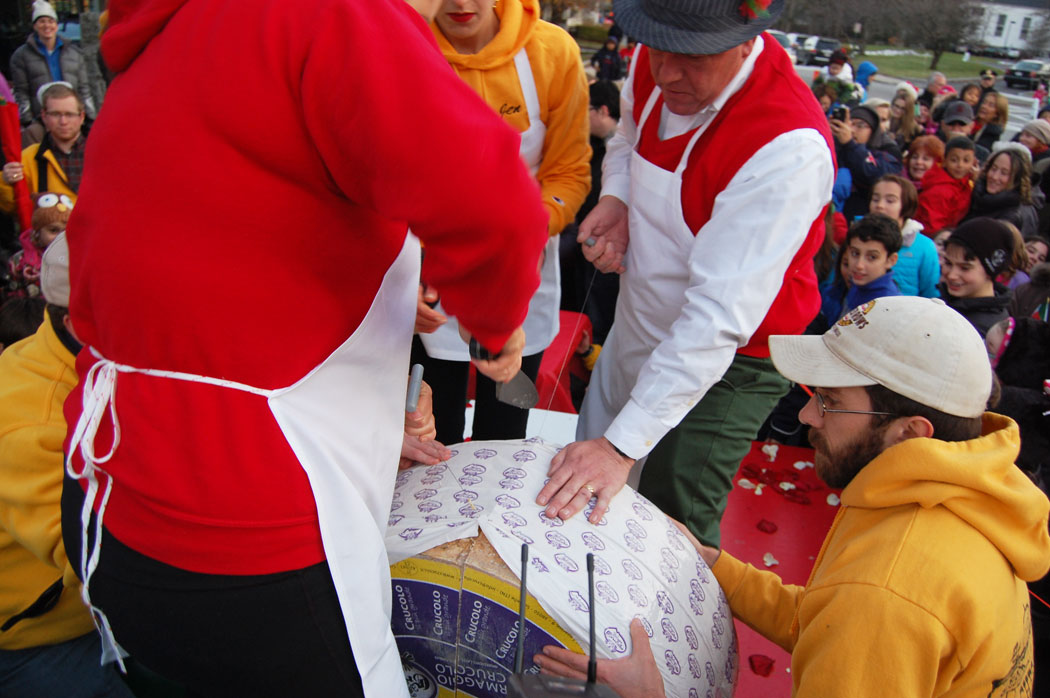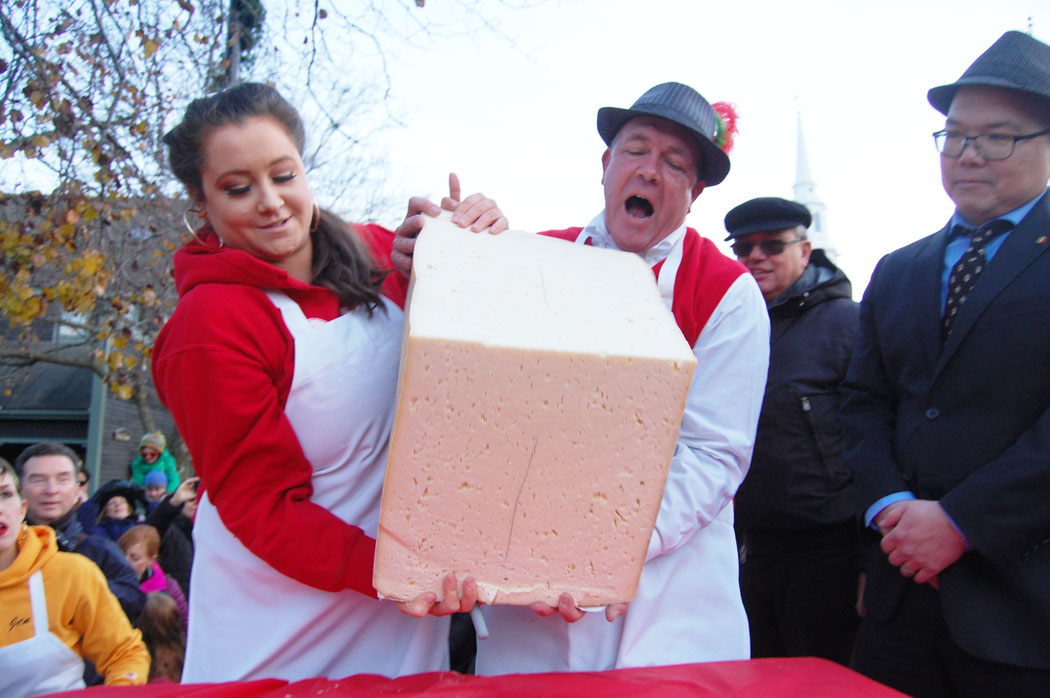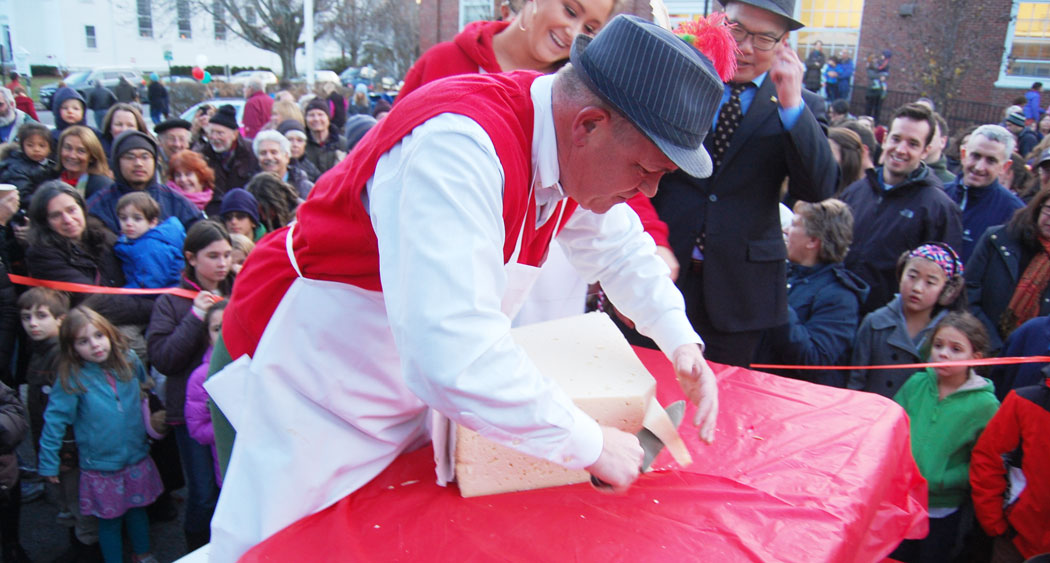 This article was originally published on December 05, 2014.