The Art Of Surgery: Painting The Operating Room On Canvas
When I walked into Joel Babb's studio a few years ago, I was immediately drawn to a large painting in the middle of the room.  Propped on an easel and framed by the gaze of the sun, the painting transported me to an operating room.  Honestly, not a place I wanted to go.  But when I looked closely, I realized it was an open heart surgery — the life-saving procedure I had done when I was 10-months old. I looked closer and noticed the instruments, the placement of the patient's head, the colors.
"I had that surgery," I said to Joel.
"So did I." he smiled.
That painting has stayed with me and it's not the first medical painting Babb has finished.  I asked him to share some reflections on the art of medical painting — especially when the featured subject is so close to home. Here's what he wrote:
In 1995-6, I painted a recreation of the first successful organ transplant which was done by Dr. Joe Murray at Peter Bent Brigham Hospital (now known as Brigham and Women's Hospital) in 1954.  I love to paint landscapes but when I was asked me to do a painting of a famous surgical procedure I was immediately interested.
As part of the process of doing that painting Dr. Joe Murray, who received the Nobel Prize for the transplant surgery, took me around the operating rooms of the Brigham so I could observe and photograph operations while understanding the organization of the operating room. For this specific painting, I was working with the advice and cooperation of three doctors to recreate an event which happened 40 years before.
The operating room no longer existed, and there were only two black and white photographs taken from an observation gallery above on that day. So the doctors had to remember the configuration of the room, the people present, and I had to draw that room from a different perspective, and pose models in surgical gowns under both artificial and natural light. This required a whole series of drawings over several months to come to a final composition. This painting was conceived as complementing the Countway's painting of the first use of anesthesia (ether) in surgery by Hinckley.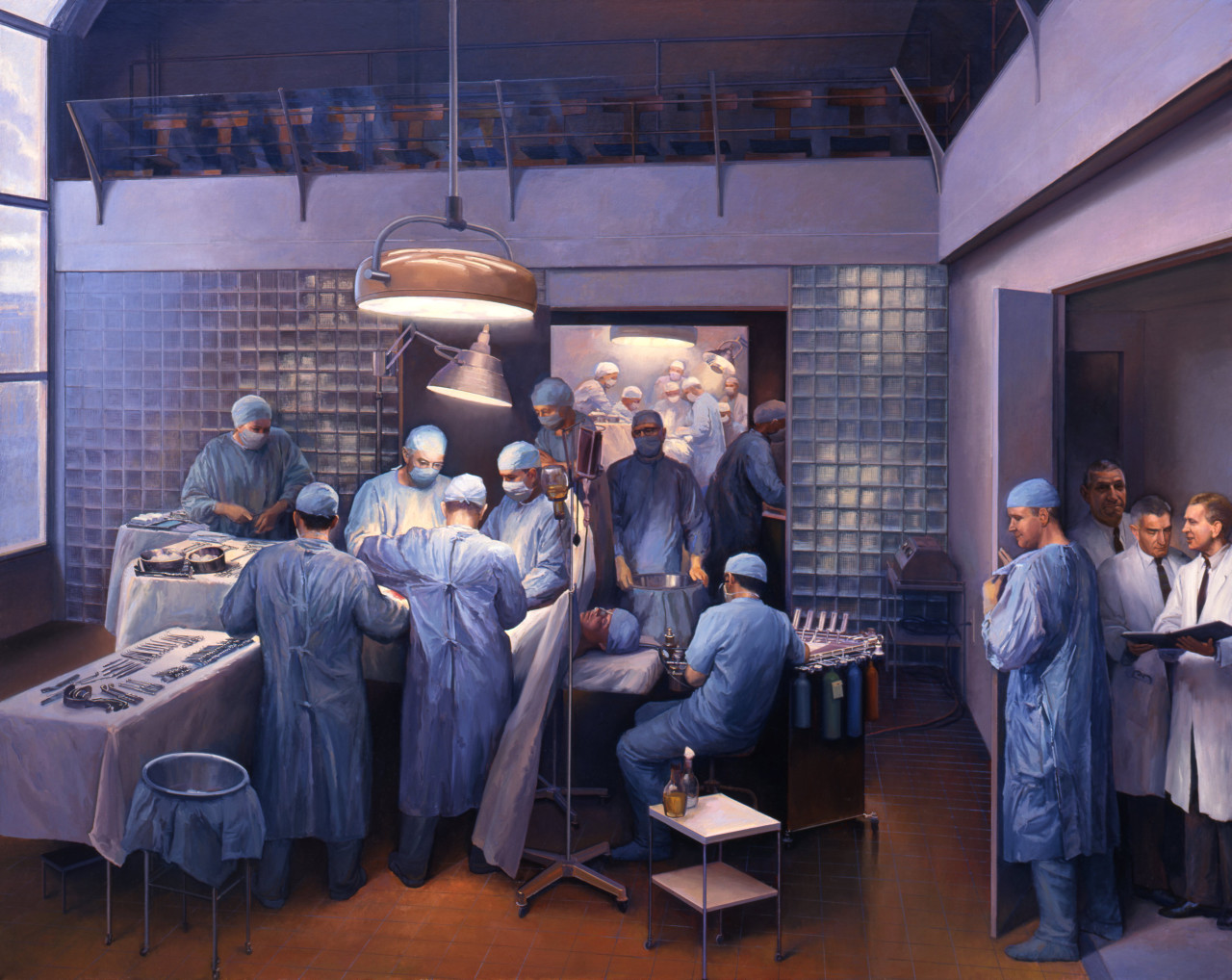 I could see the patient's heart beating, open to the air, the chest having been retracted. At that moment I had the feeling of seeing from outside something like what had happened to me as a boy. 
I worked with a series of 15 photos and took some liberties to do a composition which included the patient's head, as well as the brightly illuminated area of the surgeons' intense cooperation. To me this suggests the subjective and the objective perspectives of the surgery, as well as the teamwork and daring of the surgeons.
Sometimes I talked to the doctors but usually I was just introduced and went about photographing. There is quite a difference in the tenor of one team or another. Often they are very busy, making serious decisions, and that is sobering. If there is any bantering it is between surgeons, residents and the team.
Since this painting was not a commission I was free to choose whatever subject was most visually interesting. Bypass grafts are common and have helped a lot of people, and the similarity to my own operation made me want to witness it, and document it in a way I know how.
As I look back on my surgery, there was a sort of PTSD involved in the trauma and threat of it as a boy, which lingered without my being aware of it. I remember "oxygen tents" and a very uncomfortable recovery involving a tube put through the nose and a little pump draining fluid from the lungs periodically. That being said, I've lived life without ever much thinking about it, but the memories are there. I feel it has been therapeutic to do these two paintings, to observe and experience and become familiar with surgery, not as a patient, but as an admirer of surgeons.