Where To See The Best Christmas Lights—And A Lobster Trap Menorah—Around Boston
Holiday lights—from the three dozen extraordinary, animated winter dioramas at Millis Wonderland to what folks in Gloucester are proudly claiming to be "world's first lobster pot menorah"—are about bringing light into the long, dark nights of winter. Halloween is, in part, about the fear of the coming season of darkness. But winter holiday lights are about rejecting the darkness and joyously lighting up the world. Some are inspired by Christian faith in the appearance of a new baby, the infant Jesus. Some are about making sure Santa won't miss the house as he flies high, high above. Below is a guide to our favorites (listed by community, in alphabetical order), based on many nights of wandering all across eastern Massachusetts.
Send us your Christmas lights photos to share at gcook@bu.edu or tell us places we've missed in the comments.
Attleboro: 947 Park St.
At the National Shrine of Our Lady Of La Salette, they celebrate the birth of the baby Jesus—"the Light of Life"—with some 300,000 lights illuminating more than 10 acres. This year-round Catholic shrine, with permanent monuments to Jesus' crucifixion and resurrection, offers perhaps the most sacred feeling light display in the area. Park and walk to the nativity scene with live donkey, the reflecting pond, the painted scenes and the International Crèche Museum. Note: This is a very popular destination, so expect long waits in traffic to enter the parking lot.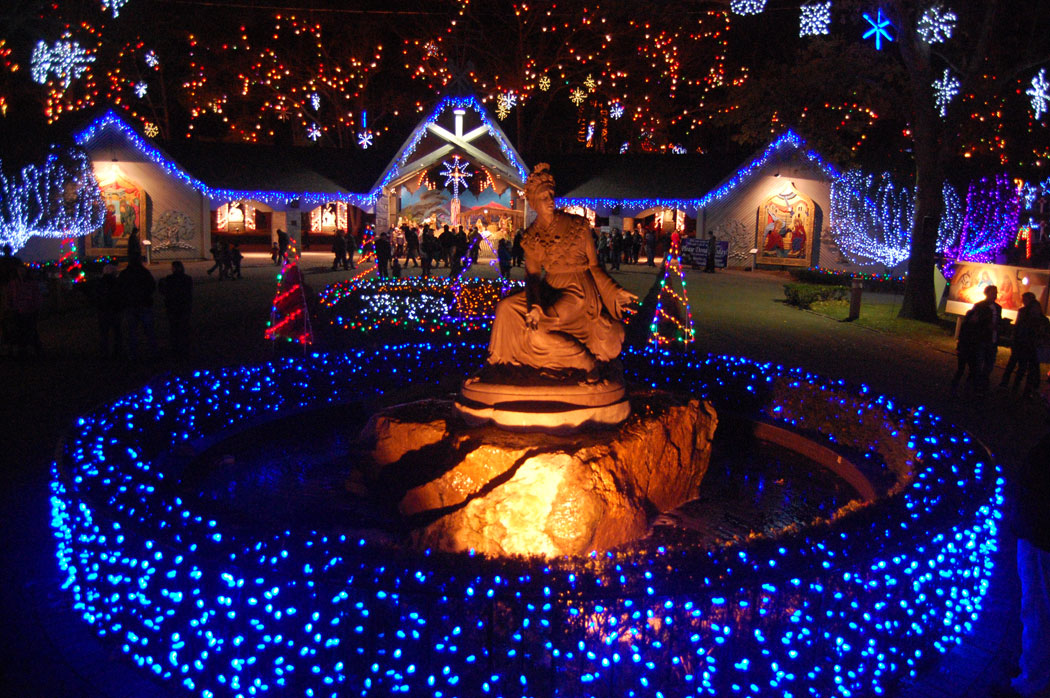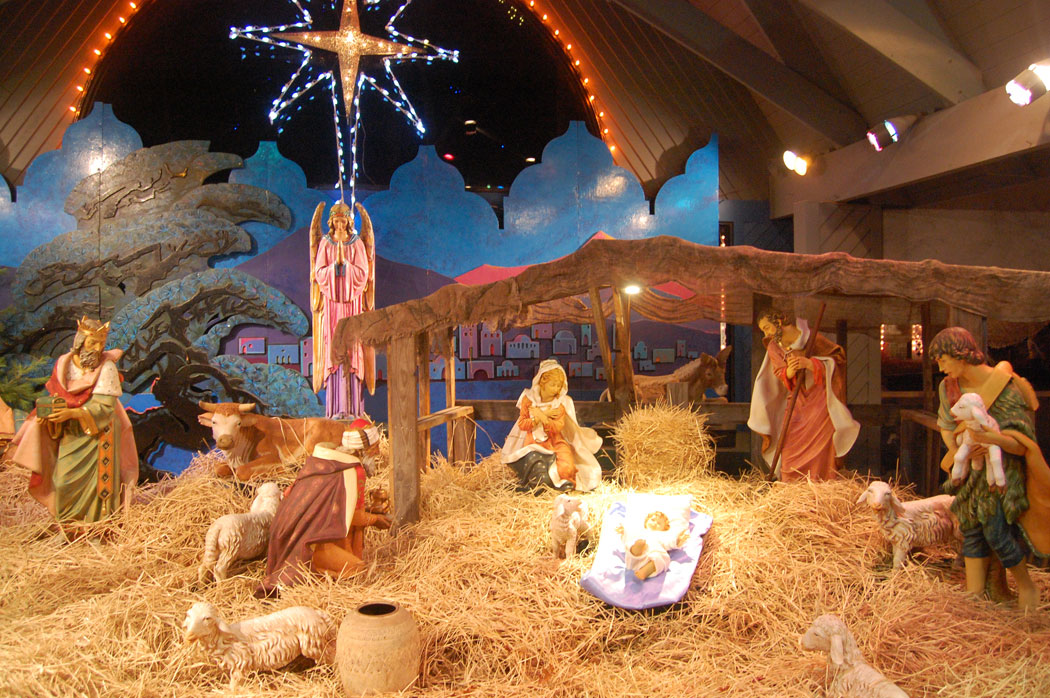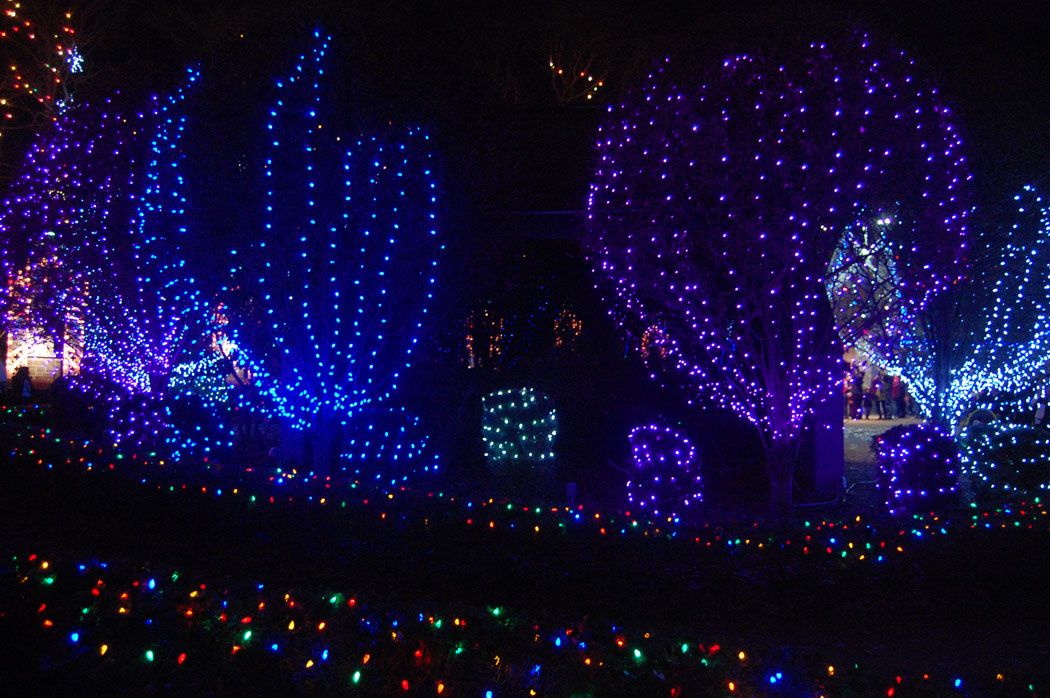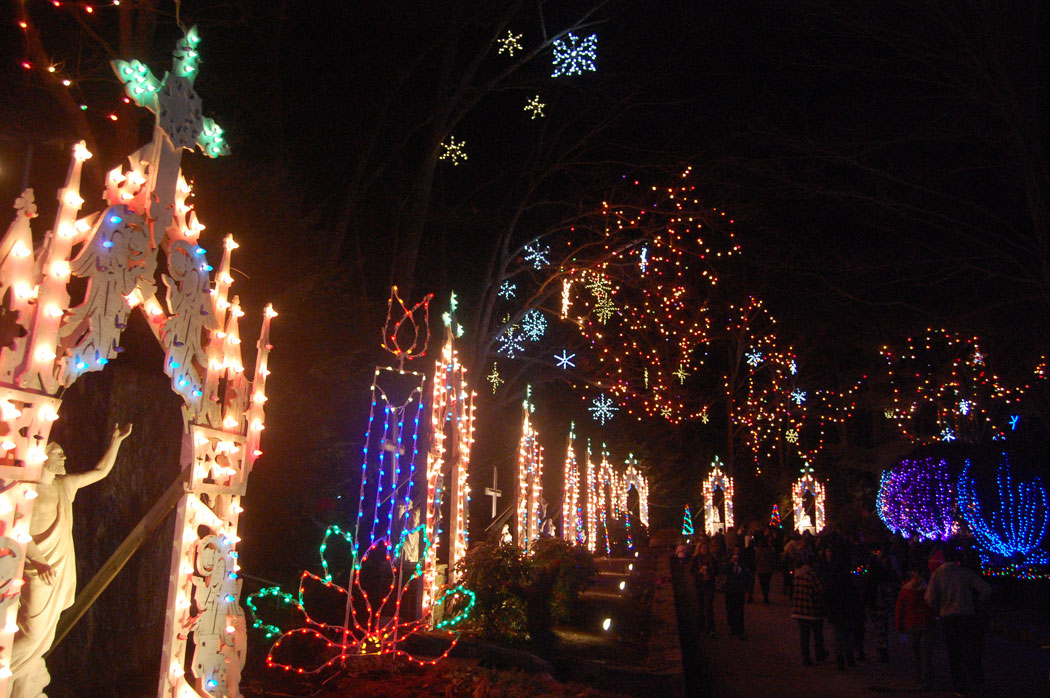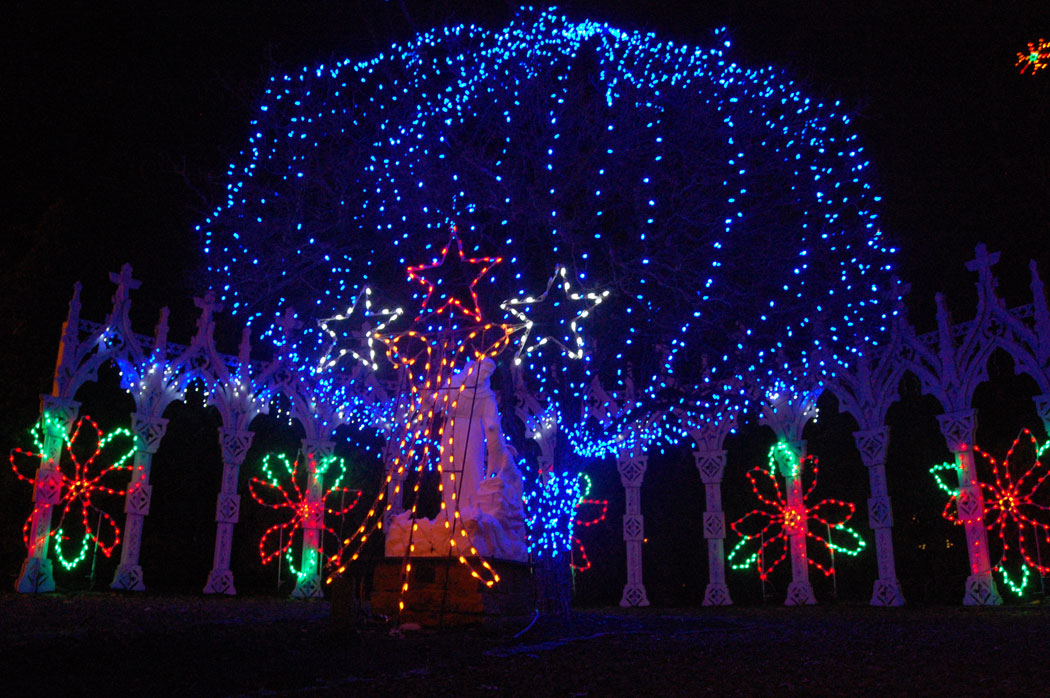 Attleboro: 135 Park St.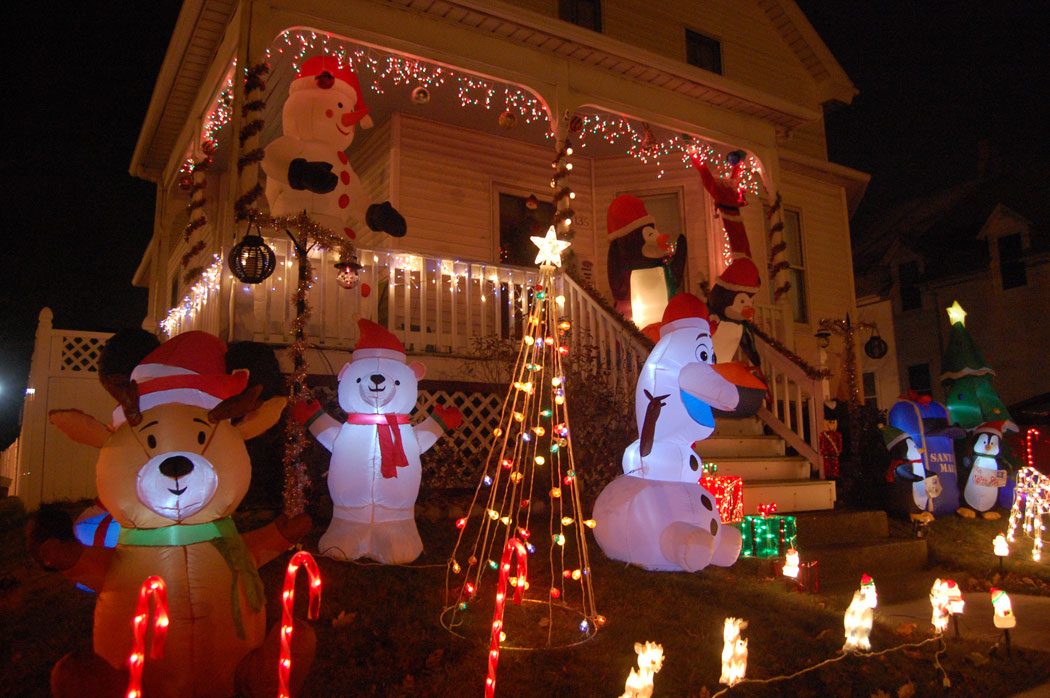 Belmont: 441 and 429 Pleasant St.
Two neighboring houses are holiday landmarks along Route 60, at Munroe Street.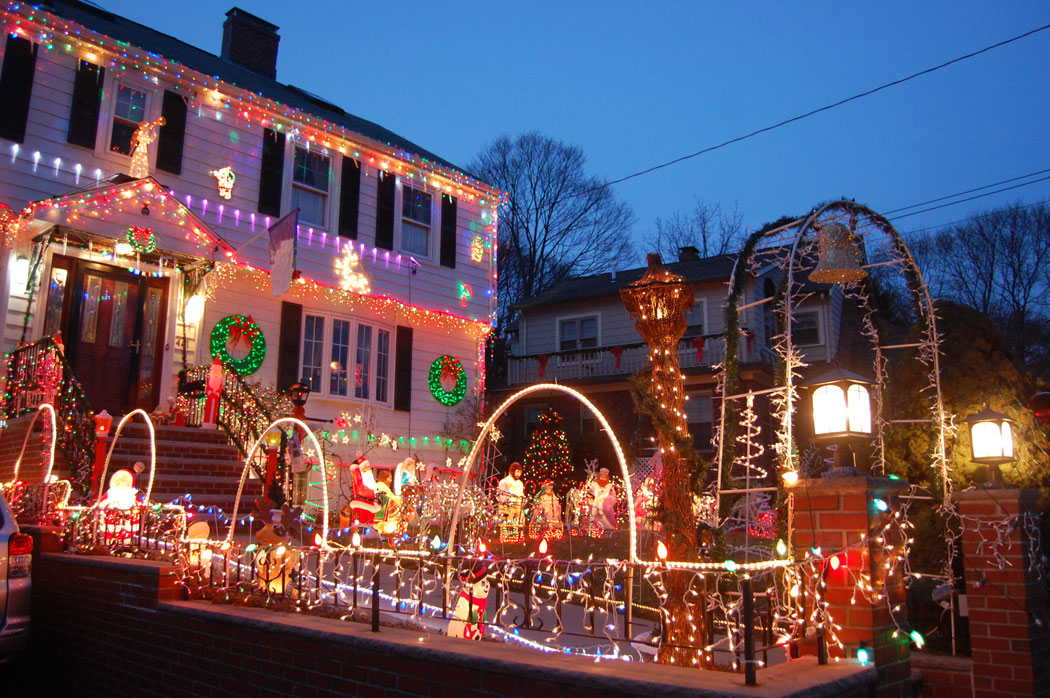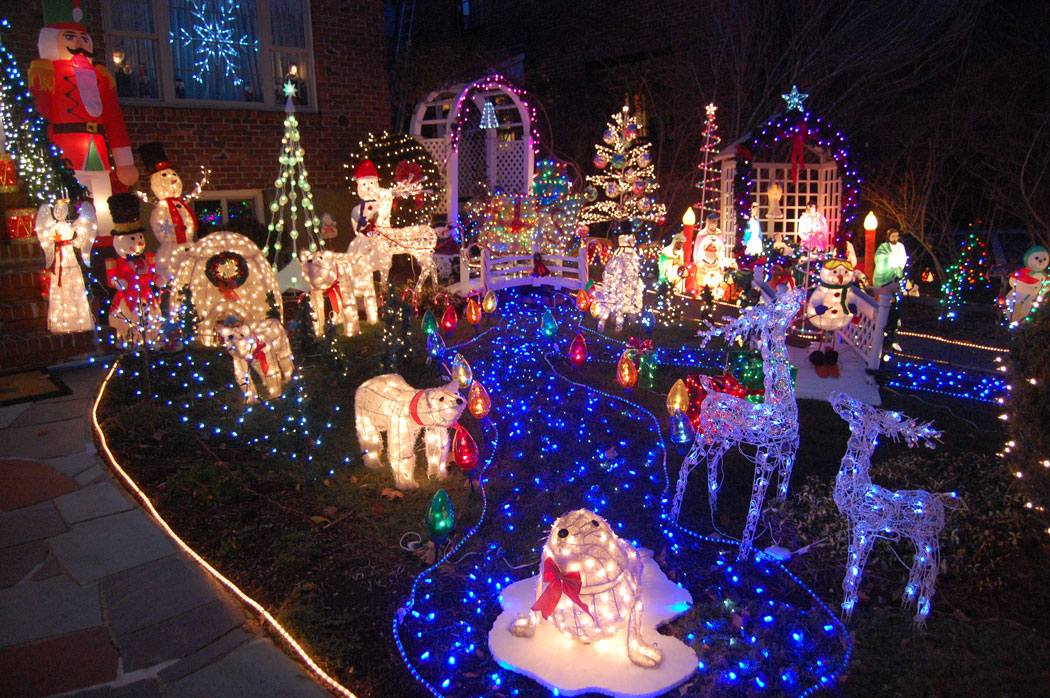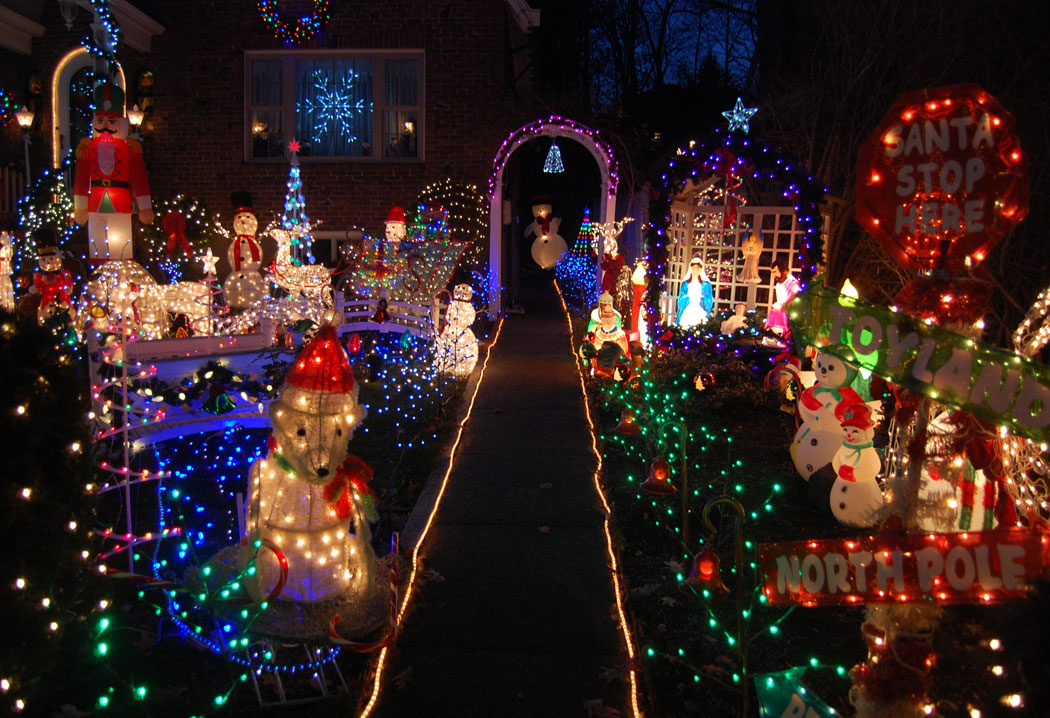 Beverly: 48 Railroad Ave. at Hardy Street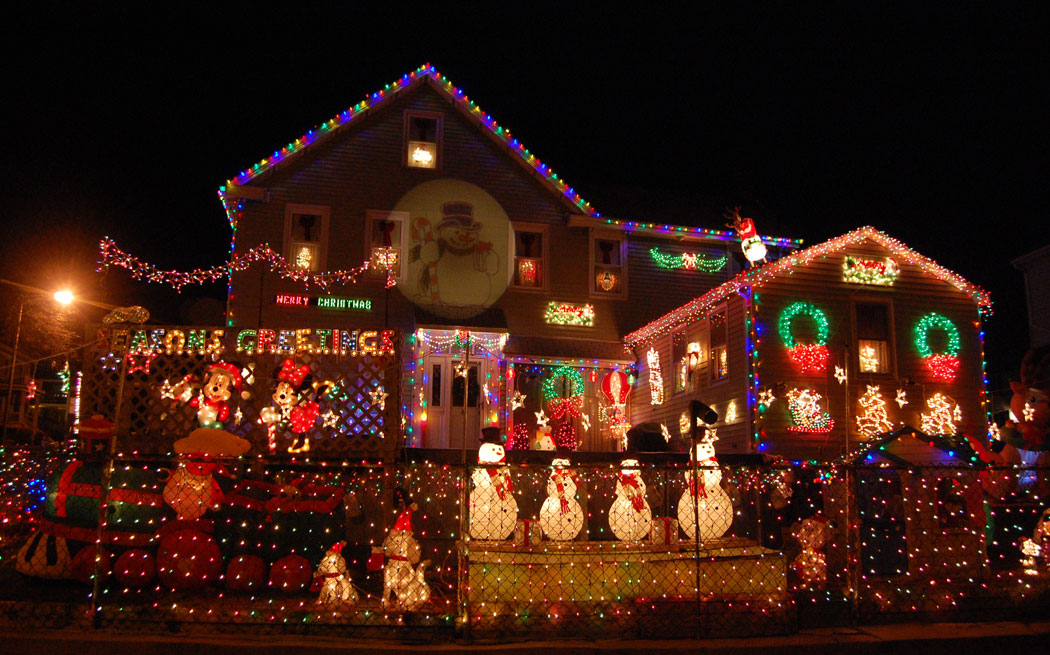 Boston: Adams Street, just north of Victory Road, Boston's Dorchester neighborhood.
Hoa Nguyen and his father, Trong Nguyen, each year light up Boston's Fields Corner neighborhood with an animated spectacle of electric snow, hovering angels, blinking Christmas trees and what seem to be LED fireworks.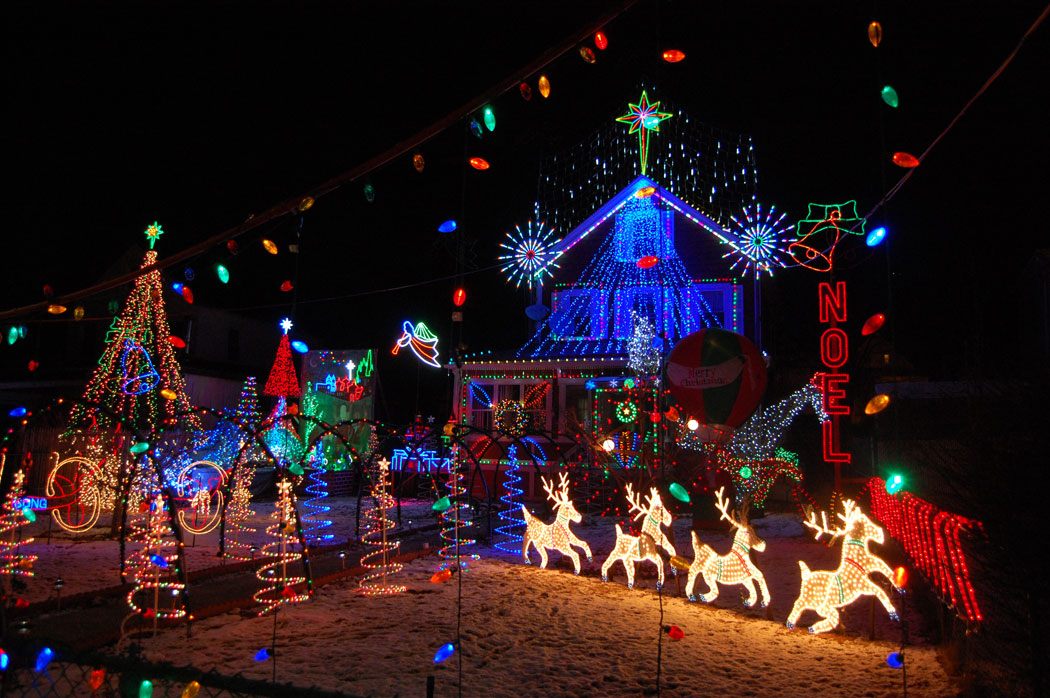 Boston: 26 Norton St., in Boston's Hyde Park neighborhood
For years, Kenneth C. Canale Sr.'s holiday decorations made his house a magnet in his neighborhood. Since he died in 2010, his son, Kenneth Jr., and his family have kept up the tradition—including handing out candy canes to children and hosting occasional visits by Santa Claus.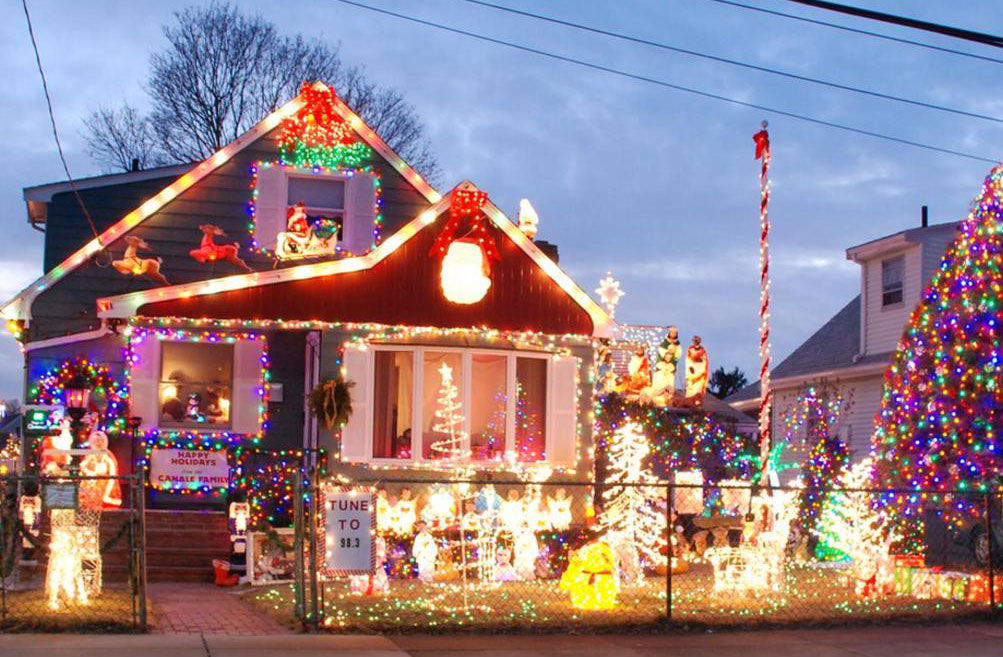 Chelsea: Corner of Marginal and Pearl streets
Santa rides a sleigh pulled by reindeer glowing atop salt piles at Eastern Minerals along the Chelsea River.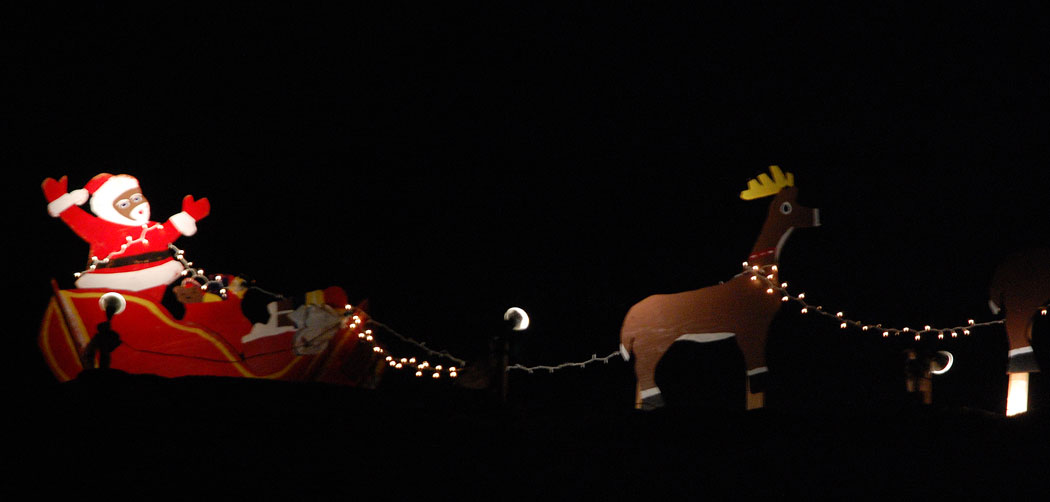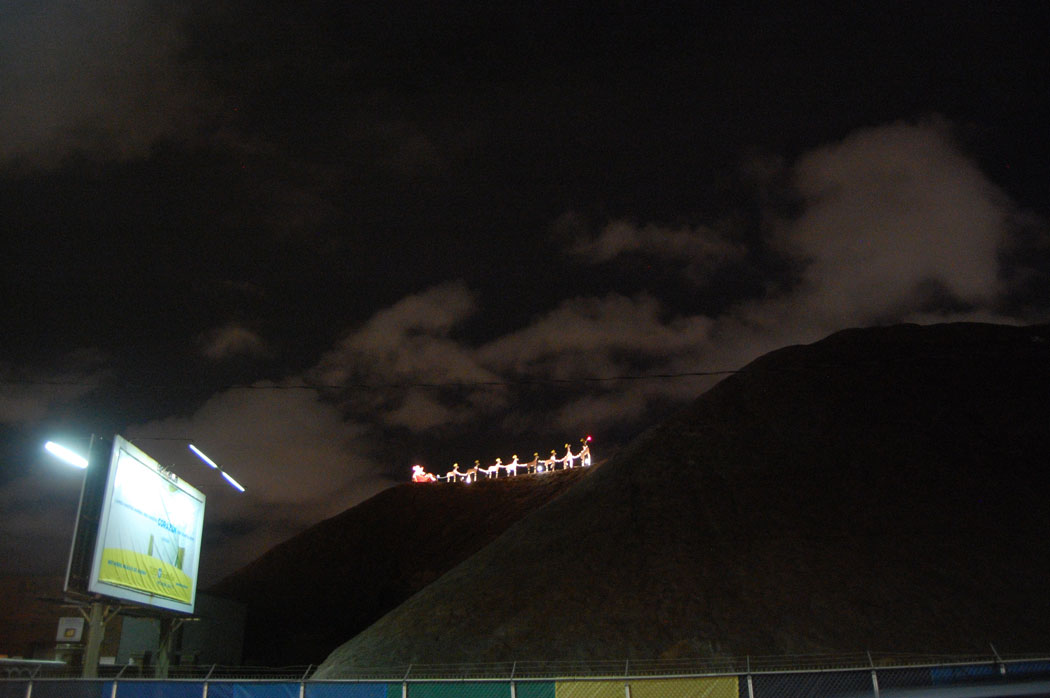 Danvers: Arthur Street
More is more at the display connecting these two neighboring houses. Decorations include a Santa in sleigh pulled by flying reindeer, a pool party, a nativity scene and gingerbread men lining a blue electric waterfall and river that flows between the homes.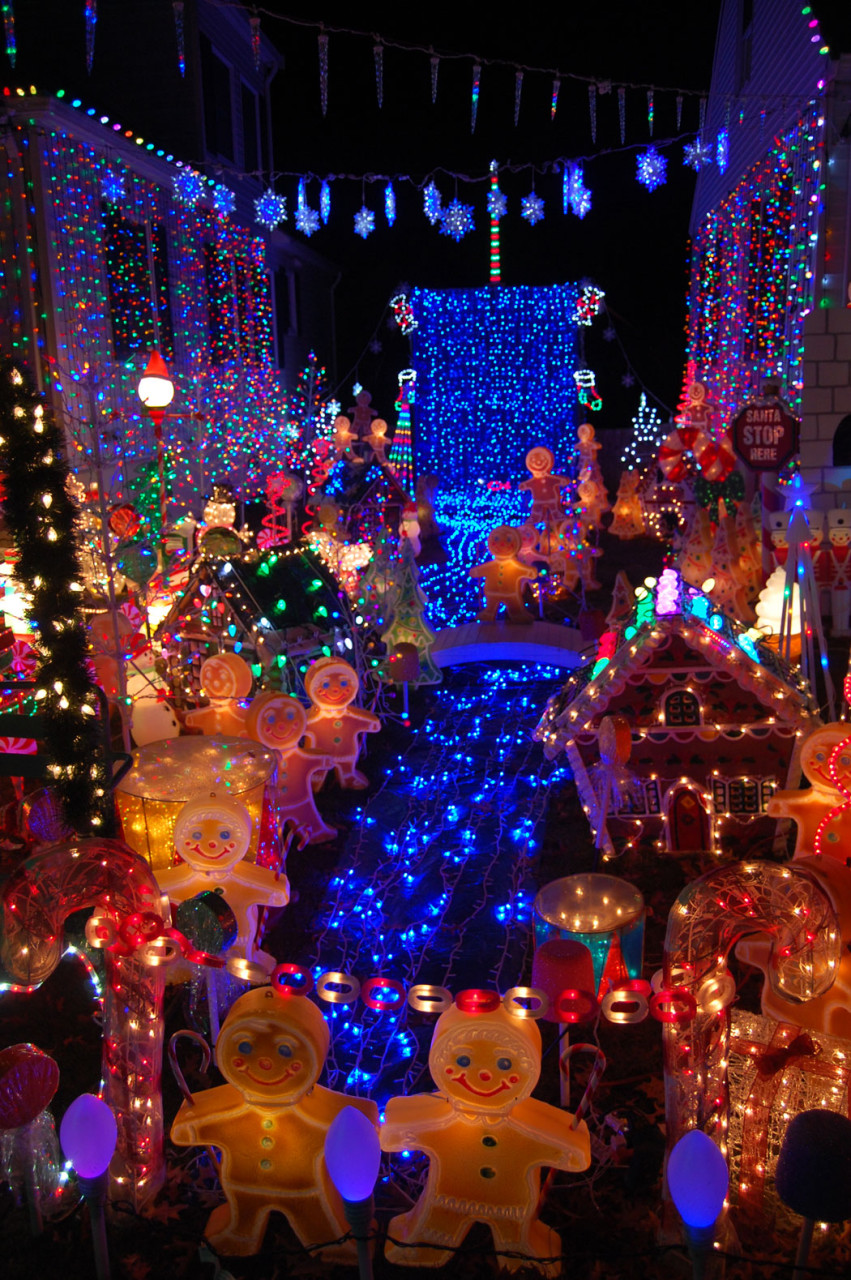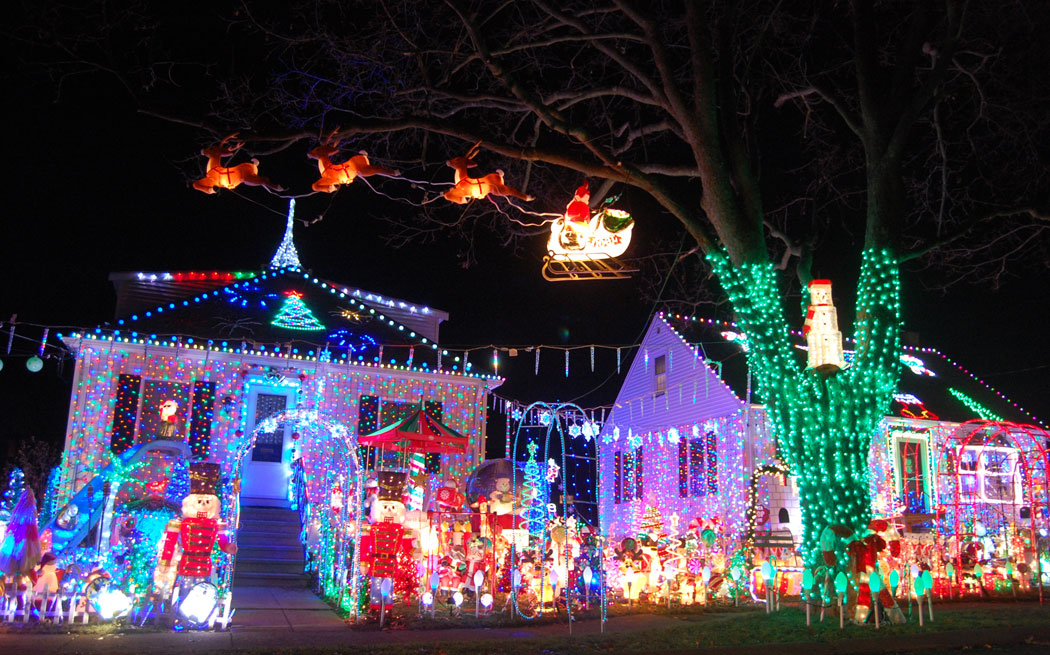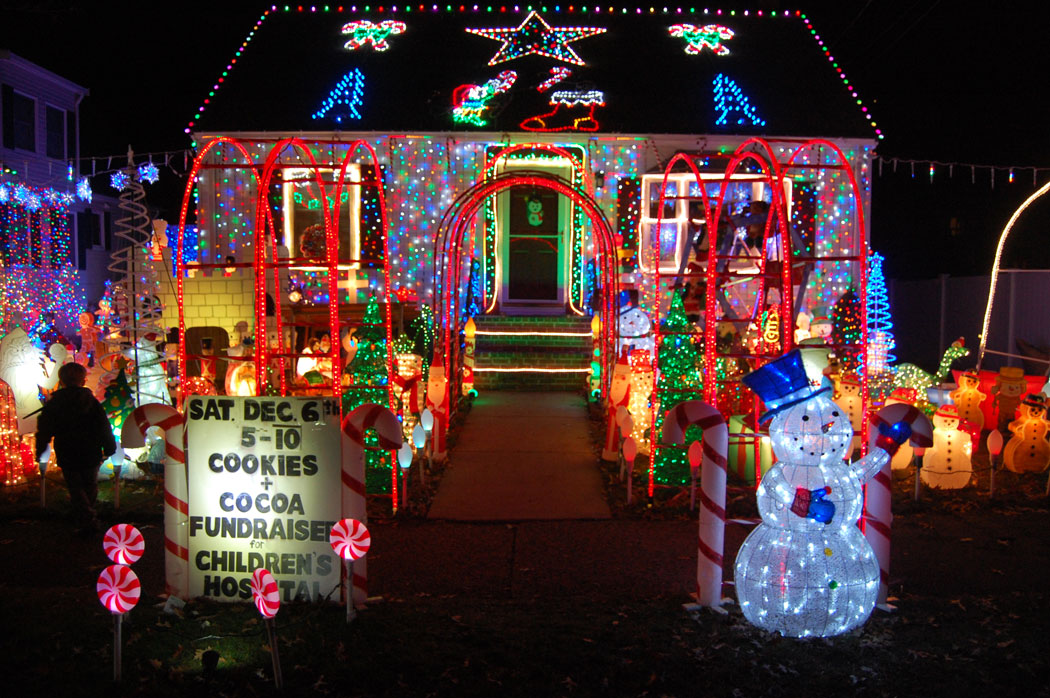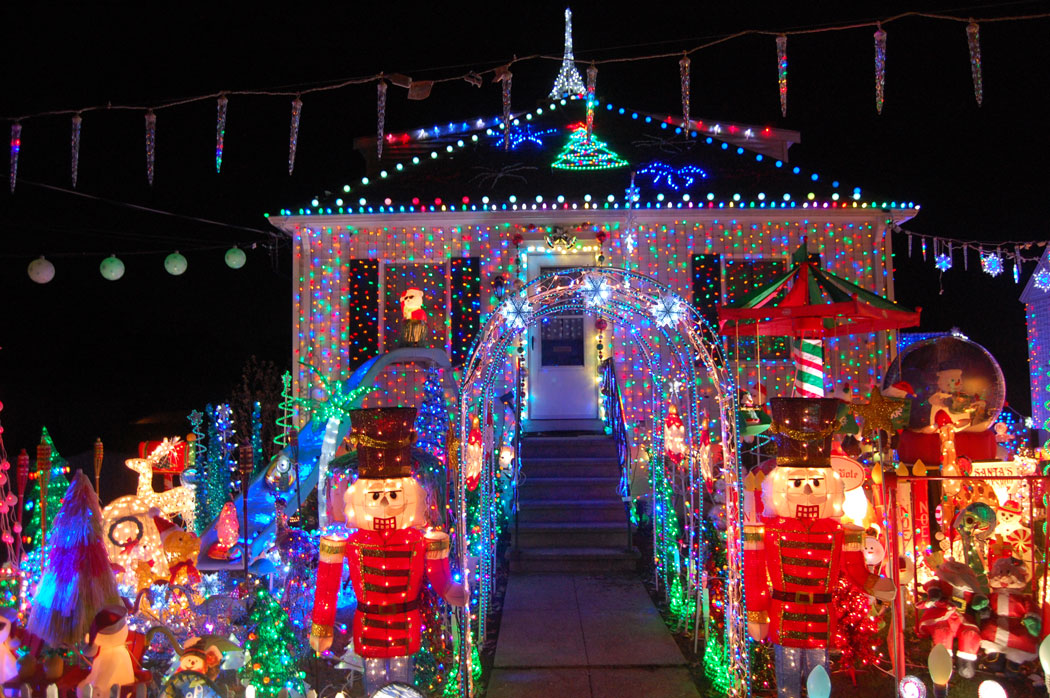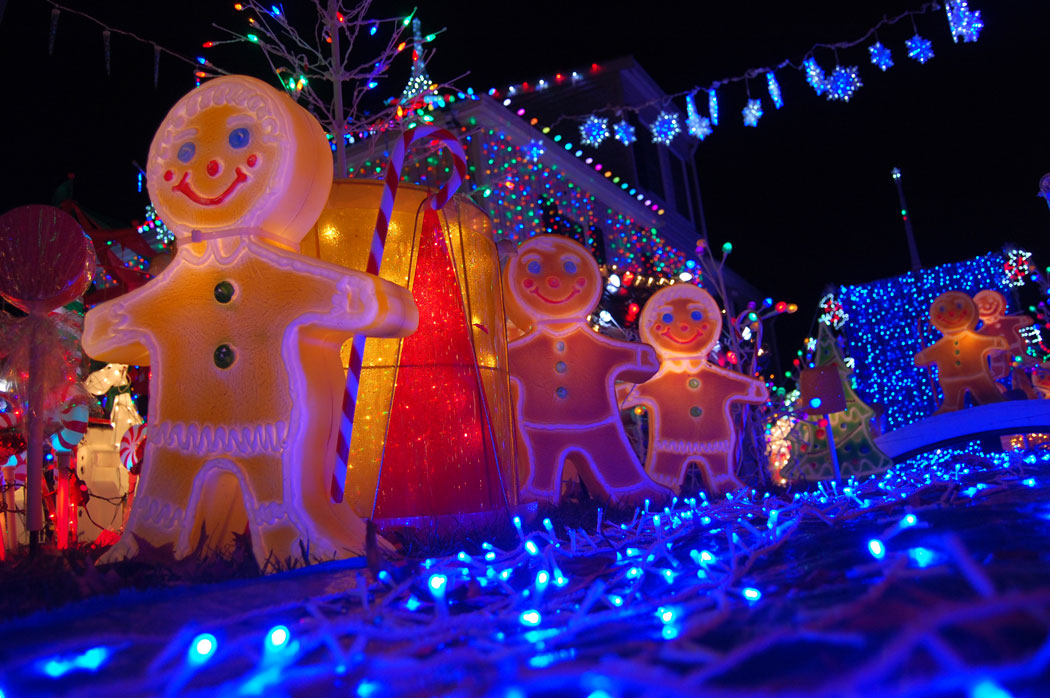 Gloucester: 86 Middle St.
This week, Temple Ahavat Achim debuted what they're calling the "world's first lobster pot menorah." The giant outdoor structure is an inspired Hanukkah cousin to the giant lobster trap Christmas Tree that has decorated the plaza in front of the Gloucester Police Station on Main Street each winter for years now.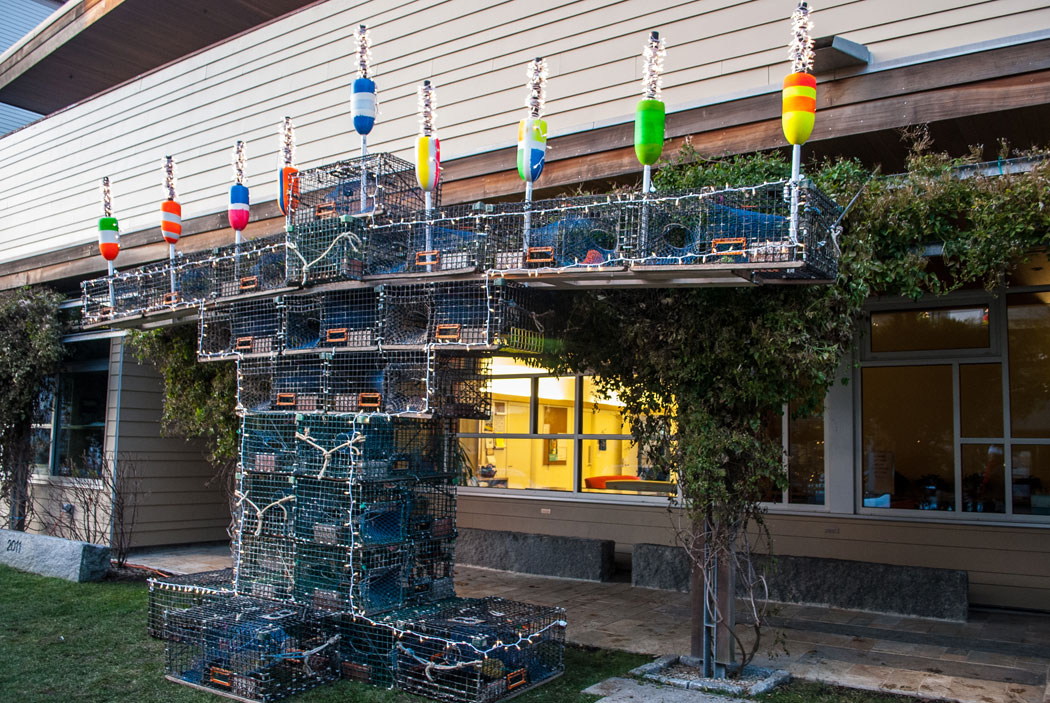 Malden: Bainbridge Street, just west of Rockwell Street
On Bainbridge Street, they go all out for the holidays. Over the past decade, Maryann Spinney and her daughter and son-in-law Evelyn and Mark Anzalone have lit up houses down the lane from each other. (They also put on a big show for Halloween.) Several neighbors have also gotten into the act, so that it's become a whole glowing holiday neighborhood.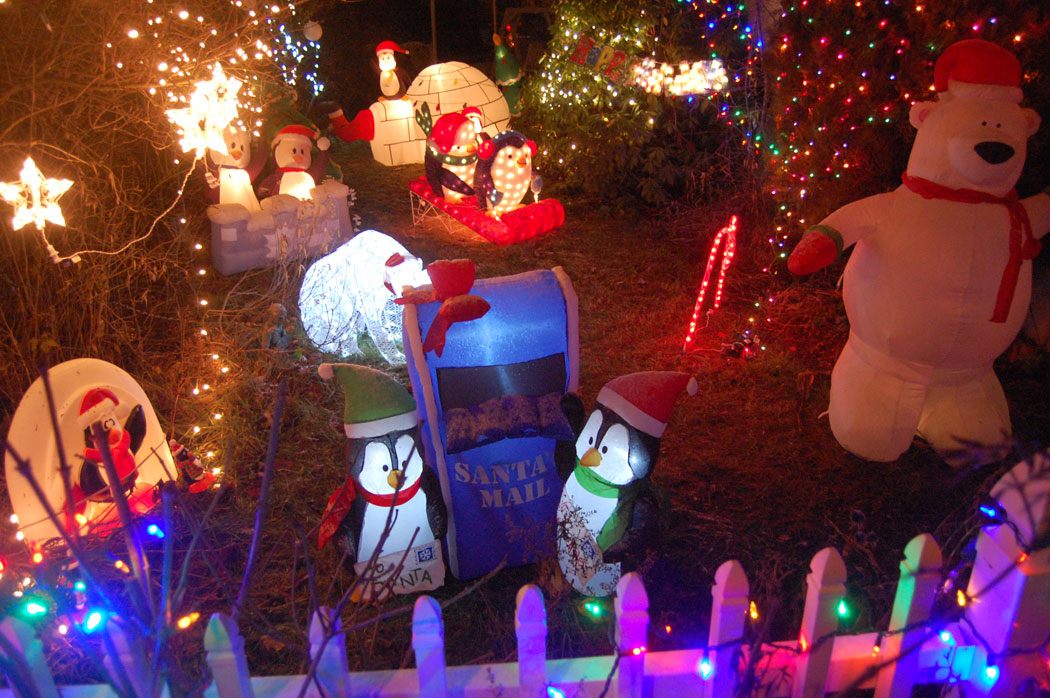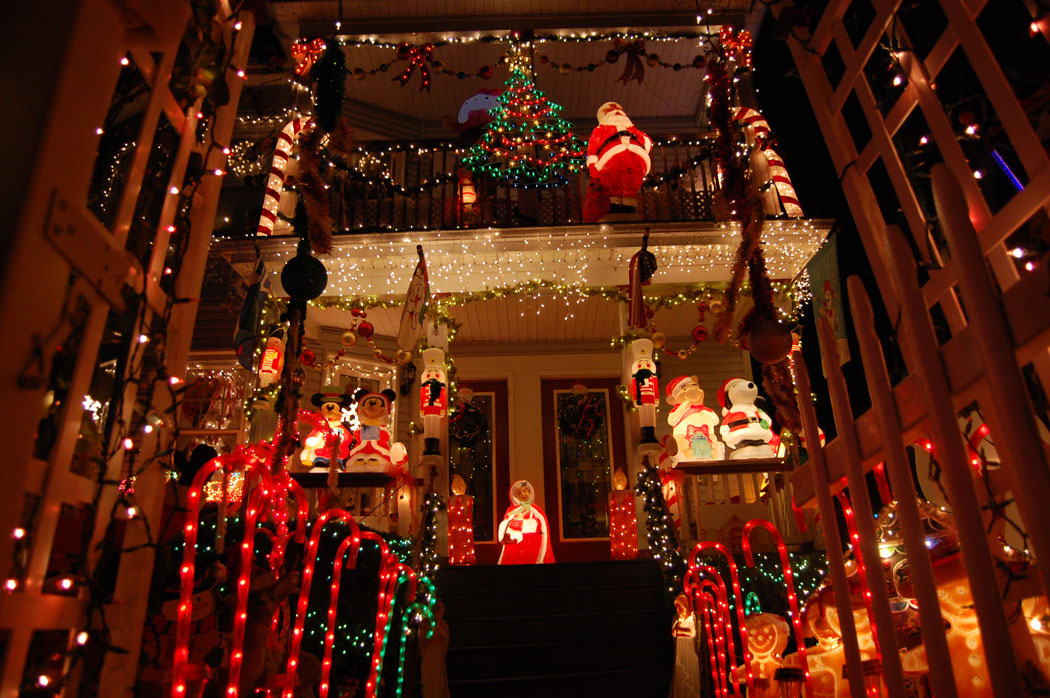 Malden: 20 Dale St.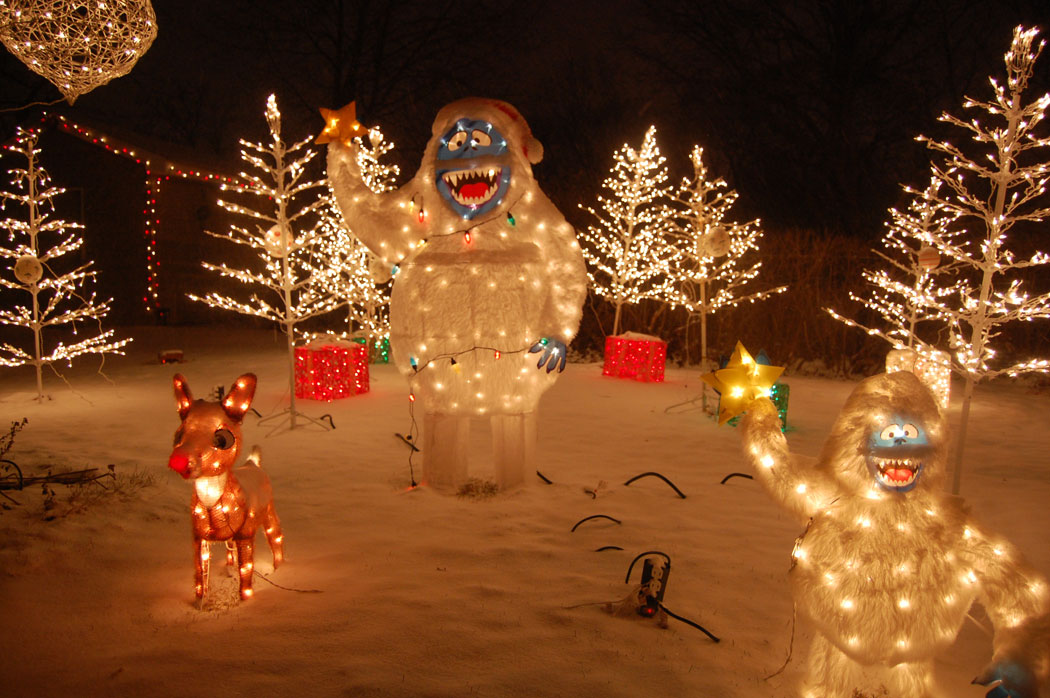 Medford: 85 George P. Hassett Dr.
At Medford City Hall, a giant snowman displayed above the doors doffs his top hat.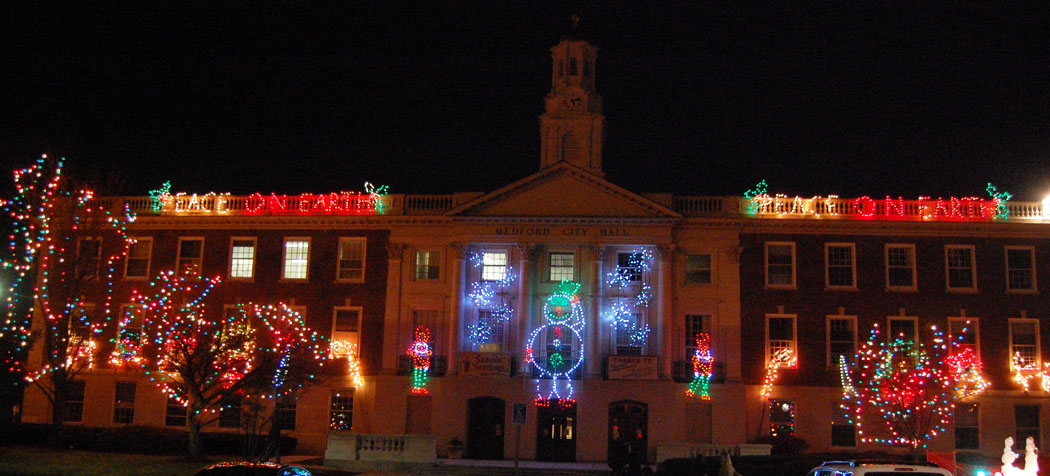 Melrose: Washington Street just south of Gould Street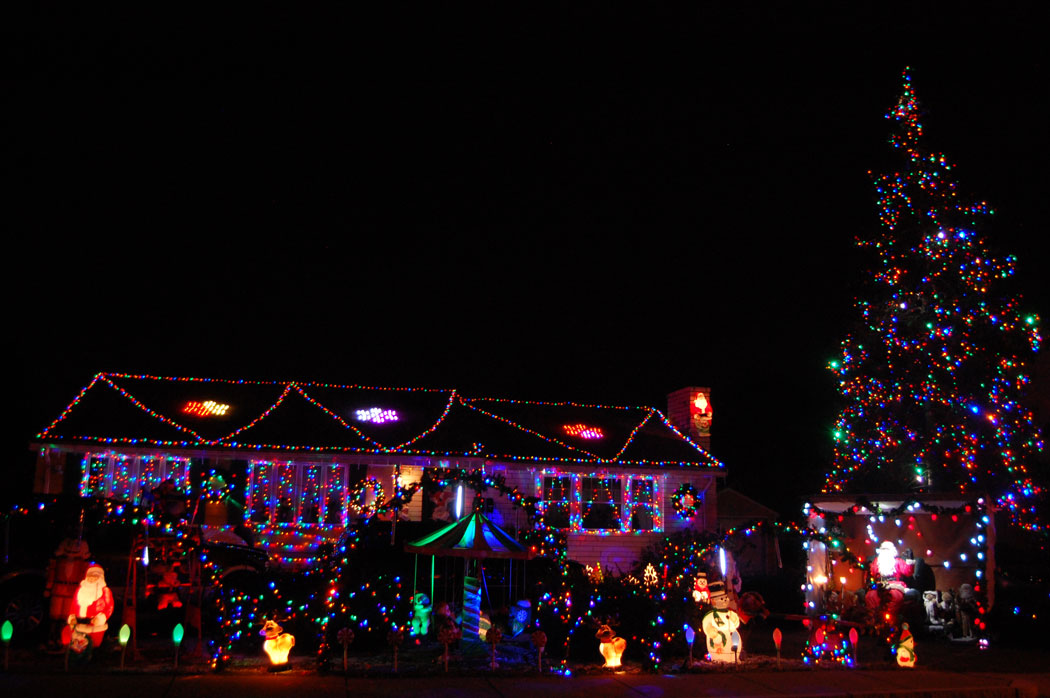 Millis: 60 Causeway St.
"Millis Wonderland" is an extraordinary drive-through display spanning 43 woodsy acres operated by Kevin Meehan. What began as a small neighborhood display grew and grew. Then around 2003, Meehan bought a renowned set of "Christmas Wonderland" displays that Mervin "Mr. Christmas" Whipple had put up in Killingly, Connecticut, each season for three and a half decades. Now it includes nativity scenes, rolling trains, giant Santas, and cars (a sign says "big boys toys"; Meehan is a car dealer in Mendon). Plus there are nearly three dozen little cottages housing animated dioramas depicting elves busy in toy workshops, horse-drawn carriages rolling through forests, Victorian carolers, skating parties, children playing in snow, winter faeries, penguins and Disney characters. Meehan has said that this is last year to see it all here, as the family plans to donate all "1,200 animations, 45 glass-encased floats, 100,000 lights, and all supporting equipment" to a nonprofit committed to host and operate the displays. Note: This is a very (and deservedly) popular attraction. Waiting times in traffic along Causeway Street can be an hour or more.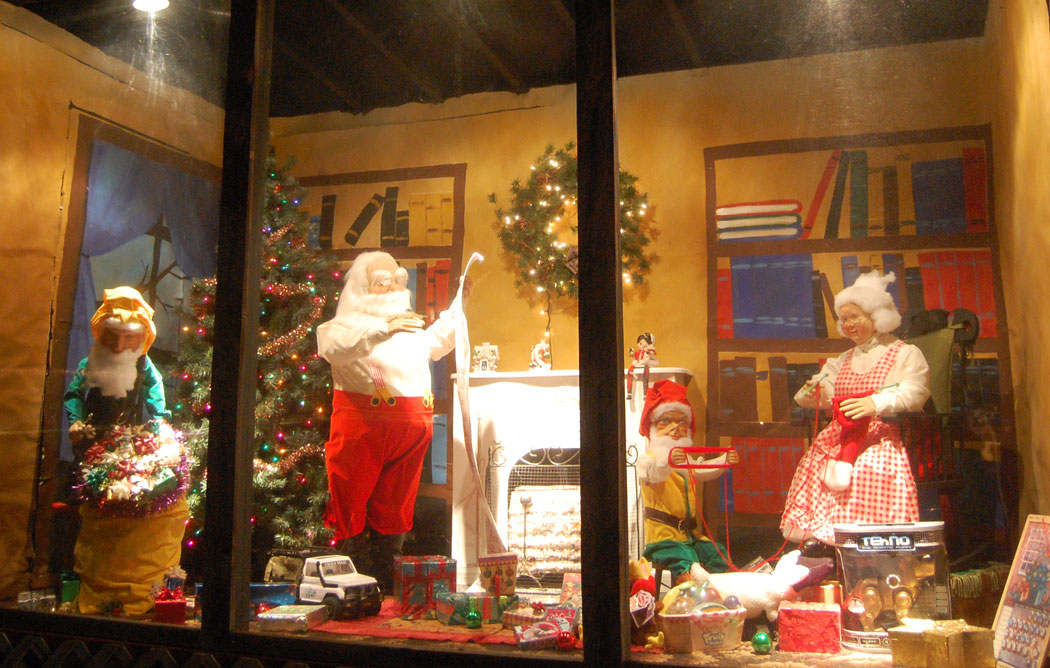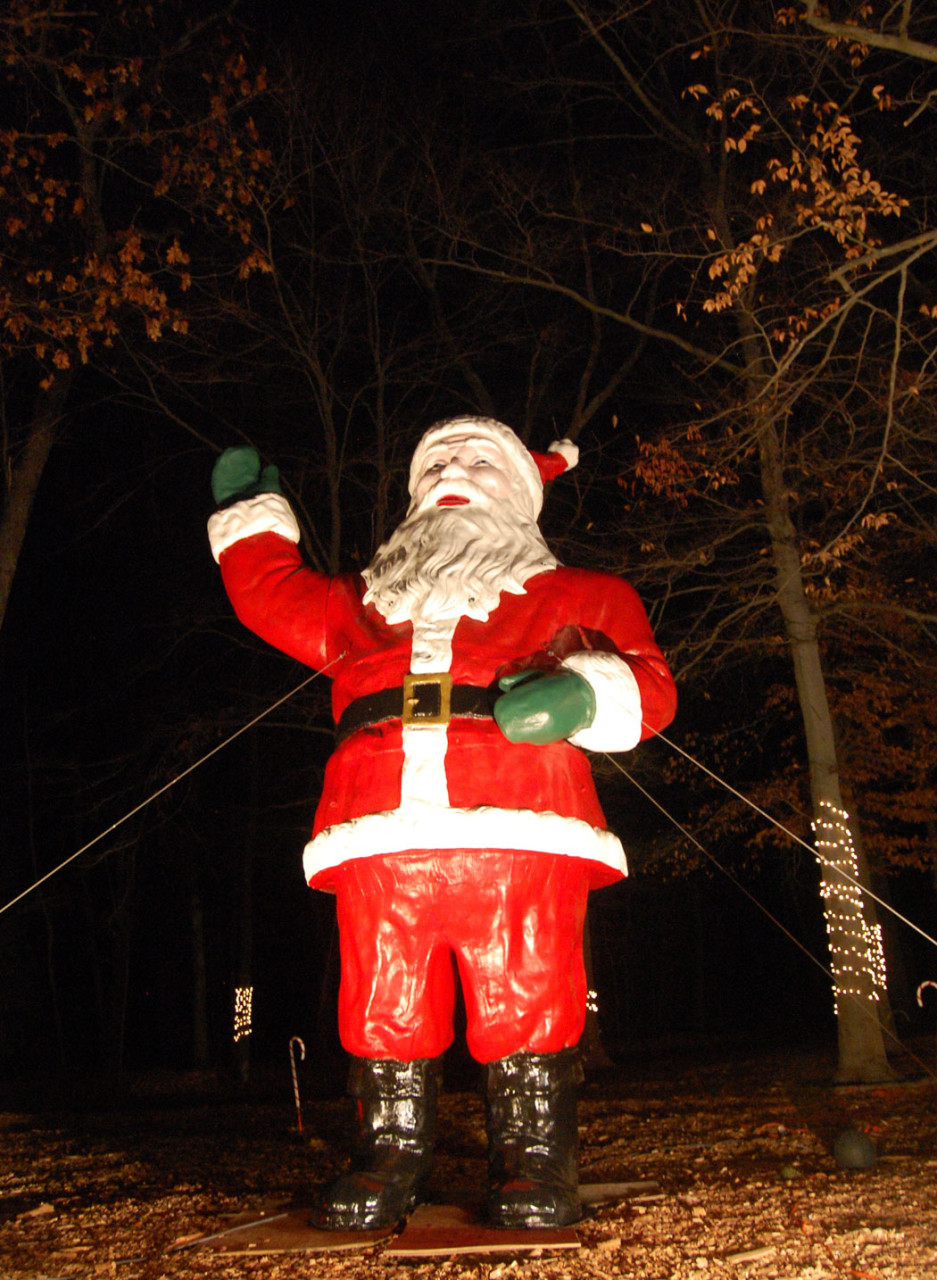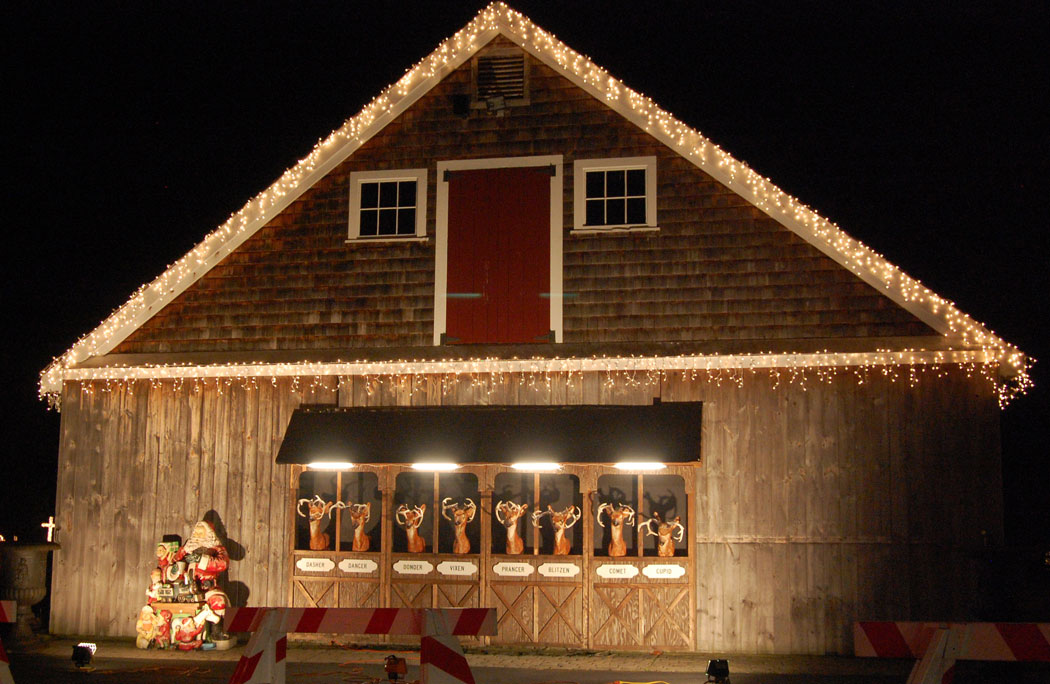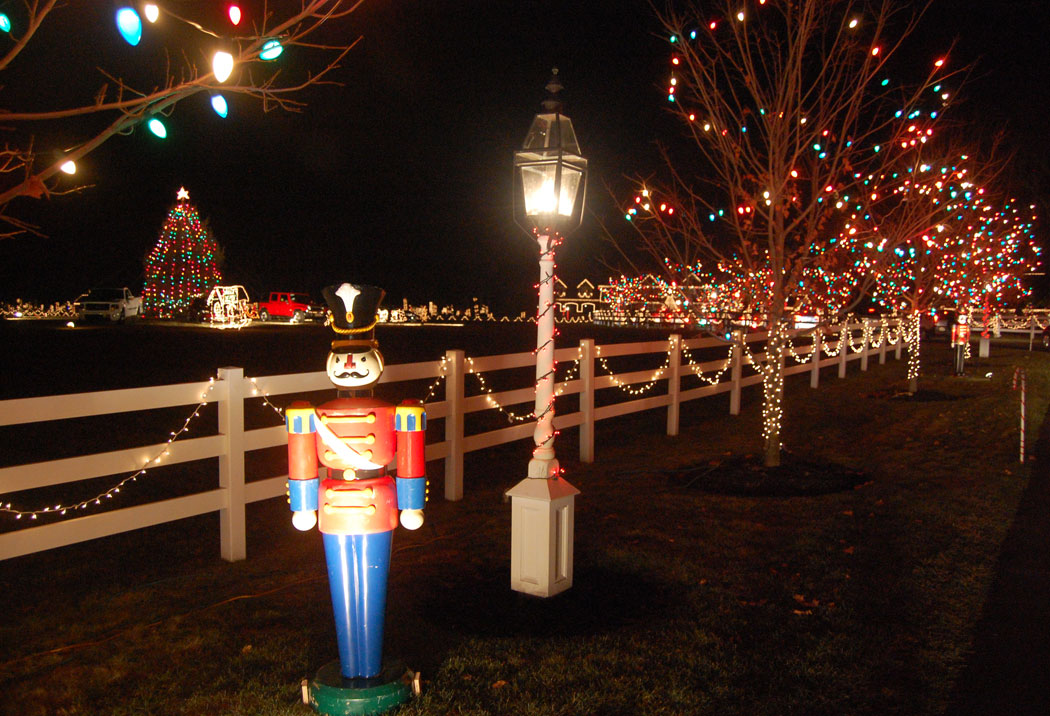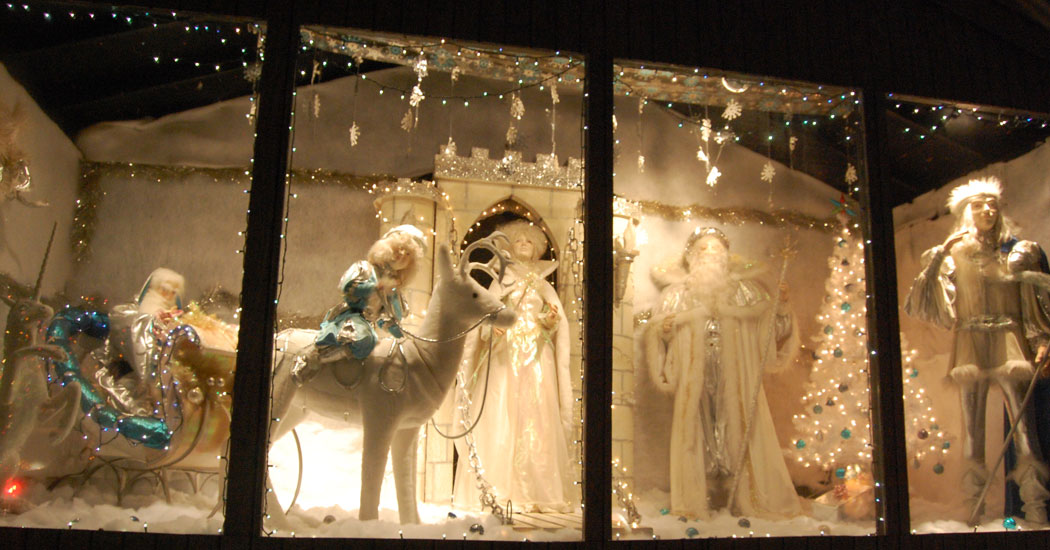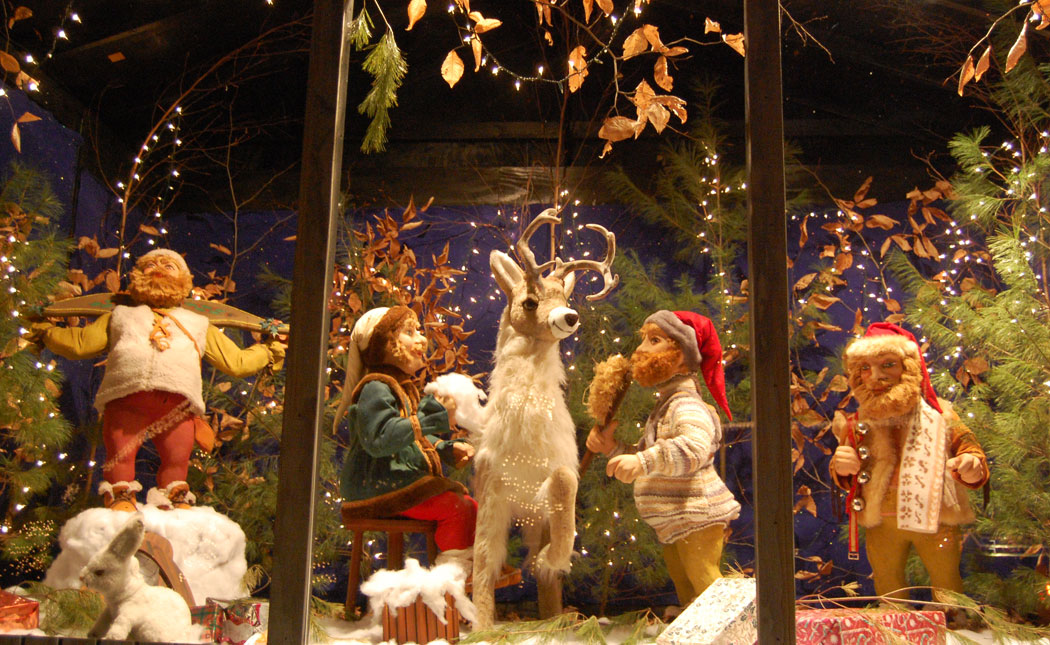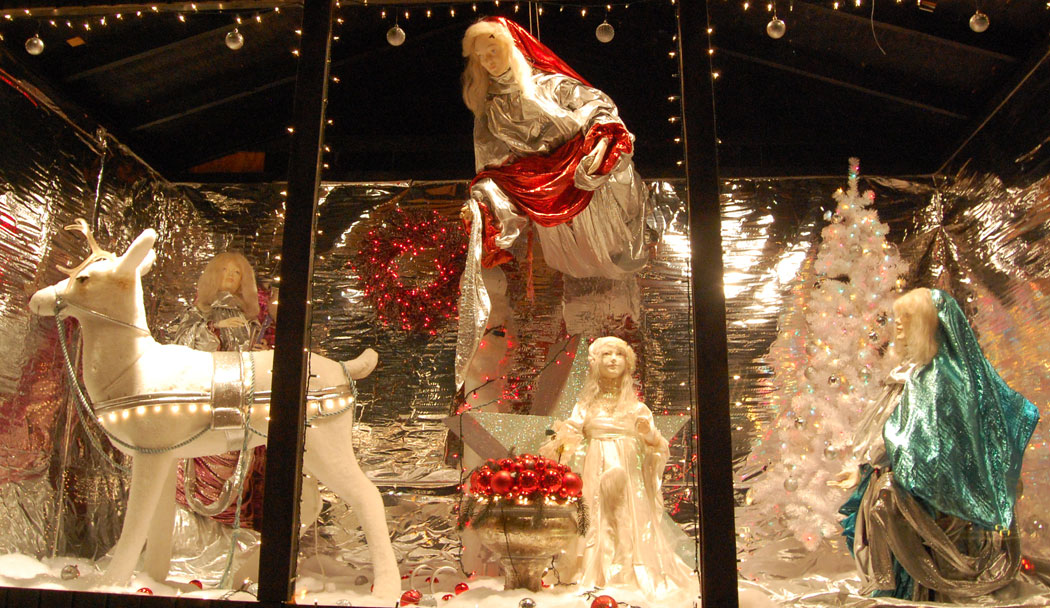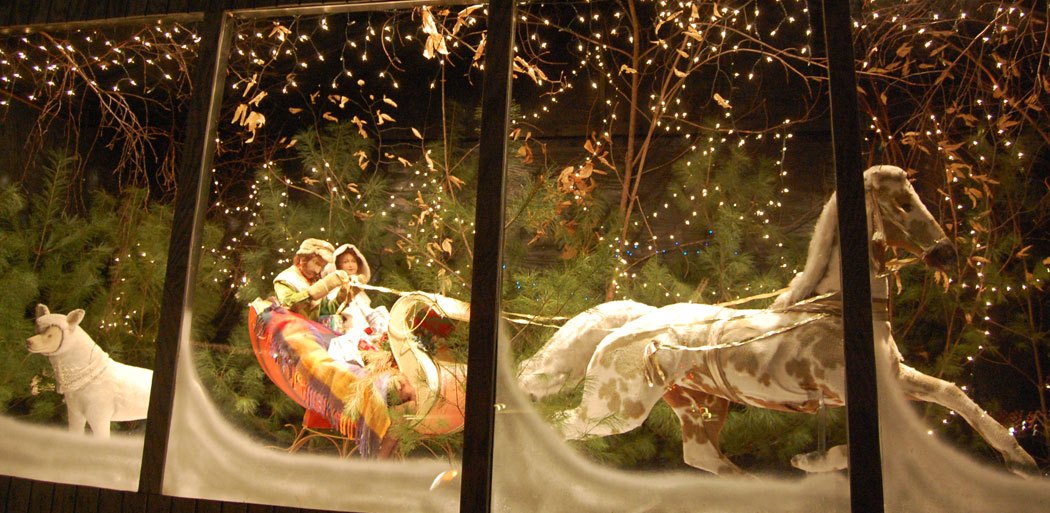 Peabody: 10 Summit St.
A roadside landmark familiar to drivers on Route 128.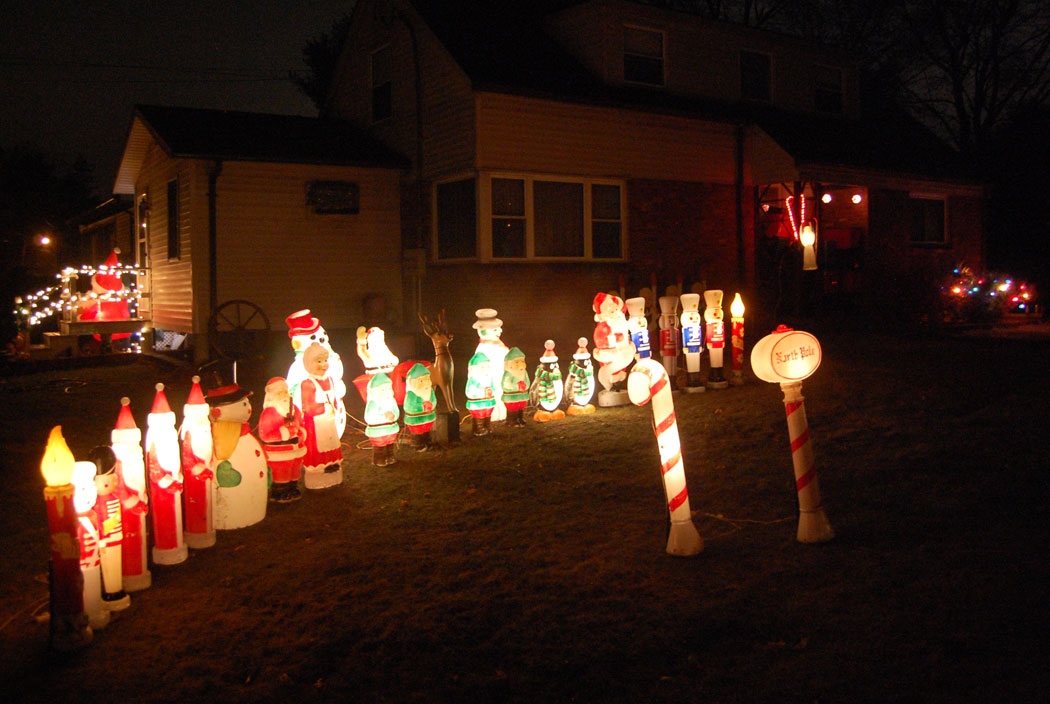 Saugus: 16 and 22 Lynn Fells Parkway, east of Rivers Lane
The Amsden and the Guarino families, who share a driveway, are behind this show-stopping display—one of the many light extravaganzas along Lynn Fells Parkway in Saugus. WBUR's Monica Brady-Myerov spoke to the families in 2011.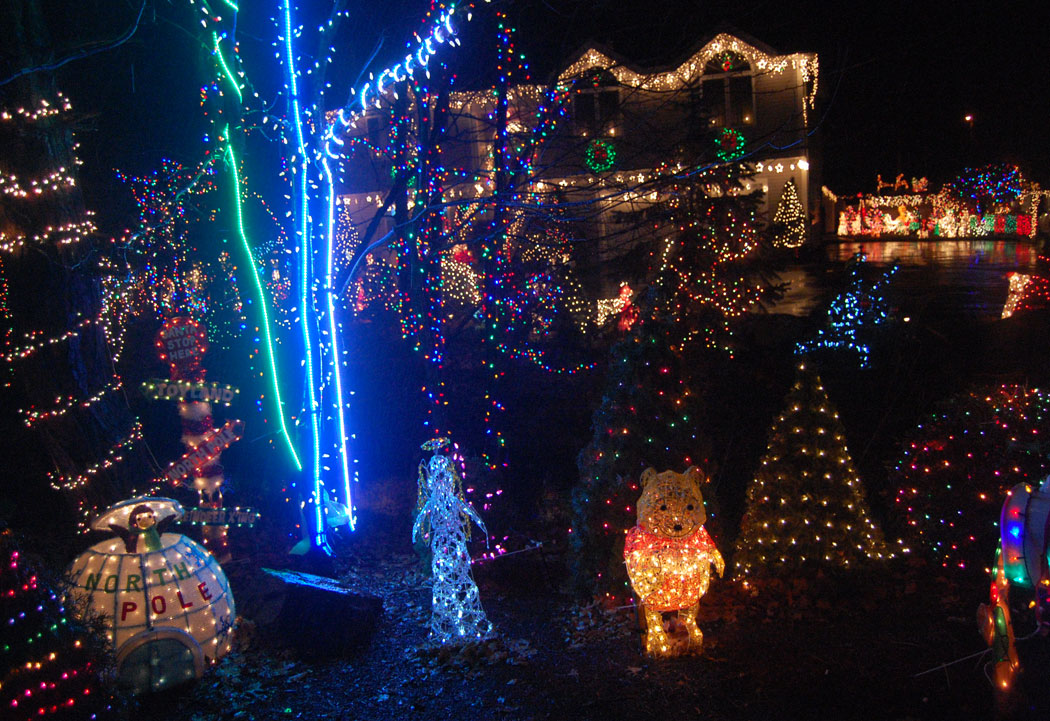 Saugus: 401 Lynn Fells Parkway, just east of Donna Road
Michael Conlon wishes visitors "Peace on Earth" at his Saugus home distinguished by its blue and white lights.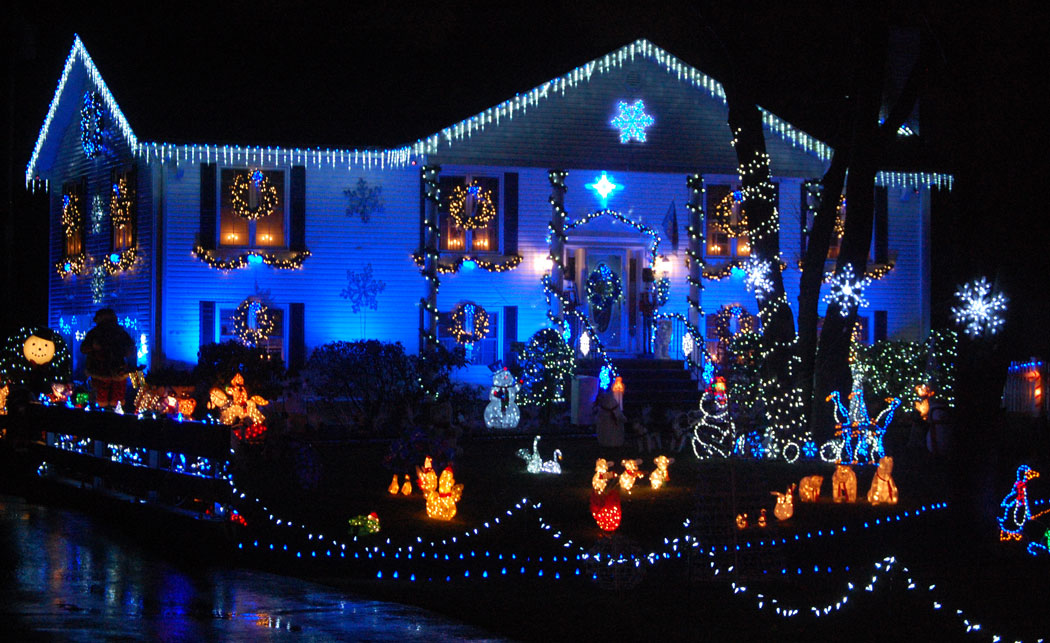 Saugus: 5 Laurine Road, just east of Lynn Fells Parkway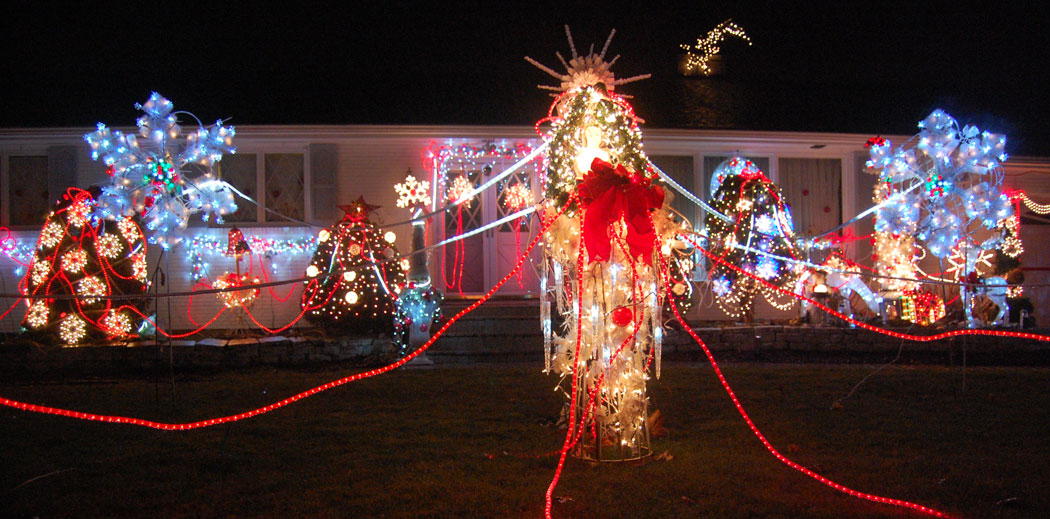 Somerville: Corner of Ames and Robinson streets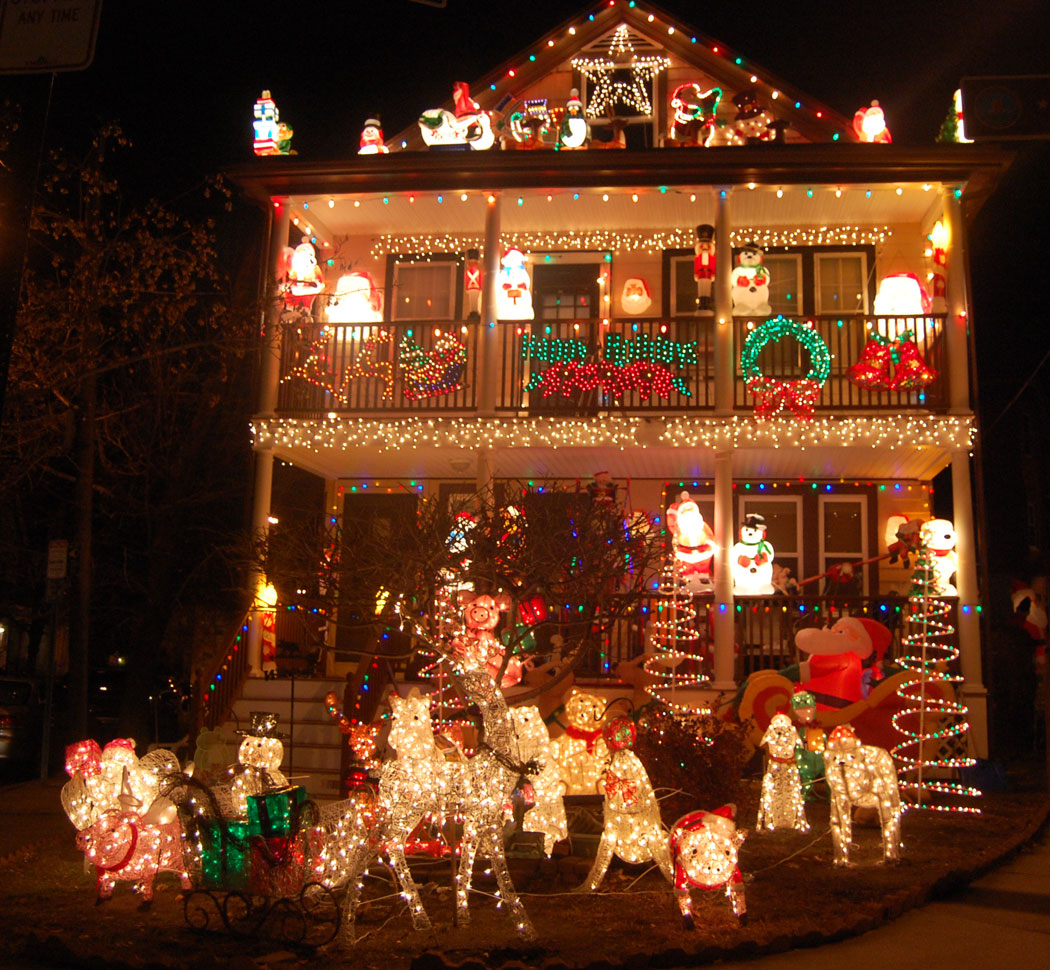 Somerville: Otis Street, just west of Cross Street
"I've been doing it almost 30 years," said John Ragno, who decorates three houses he owns here, two side by side, and one across the street. "I started off with a manger outside, a small manger on the porch. And it grew.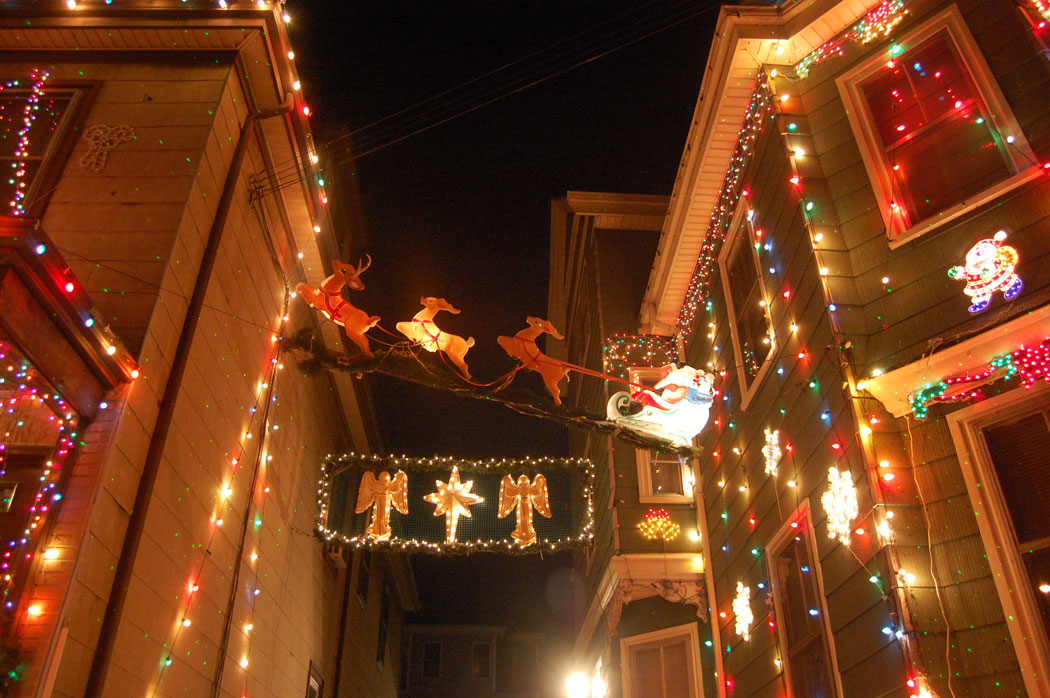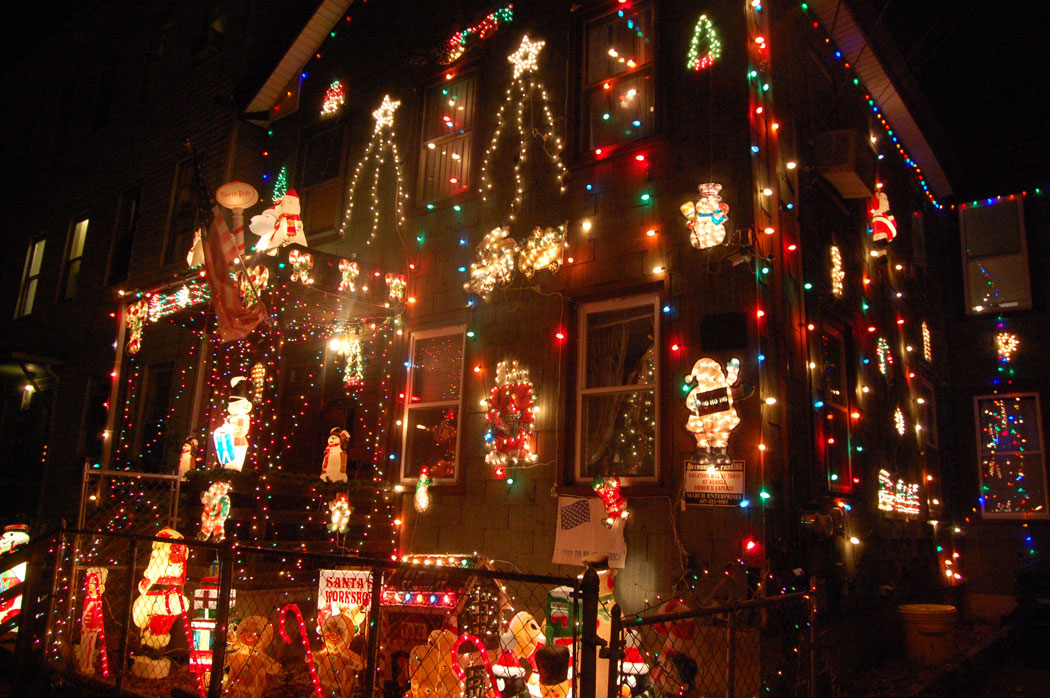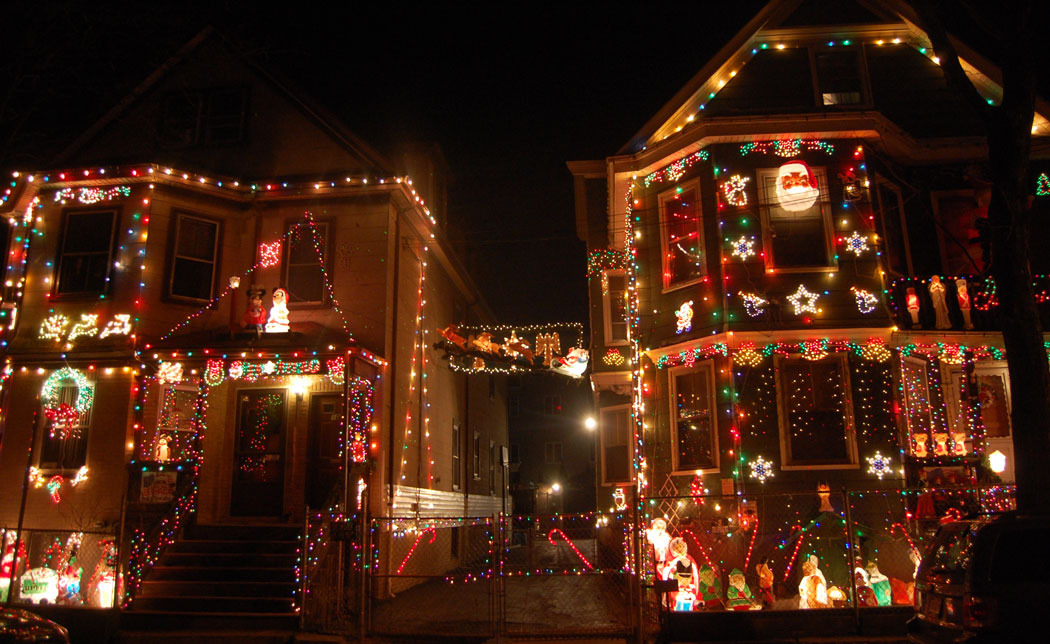 Stoneham: 149 Pond St.
The Stone Zoo's wooded paths are lit up for its annual "ZooLights" through Jan. 4. See a live reindeer and visit Santa's Castle for a sit down with the jolly old elf. Admission is $7.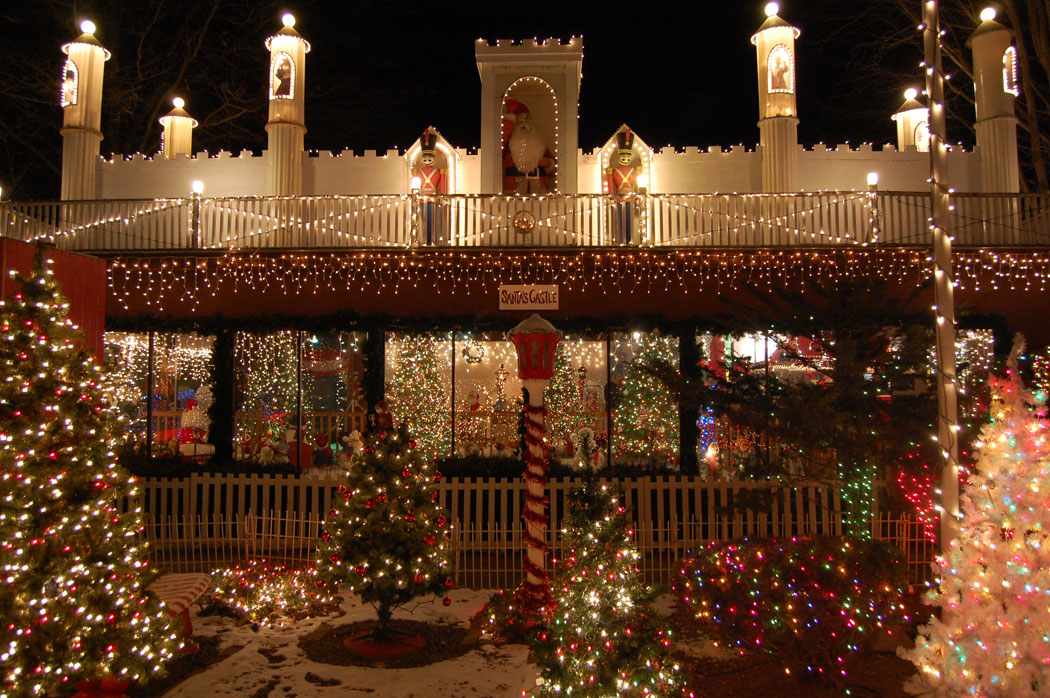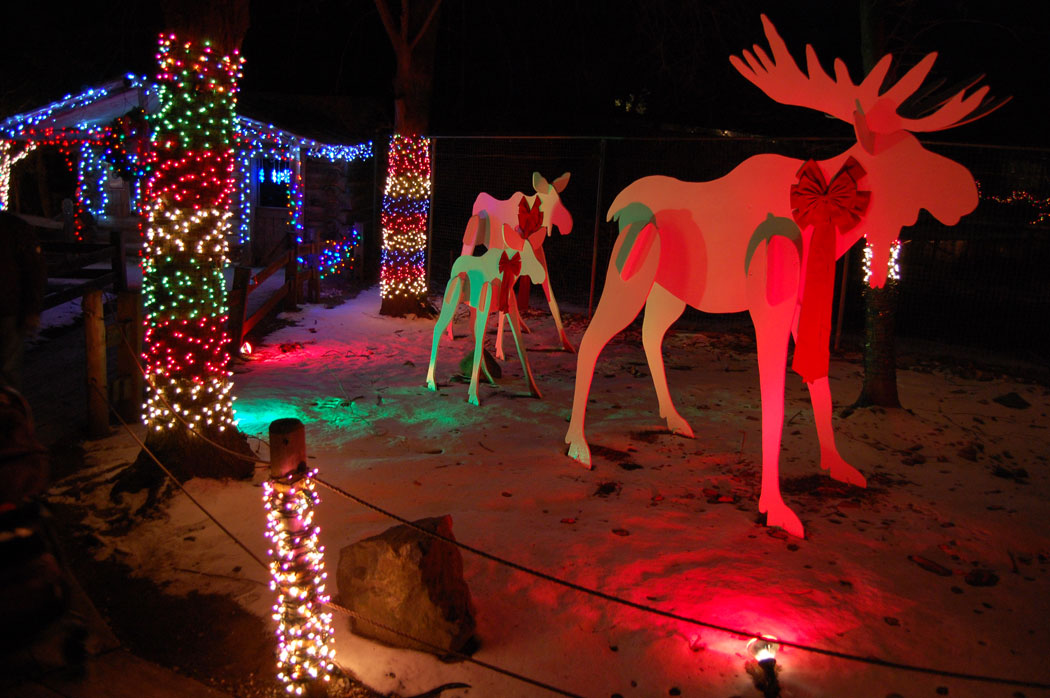 Our guides from 2013:
Where To See The Greatest Christmas Lights Around Boston
Your Favorite Christmas Lights Around Boston
Greg Cook is co-founder of WBUR's ARTery. Be his friend on Twitter @AestheticResear and on the Facebook.
This article was originally published on December 18, 2014.