One Small Community To Another: Salvadorans Find Safety On Nantucket
Play
This article is more than 8 years old.
Part 4 of a series on gang violence in El Salvador and those fleeing it to Massachusetts
NANTUCKET, Mass. — On this island, best known for its idyllic beaches and fine dining, a family of Salvadorans sits down to a dinner of fried eggs, homemade tortillas and pasta. It's nearly 8:30 p.m. when Quenia cooks dinner for her husband, Salvador. (We've agreed to not use their full names because of the dangerous situation they left behind in El Salvador.)
It's not unusual for them to eat dinner at this late hour, after Salvador's returned home from his work painting houses.
"I have so many cousins," he says, "so they called me and they say there's a good place here to work, there's a lot of work here in the summer, so that's how I came to the island."
That's the story of many Salvadoran immigrants on Nantucket, most of whom — like Salvador and his family — hail from the same rural farming community of Aqua Caliente, Spanish for "hot water."
Salvador says sometimes when he's walking around Nantucket, it feels like he's back home.
"I mean if I go to the Stop & Shop right now, I will see somebody from Aqua Caliente," he says. "If I go to the store, to the gas station, everywhere you go you're going to see somebody from Aqua Caliente."
It's difficult to say exactly how many Salvadorans are living on Nantucket, but Latinos in general make up about 9 percent of the year-round population of the island, according to the 2010 U.S. Census. This number likely does not include undocumented immigrants who may be hesitant to fill out the census. (An estimated 70,000 Salvadorans live in Massachusetts.)
What's clear is that many in the Salvadoran community here come to the island for the jobs. Travel, both domestic and international, drives some $167 million in spending to Nantucket, according to the Nantucket Island Chamber of Commerce, and the seasonal workforce needed to fuel that tourism industry translates into plenty of opportunities for jobs. From landscaping, to restaurant work, to construction, there is good money to be made.
"The time you can save money here, it's in the summer," Salvador says. "Because last summer I used to work 15, 16 hours daily, you make like 90 to 100 hours a week so you really make a lot of money."
And saving that summer income is crucial for those trying to live on the island year round. Jobs, of course, are harder to come by in the winter months, and finding an affordable place to rent often means pooling resources. Salvador, Quenia and their 2-year-old daughter share one bedroom in the basement of a six-bedroom house. They pay $900 a month for the room and share the home with nine other people, all of them Salvadoran.
Even though he wishes he had more time to spend with his family, and after a few complaints about the high cost of living on the island, Salvador still believes they are better off now.
"Good thing here is like, you are safe from the gangs," he says. "Here on Nantucket you can walk like, if you want to go ... 10 o'clock at night you can go walking to the store. Nothing is going to happen here. It's a really nice place here."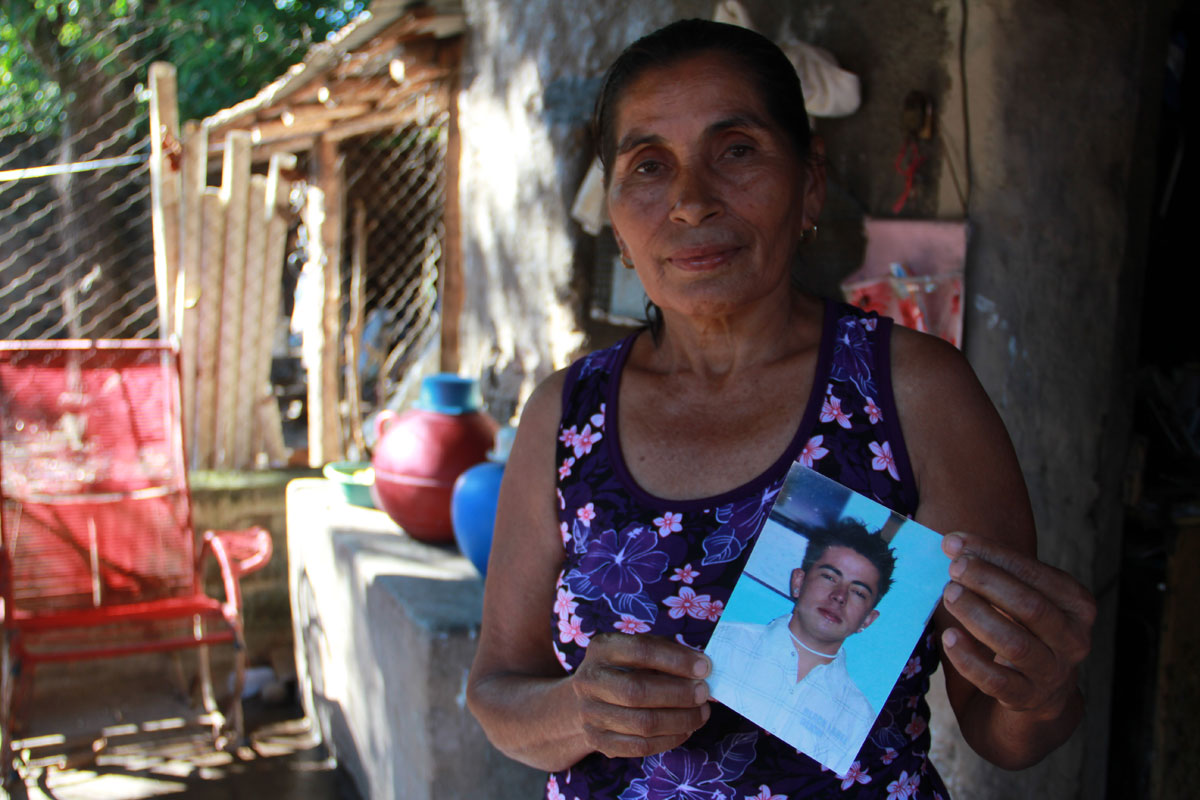 Back in Aqua Caliente, Dora, Quenia's mom, remembers how her son was drawn to Nantucket by the same promise of a safe place to work and maybe save some money.
Dora still lives with her other children in the small Salvadoran town, near the Honduran border. The gang presence there is not so much noticeable in territorial markings like graffiti, but instead in the subtle whispers of people like Dora. She's afraid of the gang associates, the lookouts and extortionists, who she says have infiltrated this community.
Dora says her son spent three years on Nantucket, returning to Aqua Caliente to help her build a new house.
"He was murdered two days after he got back [to El Salvador]," she says. "He had a friend who was part of the gangs ... another gang saw a picture of them online and they came here, they waited for him to kill him."
Dora says she's been threatened by the gang during her walks to the field where she tends her cows. She says they once put a machete to her throat, warning her to pay the extortion fee.
She lives in fear every day. "Yes, I'm so scared," she says, crying, "but this is life."
Quenia left Aqua Caliente last July, taking her 2-year-old to Nantucket to be with Salvador.
"At the end of the day, when they're here, they're not sure if they're going to be alive the next day. They'll be safe there," Dora says.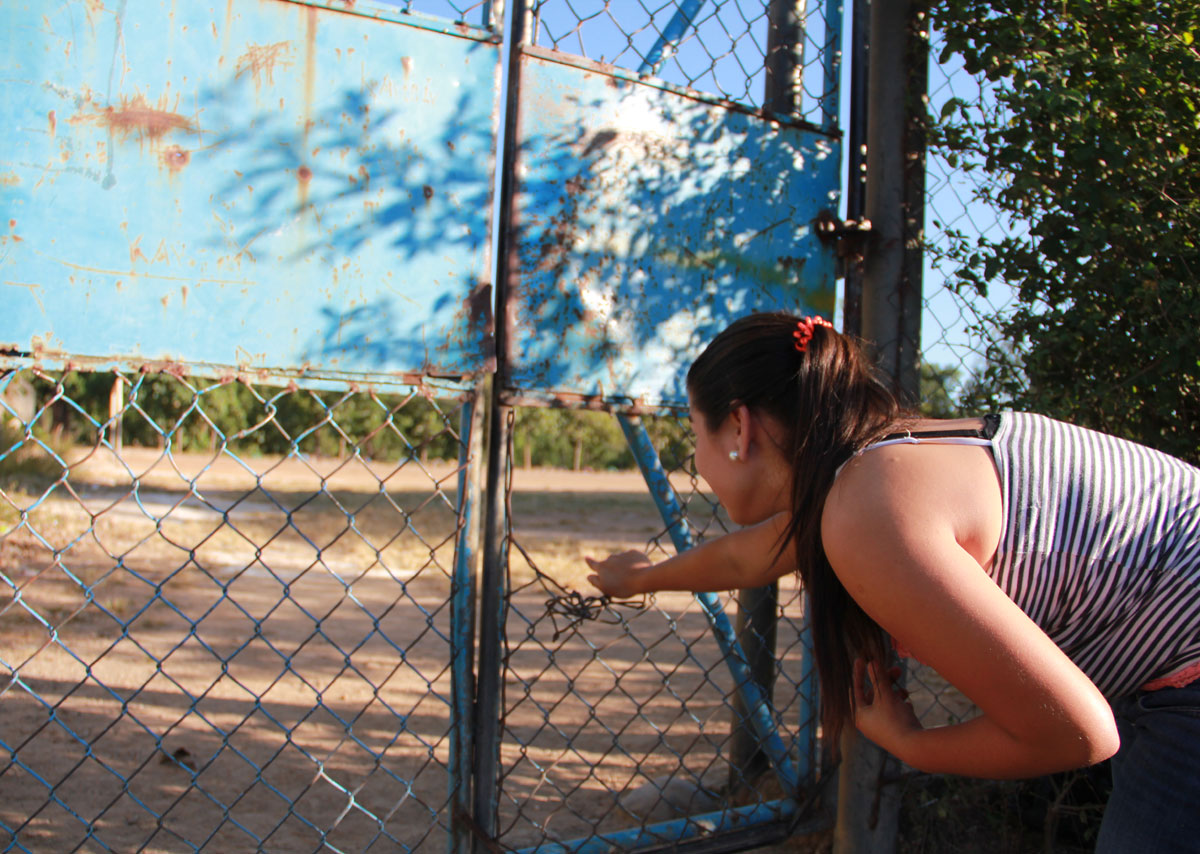 "They're looking for some really basic humanity, to be able to live safely, to be able to have a job, to be able to have a family," says Lisa Harrington, a client services manager at Access Nantucket, a small human services nonprofit on the island.
She works with the immigrant community on many levels. Despite subtle cultural influences, like the addition of a Latin dance night at a local bar, Harrington says she thinks many in the vacation community are largely unaware of their Salvadoran neighbors.
"Because they're in the back doing dishes," Harrington says. "They're mowing lawns of the mansions and they're cleaning houses. ... It's very white here, except for that it's not."
If the island's shifting demographics of recent years are any indication of what's to come — and if the violence in countries like El Salvador rages on — then the non-white community of Nantucket will likely continue to grow.
For Salvador the priority continues to be providing a future for his family — one that he hopes includes raising his daughter on Nantucket.
This segment aired on December 19, 2014.