Salvadoran Gang Members Seek New Life — With A Farm
08:12
Play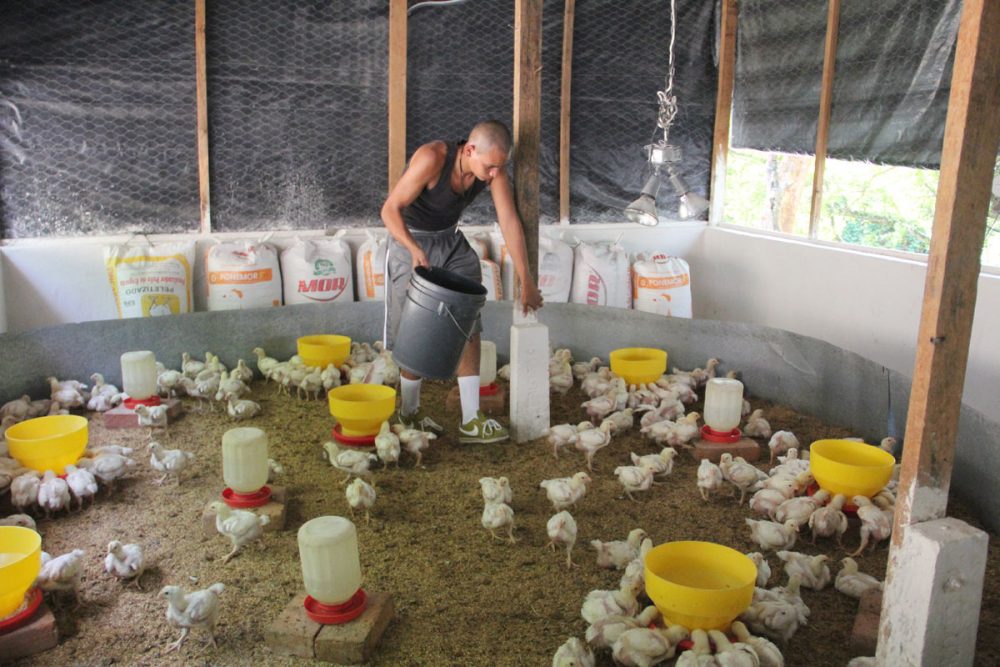 This article is more than 5 years old.
Part 5 of a series on gang violence in El Salvador and those fleeing it to Massachusetts
Marvin Gonzalez is the shortest mob boss I have ever met. But he's imposing in other ways.
"If I was a gun for hire, if I was telling people to go out and commit crimes, that's what they would do," he says in Spanish.
And what he says goes in the community of La Selva in the municipality of Ilopango. On the wall at the neighborhood's entrance, big black letters announce the gang Mara Salvatrucha.
It's a public place, of course, but you need the gang's permission to be here. And that comes from the short, clean-cut boss wearing a Marilyn Monroe Statute of Liberty shirt, with Marilyn holding a smoking machine gun.
"We've been recognized worldwide for our violence, not because we're productive people," Gonzalez reflects.
In a society long bent to authoritarian rule, staggering economic inequality and less-than-full citizenship for the poor, this contemplative authoritarian may be traveling a path that can take his gang members out of the life.
He says he's looking for a way.
"We discriminate against the community, society discriminates against us, the police discriminate against us, we discriminate against the police, and it's a cycle of violence that never seems to end," he says.
Gonzalez's life path has followed the cycle of Mara Salvatrucha. Born in the early '80s, he grew up in El Salvador during its civil war while hundreds of thousands were fleeing to the United States. By the time he was 10, Mara Salvatrucha rose among Salvadorans living in Los Angeles and seeking protection from Mexican and black gangs; other Salvadorans joined a Mexican-American gang, Mara 18.
Those made-in-America gangsters had become so powerful by the late '90s, when Gonzalez was a teen, that authorities deported thousands of them back to El Salvador. They had access to stockpiles of guns the United States once sent to the Salvadoran Army. MS-13 and Barrio 18 took over like a jungle.
"You had to be able to commit all kinds of crimes, including murder," Gonzales recalls about his entry into MS-13. And by age 20, Gonzales did. He spent 10 years in prison for killing a rival gang member. Before he finished his sentence, the imprisoned leaders of the two notorious gangs concluded a dramatic round of peace talks. They declared a truce in 2012.
He was 30. And on his way out, the top command of MS-13 ordered him to go to Ilopango to create the first violence-free zone with his enemy Barrio 18.
"There's people, it just doesn't fit in their head that you can talk with your enemy," he says, in what could be a reference to the Salvadoran police as well as to reluctant gang members. "But dialogue is how all kinds of wars around the world have been resolved."
In the first months after the truce, the number of murders fell sharply across the country. So too did kidnappings and extortion. In Ilopango, Gonzalez says, "The way things were before, every little business, everybody had to pay. They were being robbed all the time by our people that had to pay extortion. Now in this process, we're trying to eradicate all of that."
Around the country, the truce came apart. The deal and who backed it and what the government had promised were not transparent. Legitimate jobs and government support failed to materialize. Though the number of murders went down, disappearances went up, suggesting the murder rate had not really gone, but that the murders had been buried. Critics said the truce only made gangs stronger. And then the rate went up again.
Opinion polls and statements by government leaders and police indicate that negotiating a truce with gangs is deeply unpopular. Reflecting that hostility, the attorney general recently stated that talking with gangsters is a waste of time.
Yet in Ilopango, Gonzalez is still trying to keep the truce by engaging with Barrio 18, as well as the mayor and the schools.
Gonzalez is holding his 12-month-old daughter when I first meet him, and he talks about making her future and the future of his young gang members less dangerous.
I listen to him as I've listened to many a gangster over the years — skeptically. Critics will say he's just another criminal and the talk of gang redemption is just another con. But he is smart, and even if he's been following orders from above, he's clearly become a leader in his own right.
"My dream was to think how we could in Ilopango become people who exploit the economy in a positive sense," he says.
That's where raising chickens and growing organic tomatoes comes in.
Funded by the European Union, a farm and a high-tech greenhouse have employed 40 of Gonzalez's gang members. It's their first legitimate job.
Jeanne Rikkers, of the human rights group Foundation for the Study of the Application of Law, has worked with Gonzalez since he got out of prison.
"They all expressed this kind of naive, my first job at McDonald's wonder at, 'I get a paycheck,' " she laughs.
Rikkers says employment has had a strong effect on their self-esteem.
"In the end you're talking about young kids," she says. "And they think of it, 'We can dream of something that will make our families proud of us.' "
The pay isn't much. It's not going to replace the money from extortion. So when I ask if the gang has given up all crime, Gonzalez answers carefully.
"The word that is important is that this is a process of pacification," he says, "people are accustomed to a certain way of doing things."
From that I infer that while they are no longer extorting the tortilla lady and other small businesses, they are still extorting big businesses.
Though older gang members have started little businesses, like selling water or propane tanks, the gang still has to make enough money to support its members, as well as the widows and children of so many murdered gang members. Committing crimes outside the neighborhood, like dealing drugs, might be another way of sustaining income.
For Gonzalez and MS-13, if they are in earnest, here's the challenge of a transitional economy: moving from illegitimate business to a full-employment peacetime.
"I dream about this little farm, and shoe makers, and bread makers," Gonzalez says. "And others share this dream that we can produce and export with the name of Ilopango and people will know it was made by gang members. "
I picture the branding of organic tomatoes with stickers that read "Made by MS-13". It seems outlandish.
But consider some boys playing kickball nearby. They look so young. Their laughter seems so innocent. Yet they are capable of putting a gun to your head at a moment's notice. And a whole army of El Salvador's youth is being initiated into a Central American version of Africa's child soldiers, ready to kill you on command. Not because they're psychopaths but because they are operating under coercion in a country with an absolute lack of educational and economic opportunity and no way out, for most of them, unless they run.
And compared to that, raising chickens and tomatoes with "Made in Ilopango stickers" doesn't look outlandish at all.
It looks instead like a far more promising start than more policing and prisons.
As I am leaving, I ask one last question. In this new agricultural cooperative he's starting up as part of his dream, "Will the members get to vote on whether you're boss or not?"
After a delay for translation, Gonzalez laughs. He laughs hilariously.
"No," he replies.
"They don't get to vote?" I ask.
"No."
How you get from authoritarian rule to democracy, from vertical to horizontal decision-making, from violence to peace, will be Marvin's challenge — as well as El Salvador's.
This segment aired on December 19, 2014.