Gov. Patrick Reflects On His Tenure, Legacy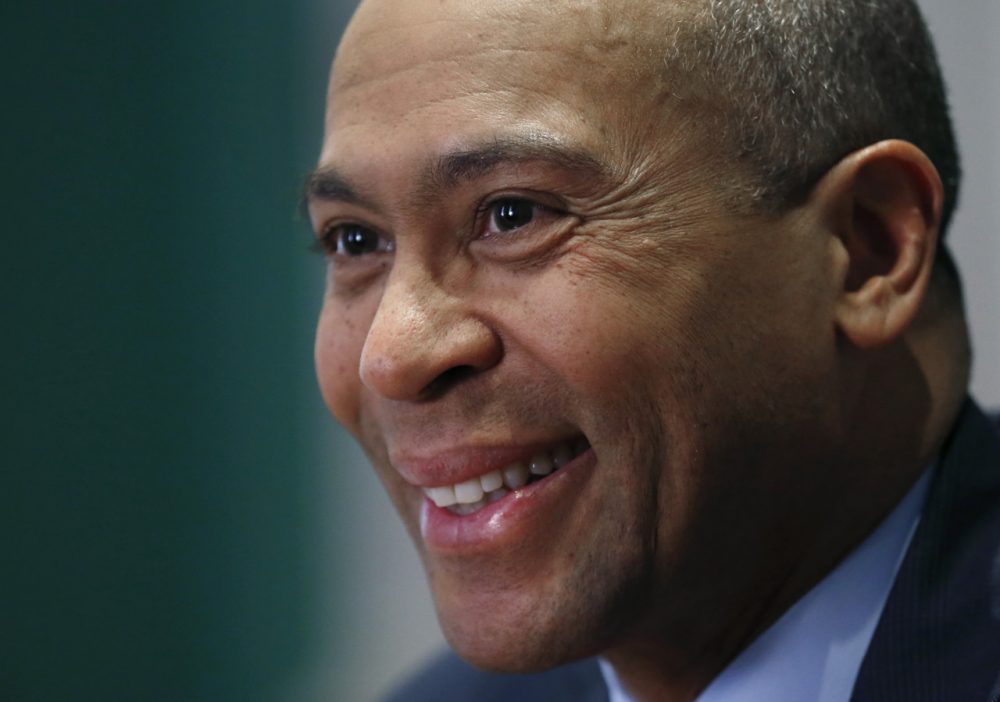 This article is more than 5 years old.
"I am an optimist," Gov. Deval Patrick said in his first inauguration speech, "but not a foolish one."
Spoken amid the celebratory atmosphere of that January 2007 day in which Massachusetts welcomed Patrick, the state's first black governor and first Democratic governor in 16 years, those words seem prescient now as he prepares to hand his office keys over to Charlie Baker - a Republican - on Jan. 8.
In a wide-ranging interview with the Associated Press, Patrick reflected on the highs and lows of his tenure, an administration that pushed a vision of prosperity for all but, at times, found itself mired by inevitable breakdowns in the existing machinery of government.
Patrick optimistically saw a Massachusetts that would boast cutting-edge industries, revitalized cities, gleaming new infrastructure and be warmed by solar and other renewable energy sources. Summoning memories of his childhood in the tough South Side of Chicago, he demanded an education system that narrowed the achievement gap between students from underprivileged urban neighborhoods and those from wealthier suburbs.
"I'm proud of the fact that we have come out of the recession stronger than we were, that we've got a 25-year high in employment, that the innovation sectors of biotech and life sciences, clean tech, the major digital technologies, advanced manufacturing all are on fire in real terms and certainly relative to the rest of the country, in some cases the rest of the world," he said.
"I'm proud of the fact that our students are number one in student achievement, that almost everybody in the Commonwealth has access to affordable health care," he added.
But indeed it would have been foolish to expect no pitfalls along the way.
There were early stumbles - Patrick was criticized for what some called extravagant spending on office furnishings and an official state vehicle in the first weeks of his administration. His second term was marked by a rash of setbacks, including the disappearance and death of a 5-year-old boy that prompted a shake-up at the state's child welfare agency, a drug lab scandal that jeopardized thousands of criminal cases, and a disastrous breakdown of the state's once-vaunted health connector website. He leaves as Massachusetts faces a budget deficit his staff pegs at $329 million and others say is much larger.
Patrick said he still grapples with the significance of being the nation's second-elected black governor, but noted that the first - former Virginia Gov. Douglas Wilder - once said the distinction meant nothing if there wasn't a second. In that respect, Patrick said he faced expectations unlike other governors.
"Every time race comes up you get asked a question, whether it comes up here or somewhere else in the country, I'm expected to have a point of view about it," he said.
Though the former U.S. assistant attorney general never ran for political office before 2006, Patrick's grassroots organizing skills and oratorical talents energized progressive Democrats in Massachusetts.
Frustrated at times by what he perceived as a retreat from party values, he famously implored delegates to "grow a backbone" at a 2012 Democratic state convention that endorsed Elizabeth Warren for the U.S. Senate. Warren would defeat Republican Scott Brown, who had embarrassed Democrats two years earlier by winning a special election for the seat held by the late Edward Kennedy.
Now Patrick regularly fields questions about his own future, including the possibility of a White House bid.
Conditions would have to be right - for his family, for himself and for his chances - in order to consider such a run, Patrick said. Even if the stars aligned, Patrick was cagey.
"I might give it a shot," he said. He has ruled out 2016.
Though disappointed that Baker - whom Patrick beat four years ago- narrowly defeated Democrat Martha Coakley this year, Patrick pledged a smooth transfer of power.
"It behooves the interests of the people I serve and he is about to serve that he succeed," Patrick said.
While his economic record will be debated, Massachusetts by most accounts recovered from the Great Recession faster than much of the nation and the state's unemployment rate was below that of the nation throughout much of Patrick's administration. An example of his focus on "brain power" industries included a 10-year, $1 billion initiative to bolster the state's growing life sciences sector, though some critics complained Patrick played favorites with certain industries at the expense of others.
His legacy will also include the legalization of casino gambling, but Patrick has insisted that casinos were never a central piece of his economic strategy.
Patrick said being governor was a "gas" and what he liked most was encountering ordinary citizens who often spontaneously shared their deeply personal concerns.
"It's not always a compliment, it's not always a critique," he said, "it's just an insight into their lives and if you're listening hard, it makes you a better governor."