After Bombs, Marathoner And Filmmaker Finish The Job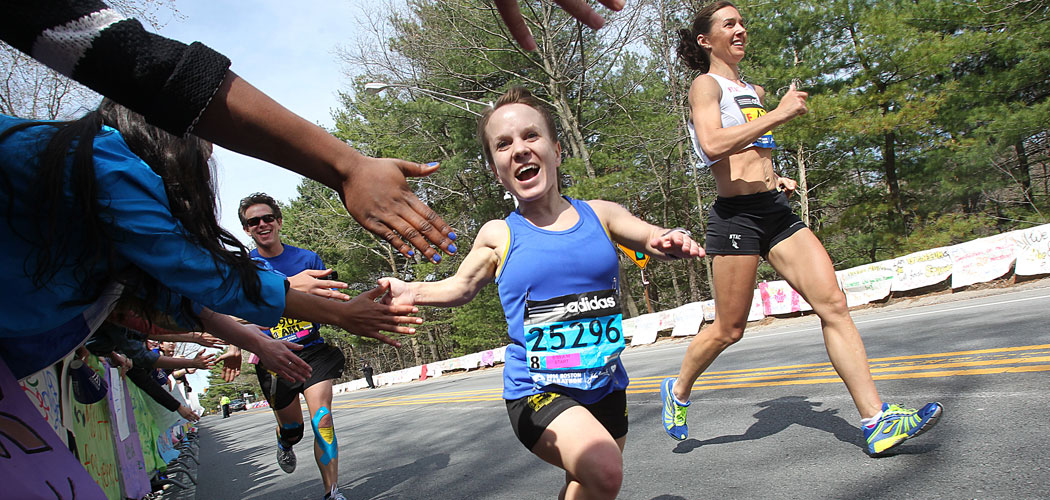 This article is more than 6 years old.
In early 2013 Boston Globe reporter David Abel (at left in the photo above) set out to make his first documentary, about one woman's quest to be the first dwarf to finish the Boston Marathon.
But the brutal bombings shattered her goal — and dramatically changed Abel's film. Now he's working on a follow-up.
When the bombs went off, Abel was at the marathon finish line, camera in hand, ready to film the end of his documentary. Instead, the documentarian captured what at the time seemed unimaginable.
As a reporter, Abel went on to win a Pulitzer Prize for the Globe's coverage of that now-infamous day.
And he turned his horrific, accidental footage into a short documentary — "25.7." That's the point where the subject of that first film, Juli Windsor, was forced to stop along the 26.2-mile marathon route.
But even with screenings at festivals and online, the journalist hasn't felt satisfied.
"I felt like this story was not finished," Abel said. "If you watch the first documentary, it ends by saying, 'I'm going to come back. I'm going to come back strong.' And so for me it didn't have the right ending."
Here's exactly what Windsor says at the close of the film:
This has been a life dream of mine, and I don't want something so tragic to be overshadowing a story of people's triumph and their effort. So, I want to come back strong and cross that finish line.
Her attempt to become the first dwarf to finish the marathon was supposed to be the focus of Abel's debut, but now Abel has picked up that story for a new film about Windsor's return to the marathon.
It's kind of a mash-up of new material remixed with footage he gathered during Windsor's initial training in 2013.
One scene shows Windsor, now 27, reading a list she made as a sophomore in high school.
"I came across it the other day, and it struck me and it was surreal because if you look at the No. 1 dream and goal — run the Boston Marathon," Windsor says in the film.
Before pitching their film to potential distributors, Abel and his team decided to screen a rough-cut for a room full of fellow journalists, as well as for Windsor and for Abel's teacher.
Documentarian and Harvard instructor Ross McElwee advised Abel on his first film, and said the unexpected nightmare his student captured transformed a somewhat straightforward profile into something dramatically different.
According to McElwee the film is an example of what often happens to people making films about reality.
"The ultimate example," McElwee added. "And [Abel] would have had a good film without the bombing because Juli would have finished the marathon, she would have been the first dwarf to run the Boston Marathon, and that's a remarkable story.
"But it had this whole other aspect to it that no one saw coming of course, and now I think his challenge has been to keep it from taking over the film that he wants to make — and I think that he's done a good job of that."
McElwee said that while Abel's new film is surely about people coming together a year after the bombing and also about disabilities, it really channels Windsor's remarkable life. In the documentary she reflects on how she has dealt with people sometimes staring or treating her differently because of her size.
"I think that any frustrations I've ever had in my life, I've always redirected to something productive or something to get out my energy. And so running is definitely one of those things," the 3-foot-9 athlete explained.
"I think that was one of the things right from the very beginning David was determined to do was make her into a full person, a full character, a full presence on screen that was not simply someone who had a disability that was overcoming her," McElwee said.
Windsor agrees.
"I think that overall we all have this idea that people with disabilities have these challenges to overcome, and that life must be so hard, and that 'my life has to be better than theirs,' " she said. "But in my perspective this is what my life is, and I want people to see that and understand that this is just a beautiful way of living."
One of Windsor's closest friends, Nico Lang, who is also a dwarf, echoed that.
"When you grow up in this body that we have and especially as a woman you become really attuned to being seen as precious in some ways," Lang said.
Lang said she's been eager to see how Abel's film portrays Windsor on the big screen.
"One of the things that I was really happy to see was that she doesn't come across as an inspirational fortune cookie, but she comes across as this goofy badass, you know, which is exactly what she is," Lang said.
And that "badass" did indeed finish the Boston Marathon this past April — with Abel running and filming beside her.
In the coming weeks he and his filmmaking partners, Andy Laub and Lorie Conway, will be pitching their documentary to distributors. They've incorporated a few changes from the screening, particularity the film's title, which was originally "Little Leader: Chasing History At The Boston Marathon."
They've swapped the "Little Leader" size reference for something Abel says sums up Windsor — and other runners who returned to Boston to finish the marathon — in a single word: "Undaunted."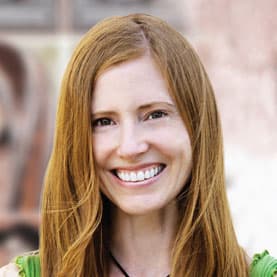 Andrea Shea Senior Arts Reporter
Andrea Shea is WBUR's arts reporter.