Moulton Sworn In As Massachusetts' Newest Congressman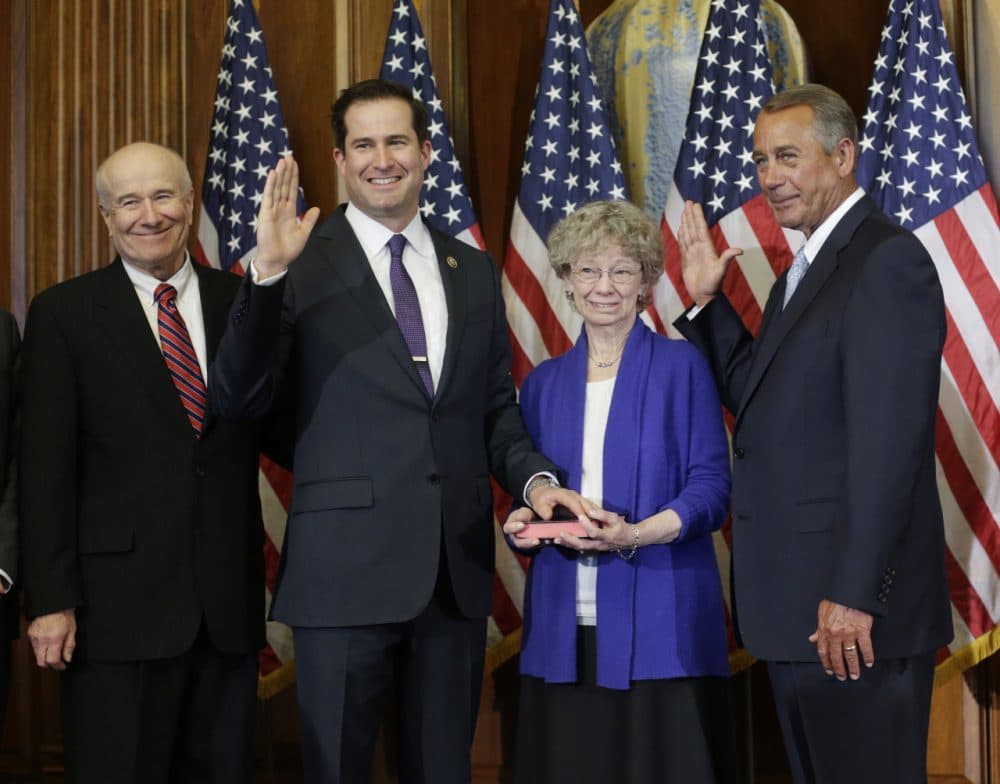 This article is more than 6 years old.
Democrat Seth Moulton was sworn in Tuesday as Massachusetts' newest member of Congress, saying he hopes to focus on the needs of his district while bringing his experience as a former U.S. Marine to a fractious Washington.
The Iraq War veteran upset nine-term Democratic congressman John Tierney in the September primary and won the state's 6th District seat by defeating Republican Richard Tisei in November.
Moulton, one of 71 new members of both parties to arrive in D.C. this week, started the day at a bipartisan prayer breakfast before volunteering to prepare items for a food truck that serves hot meals. He also held an open house at his federal office for constituents and supporters.
Moulton says one of his top priorities is improving the economy in his district, and he wants to help the fishermen in Gloucester who have found themselves at odds with federal regulators. He said another top goal is helping fix the Department of Veterans Affairs' health care system.
Moulton, who served four tours of duty in Iraq, said he's concerned about putting more U.S. troops into harm's way overseas.
"I'm very skeptical," Moulton said Monday in an interview with The Associated Press. "At the end of the day, Iraq has got to be able to defend its own borders and protect its own people. This can't be America's long-term fight."
He said Congress needs to debate the nation's ongoing role in Iraq, Syria and Afghanistan. He and other younger veterans who have served in those conflicts can bring a vital perspective to the debate, he said.
"That is Congress' responsibility," he said. "It's not something we should abrogate."
Moulton said he's aware that his clout in Washington will be limited because he's in the minority party. Despite that, Moulton said, he's determined to reach out to Republicans to find some common ground.
"I saw a clear mandate in the election to work with people on both sides of the aisle, and that's what we need to do now as Democrats in the House," he said.
This article was originally published on January 06, 2015.