Rosenberg, DeLeo Win Top Posts In New Legislature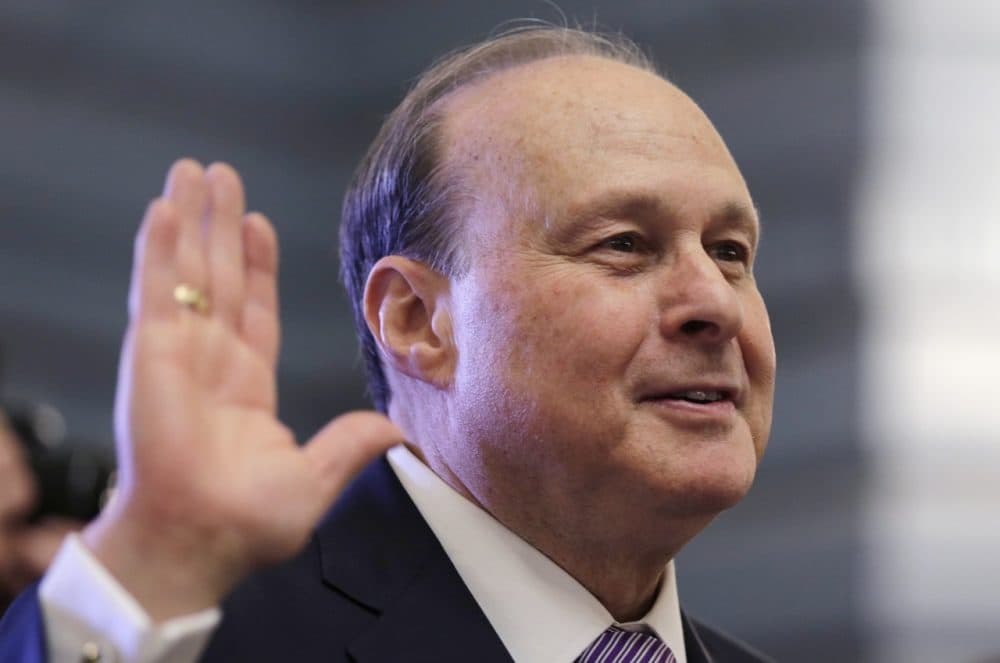 This article is more than 6 years old.
Sen. Stanley Rosenberg was elected by his colleagues Wednesday to serve in the powerful position of president of the Massachusetts Senate, and immediately promised the Democratic-controlled body would work cooperatively with the state's incoming Republican governor.
Rosenberg, a 65-year-old Democrat from Amherst, succeeds Therese Murray, a Plymouth Democrat who retired after nearly eight years as Senate president. He is the first openly gay lawmaker chosen to lead either of the state's legislative chambers, and the first legislative leader from western Massachusetts since the early 1970s.
All 34 Democrats backed Rosenberg for the post, and the six Republicans in the chamber later moved to make the selection unanimous.
House Democrats unanimously re-elected Winthrop Democrat Robert DeLeo to serve as House Speaker for the two-year session. This will be DeLeo's fourth term as speaker and his last under current House rules.
Outgoing Democratic Gov. Deval Patrick, in one of his final official acts, swore-in the 160 members of the House and 40 members of the Senate that will comprise the 189th General Court, an official title for the Legislature dating back to colonial days.
Rosenberg, in his acceptance speech after being elected Senate president, promised to work cooperatively with Republican Charlie Baker, who will be sworn in as the state's next governor on Thursday.
"We will have our differences, but it's neither our job nor our inclination to obstruct him for obstruction's sake," Rosenberg said.
Rosenberg specifically called for passage of an expanded earned income tax credit, something Baker had strongly supported during his gubernatorial campaign as a means of helping low-income taxpayers.
A 24-year veteran of the Senate who most recently served as majority leader, Rosenberg was elected despite a recent controversy surrounding his domestic partner, Bryon Hefner. The Boston Globe reported last month that Hefner had raised eyebrows by mocking Murray on Twitter and boasting that he would exert influence on legislative affairs.
Rosenberg responded with a letter to colleagues in which he promised a "firewall" between his private and professional life.
In his speech, Rosenberg thanked Hefner, 27, for standing by him in good times and bad.
"You are awesome," he said to applause from senators.
DeLeo also pledged a bipartisan approach in the upcoming session.
"Where other legislatures, including Congress, have become bogged down by partisan bickering, we have achieved much and have positioned the great state of Massachusetts for a promising future," the speaker told House colleagues.
During an earlier caucus with House Democrats, DeLeo noted the fiscal challenges facing the state - a likely reference to a current budget deficit that has been estimated at $329 million by Patrick's administration, but higher by some outside analysts.
Rep. Brad Jones, R-North Andover, was re-elected minority leader by House Republicans and Sen. Bruce Tarr, R-Gloucester, will continue as Senate minority leader. Republicans remain heavily outnumbered in both chambers, without enough votes on their own to sustain any future vetoes by Baker.
Rosenberg is generally viewed as more liberal on many issues than his predecessor, Murray, and DeLeo. But he told reporters after his election that he intends to pursue a "pragmatic agenda," that seeks to boost the economy and create jobs.
"I don't think that's a liberal idea, I don't think that's a conservative idea," Rosenberg said. "I think that's a basic American idea."
This article was originally published on January 07, 2015.