Is Making Sausage A Manly Pursuit? One Local Female Charcutiere Says Not Necessarily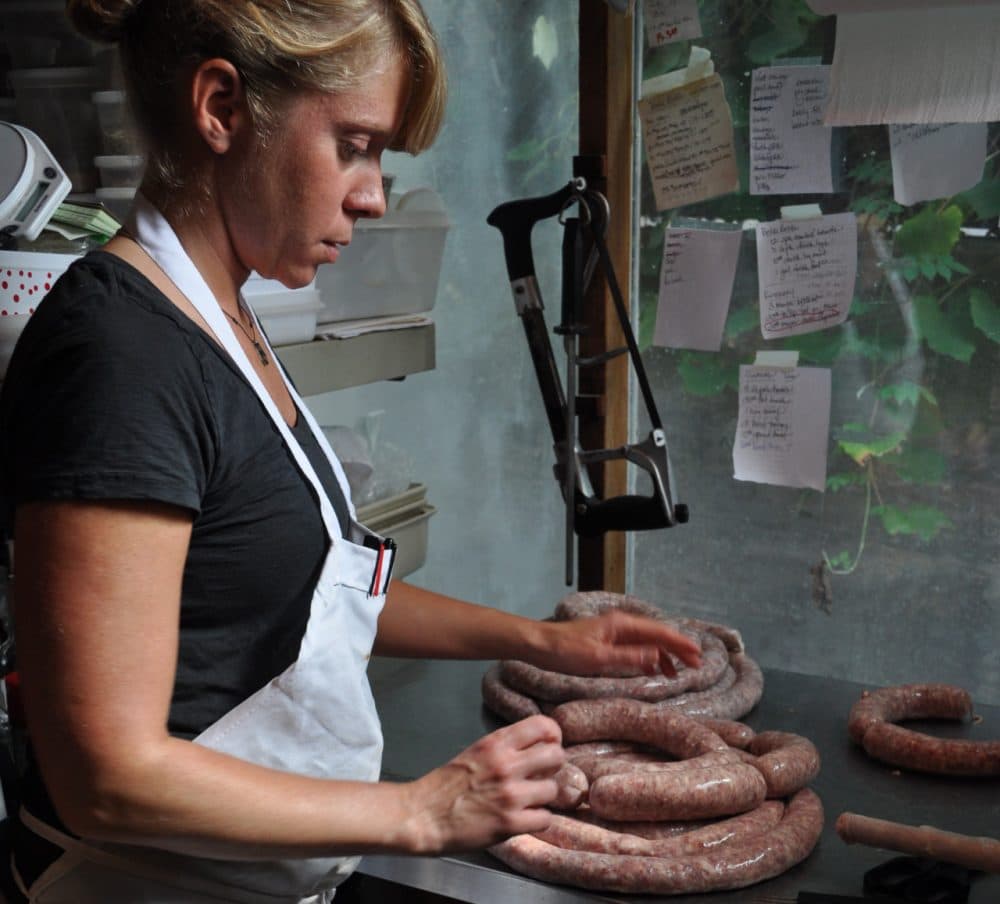 This article is more than 6 years old.
Boston-area charcutiere Julie Biggs won a Good Food Award Thursday night in San Francisco.
The annual awards — which have been called the Oscars of the American artisan food industry — were created five years ago to recognize talented American producers and farmers who embrace responsible sourcing for their products. Winners in 11 categories — including cheese, pickles, chocolate and even honey — were announced by none other than renowned farm-to-table chef Alice Waters.
If you're not familiar with the title "charcutiere" here's a clue: Biggs, who works at the ambitiously eclectic foods shop Formaggio Kitchen, took home a Good Food Award last year for her pickled beef tongue. The pate de campagne she created won in 2012. This time around, Biggs took home an award for her adorably named tongue and cheek terrine.
After learning about Biggs' meaty pursuits, I wondered about her history, her views on her profession, but also considered what it might be like to craft delicacies that — from my perspective -- seem these days to be more commonly produced by men. She took the time to respond to my questions after traveling with her two toddlers from the frozen East Coast to California for the Good Food Awards ceremony. Our conversation, below, has been lightly edited.
---
Andrea Shea: I could be wrong, but at first blush sausage making as a career appears to be a majority male pursuit. What has it been like for you as a woman in the meat trade? Got any good stories? I was a professional beer brewer 15 years ago and it was definitely a boys club!
Julie Biggs: I started out managing kitchens fresh out of college — that was an interesting experience. Many stories, none fit for publishing! I've never really thought of charcuterie as a boys club — maybe I'm wrong. The restaurant world back-of-the-house has always been male-dominated, and I don't know of a lot of female butchers, but there's an appeal to charcuterie that goes beyond gender, I think. So many well-known female chefs have at least dabbled in charcuterie — Julia Child, Jane Grigson, Judy Rodgers.
Why does it seem women aren't quite as attracted to making sausage or bacon as men? Am I wrong in that observation?
I've never thought about it like that — I don't know that we're not! Maybe the guys just write more books?
And to clarify, you're not a butcher, right?
I do butcher pigs, rabbits and smaller cuts of animals as well but I am much more a charcutiere than a butcher. Strictly self-taught, so no formal training.
How, when and why did you get first interested in making charcuterie?
I've been the charcutiere at Formaggio for about 5 1/2 years now. I'd been cooking professionally for years but had never done much charcuterie, so when the opportunity to take over the charcuterie department at Formaggio presented itself, I jumped on it, really just to try something I'd never done before.
Charcuterie is truly unlike any other culinary department -- it requires the discipline of baking, the skill of butchery, and there's also a unique craft about it that really intrigues me. It took me about a year to get comfortable in the position.
Sustainable practices are a high priority for you. Can you talk about why it's important?
Sustainability and the practice of good animal husbandry were two of the main appeals of charcuterie to me when I took the position. I source all of the meat I use myself, and my top criteria in sourcing are freshness, which necessitates proximity to the source, and good animal husbandry, including that all of the meat we use in our charcuterie comes from animals that are humanely raised.
To me, as a chef, it's a necessary responsibility to make my food from local and sustainable ingredients -- it's what I choose to eat, what I feed my kids, and what I think our customers at Formaggio look for from us.
It must be very affirming to get recognized with national awards. Can you reflect on that?
It is always an honor. There's a simplicity to charcuterie that is the challenge to master, and it's the balance of letting the ingredients shine through and just adding what you think is the perfect touch to bring out their best. When a finished product is greater than the sum of its parts and is recognized as such, it's so rewarding, and I truly appreciate every acknowledgement.
Which of your charcuteries is your favorite and why?
It varies day to day! Again, it's the raw materials that make every pate or sausage unique and fun to create. Right now, my favorite is our tongue and cheek terrine — it came out of a challenge to create a new recipe and also to use beef in a pate, which I'd never done. It's juicy, hearty and savory, and perfect for winter.
Do you have any advice for other females who aspire to cure, smoke and grind meat in creative ways for a living?
Just find someone you want to learn from and get your foot in the door any way you can. Put your head down, throw out your ego, work hard and learn as much as you can. Have respect for the basics and learn them well. And don't expect it to be glamorous!
This article was originally published on January 08, 2015.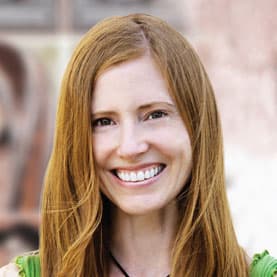 Andrea Shea Senior Arts Reporter
Andrea Shea is WBUR's arts reporter.