Baker Passes First Big Political Test: Handling A Huge Snowstorm
Resume
Mother Nature can often be a test of political leadership, and it can make or break careers. And, for newbie Gov. Charlie Baker, this week's blizzard was essentially his first big political test.
Baker gave his first storm press conference on Monday afternoon, before the snow started falling. He was methodical and logical as he announced a travel ban.
"Based on dependable forecasting models, the commonwealth will experience extreme snowfall, hurricane-force winds and blizzard conditions for an extended period of time," he told the public.
"[Baker] certainly seemed in command of things. He seemed to be active, hands-on, [an] engaged leader..."

Maurice Cunningham, a UMass-Boston political science professor
Baker showed up in his trademark suit and tie — not the MEMA vest the former governor had a habit of wearing.
"Governor Patrick is, he's an enormously reassuring man. And Baker's style is a little different. It's crisp. It's more detail-oriented," said Maurice Cunningham, a professor of political science at the University of Massachusetts Boston. He says Baker responded essentially as he said he would.
"He certainly seemed in command of things," he continued. "He seemed to be active, hands-on, [an] engaged leader, exactly what he promised to be during the campaign."
Baker didn't go home Monday night. He camped out a friend's place in Framingham near the MEMA bunker.
And, the next day, as he gave reporters an update, he was a little more casual — shedding his suit for a sweater.
"Today is a snow day, I'm dressed for a snow day," he said.
Some will say Baker was lucky. He's still in his honeymoon period. He had an extraordinarily accurate weather forecast, and power outages weren't as bad as predicted. But, Cunningham says even then, Baker took ownership of the situation, and that shouldn't be diminished.
"Still you have to prepared for it," he said. "I certainly think he appeared to know exactly what he was talking about, and his team seemed to know exactly what they were talking about."
Baker held six press conferences in two days.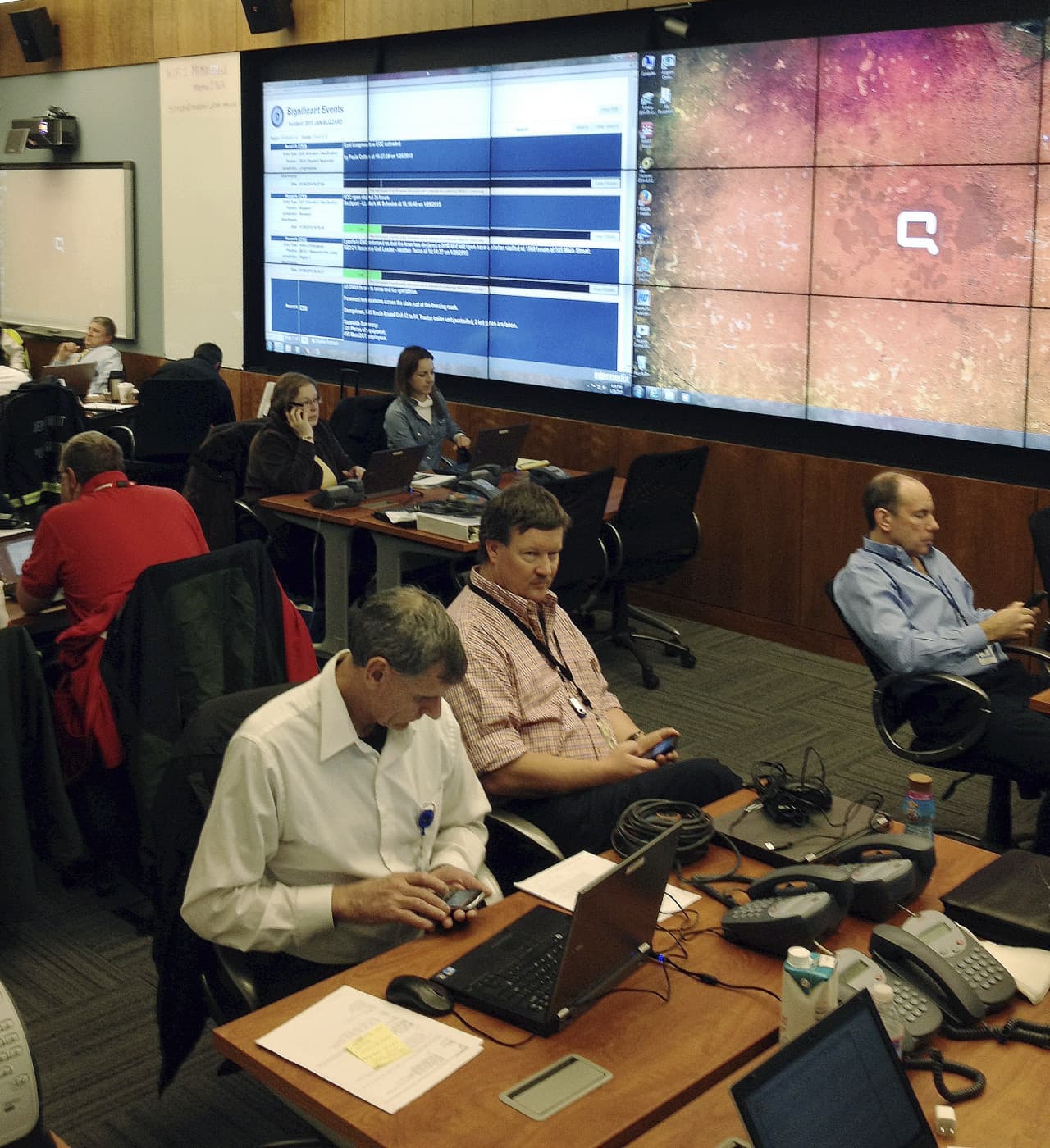 "There was good communication, there was good coordination," said Ed Augustus, the city manager of Worcester, where snow reached record-breaking heights — 34.5 inches.
"There was a responsiveness to when requests were made, kind of a 'can-do,' 'how do we make this happen' attitude," he said.
Augustus, who's a former Democratic state senator, says he's "very impressed" with how Baker worked with local communities.
"The governor has supported the city of Worcester in an unprecedented way, by having MEMA provide dump trucks and front-end loaders that are helping us remove some of the huge snow piles that are on intersection corners and close to schools," he said.
Augustus says it would take the city weeks to clear up this kind of snow on its own with existing equipment.
Cunningham says a newly sworn-in exec is always looking for a way to show strength.
"Mother Nature, you can't predict it," Cunningham said. "But, it came up, and the governor did show competence, and I think that helps him going forward."
Baker passed this first test and Cunningham says people will respect that, but winter's not quite over yet. And forecasters are predicting more snow Monday.
This segment aired on January 30, 2015.