Eugene O'Neill's Other 'Long Day's' Characters Get A Life At The Huntington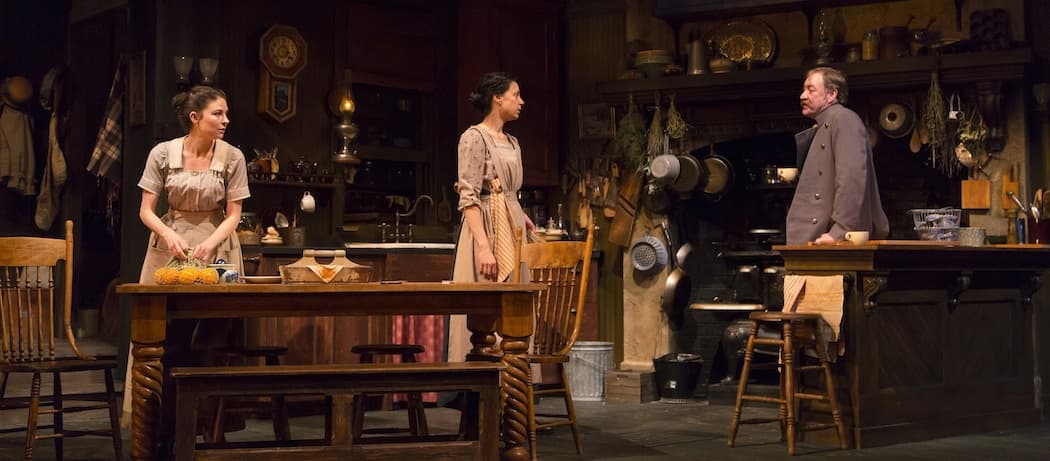 This article is more than 6 years old.
From 165 Eaton Place to Downton Abbey, Upstairs has trafficked successfully with Downstairs. But when the top part of the house has been pre-built by Eugene O'Neill from "old sorrow, written in tears and blood," you ignore it, focusing only on the help, at your peril.
That said, I loved the premise of Ronan Noone's "The Second Girl," currently in its world premiere by the Huntington Theatre Company (at the Calderwood Pavilion through February 21), the moment I heard it. While "Long Day's Journey Into Night" transpires in the parlor of Monte Cristo Cottage in August of 1912, we are in the kitchen with "second girl" Cathleen, fearsome dipsomaniac cook (and first girl) Bridget, and "ugly monkey" chauffeur Smythe who, according to Cathleen, the only one of the three to appear in O'Neill's play, has wandering hands. Noone humanizes these minor or unseen characters and makes of the two Irish serving women embodiments of the immigrant struggle in the first part of the 20th century. The 44-year-old Noone is himself an immigrant, though of later vintage.
But as much as I wanted to admire "The Second Girl," I kept wishing it were an Alan Ayckbourn play, the next act of which would take us to the part of the premises where O'Neill's haunted Tyrones were guzzling, drugging, and grandstanding. Or wishing that one of O'Neill's characters (heard only as muffled offstage voices) would step into the kitchen.
Noone's play is nicely written and delicately acted on a marvelously atmospheric set by three-time Tony winner Santo Loquasto (who also designed the stifling period costumes). The set is a beautifully detailed ramshackle kitchen boasting a working stove and an old-fashioned light fixture not unlike the one from which the elder James Tyrone famously likes to unscrew bulbs to save money. The room opens onto a porch and barely glimpsed garden, where Cathleen can yell like a banshee at the hedge-clipping male Tyrones to come in for meals before, to chef Bridget's consternation, they're "stiff" (she refers to the vittles, not the Tyrones, though either might apply). And in Campbell Scott's bustling production, the three servants are almost never still. Even at intermission, the women are busying themselves over crockery bowls and a hot stove.
But for all the loving production details, the play is lackluster, more talk than action on other than the culinary front, lacking the freshness of Noone's more autobiographical "Brendan" and certainly the explosiveness of his Ireland-set dramas, particularly "The Blowin of Baile Gall." In an interview conducted by the Huntington, Noone cites an "old Irish proverb" to the effect that "contention is better than loneliness." He means the conflict beetween Bridget and Cathleen, who is her niece, to mirror this. But the relationship between the uptight Bridget and irrepressible Cathleen (whom James Tyrone is coaching in Shakespearean acting) mostly seems an endless round of sniping and apology ameliorated by a few moments of tenderness.
Each character has a back story, and we hear them. The rigid, angry Bridget disgraced her Irish clan by having a child out of wedlock and was ten years ago shipped off with her shame. At least the family, whom she misses desperately and does not hear from, kept the child and didn't send her to a "nun's laundry." Cathleen is a more recent arrival, lucky to have gotten to America at all since her mode of transportation, four months earlier, was the Titanic! Her fiercest desire is to earn money and return home to a fiance who proves less faithful than he might. Smythe, though not Catholic, is the most O'Neillian character, a local man who went to pieces when his wife died and was too busy boozing and whoring to attend her funeral. A touchingly patient and compassionate man, he has since been redeemed like Jim Tyrone on Josie Hogan's bosom and seeks a new start, in a new place, with Bridget.
In one sense, Noone goes O'Neill one better, crafting a long day's journey into the next morning: The play begins at dawn on the same summer day as O'Neill's and follows the same trajectory, carrying it past "Long Day's Journey" 's midnight Walpurgisnacht to the relentless beginning of a new day with its whisking of eggs and carrying in from the parlor of last night's whiskey bottles. Certainly it is wrong (even if he asks for it) to fault Noone for not being O'Neill: The two-hour "The Second Girl" is a deliberately smaller and less personal piece than the operatic and exhausting "Long Day's Journey." But despite a few infusions of high spirits, even some song and dance, it's a bit dull.
That doesn't mean it isn't well acted in Scott's fluid, naturalistic production. The director's wife, Kathleen McElfresh, whose Bridget has made a deal with God to remain chaste if not sober, shows flickers of the lonely, softer girl encased in self-inflicted repression. And MacKenzie Meehan's Cathleen, given to mannered recitations from the Bard, is a charmer. Best of all is Christopher Donahue, who makes the calmed Smythe's yearnings palpable. But for Noone's part, "The Second Girl" remains a dynamite idea with a somewhat fizzled execution.
More