Despite Cold, Fans Line Up To Cheer On Patriots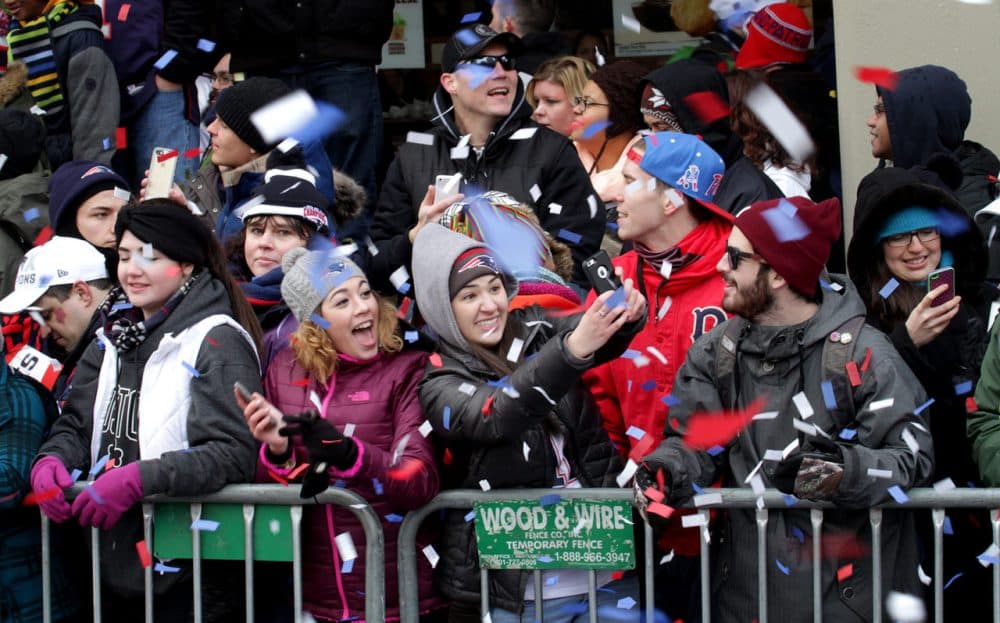 This article is more than 6 years old.
The Duck Boats rolled through Boston Wednesday, and despite the snowy streets and cold temperatures thousands of fans lined up from Boylston Street all the way to City Hall Plaza for the Patriots Super Bowl victory parade.
For many fans, the weather wasn't going to stop them from getting a chance to see their Super Bowl Champions up close.
"The weather doesn't hold us back to going to any games, so it's not going to hold us back from coming to this [parade]," said Kayla Provencher of Merrimack, New Hampshire.
Provencher traveled three hours total by car and the MBTA to be on Boylston Street at 9 a.m. with her friend Brittany Robidoux of Portland, Maine. Robidoux actually began her journey to the parade Tuesday night, traveling from Portland, Maine, to New Hampshire.
"It's awesome to be able to be out here and celebrating, and everyone is in a good mood," Robidoux said. "It's a bit cold, but it's worth it."
Provencher, who described herself as a hardcore Patriots fan, said she was was glad to finally be able to attend a Patriots parade.
"Just don't give up on the Patriots, we'll always pull out a win somehow," Provencher said.

"The cold weather doesn't stop us from going to games, it's not going to stop us from coming to a parade." pic.twitter.com/UPTGnCmXCW

— Zeninjor Enwemeka (@Zeninjor) February 4, 2015

Jasmine Henderson, 22, of Roxbury, was celebrating her first championship parade. She said she came straight to Boylston Street after working an overnight shift at her job.

"Even if it was a blizzard, I'd still be out here celebrating," said Henderson, who was decked out in furry red, white and blue leg warmers.

She described Sunday's game as a nerve-racking and insane experience that made her almost pass out, twice.

"I'm still on the high that we won," Henderson said. "I'm still celebrating and screaming at everybody that we won."

To her, the weather wasn't going to put a damper on her celebratory mood.

"Mother nature is obviously a Seahawks fan because it's still snowing and we're still getting feet and feet of snow, but you can't help but celebrate the fact that we got another one," Henderson said.

'Obviously mother nature is a Seahawks fan b/c we keep getting snow, but you can't help but celebrate b/c we won' pic.twitter.com/QZseXAnGIz

— Zeninjor Enwemeka (@Zeninjor) February 4, 2015

For other fans who have attended victory parades before, seeing a Patriots parade had still been a long time coming.

Jesse Tharpe, 27, of Lowell, attended the last Red Sox and Bruins parades and two Patriots parades before — but that was years ago.

"It was amazing to be on top again," Tharpe said. "It's been a tough 10 years for Patriots fans, relatively speaking."

Tharpe, who was at Boylston Street by 9 a.m., said he was excited to see Tom Brady, Bill Belichick, Rob Gronkowski and Darrelle Revis in person.

"It's just nice to get close to these people for a change, you watch them all year you know," Tharpe said.

"It's nice to get a chance to see these guys up close after watching them all year" - Jesse Tharpe #PatriotsParade pic.twitter.com/DQ23JSO6sd

— Zeninjor Enwemeka (@Zeninjor) February 4, 2015

Further along the line outside the Hynes Convention Center, Neal Pearlman, of Hopedale, Massachusetts, and his 9-year-old son Matty were — like many fans in the crowd — excited to see Tom Brady and Malcolm Butler.

"Two years ago when the Red Sox won the championship, I promised my son that if the Patriots won the Super Bowl we'd come back out for the next parade," Pearlman said.

Matty said he was just "proud of them for winning the Super Bowl."

This father and son were here when the Sox won the World series and vowed to come back for the Patriots. pic.twitter.com/FO5C1OIJGq

— Zeninjor Enwemeka (@Zeninjor) February 4, 2015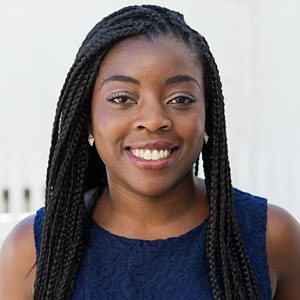 Zeninjor Enwemeka Senior Business Reporter
Zeninjor Enwemeka is a senior business reporter who covers business, tech and culture as part of WBUR's Bostonomix team, which focuses on the innovation economy.