Why Do The Grammys Always Get It Wrong?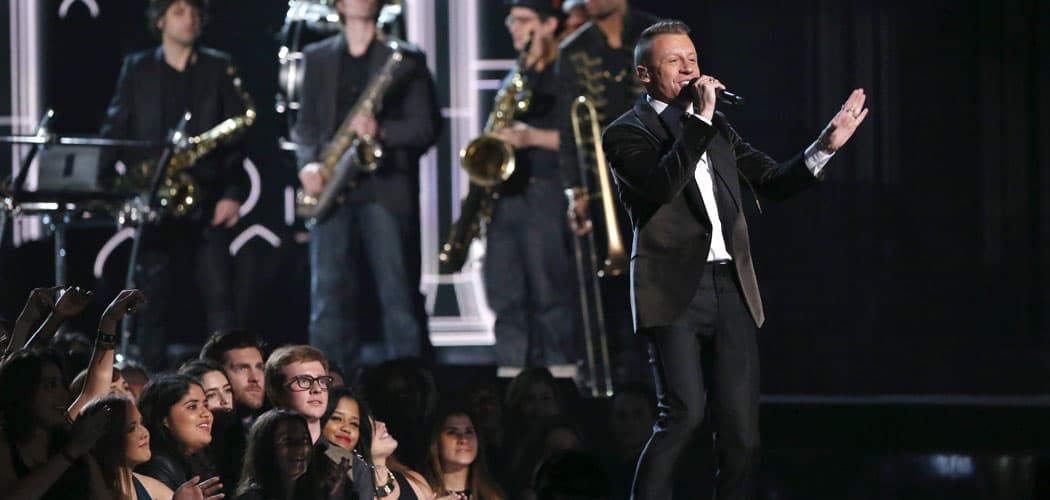 This article is more than 6 years old.
Last year, a minor scandal broke out when the hip-hop duo Macklemore and Ryan Lewis won the Grammy for Best New Artist and dominated the awards show's rap field. Drawing particular ire was Macklemore's Instagram post of his apology text to the rapper Kendrick Lamar, a critical favorite whom he beat out for Best Rap Album. The gesture was widely viewed as perversely self-aggrandizing, but beneath the obvious narcissism lay the even stranger fact of the winner's shame at his own triumph. Even Macklemore thought something wasn't right.
Gripes about the Grammys are nothing new. (The 57th Grammy Awards will air on Feb. 8.) Musicians and critics alike tend to view them as a bit of a sham, an opportunity for the music industry to tout its artistic legitimacy while promoting only its most commercially successful products in order to garner higher television ratings.
In the case of Macklemore (pictured above) vs. Kendrick, it was the difference between a talented-but-blandly-agreeable emcee rapping over sugary earworms (Macklemore) and a virtuosic visionary precipitating the revival of story-oriented hip-hop with an ode to a childhood growing up tough in Compton (Lamar). Something about the combination of Macklemore's whiteness, his pointed political progressiveness, and his taste for earnestly inspirational beats seemed to epitomize the appropriation of hip-hop by mainstream (read: white) popular music. It was disheartening to see a very brilliant African-American man lose a rap award to a white guy with an undercut, no matter how technically proficient and well-meaning said undercutted man.
It's not as though the Grammys have never recognized deserving artists. There was Michael Jackson's win with "Thriller" for Album of the Year in 1984, and Lauryn Hill's win for Best New Artist and Album of the Year in 1999, to name just two. But the Recording Academy's judgments are generally perceived as haphazard at best, and routinely fail to tap into the cultural zeitgeist. The Beatles, for example, only won Album of the Year once, in 1968 for "Sgt. Pepper's Lonely Hearts Club Band," losing out on other occasions to the likes of Frank Sinatra (twice), country singer Glen Campbell, and jazz-rock phenomenon Blood, Sweat and Tears—a crop of winners seemingly bent on the erasure of the genre-defining legacy of late-'60s rock 'n' roll.
Acknowledgement of rap came embarrassingly late, nine years after the Sugarhill Gang punctured the Top 40 with "Rapper's Delight" in 1979. The last time a solo female artist won in the rock field was in 2004 (Pink, for Best Female Rock Performance, a category which does not exist anymore because the Academy no longer differentiates between male and female performers). And any artist who hasn't produced a Billboard-charting album, regardless of her talent, can pretty much forget about ever making it into any of the televised categories.
It's easy to point vaguely to the Recording Academy's obvious commercial motivations as the reason for its failings. Yet the Academy has repeatedly revamped the way it organizes and awards prizes in an effort to improve the results—only to draw the same old complaints. The following is an attempt to untangle the forces at work throughout the Grammys' long and disappointing existence, and to perhaps find a better way forward.
Who is the Recording Academy?
According to the Recording Academy press office, the Academy has somewhere on the order of 12,000 voting members. The organization's website states that members are eligible to vote if they have "creative or technical credits on at least six commercially released tracks (or their equivalent)." Voting members include everything from singers and composers to engineers and people who have written liner notes.
How do nominations happen?
Nominee hopefuls are submitted for consideration, usually by record labels. Separate screening committees convene to make sure that submissions meet the criteria for their genre—that, for example, all submissions for Best Bluegrass Album contain at least 51% bluegrass content. As Rob Kenner, a music journalist and Recording Academy member, wrote in Complex Magazine last year, the members of the screening committees sometimes make submissions on behalf of artists who they believe should be considered for nomination. "In a category like Reggae," he explains, "where much of the music is produced by smaller independent labels who may not be familiar with the Grammy entry process, the best records are sometimes not even submitted."
How does voting work?
In the first round of voting, which determines nominations, members are only supposed to vote on categories in which they specialize. Additionally, everyone can vote in the four general categories: Record of the Year, Album of the Year, Song of the Year, and Best New Artist. (Record of the Year takes into consideration the entirety of a single track, as opposed to Song of the Year, which recognizes only the songwriting.)
Before the Academy votes on the winners, a number of fields (mainly the televised awards) are quietly reviewed and occasionally altered by the Nominations Review Committee. The Nominations Review Committee was established in the 1990s but its membership remains secret. Ostensibly, it was created after the best-selling "The Three Tenors in Concert 1994" was nominated for Album of the Year despite its relative unpopularity among opera aficionados.
In 1999, the Los Angeles Times managed to get one of the members of the committee to speak on the record under the condition of anonymity. He or she estimated that the committee alters about one nomination per category per year. She or he also explained the committee's thought process when evaluating nominees: "We wouldn't have looked forward to 'Macarena,' for instance, getting a best record nomination. I think most people would agree it wasn't a Grammy-quality record, yet it was a tremendously popular phenomenon worldwide, with a lot of fans getting a lot of pleasure out of it. But that's the kind of thing we would watch out for. Something else is a popular group or artist going back and rerecording their old hits. That could make us uncomfortable in the best album category."
In reality, it is impossible to know how much tinkering the committee actually does, and whether its members are driven primarily by considerations of "artistic caliber" (itself a subjective concept, and one meant to be determined by the voting body, not by a small cadre of overseers) or by potential television ratings. Either way, the ethicalness of the committee's mere existence is debatable.
Once the nominees are announced, voting members are allowed to vote for the four big overall prizes—plus as many as 20 other categories that strike their fancy. They are encouraged to vote in their areas of expertise, but not required.
What are the complaints?
One of the most common complaints about the Grammys is that, among both nominees and winners, fame tends to trump quality. Kenner traces this to the Academy's unwillingness to restrict which categories members can vote in. He writes: "Bottom line: the vast majority of the nominations are chosen by people who have little real expertise in a given field. I refrained from voting in heavy metal and classical because I know very little about those genres. But I could have if I wanted to, and that strikes me as a problem."
Another major criticism puts forth that white artists are favored over African-American artists and other people of color. The issue was recently explored in an incisive article by Aimee Cliff in Fader. She points to a number of historical trends: less than a fifth of Album of the Year awards have gone to African-Americans; the rap category was only added in 1988, nine years after rap reached the Top 40; only three hip-hop records have ever won Album of the Year; and Kanye West has not been nominated for Album of the Year since 2007's "Graduation," despite having produced some of his most critically-acclaimed and popular work since then.
Additionally, and as Cliff points out, all of this year's nominees for Record of the Year, Song of the Year, and Best New Artist are white.
What do album sales have to do with it?
To a certain degree, nominations, especially in the major categories, simply come down to sales. Three of the five nominees for Best New Artist—Bastille, Sam Smith, and Iggy Azalea—were some of the very best-selling artists of the year, according to Billboard. Similarly, all of the songs nominated for Record of the Year can be found in the top quarter of Billboard's Year-End Hot 100, and all of the nominations for Album of the Year charted in the single digits on the Billboard 200.
What's genre got to do with it?
In theory, the genre categories offer a corrective to the biases of the mainstream. Top 40 rules the general categories, but there are also fields for reggae, jazz, classical, folk, alternative music, and gospel, among many others. So, even if hip-hop artists are overlooked in the general fields, and if musicians in non-mainstream markets like classical don't sell enough albums to put them in the general categories, they can still receive recognition within their genres, right?
Not necessarily. The Academy's lenient voting regulations mean that, as Kenner pointed out, mainstream artists often end up dominating the categories designed to make room for their more obscure contemporaries.
Furthermore, the particular breakdown of the genre categories is very much beholden to flawed mainstream music industry wisdom. Take, for example, the Best Urban Contemporary Album category, now in its second year. Several commentators have criticized the use of "urban" as code for "black"—a linguistic obfuscation of the implication that music by African-American artists ought to be evaluated and consumed separately from music made by whites. (Grantland's Rembert Browne does a beautiful job decoding the various incarnations of the R&B categories over the years in an article about the 2013 Grammys.) If that sounds familiar, it is because before R&B music became known as R&B, it was marketed as "race music"—during the 1920s and '30s.
The existence this year of both a Best R&B Album category and a Best Urban Contemporary Album category may be the most baffling distinction of all. From 2003 to 2011, there existed a Best Contemporary R&B Album category, which was apparently replaced in 2013 by Best Urban Contemporary Album. I spoke to Bill Freimuth, the Academy's Senior VP of Awards, who explained: "The R&B community reached out to us, and said, 'You know, there's something happening in this music that [we] don't think [you're] recognizing properly.' And how do you put somebody like, I don't know, a Chris Brown up against somebody a little more old-school or traditional."
The 2015 nominees for Best Urban Contemporary Album are all artists of color who display a more overt hip-hop influence than their brethren in the Best R&B Album category. Three of them—Beyoncé, Chris Brown, and Pharrell Williams—released albums this year that debuted at the top of the Billboard 200 and remain there still. Essentially, they make pop music, so why aren't any of them nominated for Best Pop Vocal Album? The nominees in that category are Coldplay's electro-pop-rock "Ghost Stories," Miley Cyrus's hip-hop-inspired "Bangerz," Ariana Grande's R&B-inflected "My Everything," Katy Perry's pop grab bag "Prism," and Ed Sheeran's ballad-driven "X." Looked at one way, the Urban Contemporary category provides a space to celebrate oft-overlooked African-American artists, but the flip side of the coin is that the category operates in implicit support of a pop award that honors mainly white artists, even when they are appropriating black music.
A similar question might be asked of many of the other genre categories. In 2011, the Academy overhauled its nomination system, putting on hiatus categories that received fewer than 25 submissions, and eliminating them if they failed to rally after three years. As a result, Best Hawaiian Album, Best Native American Music Album, and Best Zydeco or Cajun Music Album were axed and submissions for those categories were funneled into the new Best Regional Roots Album category. Meanwhile, the Americana, Folk, Blues, and Bluegrass album categories—all dominated by white artists this year—remained.
Is there a solution?
So what can possibly be done? To start, the Academy could take Kenner's advice and restrict voters to fields with which they are well-acquainted. This might at least make the genre categories more accessible to independent musicians. Secondly, it seems silly to pit Cajun and Zydeco against Hawaiian and Native American music, even when the competition within each of those categories is not very tough. A more active approach to soliciting submissions might be required to revive these categories and others that were eliminated in the overhaul, but it would be the right thing to do.
It is hard to envision how it would be achieved, but a broader definition of "pop" is needed. Rap and R&B are not the only fields to suffer marginalization from the pop categories—several of this year's Latin music nominees made it onto the Billboard 200 (the apparent rubric for qualification in the general and pop fields), yet they, like their predecessors, are almost as a rule shut out of these categories.
This isn't a problem unique to the Grammys. It stems from the manner in which both the music industry and the culture at large conceptualize "pop." "Pop" is short for "popular music," the linguistic implication being that the genre is determined purely by record sales, regardless of an artist's genre, race, sex, or audience. But in practice, it is the standard against which otherness is defined. On the one hand, pop suffers from a culturally elitist view that scorns the genre for its apparent lack of seriousness or highbrow intent; "pop" carries the connotation of convention, of easy consumption, of mass appeal. But the term perpetuates its own form of exclusivity because it is so frequently defined by what it is not: rap, Latin, R&B, country. Often, pop music borrows heavily from these "other" categories, but brands itself as something distinct—the mainstream, the arbiter of popular taste. Thus, an "urban contemporary" category must be manufactured because the Recording Academy cannot conceptualize a pop field (and implicitly, a general field) dominated by R&B and hip-hop (read: black) music, even though that is precisely the state of Top 40 today.
A similar bias is mirrored in many other categories. Women rarely make it into the rock field, because we still think of rock as a man's arena. The absurdly broad term "folk"—any of the "regional roots" nominees should qualify—appears to be the exclusive domain of singer-songwriters and pretty much anyone else strumming an acoustic guitar. The folk category probably says more about what we still consider archetypal American music—white, guitar-wielding, singing in English—than it showcases the sheer diversity of folk music in this country. Meanwhile, the Zydeco accordionists and the Hawaiian ukulele players are bumped to a fringe category to compete against only each other, or knocked out of the competition altogether.
Barring a sudden shift in the American music industry consciousness, however, there is no quick-and-easy solution. In truth, the fairest move might be to eliminate the general categories. Since they are ostensibly "general" but actually pop, every single member of the Recording Academy ends up voting on them, making Record of the Year, Album of the Year, Song of the Year, and Best New Artist the most susceptible of all the categories to the wearisome influence of mainstream exposure.
Of course, without the general fields, nobody would watch the Grammys. Which air Sunday Feb. 8 at 8/7c on CBS, in case you want to tune in.
This article was originally published on February 05, 2015.