No Statewide Travel Ban As Mass. Braces For Yet Another Snowstorm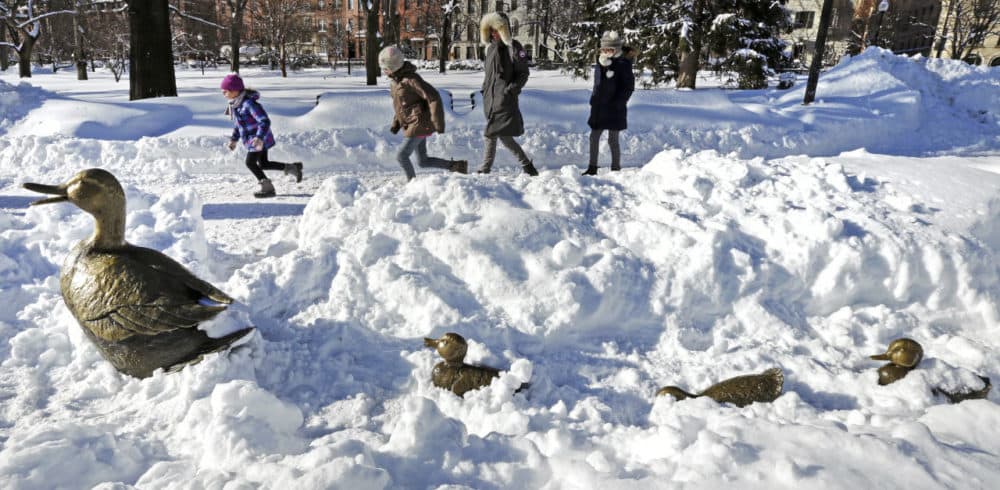 This article is more than 6 years old.
Another Monday, another snowstorm.
There will be no statewide travel ban Monday for the latest snow, Gov. Charlie Baker announced in a Sunday evening news conference, but he encouraged residents to work from home and avoid traveling, if possible. He's told non-emergency state workers to stay home Monday, and state offices will be closed.
The governor said metro Boston's aging MBTA subway lines will be operating on an "abbreviated" schedule and not normal workday times. Commuter trains will attempt to maintain a weekday schedule, but delays are likely, the MBTA said. Boston's Logan Airport will be allowing only a limited amount of flights to arrive and depart Monday so travelers should check with their airlines, Baker said.
Baker said the "cumulative" impact of the storm is a major challenge, as parts of Massachusetts have already seen over 60 inches of snowfall over two weeks.
In an earlier news conference, Boston Mayor Marty Walsh also expressed frustration at the amount of snow the city has received, calling recent snowfall amounts "unprecedented."
Walsh declared a snow emergency and parking ban, which went into effect at 4 p.m. Sunday. He also announced that Boston public schools will be closed Monday and Tuesday. (Full list of school closings.)
Non-emergency city employees also have the day off Monday.
Snow began falling late Saturday and may not leave the area until early Tuesday. Some Massachusetts towns may get 2 feet of snow.
Walsh defended the city's snow-clearing efforts.
"I know there's been a lot of criticism over the way it's been handled," Walsh said. "I think our crews have done an incredible job with the amount of snow we've received. No mayor has ever had to deal with this much snow in this short a period of time ever in the history of Boston."
It has been a snowy few weeks! Check out how Boston & Worcester stack up against the rest of the country: pic.twitter.com/y1ibU6YUOp— NWS Boston (@NWSBoston) February 8, 2015

Walsh said the city had written more than 1,500 citations in the wake of the last two storms for unshoveled sidewalks. He said officials would be stepping up enforcement of that and other violations in the days to come, including illegal parking and drivers "blocking the box," a situation where a driver gets stuck behind traffic in the middle of an intersection, creating gridlock.

Walsh said Boston police had written 400 citations for blocking the box since the last storm — a number Police Commissioner William Evans said was well above the norm. Most of the citations, Evans said, had been warnings.

Walsh said the city may also seek to take more drastic measures if the snow continues beyond this storm. When asked if he might encourage people to stay away from the city for a week to give crews time to clear roads, Walsh said the city could not rule it out. He said such action would likely require a conversation with Baker, something that has not happened yet.

"We're not there yet, but it's something that we'd have to start thinking about," he said.

Walsh said Boston has already exceeded its $18 million snow removal budget.

With reporting by WBUR's Jack Lepiarz and The Associated Press
This article was originally published on February 08, 2015.