Forecast: Snowfall Continues Throughout Monday
Snow will taper to light to moderate snow the rest of the day and into the evening. Snow should stop in Boston completely by 5 a.m., but most of the accumulation will fall by 11 p.m.
The Tuesday commute will be slow due to the large volume of snow.
The sun will make a return Tuesday, and once again, you will need your sunglasses as the sun reflects off the bright snow.
Dry and cold weather continues Wednesday. I don't expect any issues with either commute on that day.
Another storm will cross the area on Thursday and bring more snow, but it doesn't look like a major system. I'm thinking several inches of snow, but not the type of storm that brings widespread cancellations. There's even a chance there will be even less snow.
A colder pattern returns this weekend with temperatures well below seasonal averages. Highs will not break 20F either Friday or Saturday. On Sunday, a new storm could impact the region with more snow.
I don't see a break in the pattern anytime soon with a continued parade of possible storms and cold continuing for the foreseeable future.
Today's snow is being caused by a frontal boundary to our south. As this boundary remains stuck, small areas of snow ride along the boundary and affect our area. Late tonight the front will finally push far enough away so the snow will end.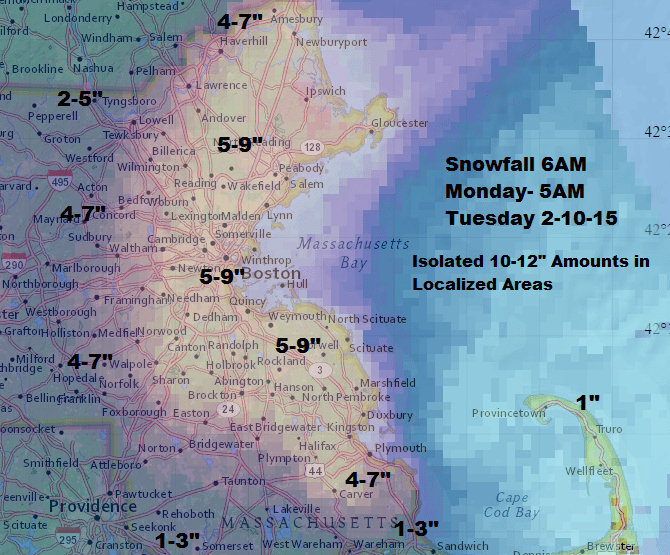 ---
Monday: Snow at various rates. Highs 18-25. Temperatures in the 30s on Cape Cod with occasional rain or snow and rain.
Monday night: Snow tapering to snow showers and ending. Lows in the teens.
Tuesday: Early snow showers south of Boston. Otherwise becoming sunny. Highs in the 20s.
Wednesday: A blend of clouds and sunshine. Highs in the mid 20s.
Thursday: Snow likely developing. Highs 23-28.
Friday: Partly sunny, quite cold. Highs 15-21.
This article was originally published on February 09, 2015.