Roxbury Residents Fight Planned Dearborn Middle School Demolition
04:43
Play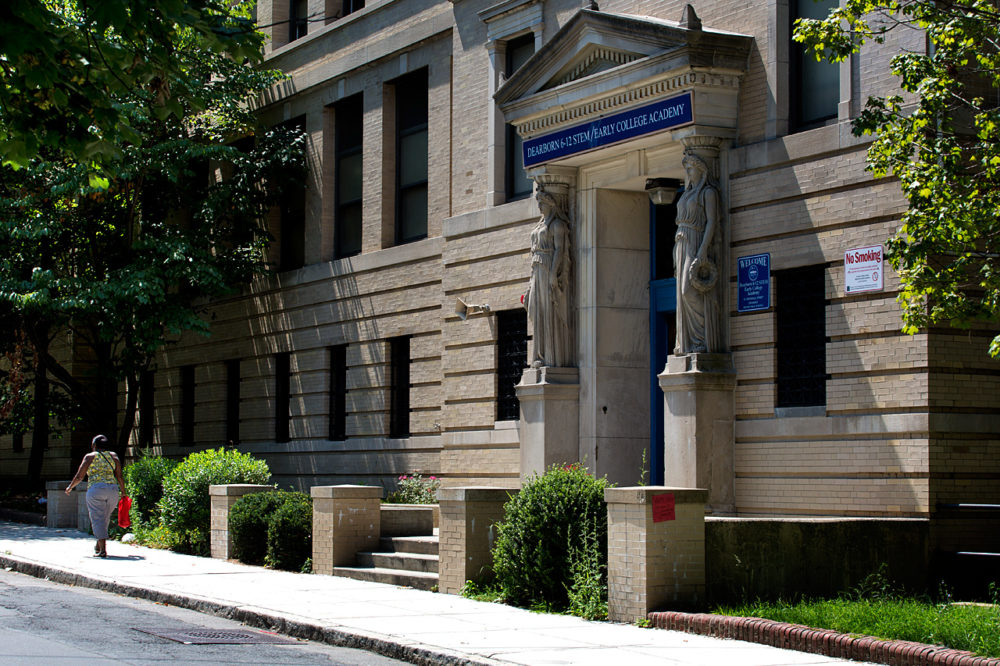 This article is more than 6 years old.
A major battle is coming to a head over the fate of a century-old Boston Public School building that most recently housed the Dearborn Middle School in Roxbury.
The building is scheduled for demolition to make way for the first new school to be built in the city in more than a decade.
Neighborhood residents, property owners and historical preservationists are fighting to save the building, turning in hundreds (they say a thousand) signatures on a petition to save the Dearborn.
The Building And Its History 'Belong To A Story From Which We Should Be Learning'
Perched atop a steep hill on Greenville Street, just blocks from Dudley Square, sits what until June was the Dearborn Middle School.
It first opened in the 1913-14 school year as the High School of Practical Arts for Girls. It was the first public vocational high school purposefully built for girls in Boston.
Barry Gaither, director and curator of the National Center of Afro-American Artists, who works with Boston's Museum of Fine Arts, says it was "the largest and most important building built by the schoolhouse department in many years."
Gaither and many neighborhood residents want the building declared a historical landmark that should be preserved.
"That building is a stable part of this community for more than 100 years," he says.
Here's a video from a group trying to save the school from demolition:
Touring the building, you find a spacious one bedroom apartment with an amazing view of Boston's skyline on its top floor. It's where young women were taught the practical arts skills of homemaking.
There's a living room, dining room, kitchen, bedroom and bathroom, complete with a bathtub. It even has a laundry room, with a row of pull-down ironing boards.
"They had areas where they made beds, area where they set tables," he says.
In 1954, the building became the home of Boston's Girls' High School. Then, 20 years later, the building became inextricably linked to one of the most chronicled educational crises in Boston's history — the effort to desegregate public schools. In 1974, it became Roxbury High. That school and South Boston High were paired together to be integrated by race, with students from both neighborhoods bused to the other ones.
"These moments can't be removed from memory. In a certain sense tearing them down is ripping them out of the story," Gaither says. "They belong to a story from which we should be learning."
But Boston school officials say the city must move forward. School Department Director of Facilities Management Carlton Jones says the location is the ideal spot for a new school for sixth to 12th graders that's dedicated to teaching science, technology, engineering and math (a STEM school).
"As education has changed and as society needs have changed, the school and school system has to adapt along the way," Jones says. "Now we're moving towards the 21st century, we're moving toward STEM education."
Residents who want to save the building say there are many other sites in Roxbury where the new school could be built. And Jones acknowledges this is the only site that was considered.
"We didn't look for sites at all for this project, simply because our original focus was rehabilitate and renovate the school. And then once that determination was made that that wasn't feasible, then it was about how do we rebuild on the same site," Jones says.
School officials worry that choosing a new site for the STEM school could put all of its outside funding in jeopardy.
But neighborhood residents like Lorraine Wheeler say they're confident that would not happen and say that wishes of neighbors must be respected.
"Even though there are many places in Roxbury where there has been a negative type of urban renewal — demolition of buildings — in that neighborhood, most of the buildings remain standing. And so that building matches our neighborhood," Wheeler says. "We don't have a problem with it being renovated. We don't have a problem with it being reused in some other fashion."
The Massachusetts Historical Commission says it has determined that the proposed project would have an adverse effect through the destruction of a historic property. It's asking for feasibility studies and analysis of alternative locations for the school and of potential other uses for the school building.
An appeal to the Boston Landmarks Commission by neighborhood residents resulted in a 90-day demolition delay. That delay expires Monday.
But school officials say even though they'll begin preparations, they are holding off for now on demolition work.
Ultimately, it's up to the mayor. Mayor Marty Walsh's press office says, "The city would not begin demolition until the Massachusetts Historical Commission process is complete." The mayor's office also says the city hopes to move forward with the project as planned.
The school department says no trucks will be showing up immediately to begin demolition, but it is moving ahead with preparations for demolition and that includes addressing concerns about asbestos removal and saving artifacts inside the building.
---
The building has been home to four schools. Below is a timeline of the schools it has hosted.
[timeline key="0AqW2_TU2kAxldDd6M0FJQUhDTEhMSWt1VFA5R0NFaUE&output=html" height="650"]
Clarification: An earlier version of the above timeline said the Dearborn Middle School had been closed. It was relocated to a temporary location. 
This segment aired on February 9, 2015.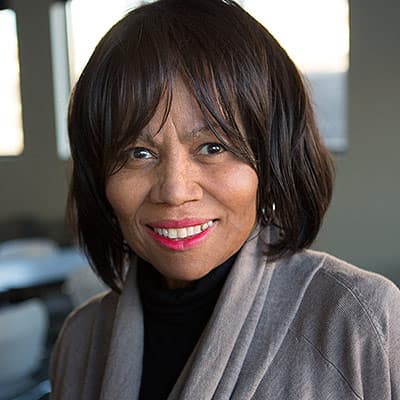 Delores Handy Reporter
Delores Handy was formerly a host and reporter at WBUR.