MBTA Suspends Rail Service As Another Snowstorm Wallops Mass.
The MBTA suspended all rail services at 7 p.m. Monday, with the suspension to continue throughout all of Tuesday, as the beleaguered transit agency struggles to deal with Massachusetts' third major snowstorm in two weeks.
This means no subway or commuter rail trains departed Boston after 7 p.m. Monday, and all service will remain suspended Tuesday "while maintenance crews continue to clear snow and ice from tracks, the third rail and switches," T spokesman Joe Pesaturo said in a statement.
For Tuesday, the statement added: "Bus service will be available on an extremely limited basis with various buses on snow routes."
The decision to suspend rail service all Tuesday came just after 5:15 p.m. Monday. An earlier decision to suspend rail service Monday night came just before 4 p.m. With the earlier decision, Pesaturo said:
The accumulating snow is making it virtually impossible to keep rail lines operational. From a safety perspective, the MBTA is concerned about the risk of multiple disabled trains that would require evacuations on the tracks, potentially in the dark.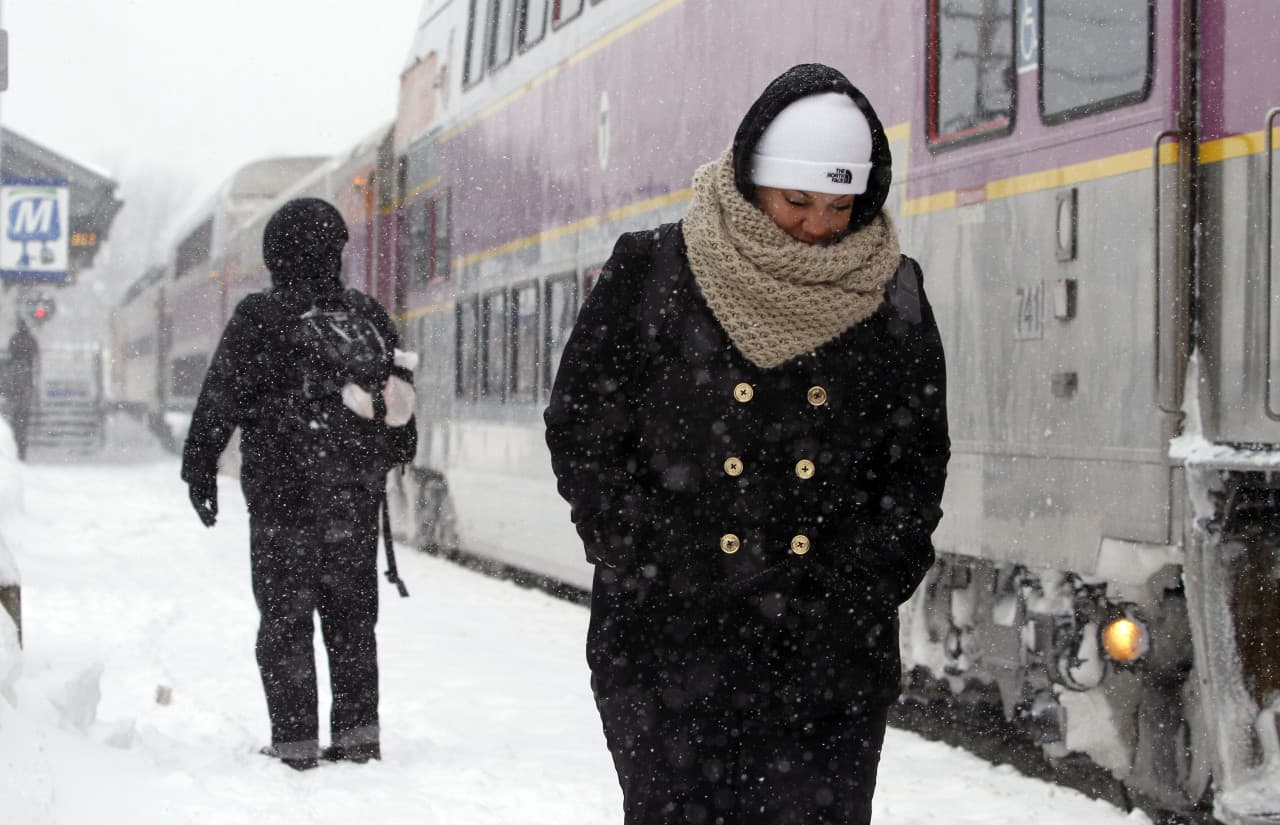 In a Monday evening briefing, Gov. Charlie Baker said he was told of the T's rail service suspension as it was being announced publicly.
"On some level I think if they don't ... believe they can run a rail service tonight I would rather them say that," he said. "At least people can plan accordingly and plan around that."
Baker also declared a state of emergency for Massachusetts and said he's asked non-emergency state workers in four counties — Suffolk, Essex, Middlesex and Norfolk — to stay home Tuesday.
The T ran on a midday schedule Monday morning, but there were widespread delays on subway and commuter rail lines and on bus routes. And 48 people had to be rescued after being stranded for more than two hours on a Red Line train that became disabled between two stations in Quincy.
At an earlier press briefing, Baker said he was disappointed and frustrated that the T had not been able to maintain even limited service Monday. He called the agency's performance "unacceptable."
"When the weather is as bad as it has been lately, the public transportation system needs to work," Baker said. "And as I've said, once the snow stops there is going to be an opportunity for us to do a heavy debrief on this. And let's face it, this can't happen again."
The T told WBUR that the decision to suspend rail service Tuesday was made by the transit agency, not the Baker administration.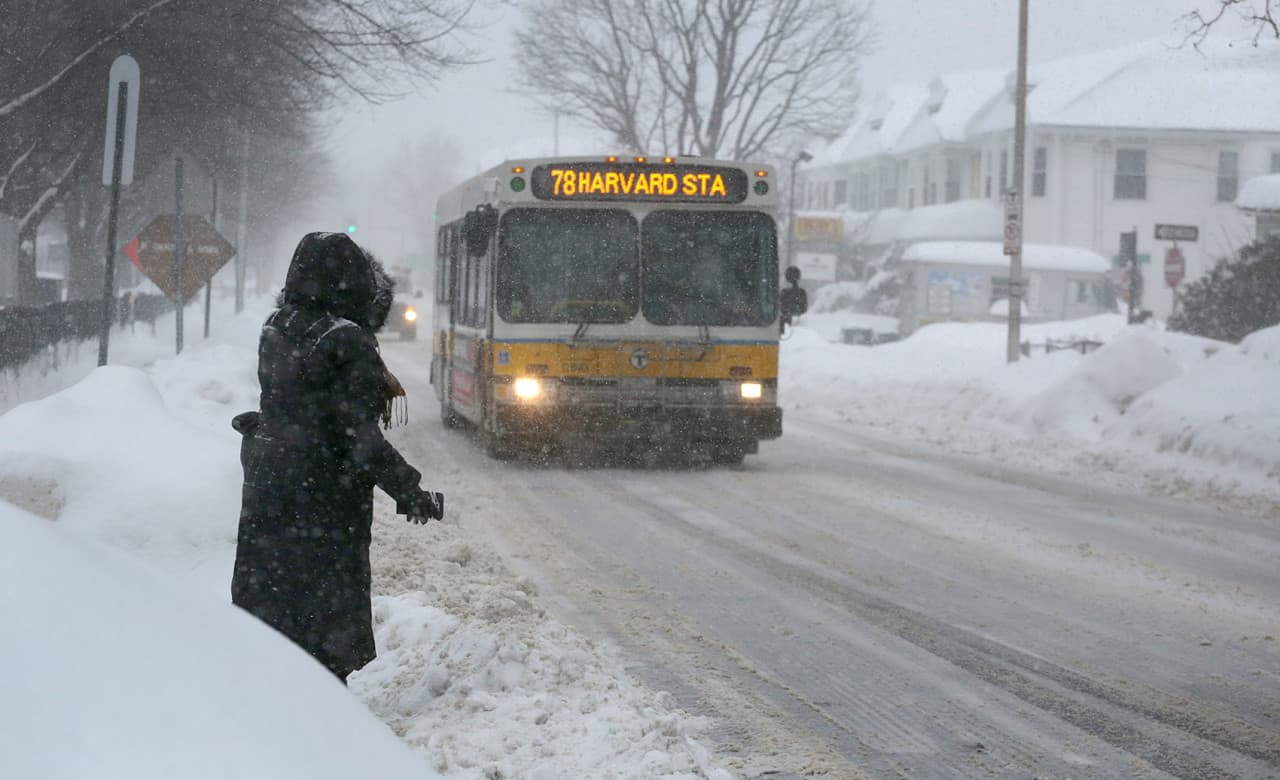 Earlier Monday, Baker called the snow situation in Massachusetts "pretty much unprecedented."
Later in the day, he admitted: "If I've learned one thing over the past two weeks, it's that Mother Nature makes the rules."
The latest storm — a slow-moving one that entered the region late Saturday and is forecast to stick around until early Tuesday — once again caused travel issues, closed schools and government offices, and raised concerns over snow removal.
The storm dropped 2 feet of snow on parts of eastern Massachusetts, as of mid-afternoon Monday.
It also broke at least one record. As of Monday evening, Boston had received 22.3 inches of snow with this storm, for 68.2 inches of snow over the last 30 days, according to the National Weather Service. That easily busted the previous 30-day mark of 58.8 inches, set in February 1978.
Climate sites coming in, here's the storm totals: Boston = 22.3 storm total, which makes 73.9 for the season and 68.2 for the last 30 days.— NWS Boston (@NWSBoston) February 10, 2015

On Sunday evening, Baker declined to institute a statewide travel ban, but he encouraged residents to stay off roads and employers to allow their workers to stay home.

The storm wreaked havoc on roadways Monday. The speed limit on the entire Massachusetts Turnpike was lowered to 40 mph.

Logan Airport remained open, but there were widespread cancellations.

There were also widespread school closures Monday, including in Boston. Boston schools are also closed Tuesday.

Snow days have racked up at school districts, raising the possibility of waivers for the requirement of 180 days in a school year.

Margette Leanna shovels out her walkway early Monday in Newburyport. (Jesse Costa/WBUR)

"Maybe we'll put the 180-day requirement to a vote of the students and see what they think," Baker joked. "That is a local call for the most part. We're certainly happy to engage in a conversation with them and I expect we will. But I think the 180-day requirement is a good one."

Elementary and Secondary Education Commissioner Mitchell Chester has the authority to waive the 180-day requirement when extraordinary circumstances force a school's closure if the district makes a request in writing. In a Friday memo, he outlined how missed days can be made up in the remaining calendar, writing:

School districts may decide to cancel or shorten the April vacation period, convert scheduled professional development days into school days for students, hold school on Saturday, keep school open on Good Friday, or add days later in June beyond the originally scheduled last day of school.

Boston has now had eight snow days this school year. Students are already set to be in school until June 30, the teachers union's contractual end date.

Walsh also told non-emergency city workers to stay home Tuesday.

With reporting by The Associated Press and State House News Service
This article was originally published on February 09, 2015.