MBTA To Reopen Wednesday; GM Ties Problems To Record Snowfall, Lack Of Investment
Following a monster snowstorm that left some Boston-area communities with another 2 feet of snow or more — the latest in a trio of major storms — the MBTA will operate on a limited schedule Wednesday, after rail service was suspended all Tuesday.
Though the worst of the latest storm moved out of the state Monday night, the beleaguered transit agency suspended subway and commuter rail service Tuesday so it could work to clear ice and snow from tracks and other infrastructure. Bus service was available only "on an extremely limited basis."
Wednesday's resumption of service was announced Tuesday afternoon by Boston Mayor Marty Walsh, who also said that city schools will reopen Wednesday. Schools were closed Monday and Tuesday as the storm dumped more than 20 inches of snow on Boston — busting the city's record for 30-day accumulation.
During an afternoon press conference, an impassioned T General Manager Beverly Scott blamed the agency's winter weather woes on the record snowfall as well as a lack of investment from the state.
"We are running an extremely aged system that is getting a pounding," Scott said.
Scott said she understood the inconvenience caused by the shutdown and that the agency was doing the best that it could with the resources it had. She said the T needed "serious, bold" reinvestment to operate reliably and she hopes the recent problems will "spark not only that conversation but action."
Scott also said she had not spoken to Gov. Charlie Baker, who on Monday called the T's performance "unacceptable."
"I have had no direct conversation with the governor. I can only say that everybody is frustrated," Scott said.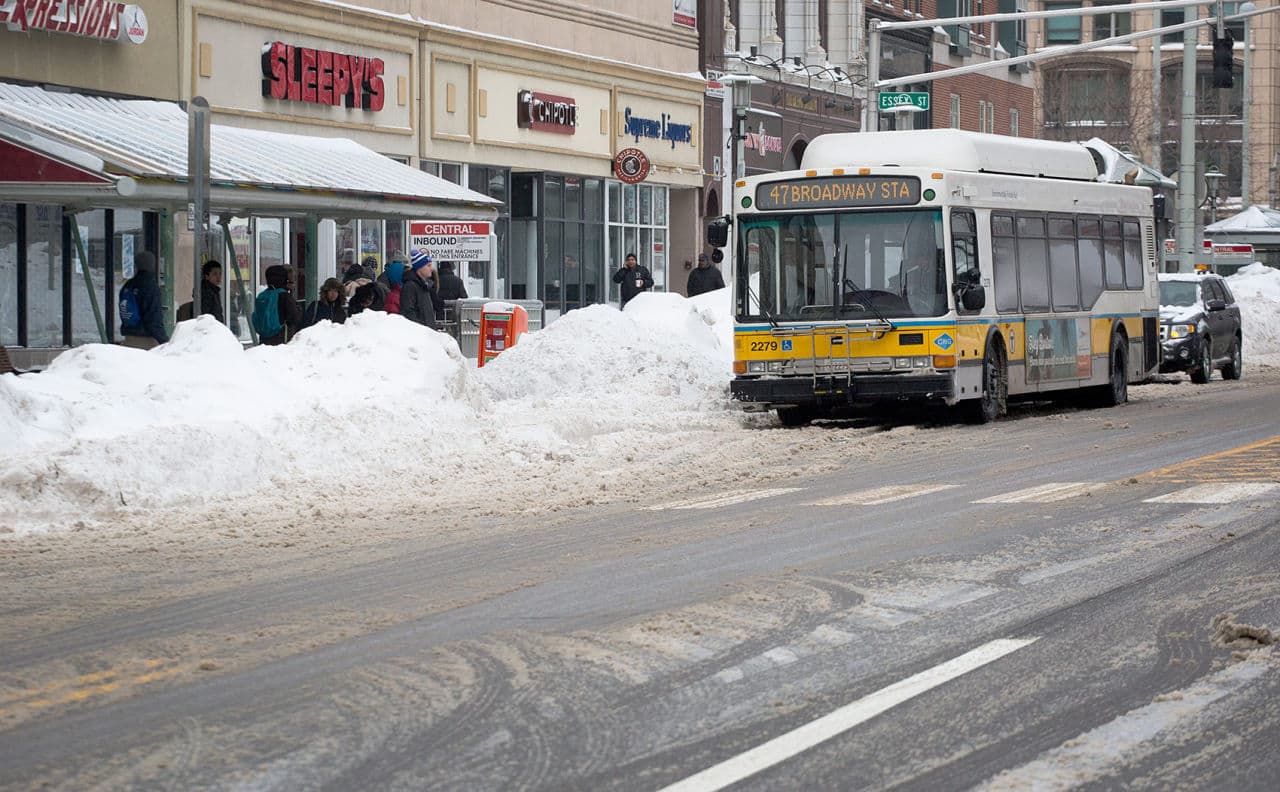 Speaking shortly after Scott Tuesday afternoon, Baker said he had been in contact with his transportation secretary, Stephanie Pollack, and that the T's general manager doesn't report to him but rather to the Department of Transportation's board of directors.
"I don't have any direct authority over the MBTA at all," Baker said, adding that he had a meeting scheduled with T leadership for Thursday.
Baker said Scott was doing everything she could do deal with the "unprecedented" weather conditions and that he wouldn't comment further until he had a "direct conversation with the T about why they didn't live up to the representations they made to us and to others over the course of the last two weeks."
Baker also reiterated his stance that he's not ready to throw state money at the problem.
"I think we ought to look at where we are before we start making decisions about money," Baker said. "Without more information my view on this continues to be same, which is we need to start from the premise that taxpayers have been taxed enough."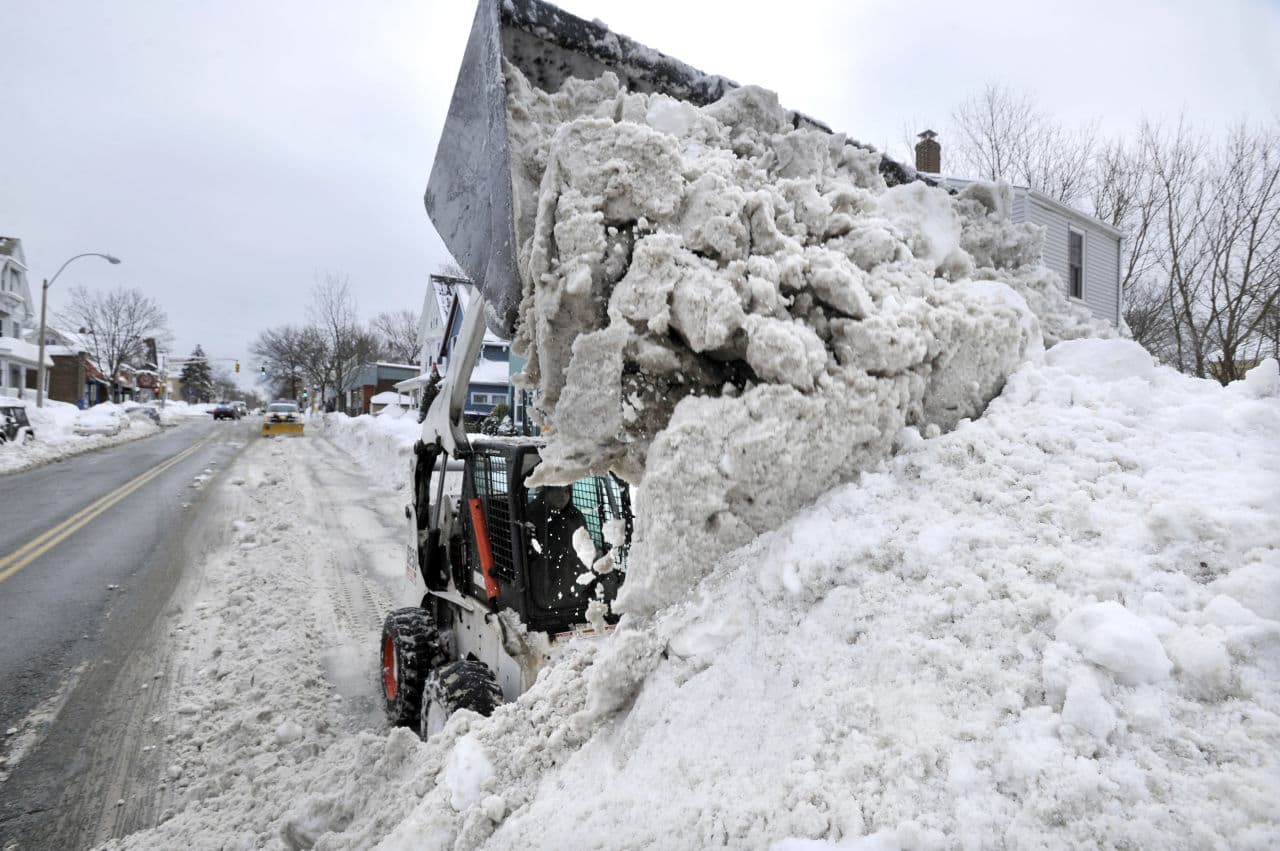 Baker announced Tuesday that 500 National Guard troops had been called up to help with snow removal efforts and that the state had requested additional snow removal equipment from neighboring states.
Two additional snow melters have also been purchased by the state, Baker said, and should arrive in the next two to tree days.
As far as the state's snow removal budget, Baker said the priority was on public safety and that "one way or another we will deal with the financial consequences of that."
In Boston, a snow emergency parking ban will remain in effect until 5 p.m. Wednesday to allow crews more time to clear main arteries. Walsh said the city is aiming to remove 2,000 truck loads of snow from city streets overnight.
Transportation officials said Tuesday afternoon that most major state roads were clear but that work was continuing on HOV and breakdown lanes, as well as secondary roads.
"Crews all over the state will be pushing snow out of the shoulders, trying to re-establish that breakdown lane, and we'll be working on ramps and exit ramps to move back those snow banks to improve sight lines," MassDOT Administrator Frank DePaola said.
The relentless snowfall is raising concerns about the possibility of roof collapses. Several partial collapses have been reported since Monday, and the Pentucket Regional School District decided to cancel classes for the rest of the week due to structural concerns at its schools.
MEMA spokesman Peter Judge says roofs should be cleared before Thursday, when more snow is forecast to arrive.
"That's just going to add weight to the snow that's already up there on the roofs, and there's no thaw in sight," Judge said.
Judge urged residents to use snow rakes or hire professionals rather than climbing up onto icy roofs themselves.
Following Monday's storm, many schools and government offices were closed Tuesday, and business were urged to let workers stay home.
Service at Logan Airport was beginning to return to normal, after heavy cancellations Monday.
All Amtrak Downeaster service to Maine was cancelled Tuesday. Amtrak says it's planning to operate regularly scheduled service between Boston, New York and Washington but is asking travelers to confirm their train's status.
With additional reporting by The Associated Press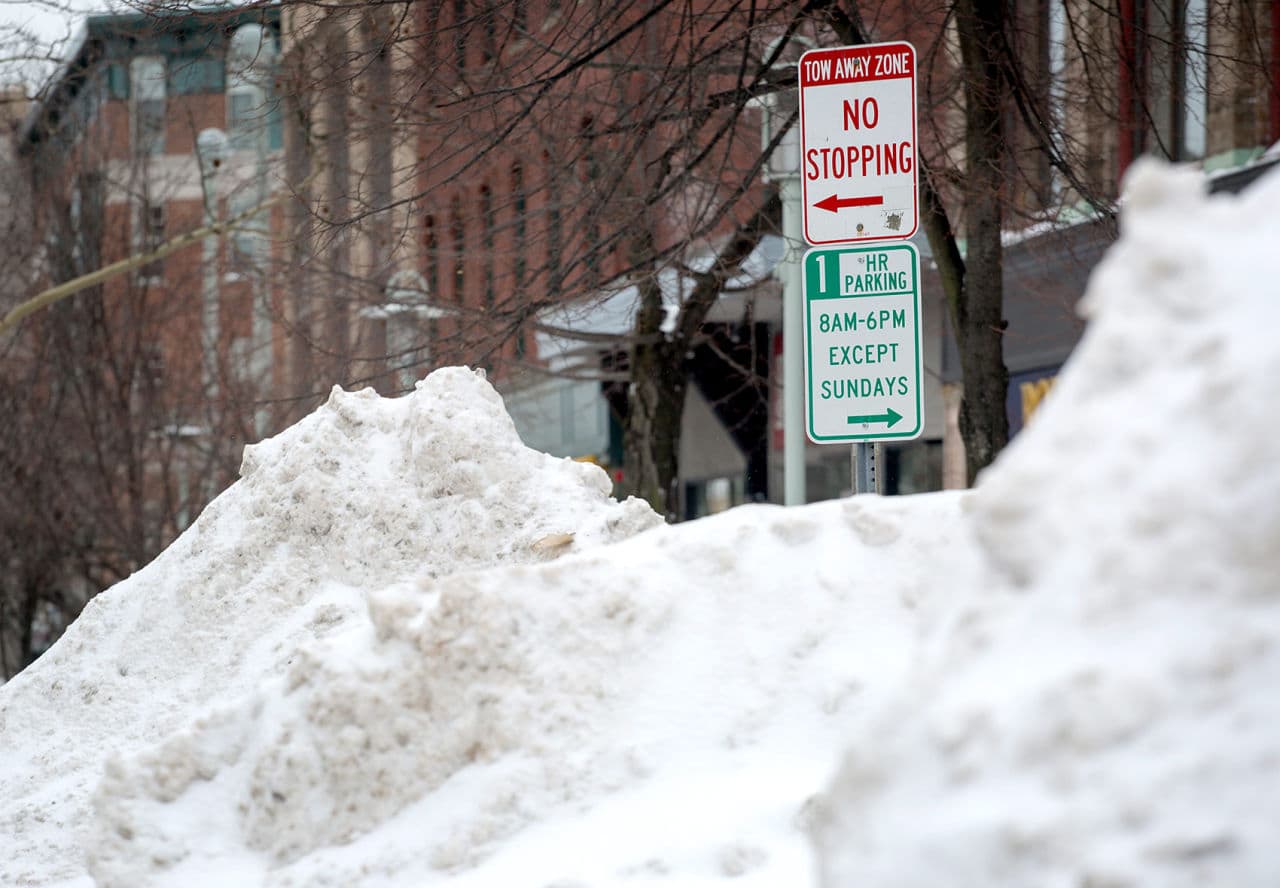 This article was originally published on February 10, 2015.