A Matter Of Trust: Brian Williams' Conflate-Gate And Jon Stewart's Departure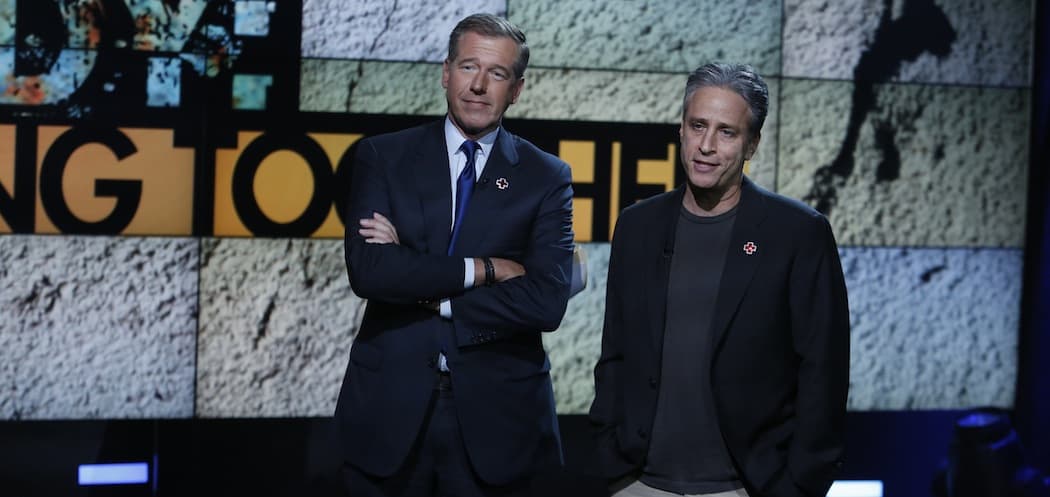 This article is more than 6 years old.
It's a sign of the times when those in and out of the news business are more shaken that a self-identified "fake news" anchor is leaving his job than one who has been at the post of one of the most important news desks in television history. Journalists and casual viewers alike are far more concerned about how Comedy Central is going to fill its/our void than how NBC is going to fare without Brian Williams for six months.
In the 16 years that Jon Stewart has been on the job at Comedy Central his satire has been a welcome antidote to the political pieties of the day, and "The Daily Show" has been the place where younger viewers and those who list leftward place their trust. Whatever the shenanigans of Fox News or the missteps of Barack Obama that day, you knew that Stewart and his cohort (until recently), Stephen Colbert, could send you to bed with a knowing laugh at the absurdity of the day's events. (Stewart announced yesterday that he was leaving the show later this year as NBC broke the news that Williams was being suspended for six months without pay for misstating the facts of how much danger the helicopter he was in faced on an Iraq mission.)
Ted Koppel, then host of ABC's gold-standard "Nightline," went on "The Daily Show" early on and expressed fear that more people than he was comfortable with were getting their information from Stewart's show rather than from his and other network news shows. If this were today you could imagine one of Stewart's clever producers popping a photo of Brian Williams in the background and Stewart holding his fingers to his chin while saying, "I can't imagine why."
Williams has gone from being NBC's poster boy for "trust" — literally — to a symbol of network news' fall from journalistic grace. Some would say into irrelevance, though I'm reluctant to go that far. The nightly news still reaches tens of millions of people and earns hundreds of millions for the networks.
So while no one invests network news with the imprimatur of trust given to "Uncle Walter" Cronkite or the Jennings-Rather-Brokaw generation that succeeded him, the evening newscast has still kept its head relatively high, unlike local news.
In fact, the downfall of CBS News came in departing from the formula of the serious evening newscast by making the evening newscasts too frivolous with Connie Chung and Katie Couric. (Couric, in particular, deserved better.) They have atoned with Scott Pelley, but the damage to the long-standing trust was done. (Dan Rather's antics wore the brand down as well.)
Williams was really the link to the previous generations. He looked and acted the part of the trusted anchor but came up through the ranks, becoming an NBC News chief White House correspondent and weekend anchor before succeeding Tom Brokaw 11 years ago.
He has won every important journalistic award available to broadcast journalism including the 2009 Walter Cronkite Award for Excellence in Journalism from Arizona State University. Cronkite had been quoted as saying he was one of Williams' "ardent admirers" and described him as a "fastidious newsman" who brought credit to the television news reporting profession.
For his part, Williams noted that Cronkite, his "north star," wouldn't have made it in today's world, that he was much too humble.
Like Brokaw, though, Williams was more comfortable with the celebrity demands of the job — appearing on the comedy series "30 Rock" as himself and holding his own with David Letterman and Jimmy Fallon — than, say, Cronkite, or Jennings. He was certainly not above self-parody, which you would think is a good thing, but after his "conflating" his helicopter's experience with that of another, you wonder. (For NBC, is this Conflate-gate?)
Williams was right about Cronkite. This is an era of self-aggrandizement, not of humility. I'm sure NBC was delighted with Williams' willingness to be making the entertainment rounds, telling his stories of derring-do, playing the part of The World's Most Trusted Anchor. That's just, well, the way it is today. And, if you don't get caught in a lie, the juicier the story the better. Who knows what was going on in Williams' head when he misstated his danger, but in retrospect it certainly seems as if Williams liked playing the part of World's Most Trusted Anchor, more than in actually gaining that trust the old-fashioned way.
Still, I think the punishment fit the crime. I'm all in favor of second chances and Williams might end up being a better (more humble?) newsman. Whether he gets his old job back might depend on what the level of trust with Lester Holt at the end of six months is. Or, to put it more cynically, whether the NBC evening news remains as popular, i.e. lucrative, as it is now.
For the rest of us, the question isn't, "What are we going to do without Brian Williams," but in lines like this about Williams and traditional media like this one: "Finally someone is being held to account for misleading America about the Iraq war." The author was, of course, Jon Stewart.
Ed Siegel is editor and critic at large for The ARTery.