More Delays Greet MBTA Commuters Thursday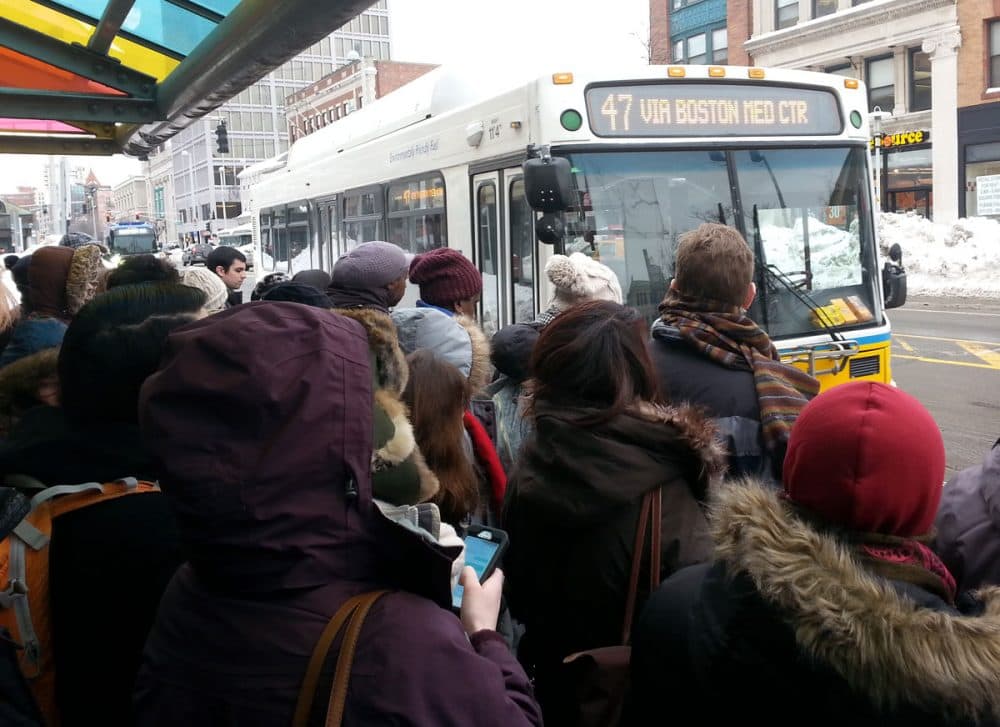 This article is more than 6 years old.
The day after the MBTA's general manager announced her resignation, T commuters encountered delays and packed trains as the transit agency continued to be affected by winter weather.
Lines have been so long for the shuttle buses replacing rail service on the Braintree branch of the Red Line that the T is bringing in a private bus company to help with Thursday's evening commute.
"For the bus shuttle replacing the Braintree line, our hard working bus operators are getting some help from their brothers and sisters at Peter Pan," T spokesman Joe Pesaturo said in a statement. "For the late afternoon/early evening commute [Thursday], 23 Peter Pan buses will supplement the existing MBTA bus shuttle service."
The Peter Pan buses will run "express" between JFK/UMass and Braintree, with regular T buses stopping at all stations.
Sure enough: good old Peter Pan helping out the @mbta with its heavy load shuttle from JFK to Braintree. pic.twitter.com/aR6h3NIXlu— Simón Rios (@simonfrios) February 12, 2015

To try and alleviate the shuttle bus congestion, the T said it is also waiving fares for commuter rail passengers boarding at JFK/UMass, Quincy Center and Braintree.

On Thursday morning, a downed light pole near JFK station further slowed the shuttle buses. There were also delays on the Green and Orange lines and on the commuter rail.

Traffic was also slow-going early Thursday on clogged main roads.

Later Thursday, the head of the MBTA, Beverly Scott — who a day before had announced her resignation — met with Gov. Charlie Baker, a previously scheduled visit to discuss the T's recent struggles amid a series of major snowstorms.

Baker, who had earlier called the MBTA's performance "unacceptable," said following the meeting that he did not force out Scott, and that the two had "a healthy exchange of views" about the transit agency.

Said Scott in a statement:

It was a pleasure to meet Governor Baker and Lt. Governor [Karyn] Polito today. In a substantive meeting which included our top operating personnel, we had a serious conversation with Governor Baker and Lt. Governor Polito about the issues facing our aging transit system. The Governor was very focused, and we were pleased to share information that will help him make decisions as we chart a course for improving public transportation. I'm convinced that today's meeting will be remembered as the start of something very good.

Scott's resignation is effective April 11.
This article was originally published on February 12, 2015.