MBTA GM Beverly Scott Resigns
The beleaguered MBTA is about to get new leadership.
T General Manager Beverly Scott on Wednesday afternoon submitted her resignation to the Massachusetts Department of Transportation Board of Directors. Her resignation is effective April 11.
[sidebar title="Beverly Scott's Work History:" width="" align="left"]
12/17/12: Scott is appointed MBTA's general manager.
2007: Scott is appointed to head the Metropolitan Atlanta Rapid Transit Authority.
Earlier, she was general manager of the Sacramento Regional Transit District and the Rhode Island Public Transit Authority.
She previously held senior positions at the New York Metropolitan Transportation Authority, the New Jersey Transit Corporation, the Washington Metropolitan Transportation Authority and the Dallas Area Rapid Transit.
She began her career in public transportation in 1977 and holds a doctorate in political science from Howard University.
[/sidebar]
"During these past two years-plus, it has been an absolute pleasure and honor to serve with and lead this dedicated team of transit professionals and public servants," Scott wrote in her resignation letter. "In my almost forty years in this industry, I have not worked at a public transportation system with such a personal connection to the people and communities it serves."
Her decision comes after a tough week for the transit agency. It struggled mightily after three major snowstorms in two weeks, with widespread delays and train breakdowns. The T decided to suspend rail service completely Tuesday to try and recover from the weather impacts.
"The Governor and Lt. Governor were surprised to learn of Dr. Scott's resignation this afternoon," Tim Buckley, a spokesman for Gov. Charlie Baker, said in a statement. "They thank her for her contribution to the Commonwealth and are grateful for her offer of assistance as the [MBTA] transitions to a new General Manager. The Governor looks forward to meeting with [MBTA] officials tomorrow, working with them to assess the issues that have plagued the agency in recent weeks and developing operational and maintenance plans moving forward."
Amid the snowfall, Baker called the MBTA's performance "unacceptable," and he was asked during a press conference if he had confidence in the agency's leadership.
In response, Baker made it clear he has no "direct authority over the MBTA" but said that Scott was doing everything she could to deal with the "unprecedented" weather conditions.
Scott's resignation came a day after she offered a full-throated defense of the embattled T, citing historic snowfall and years of under-investment.
"We are running an extremely aged system that is getting a pounding," Scott said, adding that it needs "serious, bold" reinvestment to operate reliably.
Scott had previously told WBUR's Jack Lepiarz that the T would need an estimated $5 billion to be able to handle future storms like the past few.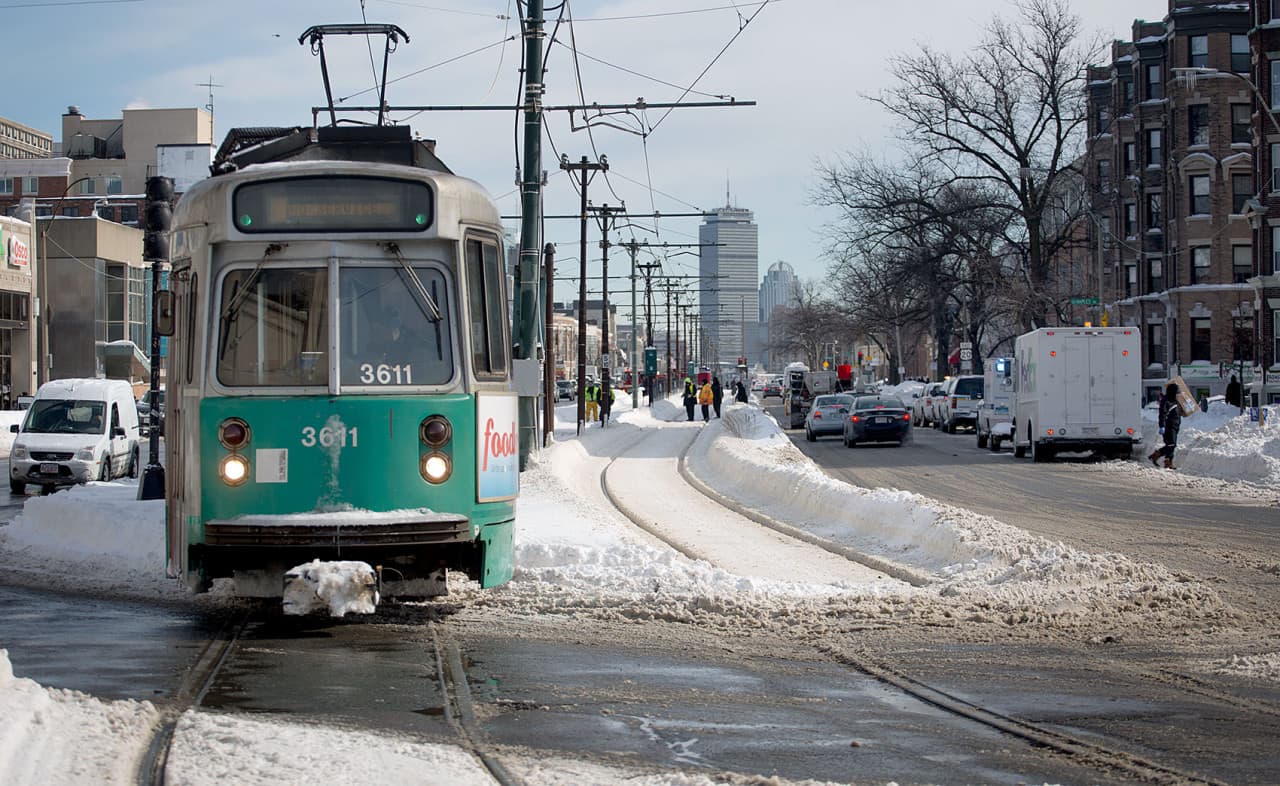 Earlier Wednesday at a MassDOT board meeting, Baker's transportation secretary, Stephanie Pollack, made it clear: "We intend to work with the existing leadership with Dr. Scott and with this board to identify and solve the problems that have led to this system's failure in recent weeks."
Scott submitted her resignation soon after.
In a statement, the board's chairman, John Jenkins, said he is "stunned by the resignation of Dr. Scott."
He added:
Be clear, this Board has had no discussions at any time about her tenure as General Manager. We hoped and expected that she would fulfill her three year contract, which ends in December of this year. I want to thank Dr. Scott for her skillful and committed leadership over the last 26 months, and wish her the very best as she moves on to her next challenge.
In her resignation letter, Scott wrote that she'll work "to effect a smooth transition" over the next 60 days. She said she'll make it a priority to return T "services to normalcy following these unprecedented weather conditions."
Boston Mayor Marty Walsh, in a statement, thanked Scott "for her deep commitment to our public transportation system." He said she's "shown leadership and courage during the challenges we are facing."
Scott, blunt and energetic, was chosen as the T's general manager in September 2012. She's called for significant investment in the transit agency since the beginning of her tenure.
Before the MBTA, she was Atlanta's transit chief.
Jenkins said a subcommittee will conduct a nationwide search for her replacement.
This article was originally published on February 11, 2015.