Forecast: Very Cold Friday, Blizzard Watch This Weekend For Coastal Mass.
This article is more than 7 years old.
Updated 6 p.m.: Here's an updated estimate of snowfall totals for this weekend's storm: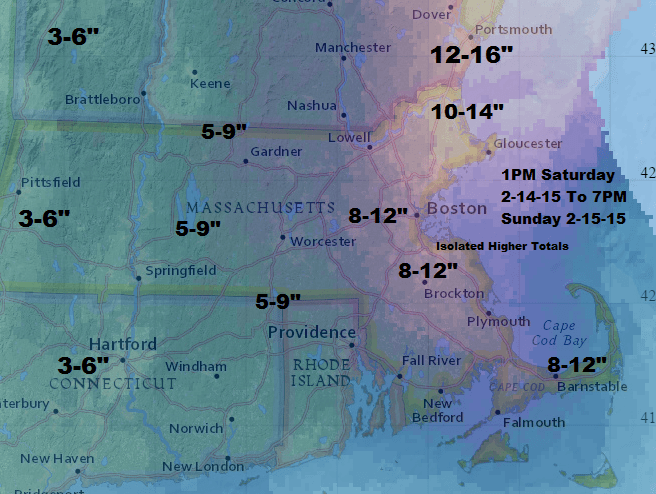 Original post continues: 
Colder arctic air moved into the area Thursday night, and winds also increased. Friday is going to be very cold, and wind chills will remain below zero. Highs will reach near 15 in Boston, but stay even colder west and north of the city.
This is going to set up a very cold night ahead. On Saturday morning, many areas will be below zero. Winds will be light.
A piece of energy up in Canada Friday morning is going to dive south and pass off our coastline later Saturday. This will be the catalyst for our next storm. The exact development of this storm is critical to how much snow and wind southern New England sees. Blizzard watches remain posted for the coastline with winter storm watches inland.
The snow will begin Saturday afternoon and continue through Sunday. Southern New England will see as little as a few inches in the Berkshires, to a foot or more along the coastline. The snow will be light and fluffy as temperatures will stay cold.
Winds will increase Sunday as the storm intensifies to our east. There could be some power outages from the high winds. Seas will become rough and coastal flooding could be in the minor to moderate category during the time of high tide around 7:30 a.m. Sunday.
The snow will be over for the Monday morning commute, but it will still be cold and wintry. Another storm could move into the area for Tuesday night and Wednesday with more snow.
---
Friday: Sunny and cold with a high 10-15.
Friday night: Partly cloudy, with a low -5 to +5.
Saturday: Snow developing after 2 p.m. Highs in the mid 20s.
Saturday night: Snow, which could be heavy at times. Low around 15.
Sunday: Snow with areas of blowing snow before noon. Highs 15-20.
Monday: Sunny, with a high near 15.
Tuesday: Partly sunny. Highs in the 20s.
Wednesday: A chance of snow. Highs 27-33.
This article was originally published on February 13, 2015.