MBTA Suspends Service Sunday As Greater Boston Braces For Another Storm
The MBTA has decided to suspend all service Sunday as the state braces for yet another major snowstorm.
"The projected heavy snow and high winds will significantly inhibit the MBTA's ability to deliver safe and reliable service," the agency said in a statement. "Trees and power lines could come down, and visibility will be hampered."
The T had already decided to suspend late-night service Saturday, meaning the last trains will leave downtown Boston around 12:50 a.m. Sunday.
A decision about Monday service is expected Sunday.
This weekend's storm will be the fourth major snowstorm to hit the state in about a month. More than a foot of snow is forecast in eastern Massachusetts, where a blizzard warning is in effect from 7 p.m. Saturday to 11 a.m. Saturday.
The snow will begin Saturday afternoon and stay light due to cold temperatures, WBUR meterologist David Epstein wrote in his Friday forecast. "Winds will increase Sunday as the storm intensifies to our east. There could be some power outages from the high winds," he wrote.
The National Weather Service says there is potential for wind gusts up to 75 mph, making power outages a possibility.
On Nantucket, where power was completed knocked out during the January blizzard, Police Chief William Pittman is advising residents to start thinking about going to a shelter.
"We're a little concerned about the high winds," Pittman said. "There's a potential for some power outages, and with the extreme cold temperatures we want to make sure we have a place for people to go."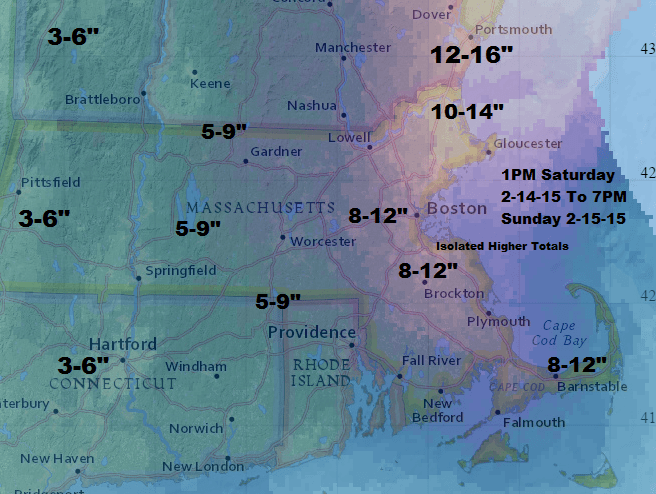 Gov. Charlie Baker said late Thursday afternoon that officials were waiting to see how the forecast developed before deciding on whether to issue a travel ban. He noted that with the storm hitting over a long weekend officials are less concerned about congested roads.
The state is using hundreds of pieces of snow equipment — many borrowed from several neighboring states — to try to clear and melt snow ahead of this weekend's storm.
The region has been walloped by a series of major snowstorms in recent weeks. Boston has already seen 42 inches of snow this month, according to the National Weather Service, and, with this storm, is poised to easily break the record for the snowiest month on record.

Feb 2015: 2nd snowiest month on record in Boston. 1.0" to go to reach Jan 2005! (earlier Jan 1945 total was wrong). pic.twitter.com/Y92bMmq3VJ

— NWS Boston (@NWSBoston) February 13, 2015
The city's mayor, Marty Walsh, said he's planning to declare another snow emergency and parking ban.
On Thursday, Walsh asked the embattled T to consider suspending service during the storm. But Walsh reversed himself Friday in a statement.
"Closing the T for the weekend would pose an incredible hardship to workers and people living throughout Boston," he said. "We have another big storm coming our way Saturday night into Sunday and I hope that our public transportation system can safely remain running to keep Boston open, support our local economy and get people to work."
Walsh's statement came before the T's decision to suspend service on Sunday.
Baker on Thursday also urged residents to support local businesses. He declared next week "Valentine's Week" and suggested those who cancel their Saturday Valentine's plans to reschedule them for next week.
This article was originally published on February 13, 2015.