Boston-To-Shanghai Nonstop Flights Start In June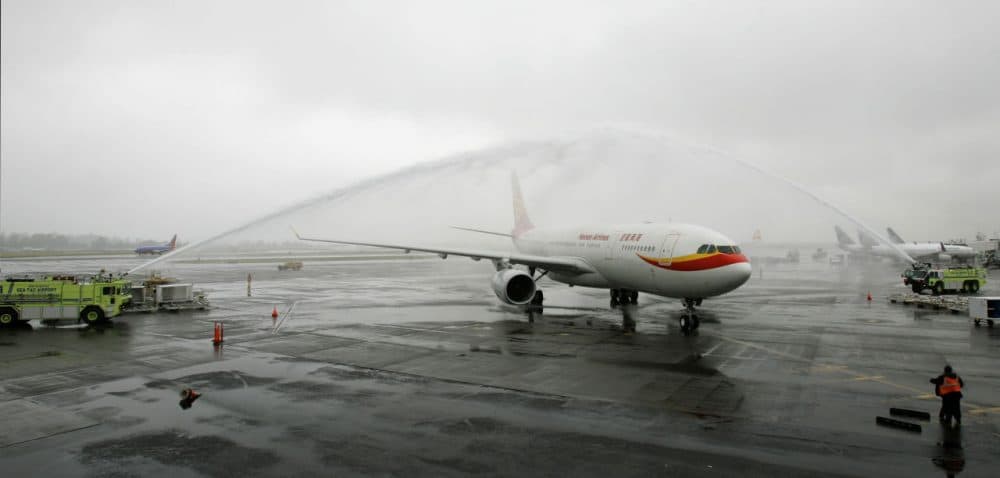 This article is more than 6 years old.
A Chinese airline plans to offer the first nonstop service between Boston and Shanghai.
Hainan Airlines and Gov. Charlie Baker made the announcement Wednesday at the State House here.
Hainan says it will offer three roundtrip flights per week between Boston's Logan International Airport and Shanghai's Pudong Airport starting June 20 on the Boeing 787 Dreamliner. Flight time is about 15 hours.
The flights will begin one year after the airline launched the first nonstop service between Boston and China, beginning with four weekly flights between Logan and Beijing. That will expand to daily service in May.
Baker said the flights to China are another way of bringing Massachusetts to the world and the world to Massachusetts.
"The importance of new international nonstop routes cannot be overstated in how they enable Massachusetts to engage with the rest of the world," Baker said in a statement before the announcement. "To be world class you need to be connected with the world, and Massachusetts is world class."
In recent years, Logan has been courting carriers around the globe, and has secured several new international airlines.
Boston will become Hainan Airline's first U.S. city with service to Shanghai.
Hainan also announced plans this week to add service between Seattle and Shanghai, and San Jose and Beijing.
With reporting by The Associated Press and the WBUR Newsroom