'The Big Meal' Serves Up Dietary Dysfunction
This article is more than 8 years old.
Life, death and a whole lot of squabbling are on the menu of "The Big Meal," a 2011 play by Dan LeFranc that's in its Boston premiere by Zeitgeist Stage Company (at the BCA Plaza Black Box through March 7). The 100-minute chain-restaurant-set whirlwind may be descended from Thornton Wilder's 1931 "The Long Christmas Dinner" and A.R. Gurney's 1981 "The Dining Room." But the holiday turkey's been replaced here by corn dogs and enchiladas, and the gloves are off at LeFranc's table, where several generations of a fractious American family gather for an album of prandial snapshots in which life goes by like a fast train — and sometimes off, like week-old fish.

A young couple named Sam and Nicole meet cute, if hardly warmly, in the first scene — and before you know it, having procreated and fought and suffered grief, they're sopping up the thin gruel of their dotage. It's a wild, well-orchestrated ride fueled by overlapping talk, and LeFranc must have had to write it on a spreadsheet. But the dialogue, for all of its layering, is often clichéd. And life's landmarks zoom by so quickly that you never have much investment in the characters, who are not, in any event, intended to be flesh-and-blood individuals so much as poster people for familial dysfunction and the march of time.
Also, the more time marches in this play, the more it stays the same: LeFranc whisks through the now tender, now quibbling interactions of three generations without ever seeming, either culturally or linguistically, to leave the early 21st century. Whether a young couple is heating up over cocktails or their grown-up grandson is exorcising trauma by heading off to war, it always seems to be around 2010. So, I cannot count myself among the avid fans of the award-winning playwright's tour de force. I do, however, admire the way in which the writer cues the Reaper: Without giving too much away, I'd advise the dramatis personae to stick to the drinks.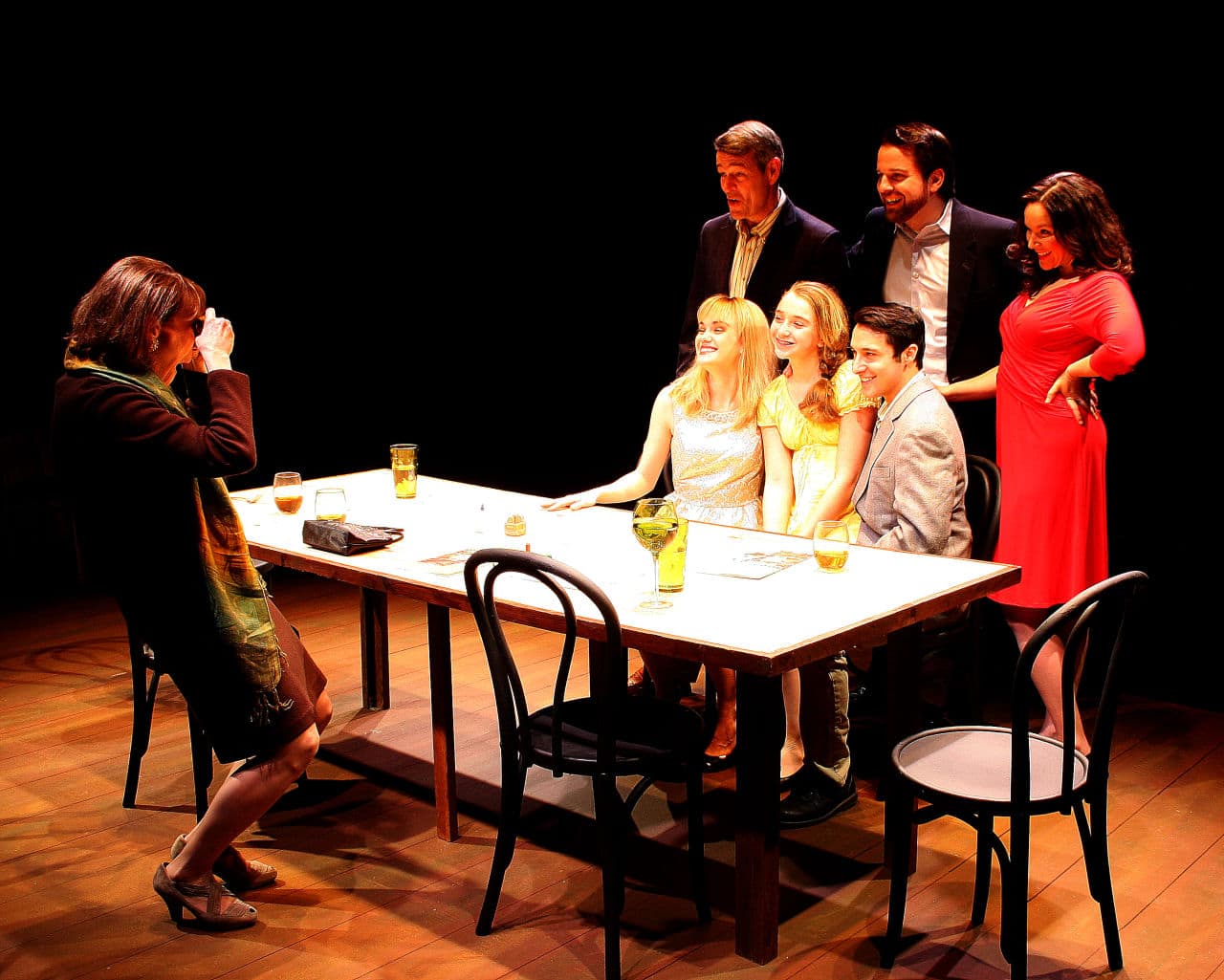 But David J. Miller, Zeitgeist's intrepid artistic director, loves a challenge, and his feisty non-Equity troupe rises to this one. Each of the eight principal actors (there is also a silent waiter) plays several parts, with, for example, the young man and woman of the leapfrogging early courtship scenes moving on to play their characters' own adolescent kids, their adult son's wife and their great grandson. And even when the actors aren't part-hopping, changes in their characters' circumstance strike like lightning: Sam and Nicole have barely celebrated their engagement when their offspring, having skipped the womb, charge into their arms like speeding bullets. According to Miller, the overlapping dialogue is laid out in the script, with eight columns on every page. The intended result is often cacophony, and the performers, including Alec Shiman and Arianna Reith as a veritable dynasty of buzz-bomb children, get the barely bearable chaos right.
Zeitgeist regulars Peter Brown and Shelley Brown portray the older characters without overdoing the crassness/bibulousness of Sam's well-intentioned parents. Later, they subtly capture the sag and depression of the elderly Sam and Nicole. Devon Scalisi brings just a hint of smarm to Sam in his prime; Johnny Quinones mixes insolence and a flirty charm into the younger version of that character; and Ashley Risteen bristles as a series of foxy young women, from the spiky young Nicole to a giddy daughter-in-law. First among equals, though, is Becca A. Lewis, whose midlife Nicole, still sharp-edged but also placating, comes closest to being a character rather than a sketch whirring by on the carousel of life.
Carolyn Clay was for many years the theater editor and chief drama critic for the Boston Phoenix. She is a past winner of the George Jean Nathan Award for Dramatic Criticism.