'Grounded' Soars Dramatically At Central Square Theater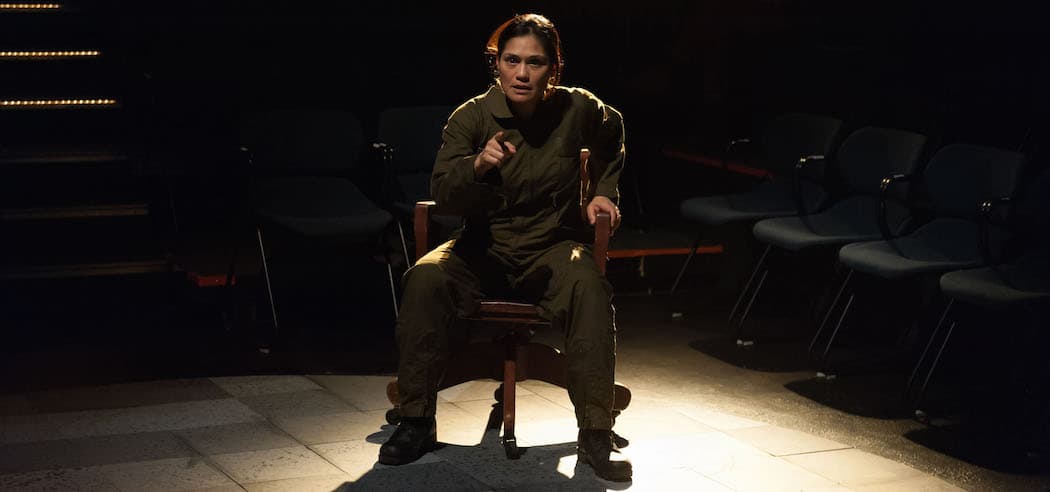 This article is more than 7 years old.
Out of the blue, the heroine of "Grounded" is taken out of "the blue." A female fighter-bomber pilot and an Air Force major, the butch woman in a flight suit — who is without a name if not without an ego — has felt most alive, at one with the universe of which she is an undisputed mistress, when flying her F-16 over the Middle East, dropping her lethal cargo on the bad guys and then being gone before the "boom."
But that's just the beginning of the riveting story the Pilot has to tell in George Brant's one-character play "Grounded," which is in its area premiere by Nora Theatre Company (at Central Square Theater through March 22). Hit not by enemy guns but by Cupid's arrow, the Pilot falls for a guy (one of few with guts enough to approach her) on leave, becomes unexpectedly pregnant, and is removed, for a time, from the sky if not the suit. When, after a not unsatisfying stint as a mom, she returns to duty, the gung-ho flier finds herself assigned to a new plane and a new desert: She is to operate an Unmanned Aerial Vehicle, or drone, as it hovers over Afghanistan or Pakistan, from an air-conditioned trailer somewhere near Las Vegas. "The Chair Force," she calls her new billet, following orders but not without a trace of contempt.

That Brant's play is so topical may account for its ubiquity (it has been produced everywhere from Kansas to Sweden) as well as for its garnering the 2012 Smith Prize, awarded by the National New Play Network to a work about American politics. Certainly the ethics and efficacy of drone warfare are being debated all over the place, from the Bureau for Investigative Journalism to the upcoming Ethan Hawke film "Good Kill."
But the success of both the play and the Nora production lies in their masterful wielding of the power of storytelling. From the moment Celeste Oliva takes the stage, striding on in a slo-mo manner reminiscent of Neil Armstrong's first steps on the moon, she has our attention as she weaves a tale both lyrical and sinewy. She is the anti-Brecht, turning what might be an abstract exploration of moral responsibility into something not only keenly personal but very particular to this one tough, lusty lady, squinting at us through her aviator shades when not glorying at sex in the suit.
Artistic director Lee Mikeska Gardner is at the helm of the simple, in-the-round staging, which features little more than the commanding yet mischievous Oliva, a wooden chair on casters and an overhead halo of blurred television screens to capture the grainy gray that has replaced the Pilot's beloved "blue." The wartime landscape she monitors from her trailer in Nevada is one depicted in "high-definition putty," and she scans it 12 hours a day through her drone's eye in the sky. Sometimes the surveillance targets are "military-age males" who are, by definition, "guilty" and looking to be blown up the minute the voice in her headphone gives the order. At other times the spying mission is more tedious — and unhinging — as the Pilot and her team of "drone gods" follow Al Qaeda or Taliban honchos, hoping to incinerate them remotely.

But the new gig, unlike the old one, allows the Pilot to return every night to her husband and child in their bungalow in Vegas (where, like most of us, she watches another screen). It's a disconcerting arrangement: Homer's Odyssey, our armchair warrior points out, would be a much different story if Ulysses had been able to go home every night. Still, the Pilot tries to get with the domesticated-avenger program, eventually coming to think of herself as, if not a top gun, a "top s**t" once more. Gradually she finds herself unable to separate work life from real life: Taking the kid to the mall on a day off, she starts to obsess about the invisible security spies watching her try on bathing suits at J.C. Penney. Unable to decompress, or to divorce herself from the carnage she wracks from her insular Olympus, she continues to function, even to swagger, as she unravels.
And it's hard to miss a strand coming away as you can't keep your eyes off of the actress, even to watch those amorphous-looking screens. Jumping among her character's daily journey through boredom toward long-distance mayhem, her increasingly strained and surreal domestic life, and the not-decompressing-enough drives between the two, Oliva does not miss an irony or a disconnect. Moreover, for all her militaristic posturing, she's as playful when chronicling the anxieties that ambush the Pilot as she is enacting those desert commutes to the slinky sounds of heavy metal and My Little Pony. Oliva's not only a fierce actress; she's an excellent narrator. And in "Grounded" she's got a front page story that's as wrenching as it is well crafted.