How A Dhol Drum And Punjabi Wedding Inspired Brooklyn Brass Band Red Baraat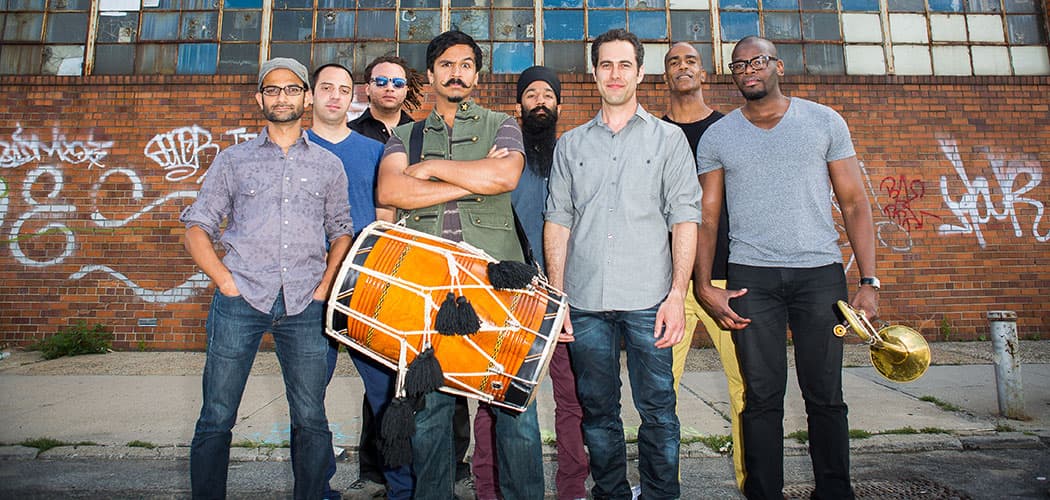 This article is more than 6 years old.
It was eight years ago that Sunny Jain first fell in love with the dhol. The dhol is a double-headed Indian drum that Jain wears strapped across his torso like a huge, resonant appendage. When he whacks it with a pair of bamboo drum sticks, it produces a sonorous bass note on one end and a metallic clattering on the other.
"I just fell in love with the instrument," remembers Jain, the frontman and ringleader of Red Baraat, a Brooklyn brass band with its heart thoroughly given to the kinetic, thundering rhythms of the dhol. They recently released their third album, "Gaadi of Truth," and will perform at the Sinclair in Cambridge on March 6. "There was something liberating about it. It slings on your shoulder, I'm walking around, I'm not tethered to the ground, I'm not sitting, I'm standing. This drum is hanging right at my gut, I'm hitting it, and it's incredibly loud. It's an outdoor, festive drum, you know, for spring harvest season in India. And so it was just a different expression."
Jain grew up in Rochester, New York, where his parents settled when they emigrated from India in the '70s. He was raised on the devotional music of his family's religion, Jainism, and at home on old Bollywood records and American Top 40. At age 10, he started playing drums and was turned on to jazz, which he studied in college and pursued for many years in New York.
When Jain finally picked up the dhol, it was the distant memory of a visit to India that provided the inspiration for Red Baraat. He remembered watching, as a 5-year-old, his uncle's wedding procession, or "baraat." The wild jam session between the brass marching band and a group of processing dhol players stuck vividly in his mind.
"I just wanted a band of drums and horns that was mobile, that could jump down and get in the mix with an audience and jam," says Jain. "And I wanted to play more upbeat music. I wanted to play music that people could dance and party to. This was also 2008. This was when everything tanked, our economy crashed. ... We were at a time where I was like, 'You know what, I don't want to play heady music. I want to play some really fun, riveting music that is still challenging to me and the band, but that can inspire people to move and dance and smile.'"
Red Baraat does not aim to mimic Indian baraat bands so much as harness their energy and allow other influences to permeate. When he founded the band, Jain purposefully recruited a group of players with diverse musical touchstones. Among its eight members, Red Baraat includes a trombonist who grew up on gospel music in the African-American church, a Sikh trumpet player with background in ska and reggae, and a sousaphone player who likes to rap.
The result is strutting, hyper-rhythmic music inflected by hip-hop syncopation and the sinuous minor-key Punjabi melodies of Jain's childhood. The opening track of "Gaadi of Truth" features the lumbering tones of a sousaphone turned sizzling hot by an effects pedal. Guest guitarist Steve Marion (aka Delicate Steve) supplies a cranky, distorted solo to the propulsive "Bhangale Oochale" as Red Baraat's percussionists—three in all—toy nimbly with a quick triple-time rhythm. "Rang Barse" begins with a sashaying Bhangra-inflected theme before bursting into a euphoric jazz progression. In all of Red Baraat's music—rap, song, instrumental—melodies with long, salient phrases are buoyed by the frenetic patter of the dhol, which teems deliriously underneath like a rushing river in springtime.
Though the effects pedals and guitar are new to Red Baraat, on "Gaadi of Truth" the band's most significant evolution is political. Their primary target is racism. On a rap in the opening track, they detail the small, but daily indignities elicited by the band's diverse ethnic makeup: "What are you, anyway? Where are you from? I mean, where are your parents from?"
"We are a multi-ethnic band, we are a diverse band," says Jain. "It just sometimes feels a little frustrating that that's the first thing someone makes note of, as opposed to our music."
Jain insists that the album's message is a positive one, despite its painful origins. "We're reflecting so many different identities. And that's important to foster dialogue and to foster community," he explains. For Jain, it is the idea of plurality—of many voices with different perspectives—that drives "Gaadi of Truth." And ultimately, he says, Red Baraat's performances help people transcend those differences. "People connect because they're smiling when the experience is happening. And that breaks down all barriers."
For all the talk of plurality, there is nothing disjointed or disparate about Red Baraat's sound. Jain estimates that about 80 percent of the material on "Gaadi of Truth" is original, composed by either himself or other members of the band. His pieces reflect many musical influences, from Bhangra to go-go to jazz, but the writing process is surprisingly unselfconscious.
"I write from the perspective of a melody and emotion. There has to be an attachment to what I'm writing," says Jain. The music that emerges, like the identity of its author, is at once myriad and wholly itself.