Commentary: Scott Walker, The Punter Who Would Be President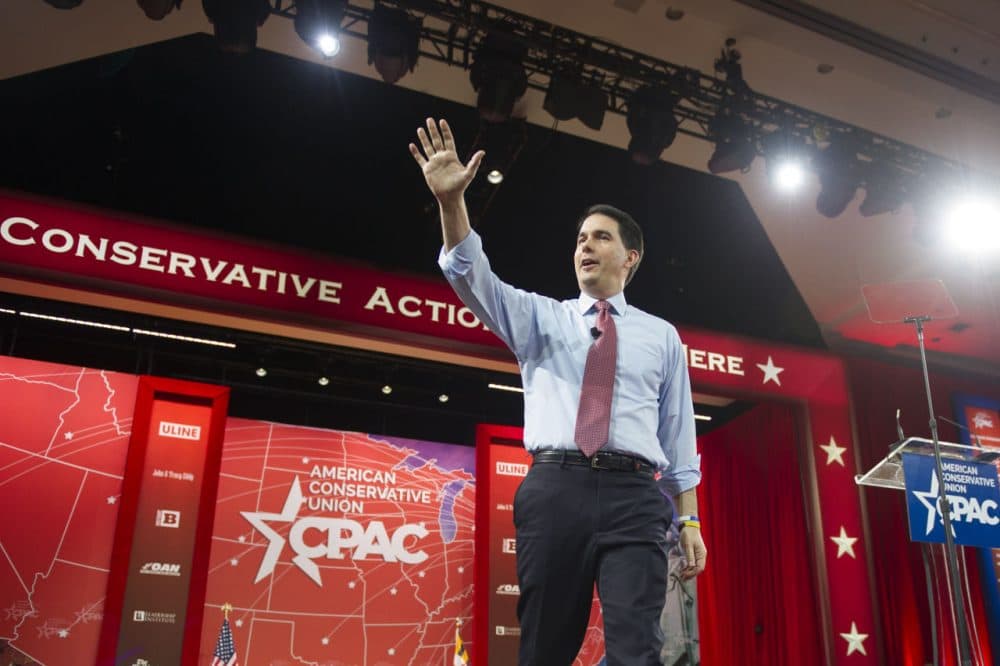 This article is more than 5 years old.
Someone should tell the hot new GOP presidential candidate that the Green Bay Packers already have a punter.
Wisconsin's Republican Gov. Scott Walker was asked recently how he felt about the long-established scientific fact known as evolution. His answer: "I'm going to punt on that one."
Perhaps what he knows is that polling shows 49 percent of Republican voters don't believe in evolution.
When New York's ego-obsessed ex-Mayor Rudy Giuliani questioned President Obama's patriotism at an event for Walker, the governor refused to disown the ridiculous comments. Walker sat just feet from Giuliani as the latter said he did not think the president loved America.
Asked about it the following morning, Walker would say only, "The mayor can speak for himself." Later he offered this: "You should ask the president what he thinks about America," adding, "I've never asked him so I don't know."
Another punt: Asked if he believes President Obama is a Christian, he said "I don't know." He obviously hasn't seen that the president regularly attends church with his family and frequently talks about his Christian faith. What Walker has seen is a 2014 survey that showed that 54 percent of Republicans still think Obama is "deep down" a Muslim.
In his strong second-place showing at the Conservative Political Action Committee's candidate bazaar last week, Walker really fumbled the ball. Asked how he'd combat ISIS, he declared: "I want a commander-in-chief who will do everything in their power to ensure that the threats from radical Islamic terrorists do not wash up on American soil." He then compared his record as governor: "If I can take on 100,000 protesters, I can do the same across the world."
OK, tough guy. He was comparing his success in cutting benefits for his state's school teachers, nurses, students, grandmothers, veterans, correctional officers and other union members who gathered in the state capital to protest his anti-union efforts to his ability to defeat the barbaric, blood-thirsty terrorism of ISIS marauders, who beheaded their prisoners and burned a captured Jordanian pilot alive in a cage.
Walker has already made organized labor his sworn enemy, a stance that endears him to conservative Republicans who have never held a minimum wage job. But he also sees union-busting as smart foreign policy, arguing that "the Soviet Union treated Ronald Reagan more seriously" after he fired all 11,000 striking air traffic controllers in 2001. Vladimir Putin, are you listening?
Even before the CPAC convention, Walker led in a national survey by Public Policy Polling with 25 percent, compared to 18 percent for pediatric surgeon Benjamin Carson, and 17 percent for Jeb Bush. The pollster noted, "Walker has more than doubled his support since his 11% standing on our January national poll." His ascent, the pollster said, "is driven by his appeal to the most conservative elements of the Republican electorate." Indeed, he wowed Iowa's religious right at its candidate cattle show in January and finished first in a Des Moines Register poll of likely attendees to the caucuses set for February 1, 2016
On abortion, he signed a controversial bill last year requiring a woman seeking an abortion to undergo an ultrasound and for doctors to show her the image of the fetus. On same sex marriage, Walker again punted. After a federal court struck down a state measure that defined marriage as between a man and woman, Walker observed, "It really doesn't matter what I think now." Walker supported the gay marriage ban as a legislator before he was governor. Pressed to elaborate, he characteristically deferred, "I don't comment on everything out there."
He may have to comment on lots of things when he debates tough opponents like Chris Christie, Mike Huckabee and Ted Cruz. Meanwhile, Tim Masthay will handle the punting duties for Wisconsin's football team.
Dan Payne is a Democratic political analyst for WBUR.