Commentary: Who Will The GOP Pick For Veep?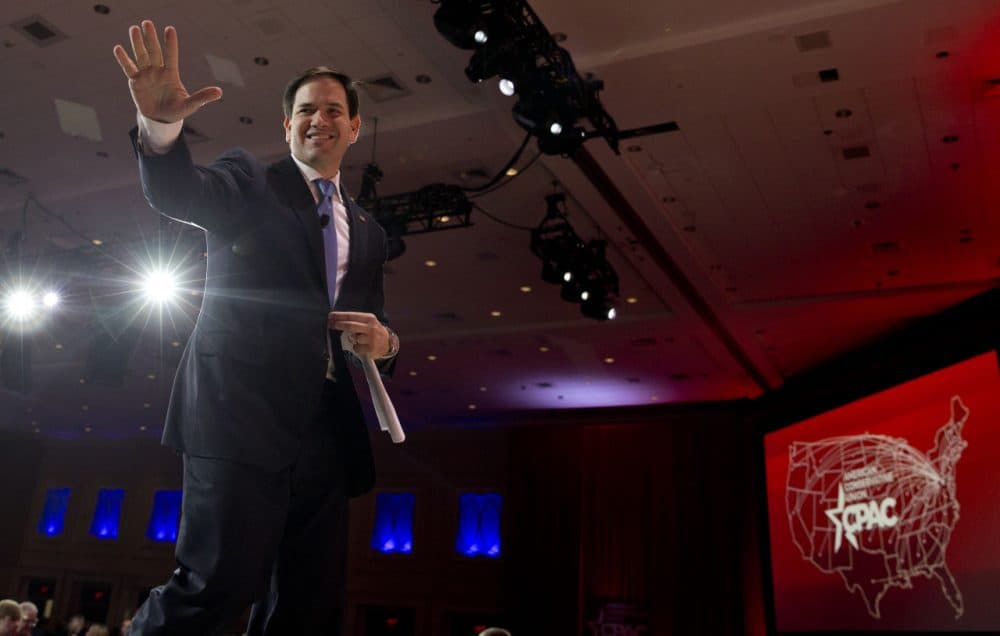 This article is more than 5 years old.
It may seem preposterous to speculate about possible vice presidential candidates when we're still waiting for presidential candidates to officially announce…
But reviewing possible running mates is another way to assess the field of presidential wannabes. After all, if someone isn't credible enough to be considered veep-worthy, should we take them seriously for president? And in analyzing who would be a good running mate for "balance" — ideological, geographical, ethnic, gender or age — we can better understand the weaknesses, strengths and strategies of presidential hopefuls.
---
JEB BUSH
It's hard to imagine that he'd settle for vice president after having had real power as governor of Florida and after 12 years of enjoying life without media scrutiny. But if asked by a presidential nominee to sacrifice "for your party and your country," wouldn't he consider it? After all, didn't his father -- who had more government experience in 1980 than Jeb does now — accept the VP invitation from his adversary, Ronald Reagan, and go on to be elected president? Which presidential candidate might consider Bush a good complement? Not too many of them, actually. California business exec Carly Fiorina would be one.
MARCO RUBIO
The Florida senator is a leading possibility for VP because he's young, telegenic, articulate and Hispanic. As explained in a recent Washington Post piece by Chris Cillizza, the trend of a growing Hispanic vote coupled with the trend of GOP presidential candidates losing Hispanic support by a growing margin "should terrify Republicans." If Bush were the nominee, he wouldn't pick Rubio because they're both from Florida. Texas Sen. Ted Cruz wouldn't pick him because they are both Cuban-American. Kentucky Sen. Rand Paul would not select him because they're both recently elected senators. But Rubio would be a predictable pick for Wisconsin Gov. Scott Walker, former Arkansas Gov. Mike Huckabee, Indiana Gov. Mike Pence, Ohio Gov. John Kasich or Tea Party favorite Dr. Ben Carson.
RAND PAUL
If Paul fails to win the presidential nomination, it's unlikely that the winner would pick him for VP because reporters would constantly ask both candidates about their differences on foreign policy and other issues. As a committed libertarian, Paul couldn't adjust his positions to be compatible with the presidential nominee without seeming like a sell-out.
JOHN KASICH
The governor of Ohio might run for president, but he's taking his sweet time to decide. He'd be a tempting choice for a non-Midwestern non-governor, like Marco Rubio. They could run as a new-generation team, like Bill Clinton did with Al Gore in 1992. Ohio is one of the key swing states, and Kasich was reelected by an impressive margin. As a former House leader who knows how to build coalitions in Washington, he'd be a big asset for a new president.
RICK PERRY
Three reasons he won't be picked: 1) Even with the glasses, he looks like the guy who lost last time. 2) Texas is already safe for Republicans. 3) Oops, I forgot the third reason.
RICK SANTORUM
Like the previous Rick, he is known for losing last time (and for losing reelection to the Senate in Pennsylvania). He doesn't bring anything new or needed to a national ticket.
TED CRUZ
I can't imagine the Texas freshman senator making the short list of any GOP presidential candidate. He's too demagogic and polarizing. It's not his fault that he resembles Sen. Joseph McCarthy (if you Google the two names, you'll see this is not a new observation). But alienating nearly all senators, including in his own party, is not the kind of leadership that unites a party and wins presidential elections.
BEN CARSON
Theoretically, if Jeb Bush were the nominee and worried that the party's conservative base needed motivation -- and if Dr. Carson grew as a candidate, despite his promise not to evolve into a typical politician -- Bush might decide to take the kind of gamble that another moderate conservative, John McCain, took when he picked Sarah Palin. That was not a happy outcome, but again, it's a question of whether Carson became more knowledgeable about politics and policy, and less content to adlib. Still, it is very unlikely.
CONDI RICE
While conservative supporters of Ben Carson believe he would have an electoral advantage because he's African American (as well as an acclaimed surgeon), fans of former Secretary of State Condoleezza Rice believe she'd have greater appeal – being black, female, and a foreign policy expert. She doesn't seem interested in running for office, but she's concerned about world affairs and might feel, if asked, that it's her patriotic duty.
Who would pick her? Bush would probably be disinclined because another Bush-Rice partnership might seem like going back in time. But Walker or Huckabee might feel the need to have a foreign policy expert on the ticket to make up for their lack of experience in world affairs.
CARLY FIORINA
The former Hewlett-Packard CEO was the Republican Senate nominee in California in 2010, but failed to carry that very Democratic state. She's impressed conservative audiences with her tough-on-Hillary rhetoric — for example: "Unlike Mrs. Clinton, I know that flying is an activity, not an accomplishment."
If the presidential nominee wants a running mate who can attack Hillary Clinton relentlessly without seeming sexist, Fiorina might be the choice. But if the nominee wants a woman who has a more appealing personality (i.e. not a former big biz boss), Sen. Kelley Ayotte of New Hampshire seems like a real possibility, especially with New Hampshire being a swing state.
MIKE HUCKABEE
If Huckabee runs for president -- and why would he give up his talk show on Fox if he didn't want to run? -- conceivably he could go all the way to the convention, as he did in 2008, with enough delegates to cause a deadlock. In that case a deal might be brokered so he'd be the running mate. Conversely, he could be the one picking a VP.
That scenario applies to most of these candidates. If the field remains split, with candidates taking turns winning primaries, a brokered convention could make any of these candidates the VP.
DONALD TRUMP, SARAH PALIN, RICHARD M. NIXON
They all have the same odds of being nominated for vice president in 2016.
Todd Domke is a Republican political analyst for WBUR