Pine Street Inn Transitions To Permanent Housing
Resume
Mark Mack, 36, walks down a row of metal bunk beds, each stripped to a white sheet and a single, folded blanket.
"My feelings are all over the place. I'm over the moon," Mack says, shaking his head in wonder. "It's unbelievable, just unbelievable that, OK, I won't be returning here to lay down tonight."
Mack has slept almost every night of the last two years in this men's dorm run by Pine Street Inn. Today is a milestone for Mack and the iconic institution that has been a roof of last resort for people in Boston for more than 40 years.
Mack is moving into a small studio apartment in a former convent in Dorchester. With the opening of Saint Peter's apartments, Pine Street Inn now manages more permanent than temporary beds.
"Shelter shouldn't be people's home, and that's what was starting to happen, people were living here," says Pine Street Director Lyndia Downie.
With the opening of apartments in Dorchester, Pine Street Inn now manages more permanent than temporary beds.
Mack has been homeless, on and off, for 26 years. His trouble started at age 11, with a knock on his bedroom window. An older boy, who'd been stealing guns from the Army base where Mack lived, was on the other side of the glass, holding two handguns and a rifle.
"You have to hide these, you have to put these guns we got up," the boy hissed at Mack.
Mack took the guns and shoved them under his bed. When they were found, covered with Mack's fingerprints, he was sent to a youth detention center.
"I got released," Mack recalls with a sigh. "I was a little bitter, definitely confused, and still had it locked in my brain and in my mind that, well, everyone's against me, poor me. So of course I stayed in trouble."
Trouble, as in selling and using drugs, committing robbery and assault. Mack lived for short periods of time with friends and relatives but mostly in abandoned houses and cars, eating out of garbage cans. By 16, he was a crack addict headed for five years in federal prison for drug possession and distribution.
"I was fortunate enough to do a lot of self-teaching, get my GED. When I did get released, things seemed promising," Mack says. "They were, minus the fact that there were some unresolved issues I didn't deal with."
Mack fathered a child, but just a year after his daughter was born, he was using cocaine again and stealing to pay for it. He went to state prison for robbery, got out at age 32, and found his way to Pine Street Inn.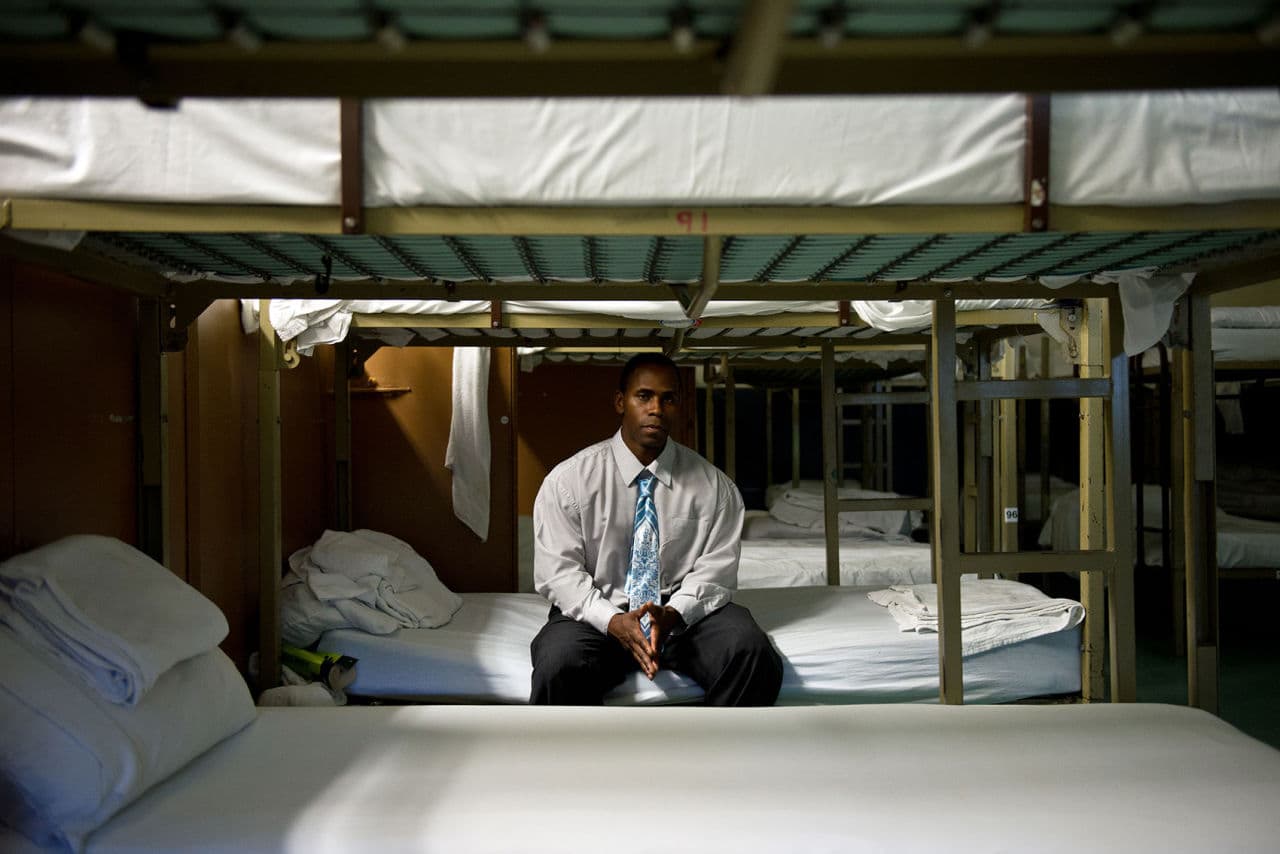 He sits on one bed, craning his neck to look at the top bunk bed springs.
"In some state prisons they have these exact same type of beds," Mack says with a sound that mixes a shudder and a chuckle. Lying in one every night "was a subconscious reminder that, OK, this isn't my permanent place. And with every waking day I'm motivated to make sure that eventually when I do lay down, it will be in a different setup."
Through Pine Street, Mack enrolled in a carpentry training program, completed an internship, and started working with a property management company. But every night after work, he got in line, waiting for the shelter door to open. For more than two years, Mack showered, ate, did his laundry, and went to bed on a schedule set by the shelter.
But then came the day that all of that changed.
Healthier And Happier In A More Permanent Home
Mack follows a property manager down the hall of the former convent, Saint Peter's.
Mack finds the door that fits his key. His face glows with wonder as he walks into the room with a sink, stove and private bathroom that is all his.
Pine Street volunteers purchased silverware, plates and glasses through an online registry and set up the apartment. There's a bed, bureau and table donated by Bob's Furniture.
"It's just missing me," Mack says, giggling.
Pine Street will place 31 men and women who've been homeless for at least one full year in this four-story brick block. Mack applied for a spot more than a year ago. Now he's approved for life. No more rushing to get a place in the shelter line. No more voice over a loudspeaker announcing "lights out." No more fights in the night. Mack's rent is $424 a month, which is 30 percent of his income. It will go up or down based on his earnings, according to his lease. It's the first time he's signed one.
"I've been in a lot of weird places," Mack says, shaking his head, "and not even in regard to the shelter. The cells, the abandoned buildings, the cars, the woods and to finally be here and know that for the rest of my life that's definitely something I don't have to worry about experiencing, it's, it's definitely surreal."
Now, nine months after he moved in, Mack is still in the apartment, paying rent and other bills, defying stereotypes about the long-term homeless. There are two case managers at St. Peter's who help residents set up a household budget, deal with bills, grocery shop, and look for jobs.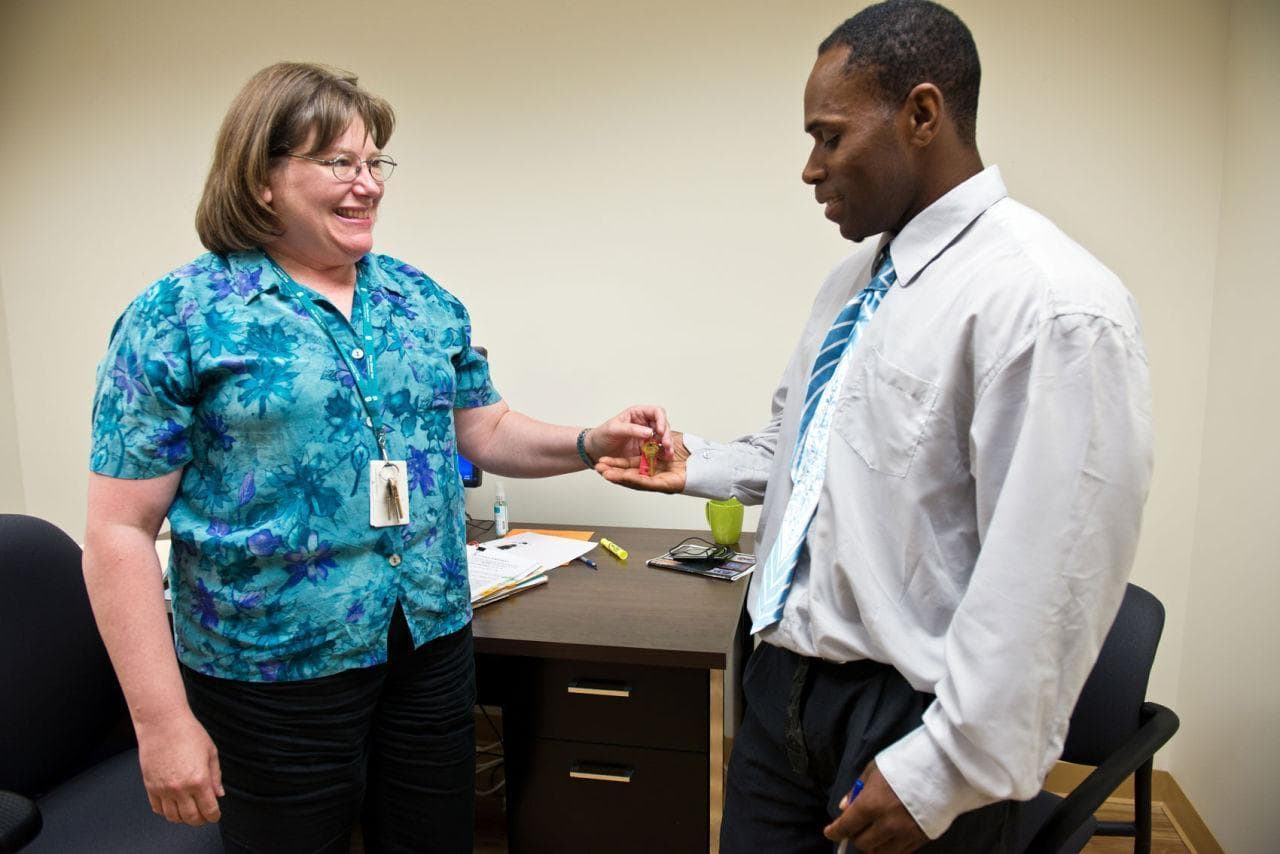 "It's been a huge change for us, in terms of thinking about housing people who everybody said would never stay in housing," says Downie, of Pine Street Inn. "Some people are going to need lots of support for a long time, but other people, once they get that stability of housing, don't need us anymore, which is the best news ever."
It's good news as well for the state's Medicaid and prison budgets. Finding housing for someone who's been homeless and helping that person learn to manage a home saves $9,339 a year, according to the Massachusetts Housing and Shelter Alliance.
"We are keeping a lot of people out of emergency rooms. We're keeping them out of inpatient beds and psychiatric beds, all of which is very expensive," Downie says. "Some of that money needs to come back in so that we can create a really robust supportive housing system in Massachusetts."
Downie says Pine Street Inn could be moving more men and women from shelters to permanent housing and could virtually end the problem of chronic homelessness, but not without more money. Downie and shelter directors across the country say it's time to use Medicaid money to pay for housing.
"We are keeping a lot of people out of emergency rooms. We're keeping them out of inpatient beds and psychiatric beds, all of which is very expensive."

Lyndia Downie, Pine Street Inn director
The federal Medicaid program pays for nursing home care and housing support through a few pilot programs, but has so far rejected state requests to use Medicaid dollars for rent.
But Barbara DiPietro, policy director at the National Health Care for the Homeless Council, says states aren't giving up.
"We have had systematic cuts in housing over the last 40 years," DiPietro says. "We're so desperate for anything that will enable people to get housing that we're looking to the health care sector."
Gov. Charlie Baker agrees. Stable housing improves health and lowers costs, he says.
"I've seen the data, and it's quite clear," Baker says, "that if you put people, especially folks through that homeless mentally ill initiative that we put in place back in the '90s, it had a huge impact on their Medicaid spending, absolutely right."
The budget Baker proposed last week does not include Medicaid funding for housing. It does include a $2 million increase in homeless services for the mentally ill and would boost state funding for rental vouchers. There is no increase in state money for shelters or the transition to permanent beds, like Mack's.
Mack's new home is even helping him stay healthy.
Mack has a hyperthyroid condition. He was in and out of the hospital frequently while he was homeless but has not been a patient since he moved into his apartment. Now that he's healthy and stable, his priority is regular phone calls and eventually visits with his daughter, who is 6.
"I look forward this evening to hearing my little princess' voice," says Mack, looking at the picture of Soleil that he doesn't have to pack up and take with him every day. "Renting a place is a blessing, a complete blessing."
It's a blessing out of reach for 21,237 men, women and children in Massachusetts.
This segment aired on March 9, 2015.