Amid Scramble To House Homeless, Boston Night Center Reopens
Play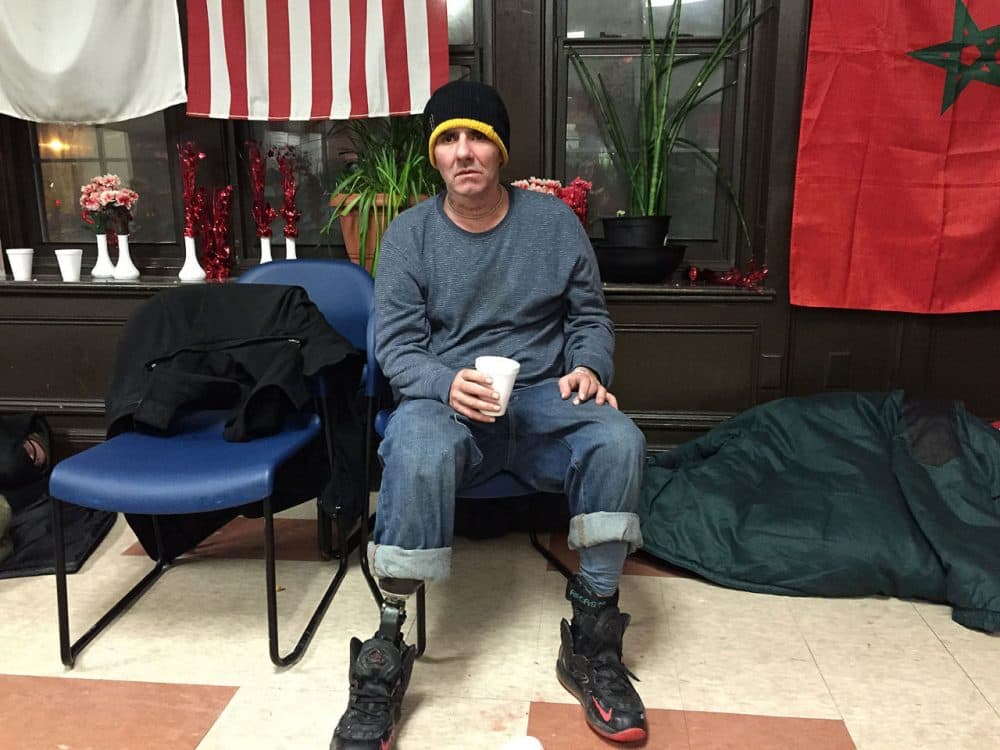 This article is more than 7 years old.
While Boston continues to deal with mountains of snow and extreme cold, the city is also grappling with an even larger than usual number of homeless people.
Advocates for the homeless say the extreme weather, the move to ban people from sleeping at places like South Station and Logan Airport and the closing of Boston's largest shelter on Long Island — which included the shuttering of the island's substance abuse treatment beds — have created a "perfect storm" that's left them scrambling to get people indoors.
One way they're trying to do that is by reopening what's known as the Boston Night Center, a downtown refuge of last resort for those who live on the streets. Dozens of people have been coming to the night center, which is open from 8:30 p.m. to 6:30 a.m. every day, to get warm, get a meal and sometimes get medical attention from Dr. Jim O'Connell, president of Boston Health Care for the Homeless Program.
"The nighttime drop-in center is designed to take in the people who, for whatever reasons, won't go or can't go to the shelter," O'Connell said.
The center, O'Connell stresses, is not a shelter. It's a relatively small room on the second floor of a building near Government Center. Though it generally accommodates about 60 people, typically more than 80 people find a spot on the floor to sleep. One reason people opt for this center over a traditional shelter is that they can come and go during the night.
O'Connell acknowledges that sometimes it's chaotic.
"It's designed to be very low threshold, as you can tell," he said. "There is a lot of tolerance — lots of people are psychotic, lots of people are unedited. Managing the milieu is a real art. These are the folks who literally have nowhere else to go except the street."

The original Boston Night Center closed four years ago because of budget cuts. But with estimates that there are 30 percent more homeless people on the streets of Boston this winter compared to last, advocates knew more space was needed right away. So Boston Health Care for the Homeless Program is paying about $65,000 a month to Bay Cove Human Services to operate this center until the spring.
Steven Leonard, 57, has been coming almost every night since the center reopened last month.
"This is called the Night Center, but we refer to it as the Nightmare Center," Leonard said. "There are so many arguments here. I have some people here who are watching my back but you just don't know who's going to show up. It's a monster mash, yeah, that's exactly what it is."
Leonard has several health issues that Dr. O'Connell has helped him with, including glaucoma and heart problems. O'Connell visits the night center every Wednesday to identify those with the most serious medical needs and urge them to go to a medical street clinic the next day.
"There are six people here with serious cancer, a couple with heart failure," O'Connell said. "There's more work here than you can shake a stick at. There's a couple there — the woman is 20 weeks pregnant. We want to catch them. They'll come in tomorrow."
But one condition that O'Connell and other medical professionals in Boston are having a tough time treating is substance abuse. When Boston officials closed the bridge to Long Island in October and shuttered the city's largest homeless shelter on the island, they also closed substance abuse facilities — including Andrew House, the city's largest detoxification unit. It typically served about 100 people a week and often referred them to further treatment.
"Almost all of these people were in Andrew House at some point," O'Connell said. "So some people would now be in detox with the hope of going on to further treatment. Now, none of that is happening. By the time morning comes, they're so sick, they want to go and drink or whatever and they can't make it to the detox. Even if they did find detox, there's no place to send them so they're back after four or five days. So that system has just fallen apart, right at a time when such focus has been on avoiding the drug overdoses."
Some estimates suggest that Boston lost about 60 percent of its substance abuse treatment beds when the Long Island bridge was closed for safety reasons.
"Our safety net for people with substance abuse problems has torn this year."

Nancy Mahan, Bay Cove Human Services
Nancy Mahan, senior vice president of program services at Bay Cove Human Services, says the face of addiction has changed and she's seeing a lot of homeless young people struggling with opioid addiction. Although state officials say opioid addiction is a public health crisis in Massachusetts, Mahan says there is no place for many struggling with addiction to get help.
"Our safety net for people with substance abuse problems has torn this year," Mahan said. "It's always had tears and a lot of people have always joined together to try to find services. But the loss of beds on Long Island has been a tough loss for some of the most vulnerable in our community."
Among those feeling the loss is 50-year-old Jackie Kerivan, who grew up in Revere. He was at the Boston Night Center because he hasn't been able to find a substance abuse treatment bed.
"It's my first time here," Kerivan said. "The other shelters aren't safe so I figured I would come here with a few guys and make it safe here."
Kerivan says he started drinking heavily four years ago when he lost his job after his right leg was amputated because of a bone disease. Then he lost custody of his five kids.
"There is a lot of people out there looking for substance abuse help. I myself know firsthand that there is none out there. I've been trying for almost three months," Kerivan said.
Boston officials estimate there were about 265 substance abuse treatment beds on Long Island. They say there are 40 beds available at the makeshift men's shelter at the South End Fitness Center. Seventy-five beds are expected to be added in Mattapan in April.
A spokesperson for the mayor says the city is committed to working with recovery programs to preserve substance abuse treatment beds.
This segment aired on February 17, 2015.