A Cold Monday As Massachusetts Digs Out, Again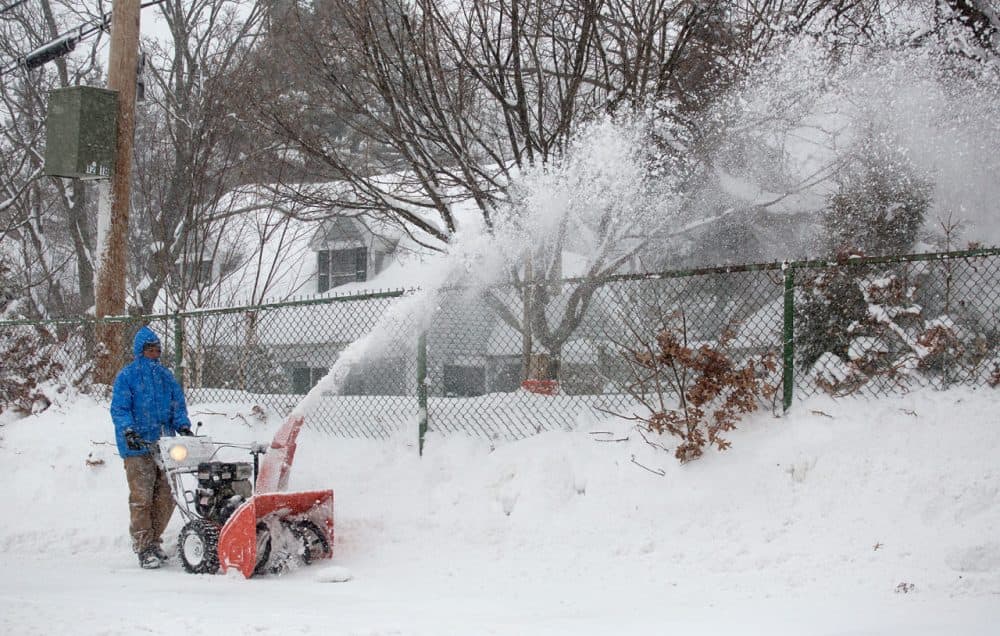 This article is more than 7 years old.
A frigid cold hit Massachusetts Monday as the region dug out from the fourth major winter storm in a month.
Boston Mayor Marty Walsh asked residents to bundle up and take breaks while digging out Monday.
"The big story is subzero air temperatures with wind chills as low as 20 to 40 below zero," Matthew Belk of the National Weather Service said, adding that exposed skin could start to develop frostbite in "a matter of minutes."
WBUR meteorologist David Epstein said Monday was one of "the coldest-feeling mornings in years."
Walsh said one person suffered a fatal heart attack while shoveling.
Walsh urged property owners to check on their roofs and prevent possible collapses, with multiple roof collapses reported Sunday in the region.
The Massachusetts Bay Transportation Authority resumed with limited service on Monday.
On Monday night, the MBTA announced it will provide a limited schedule of rail and bus service on Tuesday. Buses will attempt to return to a regular weekday schedule. The commuter rail will operate on a modified weekday schedule. (See here for more.)
MBTA General Manager Beverly Scott said it could take up to 30 days to get everything back to normal.
The MBTA announced it was paying a mix of union workers, students and anyone looking for some extra cash $30 an hour to help shovel out the transit system's tracks.
At Logan Airport, dozens of flights were cancelled, though many others were getting in and out. The Steamship Authority cancelled a number of trips to Nantucket and Martha's Vineyard Monday morning. Amtrak operated trains as scheduled in the Northeast Corridor.
The parking ban in Boston continues, Walsh said at Monday morning's press conference.

Snow emergency and parking ban will remain in effect until further notice. Updates at http://t.co/CSNL76YfKE #BOSnow

— City of Boston (@NotifyBoston) February 16, 2015

Walsh said that while the city is plowing the roads all day, full scale snow removal will begin at 6 p.m. Monday instead of midnight. He asked people to stay off the road to allow the snow plows to do their job before people have to get back to work Tuesday.

"It's important that we stay focused and not let the frustration get the best of us," said Walsh. "I know people are just tired and don't know what to do with this amount of snow."

The Valentine's weekend storm piled another foot of snow on top of the 6-foot-high mounds in Boston. Some areas reported nearly two feet of snow including Acushnet, Massachusetts, with 22 inches, and Salisbury with 20.5 inches.

Epstein said we could see more snow on Tuesday, with light to at times moderate snowfall, leaving several inches by dark.

And for anyone hoping this winter weather is almost over, Epstein doesn't have good news.

"If you are wondering, there is no break in the pattern for the rest of the month," he said in his Monday forecast.

With reporting by the WBUR Newsroom and The Associated Press
This article was originally published on February 16, 2015.