Northeastern Men's Basketball Reaches NCAA Tournament For 1st Time Since 1991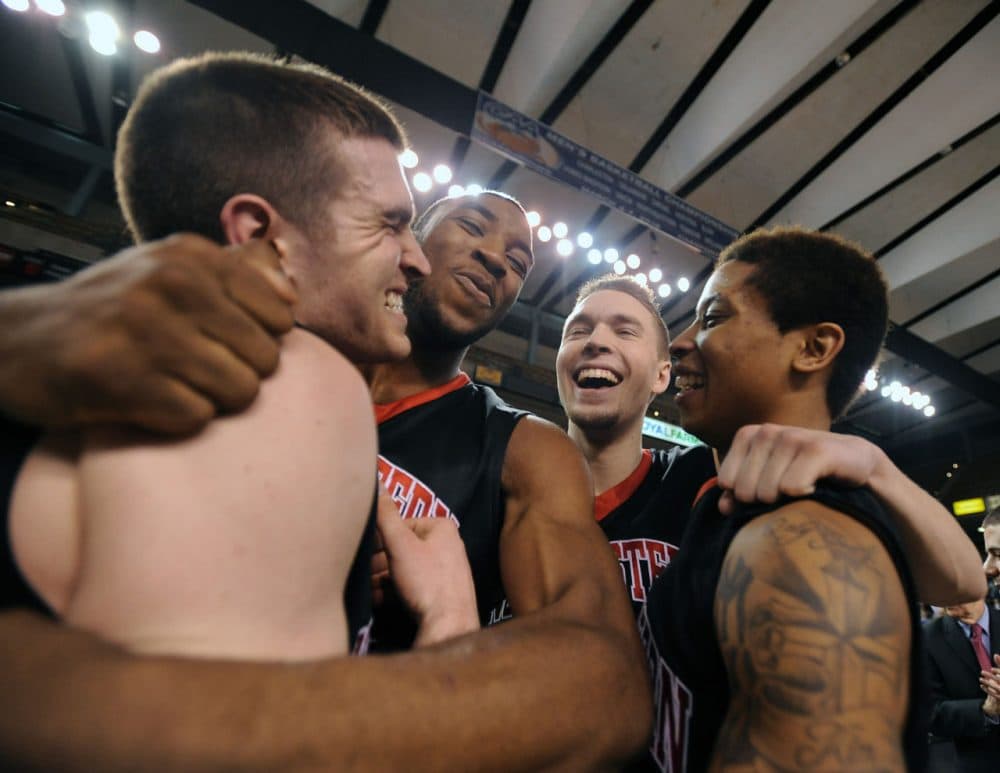 This article is more than 5 years old.
The Northeastern University men's basketball team is headed to the NCAA tournament for the first time since 1991.
The Huskies topped William & Mary 72-61 in Monday night's Colonial Athletic Association championship to earn the league's automatic berth into the tourney's 68-team field.
"I couldn't be more proud of this basketball team," NU coach Bill Coen said after the win. "I think there was just a little extra pop in our step."
Local college basketball fans may need to rally around Northeastern, as the Huskies could be Massachusetts' only Division I representative at either the men's or women's NCAA tournaments.
Here's a quick roundup:
Both the Boston University and Holy Cross men's basketball teams fell in the quarterfinals of the Patriot League tournament. And Boston College faces an uphill journey as the No. 12 seed in the ACC tournament.
UMass, which reached the NCAA tourney a year ago, finished a disappointing 17-14 this season and will need to pull off a string of upsets in the Atlantic 10 tournament to return to the Big Dance.
Harvard likely has the state's best chance to join Northeastern. The Crimson plays Yale Saturday with the Ivy League's bid on the line.
On the women's side, Harvard, Boston University, UMass, Holy Cross and Boston College have already been eliminated. Tenth-seeded Northeastern faces a difficult road in the CAA tournament.
Both the men's and women's teams from UMass Lowell, which made the jump from Division II to Division I in 2013, are not postseason-eligible until the reclassification process is completed for the 2017-18 season.
The men from Northeastern — and possibly Harvard — will learn their NCAA tournament seed and opponent on Sunday — Selection Sunday.
The last time the Huskies made the NCAA's Big Dance, in 1991, they were ousted in the first round by powerhouse North Carolina, according to The Associated Press.