Celtics Win 5th Straight, 108-89 Over 76ers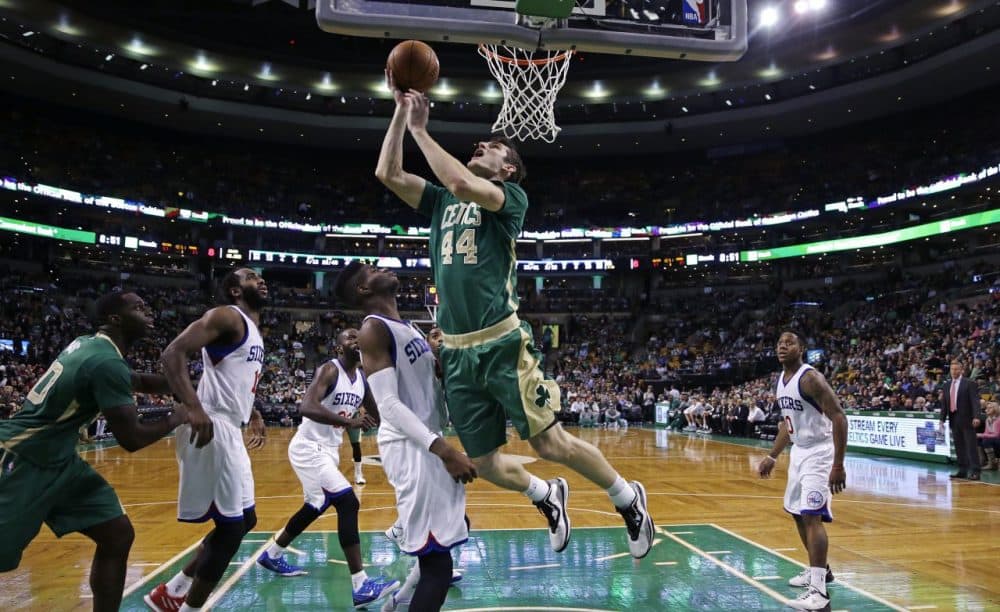 This article is more than 5 years old.
Celtics coach Brad Stevens might soon be hearing some locker-room chatter about his team's playoff push with the way it's been playing.
Tyler Zeller scored a career-high 26 points, Avery Bradley had 20 and the Celtics won their season-high fifth straight game, 108-89 over the Philadelphia 76ers on Monday night.
Brandon Bass added 12 points and Marcus Smart 11 for Boston, which entered the day in a group of four teams separated by one game for the Eastern Conference's final two playoffs spots. Bradley also had 10 rebounds and six assists.
"I haven't heard them talk about it once. I'm dead serious," Stevens said. "I mean, we've talked about it, we've seen the standings, like you see it, but I don't hear it."
The Celtics have won 10 of 13 to climb into the chase. Bradley isn't surprised by the run.
"For sure, I saw that we were improving every single game and I knew we would have a chance if we set our mind to it," he said. "We never thought we didn't have a chance to make the playoffs and now we're right there."
Nerlens Noel led Philadelphia with 18 points and seven rebounds, and reserve Ish Smith had 16 points in the 76ers' 14th straight road loss.
Philadelphia trailed by 20 after one quarter and never made a serious run.
"The game was determined in the first period and it almost starts and stops there," 76ers coach Brett Brown said. "I didn't feel like we competed in the first period. I thought that they got whatever they wanted offensively."
Boston swept the season series, 4-0, for the first time since 2008-09.
The Celtics were 4 of 5 on 3-pointers and shot 66.7 percent in the opening quarter en route to a 38-18 lead.
Boston, which never trailed, opened a double-digit edge (17-7) just 5 1/2 minutes into the game, and its advantage never dropped into single digits the rest of the night.
"The 20-point difference in the first period put us in a hole that was hard to dig out of," Noel said. "The last three quarters we had a more balanced effort - it was about even. We have to do a better job defensively starting out games like that."
Bradley and Zeller each scored 10 points in the first quarter. The Celtics pushed their lead to 20 on Luigi Datome's 3-pointer with just over a minute left.
In the second quarter, Boston used a quick 7-0 spurt to improve its lead to 51-24 on Bradley's third 3-pointer of the half. The closest the 76ers got the rest of the half was 23 points, twice, including a 57-34 deficit at intermission.
The 76ers, who entered as the NBA's lowest-scoring and worst-shooting team, came out for the second half and appeared to play harder, but the Celtics still coasted to the win.
Boston led 89-68 after three quarters.